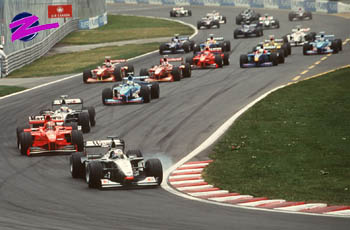 Leaving Barcelona in Spain, we cross the Atlantic to Ile Notre-Dame, a man-made island in the middle of the St. Lawrence River, where the Canadian Grand Prix is held at the Circuit Gilles Villeneuve.
Montreal is a cosmopolitan city with a busy summer calendar that includes jazz, comedy and film festivals, hence moving the Canadian Grand Prix in 2000 to accommodate the US Grand Prix is not feasible. This is a popular Grand Prix, team owner Eddie Jordan sums up the feelings of the Formula One paddock, "It is a race which most people who work in Formula One look forward to because of the great atmosphere in the city and at the track, and it is certainly one which I enjoy greatly because of all the good memories it holds."
Canadian Formula One fans are an enthusiastic and knowledgeable group. Jacques Villeneuve explains that "Canadian fans are great because they are such racing fans. They want to see a good show, and if something spectacular happens, they appreciate it and applaud. They are not just there for me - they don't boo the other drivers, as sometimes happens at other races. They are special in that way."
At 4.421 Km, the Circuit Gilles Villeneuve is average in length and in speed. The circuit consists of two hairpin bends at the opposite ends of the circuit, connected by a series of straights and chicanes that provide some overtaking spots. Each lap involves sudden acceleration and deceleration which is hard on transmissions and brakes; fuel consumption also tends to be high. Rain is always a possibility at Montreal but wind from the St. Lawrence Seaway may also become a factor in the handling of the cars.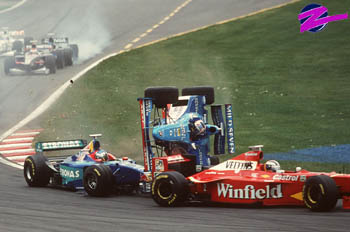 Stewart Ford's Johnny Herbert had this to say about the Circuit Gilles Villeneuve: "I like the Montreal track a lot. It's not a difficult circuit to learn, but it's not always easy to be quick there because it's a mix of fast straights, slow corners and hairpins and set-up is crucial. It's always a bit of a trade off where downforce is concerned. I find the track very challenging, it has a bit of everything".
Ferrari's Eddie Irvine expanded on this, saying: "The Gilles Villeneuve circuit is quite a tricky one. Like a street circuit, you are racing close to the walls and barriers a lot of the time and there is little room for mistakes. A couple of places, where there are bad bumps on the track, you have got to be careful not to get caught out, especially when running heavy fuel loads or while trying different set-ups in practice. If it rains, there are a couple of places where the water puddles on the track, so that can make thing interesting as well."
And McLaren's Mika Hakkinen added, "Because this circuit is used only once every 12 months, it is extremely dirty on the Friday Practice day. It isn't really until the Saturday qualifying session that more grip can be found after the drivers have had a chance to lay down more rubber."
What kind of a driver scores points at Montreal? This is a circuit where surprises and upsets are normal. Montreal is a circuit where lesser-known drivers like Stefano Modeno finished second and Andrea de Cesaris (who was nicknamed "de Crasheris" because of his accident rate) was a regular points finisher. It is not a question of who is fastest, it is more a question of who has the best luck.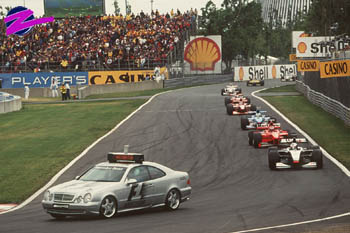 Attrition is fairly high at this circuit, less than half the field tend to finish. Ten cars finished at Montreal in 1998 and 1997, nine finished in 1995 and eight cars were running at the end of the 1996 race. In last year's race, pitstops were made out of necessity rather than strategy. Both Ferrari drivers made three stops, Pedro Diniz (Sauber) and Rubens Barrichello (Stewart) made two stops and every one else was on a one stop strategy.
Ferrari leads the manufacturer's title and has been the most reliable team of 1999. Ferrari has won the Canadian Grand Prix three times in the 1990's - in 1995, 1997 and 1998 - and have scored 54 points.
The World Championship leader, Michael Schumacher, is the most successful and consistent driver at Montreal. Michael Schumacher won this Grand Prix three times, once for Benetton in 1994 and twice for Ferrari in 1997 and 1998. He was second in his Canadian debut in 1992 and again in 1993, finishing fifth in 1995. Schumacher took pole position in 1994 and 1995, and set fastest lap in 1993, 1994, 1995 and 1998.
"Although in Canada I could afford another result like the last one in Spain and still be sharing the lead for the title, I would be disappointed if I didn't retain or increase my lead this weekend," says Schumacher. "Every race we are improving our Ferrari as we develop the chassis and engine, but McLaren are not standing still and I suspect it's going to be a long hard struggle to the end of the season in which every point is going to count for the title."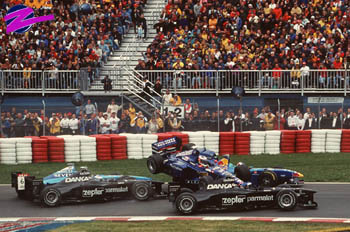 Eddie Irvine has slipped to third in the World Championship but he has had two podium finishes in Montreal, finishing third for Ferrari in 1998 and for Jordan in 1995. Irvine's thoughts on his chances on Sunday: "Although my role is to not take points away from Michael in the race, the situation this year with tyre choice and different race strategies can work in my favour as well as Michael's. I hope there will be other opportunities for a win like I had in Australia this year."
McLaren have not won at Montreal since 1992 and have not scored a point in Canada since 1996. They have an aerodynamic advantage but the lack of reliability, especially in the gearbox, could come back to haunt them at Montreal. They trail Ferrari by thirteen points so McLaren need both cars to finish in the points to keep their hopes for the manufacturer's title alive.
Team owner, Ron Dennis, stated that "Whilst Spain was a very satisfying result, we are not taking anything for granted. We are therefore approaching the forthcoming Canadian Grand Prix with our usual determination and focus to further optimise the MP4-14's performance and reliability."
Mika Hakkinen is now second in the 1999 World Championship, but traditionally, Hakkinen hasn't had much luck in Canada. He has completed the Canadian Grand Prix once in 1996, when he finished fifth behind his teammate, David Coulthard. He has never had pole position, led the race or set fastest lap in Montreal. Three times he has gone out on the first lap. If McLaren put all their eggs in Hakkinen's basket, they run the risk of coming home empty-handed again.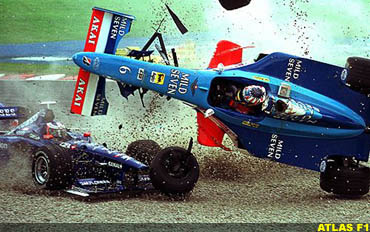 David Coulthard has now moved up to fifth in the 1999 World Championship. Coulthard scored his first two Formula One points at Montreal in 1994 and his best finish was a fourth in 1996. These statistics do not tell the whole story. He had pole position in 1998, set fastest lap in 1997 and led both these races. If the weather conditions are ideal and McLaren provide him with a reliable car, he will be the driver to beat.
Coulthard is looking forward to the Canadian Grand Prix. "I go well at the Circuit Gilles Villeneuve, and I was unlucky not to win this race on the last two occasions. Hopefully, everything will come together this weekend and I can win my first Grand Prix of the season," he recently said.
Jordan is third in the manufacturer's championship and they have had some moments of glory at Montreal, where they scored their first championship points in 1991. Their finest hour was in 1995 when they finished in second and third positions. They last finished in the points in 1997 when Giancarlo Fisichella finished third. Although neither car finished last year, Damon Hill was in third position before he retired due to electrical problems.
Jordan need both cars to finish on Sunday to keep up its manufacturer's title challenge. Team Owner, Eddie Jordan, stated: "We have had some excellent results in Montreal. Let's hope we can add another good year to the history books. "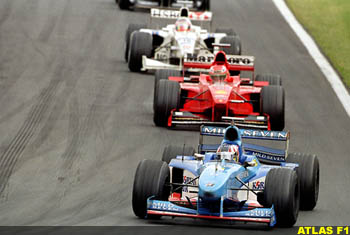 Damon Hill is ninth in the World Championship. Hill won in 1996 from pole position, finished second in 1994 and third in 1993 for Williams. Hill put in a solid performance in Spain but needs to stay out of trouble on Sunday.
Heinz-Harald Frentzen has slipped to fourth in the World Championship. Frentzen has not gone consistently well at Montreal, his best finish was fourth in 1997 for Williams. He was in fourth position in last year's race when he went off the circuit trying to avoid a collision with Michael Schumacher. He needs to keep scoring points to keep his championship hopes alive.
Williams is currently fourth in the manufacturer's championship. Williams won the Canadian Grand Prix in 1993 and 1996, scoring 46 points at Montreal in the 1990's but they came home empty-handed last year.
Ralf Schumacher is sixth in the World Championship. Ralf has yet to score a point at Montreal in two starts but he put in another solid, points-paying, performance in Spain. Ralf was refreshingly open about his previous experiences in Montreal: "Unfortunately I haven't managed to finish a race in Montreal yet. In 1997, the right front lower wishbone broke under braking and I crashed into the wall quite heavily. Last year after the restart my clutch collapsed so I would very much like to finish the race this year and, if possible, in the points."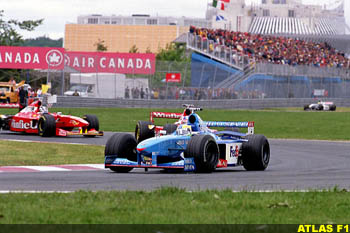 Alex Zanardi's season is still dogged by bad luck but he has, at least, finished one race. Zanardi also finished in the 1993 and 1994 Canadian Grand Prix, his best result was 11th for Lotus in 1993. Williams' technical director, Patrick Head, explained that Zanardi has had to amend his driving style. "Alex is a pushy driver who likes to chisel away at his lap times throughout a race. He is very frustrated that he cannot be more aggressive with the car. He was shocked at how nasty an F1 car was to drive in comparison with Indycar," said Head.
Zanardi had this to say about Williams: "With regards to our results, last week we had some profitable days of testing in Monza and I am confident that we are about to identify and definitively solve the problems that we have had so far. Williams remains a great team and is working hard to return to the winner's circle."
Benetton has slipped to fifth in the manufacturer's championship. Benetton has been the most consistent and successful team of the 1990's at Montreal with a total of 60 points. The team won the Canadian Grand Prix in 1991 and 1994 and finishing in the points in every race. Technical Director, Pat Symonds, announced aerodynamic changes to the Benetton chassis, saying, "We have a completely new front and rear wing package to deal with the requirements of this circuit. This wing package is unique for Benetton in that it is the first design to originate completely from the use of Computational Fluid Dynamics."
Giancarlo Fisichella is seventh in the driver's championship. Fisichella has always finished at Montreal, he had the first podium of his Formula One career when he finished third in 1997 and he finished second last year after leading the middle section of the race. Alexander Wurz finished fourth in his Canadian Grand Prix debut in his T-car, after destroying his primary car at the first start to last year's race. Unfortunately Wurz has been consistently off-the-pace in recent races and tests.
Stewart is sixth in the Manufacturer's championship. Team owner, Jackie Stewart, won the Canadian Grand Prix in 1971 and 1972. Jackie will celebrate his 60th birthday this Friday, and is optimistic about Sunday's race: "The team has performed well in Montreal previously, with Rubens qualifying third on the grid in 1997 and having both cars in the points with fifth and sixth place finishes in 1998. Hopefully the circuit will suit the latest version of our car." The Stewart SF3's lack of reliability is still a concern and they seem to have lost some pace in their quest for reliability.
Rubens Barrichello has slipped to eighth in the World Championship. Barrichello finished second for Jordan in 1995 and fifth for Stewart in 1998. Barrichello needs another points finish in Canada. "My results with the Stewart-Ford team have been very good in Montreal," said the young Brazilian. "The car's traction, vital for the slower corners at the Gilles Villeneuve circuit, is also very good. Barcelona was disappointing, but we made gains in testing at Silverstone last week where we did some running in Montreal race trim and I'm confident we will able to mount a strong challenge for points."
Johnny Herbert has yet to finish a race in 1999. Herbert has competed in seven Canadian Grand Prix. Herbert's best finish was fifth for Sauber in 1997.
Prost is seventh in the Manufacturer's championship. Team owner Alain Prost knows how to win at Montreal, having won here in 1993, but his team has had little success at the Circuit Gilles Villeneuve. Shinji Nakano scoring a solitary point for Prost after Oliver Panis' accident in 1997. Olivier Panis finished fourth in 1995 for Ligier. Jarno Trulli scored a point at Catalunya but has yet to finish at Montreal. Trulli has the dubious honour of being involved in both first lap accidents last year. If he can keep out of trouble he could do well.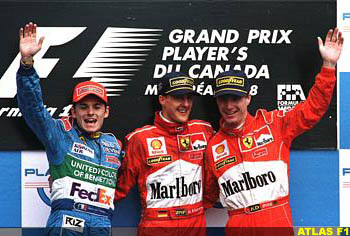 Sauber's impressive performance at Catalunya showed that their 1999 car is competitive but is still unreliable. Jean Alesi won his only Grand Prix at Montreal in 1995 for Ferrari. Alesi has the most Formula One experience at Montreal having competed in nine Canadian Grand Prix. He has been a regular points scorer and has had four other podium finishes: second in 1997 and third in 1996 for Benetton, third for Ferrari in 1992 and 1994. Alesi was taken out by Trulli at the second start to last year's race.
Pedro Diniz finished in the last two Grands Prix at Montreal but has yet to score a point. Diniz created the funniest moment of the 1998 season when he caused an all-course yellow flag by distributing turf around the Montreal circuit.
BAR's fortunes took a turn for the better at Catalunya where Mika Salo completed their first race. BAR's management has also been shaken up since the Spanish Grand Prix.
Jacques Villeneuve's only finish at Canada was a second, after setting the fastest lap, in 1996. His father Gilles won this race in 1978 and it would be a great personal triumph if he could get BAR's first points on Sunday. "My mood going into this year's Canadian Grand Prix, though, is more positive than last year," says Villeneuve. "We believe we can do something so I am very happy and confident. Personally, I don't feel any more pressure than normal to get a result in Montreal because I always try my best at every race. I do feel, though, that I am on 'home turf'."
Ricardo Zonta makes a welcome return on Sunday. Inevitably, he will be rusty after his long lay-off and needs to put in a lot of laps to get back to a competitive level. Zonta commented, "The past seven weeks have been very frustrating for me, but now I am just so glad to be able to drive again. I can already see, just from driving a few laps, that technical developments since Brazil have made a lot of difference to the handling and drive ability of the car. It certainly seems even faster than it was before."
Arrows keep on finishing. Gianni Morbidelli scored a point for Arrows at Montreal in 1995. Everyone expected Ricardo Zonta to be the 'novice of the year' but so far this honour is going to Arrows' Pedro de la Rosa. With relatively high attrition, a finish in the points for either de la Rosa or Tora Takagi on Sunday is not out-of-the-question.
Minardi simply need to finish. Minardi's finest hour at Montreal was in 1994 when Pierluigi Martini finished fifth. Luca Badoer finished seventh in his last outing with Minardi at Montreal in 1995. Marc Gene should look at this as an opportunity to gain more experience.
My Predictions:
In the event of rain at Montreal, anything can happen but the finishing order might be:
Michael Schumacher
Mika Hakkinen
Eddie Irvine
Jean Alesi
Ralf Schumacher
Rubens Barrichello
If it is dry, I'm going to pick McLaren, Ferrari and Jordan as the top three teams.
Starting grid:

David Coulthard
Mika Hakkinen
Michael Schumacher
Eddie Irvine
Jacques Villeneuve
Heinz-Harald Frentzen
Jean Alesi
Rubens Barrichello
Ralf Schumacher
Damon Hill
Giancarlo Fisichella
Jarno Trulli
Olivier Panis
Johnny Herbert
Alex Zanardi
On Sunday, it may depend on who has the best luck at Montreal.
The 1999 Canadian Grand Prix Preview in a Nutshell:
This Grand Prix is one of the most unpredictable races of the season. It's all about reliability and luck.
McLaren need both cars to finish in the points to keep their hopes for the manufacturer's title alive. Is their reliability good enough? If it stays dry, this could be David Coulthard's race.
Can Ferrari get a one-two finish? Michael Schumacher is the most successful driver on this circuit. If it rains, this should be Michael Schumacher's race.
The Villeneuve Factor. Can Jacques Villeneuve get BAR's first points at his home circuit?
The Best of the Rest: Jordan, Stewart or Williams? Can any of these teams get both of their cars to the chequered flag? Can Heinz-Harald Frentzen, Ralf Schumacher and Rubens Barrichello keep up the championship challenge?
Always in the points at Canada in the 1990's: Benetton.
Dark Horses: Jean Alesi, Giancarlo Fisichella, and the Prost team.