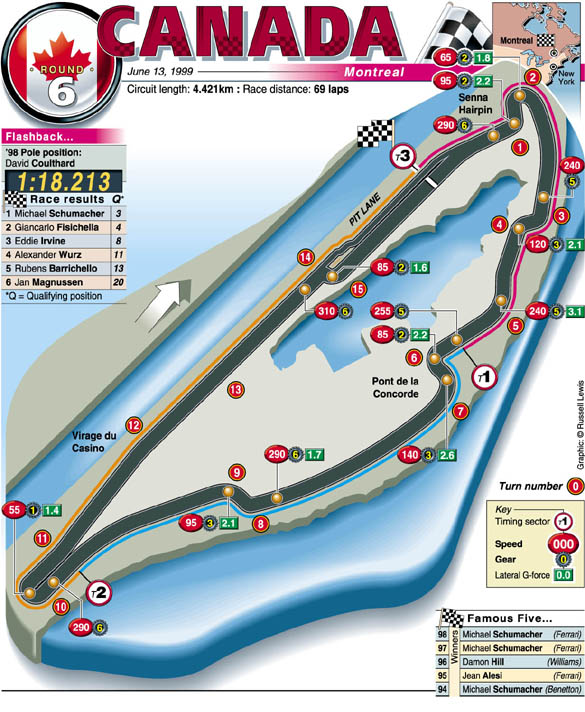 The Circuit Gilles Villeneuve Gives the impression of being permanent, but this circuit is constructed annually. Located in downtown Montreal, on the Ile Notre-Dame, on the St Lawrence River, it provides a hard challenge to both cars and drivers, with its mix of fast and slow corners and quick barrier lined straights. It is often a race of attrition where it is rare to see even half of the grid complete the distance.
Ile Notre-Dame hosted the 1967 World Fair and then in Canada's Olympic year was the location for the rowing basin. Since 1978 it has been the home of the Canadian Grand Prix and recently was re-named to commemorate the country's favourite racing driver, the late Gilles Villeneuve.
With two hairpins, and a wide variety of slow and fast corners, traction and good braking balance are required. Straight line speed is often sacrificed for greater downforce.
So, what's a fast lap like? Crossing the start finish line, the track kinks right slightly before turning sharp left. The drivers take this corner in 2nd before slowing down further for the 1st gear Pits Hairpin. Accelerating out of this tight right hander, the cars pass through a fast, twisty set of curves before slamming on the brakes once more for the 3rd gear left/right complex.
The track then has a short straight before the next corner, the drivers often using the opportunity for overtaking manoeuvres. This chicane is taken in 2nd gear and helps close the field up before the final hairpin. The hairpin is the slowest point on the circuit but often causes the most excitement, opponents often driving side-by-side as they enter the final straight.
The longest straight on the circuit used to contain two flat out kinks but was interrupted by a temporary chicane for the 1994 and 1995 events. In 1996, the straight ran the entire length uninterrupted once more. The final corner before the start/finish line is another fast chicane that sees the drivers slide wide before beginning another fast lap of this tough, bumpy circuit.