This week's Grapevine brings you
information fresh from the paddock on:

Irvine in Control
Honda Gearing up for 2000
Digital for the UK
Irvine in Control
Since outqualifying his teammate in Barcelona, demonstrating that outright speed is not lacking when he has time to work with the car, Eddie Irvine's name has been very much in the news.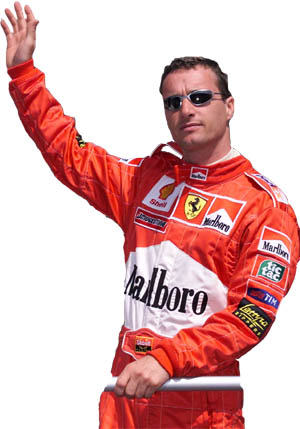 The Irishman spent his first year at Ferrari being run down by the Italian press as a waste of Ferrari time and resource, but he made no bones of the issues - getting no testing time away from Grand Prix weekends, and testing setup configurations to aid his illustrious teammate at the expense of his own setups at them.
However, by 1998 - when Irvine spent most of the year finishing on the podium - it had become clear that his detractors were not well founded in their accusations; and this year has been something of a revelation.
Irvine's contract for 1999 was written with a view to the future, and it stipulated conditions which permit him to decide his own strategy and setup, for all he has to defer to Schumacher on the track. Accordingly, Irvine has delivered, with a win in Australia and several strong races, culminating in outqualifying his teammate in Barcelona.
Since Barcelona, the Irishman's future has been under the media microscope, with speculation that he has a letter of intent from Jordan basically guaranteeing a seat for next year. The latest rumour has the Irishman chasing a seat at McLaren, and discussing the possibilities with Ron Dennis. Michael Schumacher at Ferrari insists he and the team want Irvine to stay, as he is the most competitive co-driver the German has ever had, and there's a strong possibility that they'll offer a contract he cannot turn down to drive for Ferrari in 2000.
Irvine himself has recently said, "to stay at Ferrari would be a good thing for me. In F1 at the moment, four cars are superior to the rest. I am lucky enough to be in one of them, so why should I leave it?"
The inside view is that Irvine will not be able to gain a "number one" role with any leading team, and a move outside the front runners would be unwise. Accordingly, he is expected to pursue contracts with Jordan and McLaren to use as leverage for negotiating a completely new contract with Ferrari - one that allows him to race in his own right. The Irishman has been quoted as saying, "Schumacher is incredible. He takes bits out of your time everywhere. You take a perfect corner, he matches it... but I know where he's weak, and how I can beat him."
Odds are, he's after a contract that allows him to try.
Honda Gearing up for 2000
Now that their plans for 2000 are firmly decided, Honda are pulling out all the stops to develop a championship winning chassis for their inaugural year with BAR.
The Japanese giant has started working on a chassis that should take the new Mugen-Honda V10 engine (which Jordan hope to run in qualifying this weekend), some of the best design features of the BAR and Dallara chassis.
Once the chassis is completed, another will be built which further integrates the BAR design benefits, whilst being built around the new V12 unit.
The two chassis are intended to be run in private session at the Motegi circuit in Japan (owned by Honda), with Jos Verstappen at the wheel. Back to back testing will decide whether BAR use the V10 or V12 next year.
It is speculated that Honda will provide Jordan with the V10 unit, regardless, for the 2000 season - and it will be the same revision as the BAR unit, if the team choose not to take the V12 route.
Digital for the UK
Bernie Ecclestone has been in preliminary talks with Rupert Murdoch concerning the possibility of introducing Pay Per View digital coverage of Grand Prix in the UK.
The FOA and Ecclestone have taken a lot of flak over restricting terrestrial coverage as to promote digital, when they don't even offer the service to most of the world.
It's interesting to note that in the UK, live football coverage was originally restricted to the main Sky Sports channel. However as Sky developed the market, they started moving games around between their three different sports channels - so soccer fans had to buy into all three channels.
Considering that Ecclestone is looking to get in on the Football market, developing a European Superleague, it is likely that Formula One would be sold as part of an all inclusive package, alongside soccer. In the short term, this would ensure Sky are happy - as Formula One fans would have to buy the football channels to see F1 - and the FOA are happy - as they can claim all the Football fans watch Formula One. In the longer term, Ecclestone will already have negotiated distribution (and a substantial income) for his Superleague.