Have a question about Formula One statistics or history? Well you're not the only one, and it's about time someone came up with the answers to Formula One's most Frequently Asked Questions. Send us your questions, to faq@atlasf1.com - we may not know everything, but we will sure make the effort to find out
"Who was the first person after John Cooper to build a rear engined Grand Prix car? Michael,W. UK"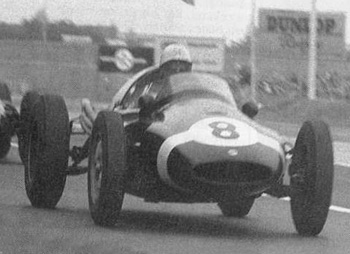 An interesting question that. Do you mean from the the first rear engined Formula One car or from when the rear engined revolution took place some nine years later?
The first rear engined Cooper was a JAP powered T12 entered by Harry Schell at Monaco in 1950. The next car after that was Helmut Klodwig's BMW Klodwig Eigenbau Heck entered the 1952 German Grand Prix at the Nordscliefe. If, however, you meant in 1959 after the rear engined revolution had taken hold ,then it would be Lotus 18 Climax entered for Innes Ireland at the 1960 Argentine Grand Prix. However Rob Walker Racing Team and BRM both built rear engined Formula One cars before that, but didn't race them.
"Do you have any idea what happened exactly to the Tyrell-team in 1984? For what reason they had been disqualified the whole season? Thank you very much and best regards, Henning S, Germany"
Roger Horton has the story of the troubles that befell Ken Tyrrell's mob in 1984:
The Tyrrell team was banned from the last three races of the 1984 calendar and their results excluded from the entire season. This effectively cost them their FOCA travel rights for the '85 season, a financial penalty of around US$1 million.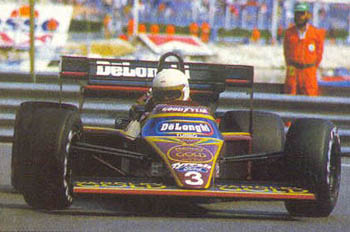 The cause of their ban stemmed from water samples taken from the car that Martin Brundle drove home to a second place finish in the Detroit Grand Prix. The water in question was pumped from its tank to a spraying mechanism over the engine air intake trumpets. FISA ( the fore-runner of the FIA ) claimed that the water contained 27.5 per cent Aromatics, which would have been illegal as it would have been a performance aid.
Tyrrell successfully disproved this, whereupon FISA simply switched to three other charges, all of which were highly dubious. Amongst these other charges were now having hydrocarbons in the water, unsecured ballast in the form of lead weights also in the water and holes in the underside of the car's flat bottom.
Strangely Tyrrell had been in dispute with FISA over purposed changes in the fuel capacity regulations, the only team then holding out against them. When they were excluded from the championship they were not allowed to vote and the changes went through unopposed.
"If two drivers at the end of the championship have equal points then what happens? From where does the exhausts of all cars except Ferrari come out from? Third, why in all cars, in the front right side, there is a small wing similar to the one on the top of the car and why isn't there one on the left hand side? Thank you, Demos, Cyprus"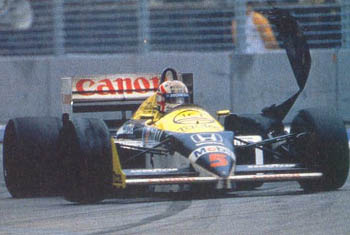 In the event of a tied points score we go to a countback - which driver scored the most wins, then the most second places, etc.
In 1986 we almost had the situation of a tied points score between Nigel Mansell and Nelson Piquet which would have been resolved by which of the two had more fifth places (Mansell). Late in the 1986 Australian Grand Prix, just after the retirement of Keke Rosberg, Piquet was leading with Mansell in third. A finish in that result would have given both drivers 72 points from 5 wins, 2 second places, 3 third places and one fourth. With only the best 11 races counting Mansell would have dropped the points from his 2 fifth places, the only other finishes from either driver. But with both drivers on 72 points, those 2 fifths would have given Mansell the world championship.
However in that most dramatic of season finales Mansell's tyre exploded spectacularly on Brabham Straight and the Williams team called Piquet in to the pits to have his tyres checked allowing Alain Prost to sweep by to take the win and the championship.
The exhausts of all non-Maranello constructed cars vent through the undertray where the undertray angles upwards from its flat bottom to form the diffuser.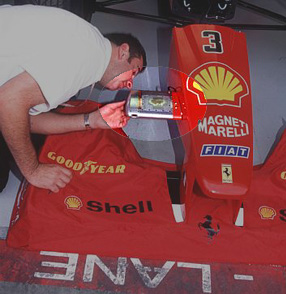 That wing on one side of the nose cone which is duplicated above the airbox is not actually a wing but is an in-car camera housing. They all carry the housing so all cars carry the same identical aerodynamic penalty.
"We hear that Grand Prix drivers are athletes. Is there any proof of this, especially compared to football or basketball players? Robert S. Canada"
Formula One drivers have to be fit. They sit in hot, uncomfortable cockpits for two hours and are asked to concentrate to their utmost while being subjected to cornering forces that make them weigh up to three times their own bodyweight, all while wearing enough fire proof clothing to make most of us sweat while sitting still. It's hot, hard, endurance work.
For a more detailed look at the fitness regimes of the drivers, you can read Fit to Race, published on Atlas F1 a few months ago.
"In the event that there are fewer than 6 cars running at the end of a race and the next closest retirement was outside of 75% completed race distance, how are points awarded? An example, Hakkinen 1st, 100 laps, Schumacher 2nd, 100 laps, Trulli 3rd 98 laps, Alesi 4th, retired 80 laps, Coulthard 5th, retired 72 laps, Irvine 6th, retired 65 laps. Do Alesi, Coulthard and Irvine receive full , half or no points? Michael D."
Ok, first thing's first: The regulations are very simple, stating that to be classified, a driver must have done 90% or more of the winner's lap numbers. So, if your winner did 100 laps then only those who have completed 90 laps or more will be classified. Therefore, in the example you set forth, only Hakkinen, Schumacher and Trulli will be classified.
Now, regarding points, the regulations are also very simple - to get points you must be classified. Even if you are 4th, or 5th or 6th in the order of 'finishers', if you finished your race - be it by retirement or by just being extra slow - under 90% of the winner's lap numbers, then you are not classified and therefore not entitled to any points. Therefore, in the example you gave, only the first three would then get their points, of 10 to the winner, 6 to the second place and 4 to the third. The other points will just not be given to anyone.
Of course, this is a very rare situation however it did happen in the past, on three different occasions, all in the 60's.For example, in the Belgian Grand Prix, at Spa-Francorchamps, in 1966, Guy Ligier's Cooper-Maserati was circulating in 6th place followed by Dan Gurney, also in a Cooper-Maserati, but hadn't completed enough laps. The winner John Surtees had done 28 laps, but Ligier had only clocked up 24 and Gurney 23.
"This may take a little too much research! Can you list every track that has ever been used for a Formula One race and possibly the year it was last used? Thanks, Clive H, England"
I think I'd better recommend you to the ultimate Formula One statistical database - FORIX.
FORIX has every result, every grid position, qualifying time, driver history, circuit history, Grand Prix history, I have yet to find a permutation of statistics not covered. Maybe they can't give a list of orange cars that raced between 1960 and 1969, but that's the only thing I can think of. And it's translated into over 30 languages. If you ever have a statistical enquiry pop over to FORIX, it even stays crunchy in milk. For a more specific answer to your question try http://www.forix.com/asp/nc.asp?z=0&k=0&l=0

Editorial Remark:

Some of the questions we receive lately, have already been replied to in previous F1 FAQ columns. Therefore, before sending in a question, we suggest you have a look at the back issues, by searching the FAQ database. Not that we mind getting so much mail, just that we feel bad for those who feel they are left unanswered...

We receive quite a few questions from you all, and it is absolutely impossible for us to research and respond to each of you, be it here or privately. Please, don't feel discouraged if your question was not replied to; it might come up in the next column. And don't forget - you can always look for answers at the Atlas F1 Bulletin Board.