Atlas F1's Jan Nottmeier had a dream - to meet his racing idol, Michael Schumacher, in person. Well, in last year's Canadian Grand Prix he found out that dreams do come true...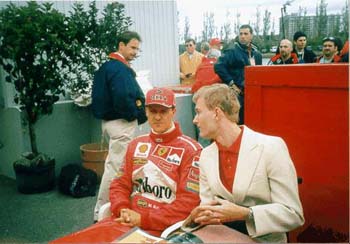 It all began about three weeks before the 1998 Canadian Grand Prix, when I wrote a letter to Philip Morris USA, the makers of Marlboro - Michael Schumacher's main sponsor, saying I have Cerebral Palsy and my life-long dream was to meet Michael Schumacher. I also said that I would be flying to the Canadian Grand Prix, so would they be kind enough to arrange me a meeting as such?
Or actually, it all began earlier than that.
My love for Formula One Racing started at the age of twelve. While I was Flipping through the TV channels, and early spring morning in the year 1990, I came across a Formula One race. I did not recognize any drivers, or teams; the name Ferrari, however, sounded faintly familiar. But that race was exciting, and I was hooked.
Well, 'hooked' would be quite correct, but only until I saw Michael Schumacher race some year or so later. Saying I was hooked after seeing him drive, would be an understatement. I continued to watch my idol in amazement when he was declared World Champion in 1994 and 95. And when I saw him race in the 1996 Canadian Grand Prix I decided that I want to meet this man in person.
So there I was, after contemplating this for two years, waiting for a likely polite NO response from Philip Morris. If they ever respond, that is. But to my surprise, a week after I wrote them, Philip Morris USA called me back and said they forwarded my request to Philip Morris International in Switzerland. All is not lost!
Hopes have their own tidal rhythm; one minute I was optimistic, the next absolutely sure nothing will come out of this. The days passed slowly, and after a week of feeling like a teenager waiting to be asked on a date, I figured I'd better re-take the initiative. So I called Philip Morris again. The International one, that is. Switzerland.
They never heard of my request, I learned. And with just a few days to go before the race, chances now seemed close to zero of this ever happening. Or so I thought. Less then 24 hours after I called them, I got a call from a person who identified himself with the Ferrari Team, who said, "Would you be, by any chance, free on Saturday Morning?"
I thought I was dreaming. I was asked to call the Ferrari team when I arrive at the circuit in order to get me in their paddock.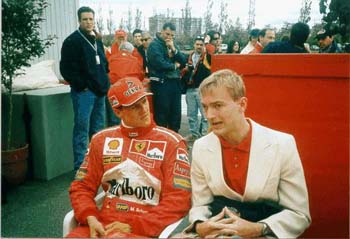 The day had finally arrived! It was about 08:20am and I called Ferrari to come pick me up. I waited for about 20 minutes and when no one showed up, I decided to try and get into the Ferrari Paddock area myself. The security guard thought otherwise, though. A meeting with Michael Schumacher? Oh well, here's another lunatic to bash away. I told the guard he might as well arrest me if I was lying. He probably thought I was totally nuts, but to his credit he escorted me to the Ferrari hospitality area, probably thinking that after that he'd get his dosage of kicking someone in the butt.
When we reached the paddock club, the security guard called the Ferrari host and asked him if by any chance they're expecting me. Oh, I can still hear the Ferrari guy saying, "Hello Mr. Nottmeier"... The poor security guard was in shock.
The Ferrari host person said Michael is practicing now and invited me to the hospitality area. But when I arrived there I was too nervous to get anything and declined their offer of drinks. Ten minutes passed and the Ferrari person came by and gave the warning - He Is Coming.
There was an empty chair beside me, and it sank in on me that HE was going to sit right there, next to ME. I was also told that Michael had waited for ME in the morning while I was trying to get through security. ME! By now my nerves were shot and everyone could see it.
Five minutes later - though it seemed like an hour - Michael Schumacher arrived at the Ferrari pit.
After talking with some journalists, he walked up to my chair and pulled his hand at me. "Hello", he said, shook my right hand and sat down next to me.
"You are fulfilling my dream", I told him in my native language, German.
"Oh, you speak German?", he replied with slight surprise.
"Yes", I explained. "I live in the U.S.A. for 13 years now. We moved to the United States because Germany wanted to put me in a special school because I cannot walk."
That puzzled Schumacher, and he said he doesn't understand why. I told him how I have graduated a normal high school in the US and how I hope to go into the public relations field in hopes of getting a job in F1. He asked if it was my first live Grand Prix and I said yes, then he asked how long the flight was and such other cordial questions.
While this was going on, press photographers were all around us taking pictures of Schumi and me. Eventually, he said he has to go to a briefing and that maybe he'll see me again later.
As he got up, I touched his driver's suit, looked up to him and said, "thank you."

Once he walked away, I went back to breathing normally. A Ferrari representative took me for a tour around the garages, some photo opportunity next to Michael and Eddie's cars and was given a Dekra cap with Schumacher's signature on it. But I was already far far away from there, probably on Cloud Nine.
It was a weekend I shall never forget. And it was a weekend which made me realize to never give up on my dreams, no mater how crazy they seem.