The 1999 Canadian Grand Prix will be remembered for two things. One, Mika Hakkinen won the race after Michael Schumacher had his turn crashing into the wall, and two, the race further proved that, despite it's governors' vehement denial to the contrary, Formula One is heading down the wrong track.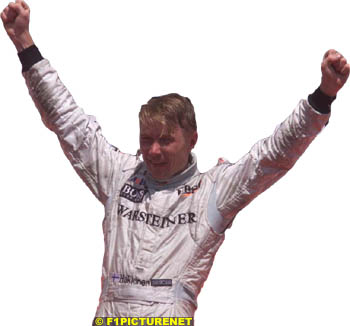 Yes, Canada was damn exciting. But it was a display of how bloody dangerous Formula One has become in the apparent quest for safety, for to provide entertainment like the weekend did, it was at the risk of the drivers, who despite their undisputed ability, many of the best did not seem to be able to keep their now-hybrid machinery on the black stuff.
But the weekend was a great one, albeit at high risk.
Free Practice
Friday morning saw the man who appears to be the quickest out of the box in Formula One this year, Eddie Irvine, shoot immediately to the top of the first session time sheets for the second race in a row. Eddie's Ferrari Teammate, Michael Schumacher, was second, while the McLarens struggled early on, with David Coulthard finding his groove and Mika Hakkinen only thirteenth after a spin. "I was pushing too hard," admitted the reigning Champion, who wasted most of the session as a result of his off.
Jean Alesi continued his recent form with fourth in the Sauber, from Ralf Schumacher's Williams, Jacques Villeneuve's BAR, the Stewarts with Johnny Herbert heading Rubens Barrichello and Heinz-Harald Frentzen's Jordan. The session was interrupted by Pedro Diniz' Sauber which had to be cleared after the Brazilian removed a wheel with a little help from what was to become a rather busy Canadian wall.
Friday afternoon saw Irvine maintaining his advantage, albeit by the slightest margin from Coulthard and Schumacher. Birthday boy Jean Alesi was delighted to stay fourth from Giancarlo Fisichella, who slotted his Benetton into fifth, and Ricardo Zonta was finding form with sixth in the BAR on his return. Mika Hakkinen was having a difficult time, a variety of problems saw him seventh from Frentzen, Villeneuve and Barrichello.
Saturday morning saw Michael Schumacher getting serious in the lead-up to qualifying, using Ferrari's latest 048B mill to lead the Mclaren duo of Coulthard and Hakkinen, from the second Ferrari of Irvine, Frentzen, Fisichella, Barrichello, Ralf Schumacer, Jarno Trulli's Prost and Alesi.
Qualifying
Michael Schumacher broke Mika Hakkinen's run of five pole positions with consummate ease, only driving seven laps in the session and setting his time on his first flyer. He did try a second fast lap, only to be thwarted by yellow flags. None the less, Michael was happy with his 21st career F1 pole. "I could have had the pole at Monaco, but I didn't, so it's good to finally get the first one of the season here," he said later that day.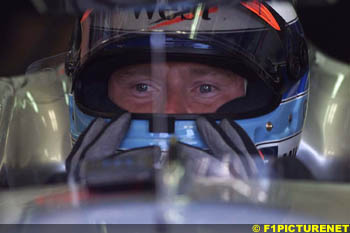 Hakkinen, however, put his difficult practice until then behind him, running Schumacher very close in his last lap to share the front row with the Ferrari. "I am happy with second place," Mika said, "but at the same time I'm disappointed to have missed the chance at setting a record run of pole positions."
Eddie Irvine ended third after a difficult session, "otherwise I think I could have taken the second fastest time," he said. Coulthard lost his car's balance but managed fourth. "I found it difficult to position the car precisely for the corners and around here without that you are lost," said the Scotsman.
Behind the big four, Rubens Barrichello was delighted with fifth, while Frentzen continued his fine form this year, despite some dodgy moments. Giancarlo Fisichella ended seventh despite only seven laps before that hungry wall claimed his Benetton and Jean Alesi ended eighth. In his excitement with his result, Jean tossed his chrome helmet into an appreciative crowd. That, after he stopped on the circuit when he gave his untertray to the kerbs...
Jarno Trulli ended ninth, from Herbert, the Alexes - Wurz' Benetton and Zanardi's Williams - from Ralf Schumacher, another lackluster performance by Damon Hill, Olivier Panis' Prost, the BARs of Villeneuve - also in a sorry position in his home Grand Prix - and Zonta, Diniz' Sauber and the regular Arrows/Minardi gaggle of tail-end Charlies, Takagi, de la Rosa, Badoer and Gene.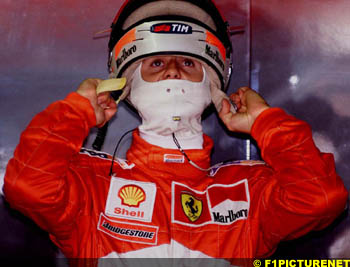 The Race
Sunday dawned to a confident Ferrari crew, despite a strong McLaren warm-up. But there emerged more than just pride to play for in the McLaren-Mercedes pit, following the aviating antics of the Le Mans Mercs and the difficult image consequences suffered by Mercedes-Benz over the weekend as a result. A win against the odds in Montreal would certainly soften the blow when the company's sporting heads reported to the board after the weekend.
But Michael Schumacher streaked into an immediate lead in the Ferrari in perfect conditions as soon as the lights went out. Jarno Trulli began another disgraceful Prost weekend, executing another ridiculous Montreal first corner melee, ending the weekend on the spot for Jean Alesi and himself and preparing Barrichello for imminent retirement.
Claiming to be victim of circumstance, Trulli was apologetic: "I completely lost control of my car. I am truly sorry to have hit the other cars. We were not even fighting," Rubens' race was run, the car deranged he retired a few laps later. "it was a pretty big impact - it even took a piece out of my helmet. I think it was a dangerous move," understated the Brazilian.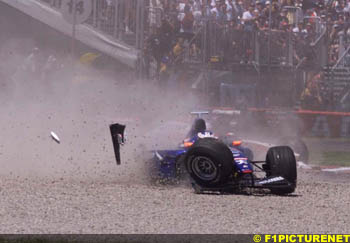 So the safety car made an immediate appearance, leading Schumacher, Hakkinen, Irvine, Coulthard, Fisichella, Frentzen and Herbert. Coulthard was passed by Fisichella at the start, but easily powered his way past the Benetton on the run down to the pits before the yellow flags appeared, clearly showing the Supertec's power deficiency to the Mercedes-Ilmor mill.
The safety car was soon back in the pits, as the race settled into its early pattern. On lap three, the Montreal wall was starting to satisfy its appetite for modern, if unwieldy F1 cars, claiming its first race victim. Ricardo Zonta's BAR brought the safety car straight back out, this time for three laps, keeping the Northern American crowd entertained with a typically American-style safety car controlled race. "I don't know what happened - if it was the tyres or if I made a mistake," Zonta concluded.
The safety car returned to its lair on lap seven, when Michael Schumacher immediately set about re-establishing his advantage. But Mika didn't let Michael go all that easily, exchanging fastest laps as they headed into the race. David Coulthard, probably mulling over Eddie Irvine's recent comments, was all over the back of the Ulsterman's Ferrari.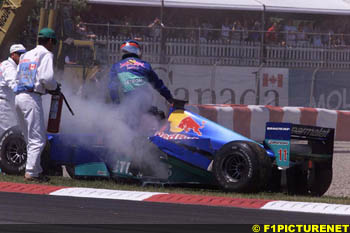 Then the wall got ambitious, eliminating its first ex-world champion of the weekend, when Damon put the Jordan into it, continuing his season of woe.
With the Jordan sliding out of harm's way, the race continued, with Schumacher consolidating his lead in a series of quickest laps in a row, but his trail of pace came to an end, the wall getting greedy this time to eliminate the then race and championship leader...
"I lost control of the car because I went off the racing line and got on the dirt and ended up in the wall. This was clearly my mistake. I usually make one mistake a year. I hope that this incident was the last for the season," said the German.
So, Hakkinen now led Irvine, Coulthard, Fisichella and Frentzen from Ralf Schumacher, despite outbraking himself at a point, and Pedro Diniz. An eager crane rapidly removed the wrecked Ferrari without the need for that safety car.
Then the wall claimed its hat-trick of ex-world champions, taking Villeneuve out of his home Grand Prix. "It was my mistake - I was simply going a little bit too fast. There was a lot dirt down on the track at that point, it was easy to make a mistake," he said.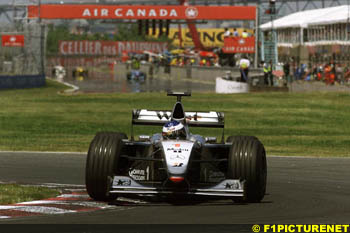 While corner 13 lived up to its name, claiming an illustrious list of victims (which oddly enough, all claimed responsibility instead of pointing out the obvious - that with slick tyres such slides could have been avoided in most cases), the safety car made yet another appearance while the battered BAR was removed. Most drivers took the opportunity to refuel and change tyre as the yellows waved, with Mika leading the lapped Badoer and Panis, then Irvine and Coulthard, as the race restarted again.
The restart witnessed an ego-bashing incident between Irvine and Coulthard. "Coulthard managed to get a run at me because a backmarker put dirt on the track and I had to slow. We were side by side, he clipped my back wheel and I spun. Then the fun began!" chirped Eddie, while David commented, "I managed to get half a car's length ahead of Eddie going into one of the corners. I was surprised when he went around the outside and turned into me. Then we touched, as I didn't have anywhere to go. I guess it was really a fifty-fifty situation."
Both suffered, Eddie dropping back and David pitting at speed for repairs.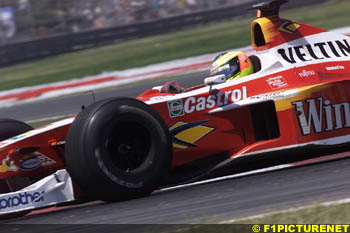 With Irvine and Coulthard out of the way, Fisichela and Frentzen were faced by the prospect of that famous mobile chicane, a Prost due to be lapped. Needless to say, Panis was completely overcome by his urge to overtake the Minardi ahead of him, that he never even saw a blue flag. Or is he colour blind? Perhaps someone should mention to Alain, that he should tell his drivers what they should do when someone waves a flag the same colour, slightly brighter, as their car...
It took several laps for something to happen, but the Prost baulked the Benetton enough for Frentzen to pounce and fight his way past the ignorant Panis. "When I lost my second position because of Panis and Badoer, I was really upset as they were one lap behind and wouldn't let me overtake," said Fisichella. Typically arrogant, there was no mention of the incident by Prost, but poor Badoer, who was in front of Panis but still penalised, was sad: "I'm really disappointed further to the race direction's decision to penalize me."
Both Panis and Badoer earned stop-go penalties for their efforts, Coulthard got one for pitlane speeding and Zanari also came in for a stop-go for baulking. It's time for Formula One to make rules that penalise multiple blue flag offenders with race preclusions at least. And whenever there's a lapping problem, it appears the baulking is done by a Prost...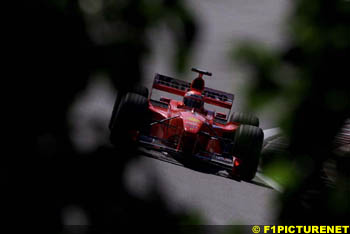 Hakkinen drove away, shielded by the baulkers, from Frentzen, Fisichella, Ralf Schumacher, Herbert, Diniz and a charging Irvine. Eddie fought past an impressive Diniz, but battled to pass a determined Herbert, the Ford proving more of a match for the Ferrari in an entertaining battle. Eddie eventually squeezed though at that notorious turn thirteen, both drivers taking to the grass and Eddie tank-slapping his way ahead.
"He was quick on the straight and as we came to the corner, I braked on the limit and had to cut across the grass," noted Eddie. "When he went down the inside he was going in too quickly to make the chicane," said Johnny. "I had to steer away to avoid him and we both went through the grass. It was a good battle while it lasted. I was able to keep a gap between us in the slower corners on braking but it's a shame I couldn't hold him off." The Supertec powered Williams was an easier target, the Ferrari easily powering past in a straight line.
Comfortably ahead, Hakkinen cruised home. But the action wasn't over, with Frentzen slamming into the barriers to bring the pace car out to lead the race to the flag. Frentzen's impact did not only rob him of a sure second place, it also injured the resurging driver to the extent that he had to spend three days in hospital, where a slight hemorrhage was diagnosed in his skull. Frentzen, it seems, will be OK to race for the French Grand Prix, but the his accident was really one that could have been avoided, had it not been down to... you guessed it: Max Mosley's grooves.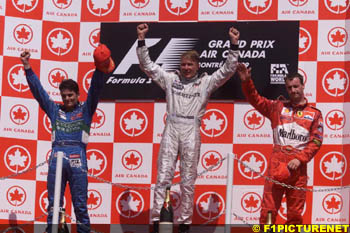 But, back to the celebrators: "It was a fantastic race," commented Mika, " I really enjoyed it and I am really pleased to have changed my luck at this particular circuit. I felt very comfortable with the car and I was able to match Michael's pace and at the same time look after my car. Then to my surprise I saw him go off and I just concentrated on maintaining the right pace to win the race."
Giancarlo Fisichella was delighted, "I am so pleased with this result today. Canada is just a fantastic place for me, and maybe a lucky place too as this is my third podium here in three years. My target was to score some points, so second position on the podium is just perfect." Eddie Irvine clearly enjoyed himself. "I'm happy with third after such an exciting race. There were exciting moments, like when we were three abreast going into the first corner. My car was perfect - the best racing car I have ever driven."
Ralf Schumacher was relieved with another good result, "We scored another three points and this is very important," while Herbert continued a good birthday for Jackie Stewart following the sale of his team to Ford. "I'm delighted to finish my first Grand Prix of the year and to come away with two points is a bonus. It's been quite a weekend for the whole team". Pedro Diniz was relieved, "Finishing sixth isn't so bad, especially after the weekend got off to a difficult start on Friday morning."
The Canadian Grand Prix was an entertaining race, very entertaining. But at what cost? Formula One seems to swing between terribly boring, safe processions, or damned dangerous but spectacular races like we saw Canada.
Surely it's time for the controllers to remove their blindfolds and give the world F1 racing that's safe, spectacular and consistent?
Final Race Results


CLASSIFIED

 1.  Hakkinen      Mclaren Mercedes   1h41:35.727                   
 2.  Fisichella    Benetton Playlife   + 0:00.700                   
 3.  Irvine        Ferrari             + 0:01.700                   
 4.  R.Schum:      Williams Supertec   + 0:02.300                   
 5.  Herbert       Stewart Ford        + 0:02.800                   
 6.  Diniz         Sauber Petronas     + 0:03.700                   
 7.  Coulthard     Mclaren Mercedes    + 0:05.000                   
 8.  Gene          Minardi Ford        + 1 Lap                      
 9.  Panis         Prost Peugeot       + 1 Lap                      
10.  Badoer        Minardi Ford        + 2 Laps                     
11.  Frentzen      Jordan Mugen-Honda  + 4 Laps *                   

* Retired on lap 65 due to a brakes failure/crash                   
                                                                    
Fastest Lap: Eddie Irvine, 1:20.382 (197.999 kmph), lap 62          
                                                                    
NOT CLASSIFIED / RETIREMENTS                                        
                                                                    
     Zanardi       Williams Supertec    50  brakes                  
     Takagi        Arrows TWR           41  gearbox                 
     Villeneuve    BAR Supertec         35  hit wall                
     M.Schumacher  Ferrari              29  hit wall                
     De La Rosa    Arrows TWR           22  gearbox                 
     Hill          Jordan Mugen-Honda   14  hit wall                
     Barrichello   Stewart Ford         14  collision damage        
     Zonta         BAR Supertec          3  hit wall                
     Wurz          Benetton Playlife     0  transmission            
     Alesi         Sauber Petronas       0  hit by Barrichello      
     Trulli        Prost Peugeot         0  crashed into Barrichello


The Canadian Grand Prix, Lap by Lap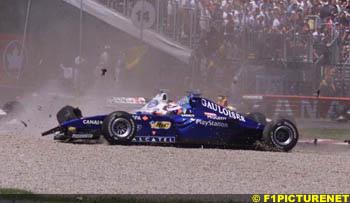 Start: it's 30 degrees and sunny - although for the first time there are some clouds - and the track temperature is 44 degrees. When the lights go out, Schumacher shoots straight into the lead, and after the tiniest hesitation, Hakkinen goes second from Irvine third with Fisichella going into fourth place ahead of Coulthard fifth. Further back, Trulli loses control and spins down the grass on the inside before smashing into Barrichello and the two cars then hit Alesi. Behind, there are other collisions as others try to avoid the carnage. Alesi and Trulli are out there and then; Barrichello pits for repairs rejoining after bodywork repairs and a check, Wurz retires after the driveshaft breaks coming out of the hairpin
Lap 1: The pace car is dispatched to control the race while the cars at the first corner are recovered. Michael Schumacher leads from Hakkinen, then Irvine, Fisichella, Coulthard, Frentzen, Herbert, Zanardi, Ralf Schumacher, Diniz, Villeneuve and Hill
Lap 3: The pace car went in at the end of lap two and at the end of the first racing lap, Schumacher has a lead of 1.4s with a slightly bigger gap to Irvine ahead of Coulthard who has overtaken Fisichella and the rest. Zonta goes off in the final corner and hits the wall, putting him out of the race.
Lap 4: The pace car goes out, but before it picks everyone up, Zanardi goes wide at the hairpin and drops back from eighth to 17th
Lap 5: The cars are once again behind the pace car: Michael Schumacher, Hakkinen, Irvine, Coulthard, Fisichella, Frentzen, Herbert, Ralf Schumacher, Diniz, Villeneuve, Hill, de la Rosa, Badoer, Takagi and the rest
Lap 7: The pace car goes in again
Lap 8: Michael Schumacher quickly pulls away from Hakkinen by 1.5s with a similar gap back to Irvine, pushed hard by Coulthard. Then there's a 1.5s gap to Fisichella closely followed by Frentzen and Herbert, then another gap back to Ralf Schumacher ahead of Diniz, Villeneuve and Hill
Lap 11: The leading Ferrari is easing away gradually, now 1.9s ahead of Hakkinen with 3.4s back to Irvine and Coulthard. Then there's 2.2s back to Fisichella who is pulling away from Frentzen and Herbert with 3.1s back to Ralf Schumacher, soon to pull away from Diniz and Villeneuve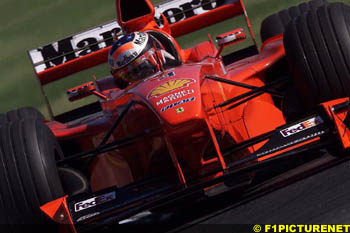 Lap 15: The lead gap is now 2.7s with 4.8s back to Irvine and Coulthard, then another 4.5s back to Fisichella who has opened up a two second gap back to Frentzen and Herbert. Further back, Hill hits the wall out of the final chicane and stops further down the track, out of the race. Barrichello also retires on this lap with damage to the steering column, the car pulling to the left.
Lap 18: Michael Schumacher's lead comes down, for the first time, from 3.3s to 3.1s. However, the gap from Hakkinen to Irvien and Coulthard behind still goes up, now to 5.6s. The gap back to Fisichella is now up to 6.6s with Frentzen and Herbert another 2.4s further back
Lap 19: Michael Schumacher and Hakkinen now start to set an amazing sequence of fastest laps: in the next six laps, they go faster on five of them. Further back, Coulthard begins to drop away from Irvine
Lap 22: De la Rosa pits for fuel and tyres but is unable to rejoin due to transmission problems and retires
Lap 23: Takagi is the first to pit for fuel and tyres
Lap 24: Herbert pits for fuel and tyres
Lap 27: The lead gap is up to 4.2s while Hakkinen is now 7.8s ahead of Irvine, with Coulthard nearly three seconds further back
Lap 28: Takagi pits for fuel and tyres and rejoins
Lap 29: Coulthard goes straight on across the grass at the final chicane but is able to rejoin
Lap 30: Coulthard does the same again but on this lap, Michael Schumacher crashes in the final chicane, straight into the wall. The German admits that it was his mistake.
Lap 31: Hakkinen leads by 7.1s from Irvine in second place, then 4.8s further back is Coulthard in third, then 10s further back is Fisichella, followed by Frentzen, then Ralf Schumacher, Diniz, Villeneuve, Herbert and the rest
Lap 33: Ralf Schumacher loses his sixth place to Diniz when he goes off at the hairpin but rejoins
Lap 34: It leaves Ralf being pushed by Villeneuve
Lap 35: But Jacques goes off at the final corner, becoming the third World Champion to hit the World Champion's wall! Out comes the safety car again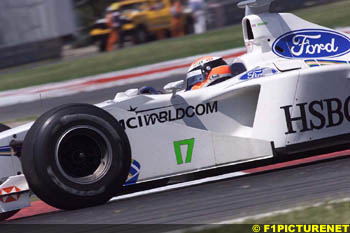 Lap 36: Under the safety car, Hakkinen, Irvine and Coulthard just miss being able to come into the pits to change tyres, but Fisichella, Frentzen, Diniz, Ralf Schumacher and Herbert all pit on this lap, so do Badoer, Gene and Panis, one lap down
Lap 37: Hakkinen pits and so does Irvine, whose stop is four seconds too long at 12.3s, but it makes little difference. Zanardi also comes in on this lap
Lap 38: Coulthard pits
Lap 40: The race restarts
Lap 41: As they race down to the first corner, Coulthard challenges Irvine around the outside into the first corner. Irvine thinks that Coulthard has gone wide and cuts across to take his line, only for the two to collide and go off onto the grass. Fisichella and Frentzen, then Ralf Schumacher and Herbert, plus Diniz and then Zanardi all pass before Irvine rejoins, in the middle of a Zanardi and Takagi sandwich. Coulthard has to pit to have the suspension checked and a new nose section fitted; he rejoins after a 13.9s stop
Lap 42: Hakkinen is now on his own out front, 11s ahead of the rest with battles going on over second place, fourth, sixth and then Irvine in eighth. Takagi pits on this lap and like his teammate, fails to rejoin due to transmission failure
Lap 43: Badoer and Panis are also battling, but a lap down, and they are just ahead of Fisichella and Frentzen, but in the confusion out of the final corner, Frentzen overtakes Fisichella. Further back, Irvine is ahead of Zanardi
Lap 45: Hakkinen is now 14s ahead of Frentzen with a 3.0s gap back to Fisichella in third, then 2.3s back to Ralf Schumacher who has Herbert, Diniz and Irvine close behind
Lap 46: Badoer pits for a 10s penalty for failing to take notice of the blue flag, although it's actually being shown for Panis who is behind him and holding up Fisichella and Frentzen
Lap 47: Hakkinen's lead is now 16s. Irvine moves up to sixth place, with slight contact as he overtakes Diniz; he's now right on Herbert's tail
Lap 48: Zanardi comes in to serve a 10s penalty after ignoring the pit exit blue/green lights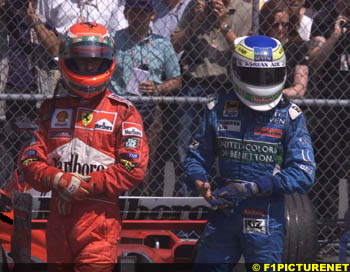 Lap 49: Coulthard pits to serve a 10s penalty for the same thing, while Panis comes in for a 10s penalty for ignoring the blue flag
Lap 51: Zanardi has an excursion into a gravel trap due to brake problems, but also suffers from a transmission failure
Lap 53: The lead gap is beginning to come down slightly, but on this lap, Irvine dives down the inside of Herbert at the final chicane. Neither of them actually takes the chicane, as both cut across the grass, but Irvine is ahead, in fifth place
Lap 57: He's now on Ralf Schumacher's tail
Lap 58: No contest as he slipstreams past the Williams going down to the final corner. Further back, Herbert is coming under pressure from Diniz
Lap 60: The lead gap is down to 11s. Irvine sets the first in a succession of three fastest race laps as he tries to cut the 12s gap between himself and Fisichella
Lap 64: Fisichella has been easing steadily closer to Frentzen and is now within a second
Lap 65: Fisichella is behind Frentzen, Ivine is 5.9s behind Fisichella
Lap 66: Under braking for the first back chicane, Frentzen front right brake disc suddenly explodes and he is pitched hard into the barrier and remains in the car. The pace car is sent out
Lap 69: The pace car comes in and the cars take the chequered flag, some 5.0s covering the first six. Frentzen has climbed out of his car and with help has got into the medical car. He has a bruised left leg and right shoulder but is taken to hospital for a check-up. In the mean time, back on track, Mika Hakkinen takes his first Grand Prix win at Canada, not to mention a first podium there!