Leaving Circuit de Magny-Cours in Nevers, France, we cross the English Channel to a converted airfield in Northamptonshire that is the original home of the British Grand Prix: Silverstone.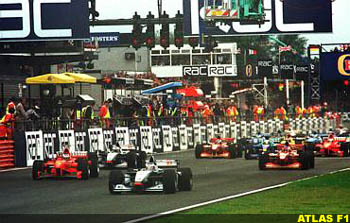 At 5.140 Km, Silverstone is a long and fast circuit. Silverstone has gone through nine different layouts in 50 years and was radically changed in 1991, with the addition of the Priory-to-Luffield complex. Despite these changes, Stowe corner, at the end of the Hanger straight, and Club corner, at the end of the Vale straight, provide the best overtaking spots on this circuit.
A spokesperson from McLaren summarised the challenges of the Northamptonshire circuit, saying: "Silverstone demands peak performance from both car and driver. It is a fairly high-speed circuit where aerodynamics play a vital role in the fast corners of Copse, Maggotts, Becketts, Chapel, and Bridge. In the slower, tighter bends, good traction is extremely beneficial.
"The Maggotts-Becketts-Chapel S-bends form one of the most challenging sequences of quick corners in Formula One, and undoubtedly one of the best places in the world to watch a Grand Prix car in action. Drivers experience terrific g-force loadings as they push their cars to the limit at speeds of 260 kmph while negotiating this extremely fast-flowing section. Getting it perfect brings great satisfaction and contributes to a competitive lap time."
Weather at Silverstone can be changeable. Rain is always a possibility there as happened during the 1998 race. English rain is not the warm, tropical, rain of Interlagos, and Silverstone can be a miserable place to drive around in the wet. As Tennis fans already know, England has had its fair share of rain in recent weeks.
Pitstop and tyre strategies
Attrition is average at Silverstone, about half the field tend to finish. Nine cars finished last year's wet race while ten cars spun off. Ten cars finished in 1997, eleven in 1996 and twelve cars were running at the end of the 1995 race.
In last year's race most teams opted for a two-stop strategy in the rain. On tyre choice, Bridgestone will again offer the teams a choice of soft or medium compound tyres. Technical Manager of Bridgestone Motorsport, Yoshihiko Ichikawa, stated that, "With its mixture of high and medium speed corners, Silverstone is yet another circuit where we will be offering the teams a choice between our Medium and Soft compounds. At first sight, the choice may appear easy, but even excluding sudden changes in the weather, success in the Grand Prix could hang on the right decision being made before the One PM deadline on Saturday.
"The Medium tends to have greater stability but less grip in the high corners, it offers more consistent lap times and the possibility of having to make only one pit stop before it needs to be changed. The attraction of the Soft option, is its superior performance when new. The difference is by no means huge, but even hundredths of a second can make a difference under qualifying conditions. And although the indications are that the choice of the Soft compound will mean an extra pit stop, this could be revised if the weather turns cold."
The Teams
Sunday's race is the eighth Grand Prix of 1999 and this will be the mid-point of the Formula One season. Following the unexpected results of the Canadian and French Grand Prix, the driver's and the manufacturers' championship are both wide open. Since all the Formula One teams have tested extensively at Silverstone, as they did in Catalunya, surprise results should be less likely on Sunday. A select number of teams have been successful at Silverstone. To succeed at Silverstone requires a powerful, reliable engine in an aerodynamically efficient, well balanced chassis.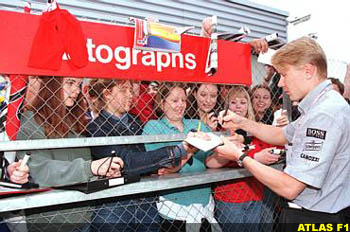 Ferrari still leads the manufacturers' title and has been the most reliable team of 1999. Ferrari has won at Silverstone in 1998 but have only scored a total of 30 points at this circuit since 1991. Ferrari are hoping to use the lighter, more powerful, 048 development engine at Silverstone that they have used for qualifying in Canada and France. They also tried revised aerodynamics during last week's testing for this race.
Michael Schumacher is still second in the World Championship. Michael has had limited success (by Schumacher standards) at Silverstone. He has competed in seven British Grands Prix, and has won this event only once, for Ferrari, in 1998. He has never had pole position but set fastest lap in 1997 and 1998 and led this race in 1995. Schumacher also finished second in 1993 and fourth in 1992.
"It's a track where you have to have a good aerodynamic balance between the high and medium speed corners," reflects Schumacher. "It's fun to drive. Although there is obviously a big following for the British teams, we always get a warm welcome from the fans who are perhaps the most knowledgeable and enthusiastic of the season in their own way. It would be great to win here again this year."
Eddie Irvine is third in the World Championship. The man from Northern Ireland has had one podium finish at Silverstone, finishing third in 1998 for Ferrari. Irvine, who has not endeared himself recently by his negative comments in the press, made this assessment of the situation: "We have been making constant progress from race to race, but so have the opposition, so we cannot afford to let up for a minute."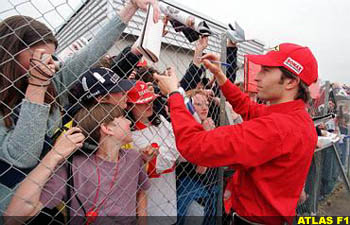 McLaren have never won at the revised Silverstone, although Ayrton Senna won for McLaren in 1989 on the old circuit. They have always finished in the points at Silverstone but have only scored 34 points since 1991.
McLaren have closed the gap with Ferrari to just six points and they will need both cars to finish in the points on Sunday. Their aerodynamic advantage is very important at this circuit. They tested a longer wheelbase version of the MP4/14 last week. In last year's race, McLaren made poor choices in tyre strategy which was one factor that lost them the race. This year may be different, according to team owner, Ron Dennis: "It was encouraging to see the MP4/14 run competitively in the treacherous conditions during that (French) race and, therefore, I expect us to be in a position to challenge for victory at Silverstone whether wet or dry."
The World Championship leader, Mika Hakkinen, has had his share of bad luck at Silverstone and has never won on this circuit, although he led the 1997 and 1998 races. He has started in six British Grands Prix and has finished in the points on four occasions - second last year, third in 1996 and 1994 for McLaren, and sixth for Lotus in 1992. He had pole position once, in 1998.
"Silverstone is a very enjoyable circuit to race on, but extremely challenging," says Hakkinen. "The track rewards good aerodynamics so I would be surprised if our car wasn't competitive during the weekend."
David Coulthard has now slipped to seventh in the 1999 World Championship. Twynholm's most famous son has competed in five British Grands Prix. His best finish was third in 1995, a race he could have won if the pit-lane speed restrictor on his Williams had been working properly. Coulthard also finished fourth in 1997 and fifth in 1996 for McLaren, and fifth in 1994 for Williams in his British Grand Prix debut.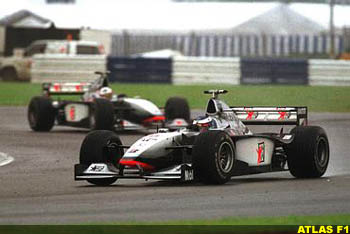 Coulthard's thoughts on Sunday's race: "Achieving my first British Grand Prix win would give me an immense feeling of satisfaction, but victory won't be easy. Apart from competing against a number of determined rivals, Silverstone poses a number of driver challenges. You can really feel when you've driven a quick lap, however, and it is very satisfying."
Jordan is third in the manufacturers' championship and this Silverstone-based team will want to impress on Sunday. They have consistently finished in the points at their home track, finishing fourth in 1994 and 1996, fifth in 1997, and sixth in 1991, 1996 and 1998 scoring a total of eleven points. Jordan need both cars to finish on Sunday to keep up its manufacturers' title challenge.
Heinz-Harald Frentzen has moved up to fourth in the World Championship after his impressive, but understated victory at Magny-Cours. Frentzen has had little success at Silverstone, his best finish was sixth in 1995 for Sauber.
More significantly for Jordan, however, this is planned to be Damon Hill's final Grand Prix. Over the years, a lot of negative things have been said about Damon in the press but his record speaks for itself. Damon Hill has competed on 21 different Grand Prix circuits and has won on 15 of these circuits. Victory eluded him only at Aida, Donington, Jerez, Kyalami, Monaco, and the Nurburgring. With 22 victories he is eighth on the all-time list, with 20 pole positions he is ninth on the all-time list and with 19 fastest laps, he is 10th equal with Senna on the all-time list. 356 points puts him ninth on the points' all-time list.
If Hill finishes third on Sunday, he will equal Jackie Stewart's points record of 360. Had Hill hung on until the Hungarian Grand Prix, I have little doubt that he could have passed this milestone.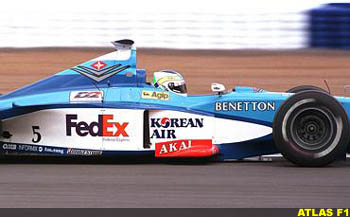 This native of Hampstead in London won the British Grand Prix in 1994, and retired while leading in 1993 for Williams. His only other points finish at Silverstone was a remarkable sixth for Arrows in 1997. Hill set pole position in 1996, 1995 and 1994 and set fastest lap in 1995, 1994 and 1993. Having realistically began his F1 career in Silverstone, in 1992, this weekend is going to be the closing of a circle for Damon Hill and race fans all over the world.
Williams has returned to fourth in the manufacturers' championship. In the 1990's Williams has dominated the British Grand Prix winning six times on the revised circuit - in 1991, 1992, 1993, 1994, 1996 and 1997 - but were outclassed last year and finished outside the points. They have scored 74 points in these eight races.
Ralf Schumacher is now fifth in the World Championship. Ralf finished fifth in 1997 and sixth in 1998 at Silverstone for Jordan. He put in yet another solid, points-paying, performance in France. "Silverstone is one of the most exciting and demanding race tracks of the whole season," Ralf recently stated. "It's very difficult to find a good compromise between aerodynamical downforce because of the high speed corners and drag, because of the long straights. This is the home Grand Prix for the Williams team so it is a special race for us and we all want to do a good job here."
Alex Zanardi's miserable season drags on. He has competed twice before at Silverstone in 1993 and 1994 for Lotus and did not finish either race. Zanardi had this to say: "Silverstone has been modified a lot since I last raced there so last week's test was a good opportunity for me. It's the 'temple of British motor racing' although a lot of people don't agree with that any more. It's a place where Williams would like to do well and I hope we will. With the modifications they've made it seems to be very difficult to overtake unless the driver in front of you makes a mistake."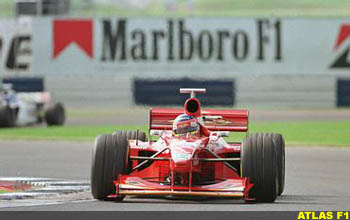 Benetton has slipped back to fifth in the manufacturers' championship. It has been a consistent and successful team at Silverstone with a total of 50 points. Benetton won the British Grand Prix in 1995 and finished in the points in every race apart from 1994, when Michael Schumacher was disqualified.
Giancarlo Fisichella has slipped to sixth in the driver's championship. Fisichella finished fifth last year for Benetton. Alexander Wurz finished third in his British Grand Prix debut in 1997 and finished fourth in last year's race.
Stewart is still sixth in the Manufacturers' championship. Team founder Jackie Stewart won at Silverstone twice during his career but his team has yet to score a point there. None the less, both Stewarts were very competitive in last week's tests.
Rubens Barrichello is still eighth in the World Championship. Barrichello finished fourth in 1994 and 1996 for Jordan and was very competitive in last week's tests. Barrichello could have another points finish on Sunday.
Johnny Herbert is now tenth in the championship. Herbert won the 1995 British Grand Prix which started the legend of the "lucky" underpants that Johnny wore on the remaining race days of 1995. They worked once again at Monza. This native of Romford in Essex has competed in eight British Grand Prix, his only other points finish was a creditable fourth for Lotus in 1993.
Prost is seventh equal in the manufacturers' championship. Team owner Alain Prost won at Silverstone five times, but his team has never scored a point at Silverstone. Olivier Panis finished fourth in 1995 for Ligier while Jarno Trulli have yet to score a point at Silverstone. Both Prost drivers were not very competitive in last week's tests.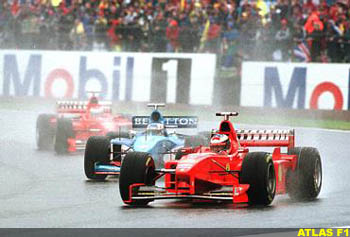 Sauber is also seventh equal in the manufacturers' championship. Sauber's development is encouraging as the season progresses but they were not competitive in last week's tests. Sauber have scored a single point at Silverstone in 1995.
Jean Alesi has competed in ten British Grand Prix at Silverstone. He has finished second on three occasions: in 1997 for Benetton and in 1995 and 1994 for Ferrari. Pedro Diniz has yet to score a point in Britain.
BAR's fortunes were mixed in France. Jacques Villeneuve has competed in three British Grand Prix and has won twice in 1996, setting fastest lap, and in 1997 from pole position. Villeneuve modestly stated, "I've been ok there in the past, although last year was only average. I am happy to go there. Our car seems better in high-speed corners than slow ones, so we could be good at Silverstone. Because of the way the track is, we should be as competitive as we were in Barcelona, so if we work well next week, we could be up there."
Ricardo Zonta's performance in the rain at Magny-Cours was very encouraging, and should the rain come to Silverstone too, expect Zonta to perform well yet again. "I like Silverstone because there are quite a few fast corners," Zonta commented. "I also have good memories of Silverstone as it was there I did my first Formula One tests with Jordan and McLaren. Compared with the Magny-Cours circuit, in France, we are in good shape for this Grand Prix, but we still need to go faster. We are testing new things, but we need more development all the time. We can certainly say, although I missed a few races, that since the beginning of the season there has been big progress on reliability. The car is getting better all the time."
Arrows has scored a single point at Silverstone in 1997. Neither Arrows drivers finished in last year's race while Tora Takagi finished ninth for Tyrrell.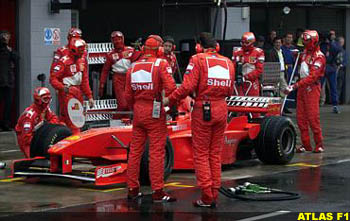 Pedro de la Rosa put in a very respectable lap at last week's tests. However, with average attrition, a finish in the points for either de la Rosa or Takagi on Sunday is somewhat unlikely.
Minardi's last points finish at Silverstone was in 1989 when Pierluigi Martini and Luis Perez Sala finished fifth and sixth respectively. Shinji Nakano finished eighth in last year's race while Luca Badoer finished tenth in his last outing with Minardi at Silverstone in 1995. Marc Gene should again look at this as an opportunity to complete another Grand Prix.
My Predictions:
In the event of rain at Silverstone, anything can happen but the points could be divided up by the following seven drivers:
Michael Schumacher
Mika Hakkinen
Eddie Irvine
David Coulthard
Heinz-Harald Frentzen
Ralf Schumacher
Rubens Barrichello
If it is dry, I'm going to pick Ferrari, McLaren, and Stewart as the top three teams for qualifying with Jordan and Williams making up the top five.
Starting grid:
Mika Hakkinen
David Coulthard
Michael Schumacher
Eddie Irvine
Rubens Barrichello
Heinz-Harald Frentzen
Johnny Herbert
Damon Hill
Ralf Schumacher
Giancarlo Fisichella
Jacques Villeneuve
Jean Alesi
Sunday's race could be very exciting but speed and reliability is likely to determine the outcome.
The 1999 British Grand Prix Preview in a Nutshell: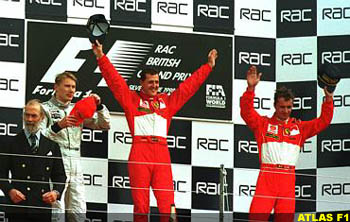 A select few teams have been successful at Silverstone. To succeed at Silverstone requires a powerful, reliable engine in an aerodynamically efficient, well balanced chassis.
McLaren should have the advantage, but they have yet to win on the revised Silverstone circuit. They need both cars to finish in the points to keep up their championship challenge. Is their reliability good enough?
Can Ferrari keep up the challenge at Silverstone? How reliable is the new Ferrari 048 engine?
The Best of the Rest: Jordan, Stewart or Williams? At the end of the day, Jordan's reliability could give them the edge over the speed of the Stewarts. Heinz-Harald Frentzen, Ralf Schumacher and Rubens Barrichello will all be looking for points finishes.
Always in the points at Silverstone: McLaren, Ralf Schumacher and Alexander Wurz.
Dark Horses: Jean Alesi, Jarno Trulli and Jacques Villeneuve.
Damon Hill waves goodbye: could he make history and retire from the top step of the podium? Either way - thank you Damon, you have given Formula One enthusiasts a lot and your absence will be felt.