The history of the British Grand Prix in the Formula One starts right at the very beginning of the World Championship series - the very first race of the very first championship was held at Silverstone, on May 13th, 1950.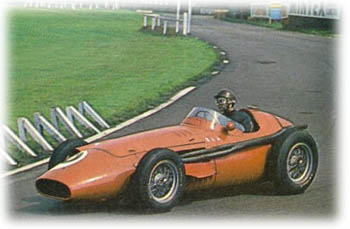 In many ways the race was incomparable with today's Formula One. First of all, Ferrari wasn't present. After having scored disappointing results in individual Grands Prix during the previous year, the team decided not to travel to England for the first race of the World Championship.
The second eye-catcher was the age of the dominant Alfa Romeo team's drivers. The legendary threesome Giuseppe Farina, Juan Manuel Fangio and Luigi Fagioli were aged 44, 38 and 53 respectively. With 38 year old Damon Hill retiring now, this seems almost an impossible old bunch. However, these old men in their Alfas completely humiliated the rest of the field, together with their British, 38 year old one-off teammate Reg Parnell, who had been included in the Alfa team as couleur locale. The four took the first four positions on the grid and if it weren't for Fangio's oil line failing, they would have taken the first four positions in the race easily, for the first non Alfa (Yves Giaraud-Cabantous' Lago-Talbot) finished two laps behind winner Farina.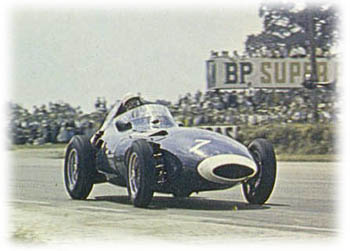 A year later, it was at the very same Silverstone that the Alfa domination was finally broken. After having won nine straight Grands Prix (not including the Indy 500, in which non of the regular contestants participated), Alfa Romeo was beaten by Ferrari. Argentinian Jose Froilan Gonzalez beat Fangio from pole, striking an impressive 51 second gap at the chequered flag.
For Ferrari, this was the beginning of a string of victories at the British Grand Prix. In the years after the historic first victory, Alberto Ascari (twice) and again Jose Froilan Gonzalez brought home victories for Ferrari. Although Ferrari was still strong in 1955, the British Grand Prix became one Enzo would gladly forget. Qualifying already showed signs of deterioration, since Eugenio Castellotti was the fastest driver of the Scuderia at a disappointing tenth place. In the race the Daimler Benz team gave Ferrari a tough hit in the face by scoring the first four positions with Stirling Moss, Fangio, Karl Kling and Piero Taruffi.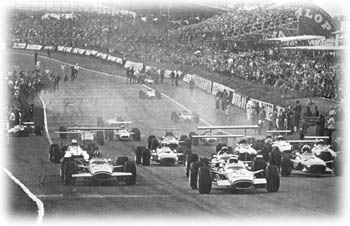 One fact in this race is truly unique: the fastest lap was shared by as many as seven drivers. Gonzalez, Mike Hawthorne (both Ferrari), Alberto Ascari, Onofre Marimon (both Maserati), Moss, Fangio (both Mercedes) and Jean Behra (Gordini) all clocked 1:50.0, since Silverstone timing was run in seconds and not tenths of seconds as was usual in those days.
Through the years not only Ferrari was going strong in Britain. With eleven victories the rampant horse stands on top, but only one win in front of Williams. McLaren and Lotus are the other two strongholds at the British Grand Prix with respectively nine and eight wins. No other team has won more than two events.
Especially Lotus has one man to credit for its success on home soil. Of the eight Lotus victories, five were of Jim Clark's. Clark was nearly invincible at his home Grand Prix for six years. From 1962 until 1965 he won four races in a row and after being beaten by Jack Brabham in 1966, he won again in 1967.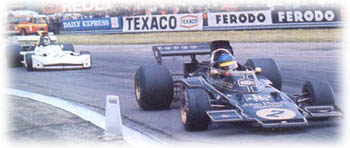 The 1966 race was a different one in another aspect too. Because of a strike of metalworkers in Italy, the Ferrari team was unable to make their cars ready for the British Grand Prix and had to miss the event altogether.
In what makes them even more amazing, all of Jim Clark's victories were achieved from pole position, while the Scotsman took a start to finish win in two of the occasions (1962 and 1964). Clark's advantage wasn't due to the track too, since his five victories were scored on three different tracks: Aintree, Brands Hatch and Silverstone.
Besides Clark, there's one other driver who scored five victories in the British Grand Prix. French ace Alain Prost took home five wins over a period of eleven years with four teams. In 1983 the Frenchman, driving a Renault, scored the first turbo victory in the British Grand Prix, four years after Jean-Pierre Jabouille first won with a turbo at Dijon. Later on, in 1985, 1989, 1990 and 1993, the professor scored wins in a McLaren twice, a Ferrari and a Williams, scoring British wins for the three most winning teams on Albion ground.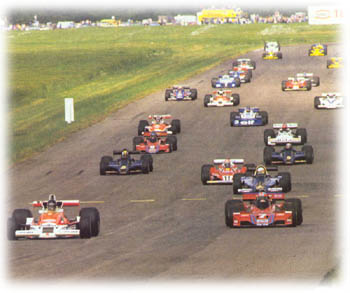 Of the races held in recent years, the 1994 race stands out. Of this race, the warm up lap was the most talked about lap of the season. Benetton driver Michael Schumacher briefly overtook, against the regulations, pole-sitter Damon Hill (Williams). After 18 laps, the German was shown the black flag, which he promptly ignored for three laps, after which he came in to serve the five seconds penalty which was issued. After the race, he was disqualified for not stopping in time and subsequently the German was banned for two races, allowing Damon Hill to catch up in the championship.
Last year Michael Schumacher scored a much anticipated win at Silverstone. In an extremely controversial race, the German finally managed to bring home victory from England, finishing in the pitlane because of a late issued stop 'n' go penalty. In a very wet race, by some compared to a powerboat race, Schumacher's biggest rival Mika Hakkinen went off the track and on again, thus giving the German the lead (along with the help of the pace car, which allowed the Ferrari driver to catch up). Schumacher's win also brought an end to a seven year winning streak by Renault powered cars.
This will be the 50th British Grand Prix since the World Championship began in 1950; only Italy holds a similar record of hosting a Grand Prix every year since the series started. In turn, this will be the 33rd Grand Prix to be held at Silverstone. That's not a record: 48 GPs have been held at Monza, and 46 at Monaco of course. But Silverstone is equal third with Spa.
British drivers have won twice as many Grands Prix as those from any other nation: 16 drivers have won 175 races, Brazil (four winners) and France (12 drivers) are next on 79. British drivers have won 12 World Championship titles - Brazil is next on eight.
There have been some pretty amazing records set by drivers in the British Grand Prix. Jim Clark, for instance, won the race five times, as did Alain Prost but four of Clark's were in succession and he led three of them from start to finish. In fact if you're going to be really spurious, it's fairly amazing that every one of the ten Grands Prix from 1962 to 1971 was won by a driver whose first initial was J, whether his second name was Clark, Brabham, Siffert, Rindt or Stewart!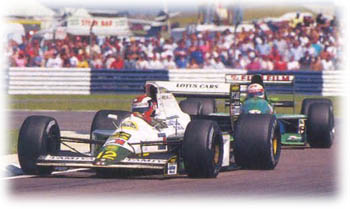 Nigel Mansell won the British Grand Prix four times, and three of those were one-twos with his then current Williams teammate, Piquet in 1986 and 1987 and Patrese in 1992. He also set fastest lap every year from 1986 to 1992.
Williams, in fact, have won their home Grand Prix ten times since they scored their maiden victory at Brands Hatch in the 1979 edition, so ten times in 20 years! Ferrari, however, have won it eleven times in total, and McLaren nine times. Those three marques therefore have taken 30 out of the 49 races held so far. Only twice has one of those manufacturers not won since 1974!
Williams weren't the only manufacturers to score their first race win in Britain. Froilan Gonzalez scored Ferrari's first ever win when his 4.5 litre Tipo 375 beat Juan-Manuel Fangio's 1.5 litre supercharged Alfa Romeo. Vanwall scored a British constructor's first win at Aintree in 1957, while twenty years later, a turbocharged car started a Grand Prix when Jean-Pierre Jabouille's Renault lined up 21st on the grid. Incidentally, just 1.87s covered the whole 26 car grid that day.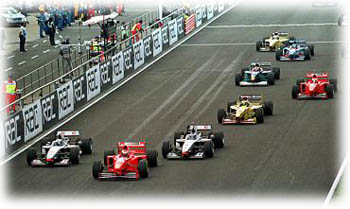 Keke Rosberg's pole position average of 258.984 kmph in a Williams-Honda at Silverstone in 1985 remains an all-time record for the World Championship, while the British Grand Prix has been won by a margin of less than five seconds on nine occasions.
When it comes to qualifying for the grid, Williams have got it sewn up. Six times their drivers have occupied the front row of the grid, while Ferrari have managed it twice - but not since 1988 - and McLaren only once, the year after. However, Ligier managed it too in 1980 although they were all outdone by Mercedes who filled four of the six front places of the grid in 1955 (first, second, fourth and fifth. The four cars were split by the Maserati of Jean Behra). And even that isn't close to the feat achieved by Alfa Romeo in 1950, when the team qualified its four cars on the four front places of the grid.
Twice the race has been won by a car in the pits. That was the case last year, of course, when Michael Schumacher came into the pits for a 10 second penalty on what was the last lap, but Emerson Fittipaldi was also in the pits only to be declared the winner in 1975 when a hailstorm flooded Silverstone and most of the field spun off.