When Damon Hill retired, and was convinced to return "for the fans" at Silverstone this weekend in the name of charity, the world thought it would be at the pace we've come to expect from him this year. But whatever has happened in the days before the end of last week's Silverstone test appear to have spurred the ex-world champion on - and he could just be the man who's the hero at his swansong race this weekend.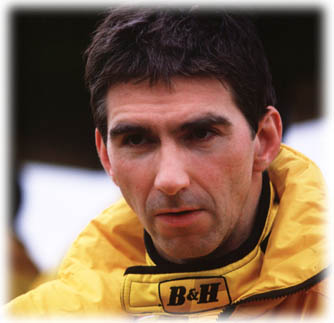 To say that Damon's performance has been lacklustre so far this year – from testing to qualifying to racing - would be an understatement. Especially considering the results his Jordan teammate, Heinz-Harald Frentzen, has produced since joining the team. France was a perfect example. Yes, it was ill luck that ended Damon's race at Magny Cours, but he was running well back when he ran into trouble, while Frentzen went on to a splendid win in a Jordan day of contrasts.
But Damon shocked the establishment on Friday's testing day at Silverstone to put up the second quickest time of the day and fifth fastest for the week. Those are among his rarest, fastest laps this year, putting him in the frame, in front of his fans and ahead of some of his most vehement critics on the time sheet...
So, are we set for a famous British Grand Prix? It would be a fitting tribute to the career of one of modern Grand Prix racing's greatest names if Damon took his bow in style this Sunday. Not to mention how such would satisfy his faithful army of supporters around the world after all they've had to put up with this year.
But it was business as usual out front. Or was it? Mika Hakkinen put his stamp of domination on proceedings early on last week, continuing with testing chores thereafter, and Michael Schumacher rounded off the week with quickest on Friday. But it was the other man, besides Frentzen, who's been knocking on the door all year for Stewart-Ford - Rubens Barrichello, who separated Mika and Michael at the head of the time sheet. Rubens is ready for a step up the podium, and it wouldn't do his position in the famous midyear F1 musical chairs any harm at all, to do just that.
David Coulthard was the only other driver under the 1:27 bracket, while Eddie Irvine had to make do with being behind Hill by the end of the week, despite his scything comments on Damon earlier on.
Johnny Herbert made Stewart even happier with seventh, Villeneuve was happy with eighth, but Pedro de la Rosa was a sensation, dragging the Arrows into what must seem like never-never land for the team. Is Arrows on to something?
Behind the Arrows came Trulli, then Frentzen - only running on the last day - from Panis, Alesi, Wurz, Ralf Schumacher and Fisichella.
Although we don't normally look at times of test drivers in this column, the situation at Jordan begs an exception to the rule. Jos Verstappen was way off Damon's eventual pace in 17th, while Nakano was 19th and almost two seconds adrift, leaving Eddie with a headache knowing Damon doesn't want to continue. Perhaps this performance will give Hill the urge to continue until the end of the year?
Silverstone offers a variety of circuit and weather conditions not too different to Magny Cours, and we'll all remember that race for a long time to come. So all things being even, we have something to look forward to on Sunday, when the world focuses on Silverstone and Damon Hill...

Test Times Summary
Silverstone F1 Testing June 1999

Pos  Driver        Best       29      30 Jun  1       2 July
 1.  Hakkinen      1:25.883   -       1:25.8  1:27.1  1:27.3
 2.  Barrichello   1:26.304   1:27.9  1:27.1  1:26.3  1:28.1
 3.  M. Schumacher 1:26.443   1:26.9  1:27.0  1:27.3  1:26.5
 4.  Coulthard     1:26.546   1:27.1  1:26.6  -             
 5.  Hill          1:26.965   -       -       1:28.1  1:26.9
 6.  Irvine        1:27.189   1:27.5  -       1:27.1  1:27.8
 7.  Herbert       1:27.289   1:28.3  1:27.8  1:28.3  1:27.3
 8.  Villeneuve    1:27.403   -       1:27.4  1:28.1  1:28.8
 9.  de la Rosa    1:27.457   -       -       1:30.7  1:27.4
10.  Trulli        1:27.474   -       1:29.6  1:28.0  1:27.5
11.  Frentzen      1:27.623   -       -       -       1:27.6
12.  Panis         1:27.646   -       1:29.9  1:27.9  1:27.6
13.  Alesi         1:27.773   -       -       1:28.8  1:27.7
14.  Wurz          1:27.782   1:29.1  1:27.7  1:29.1  1:28.1
15.  R. Schumacher 1:27.805   1:28.5  -       1:27.8  1:28.3
16.  Fisichella    1:27.985   1:28.8  1:28.6  1:27.9  1:28.1
17.  Verstappen    1:28.280   -       1:30.1  1:28.2  -     
18.  Diniz         1:28.344   -       -       1:28.8  1:28.3
19.  Nakano        1.28.504   1:29.3  1:31.1  1:28.5  1:28.8
20.  Zanardi       1:28.879   -       -       1:29.8  1:28.8
21.  Zonta         1:29.031   1:29.0  -       -       1:29.2
22.  Badoer        1:29.220   -       1:29.2  1:29.7  -     
23.  Wilson        1:29.235   -       -       1:29.2  -     
24.  Takagi        1:29.264   1:29.3  -       1:29.7  1:29.8
25.  Gene          1:29.271   -       -       1:29.2  1:31.3
26.  Sarazzin      1:29.901   -       -       1:30.6  1:29.9

circuit length: 5.140 km                                   
1998 pole: Mika Hakkinen (McLaren) 1:23.271                

For previous test times set this year, visit Atlas F1's 1999 Testing section