This week's Grapevine brings you
information fresh from the paddock on:

Jordan's New Car
Silverstone Pays Well
Drivers' Superstition
Silly Season Update
Picked from the Bunch
Jordan's New Car
Jordan have introduced a number of changes for the Silverstone Grand Prix - the event which marked the turning point of their season last year and might be the start of a major push into 2000.
The team have evaluated a new chassis, which incorporated big changes to the rear aerodynamics, a light gearbox, and the latest engine from Mugen-Honda. And the results have certainly been encouraging.
The tests have shown that a new direction in evolving the aerodynamics is working, setting up a train of revisions between now and the end of the season. These changes should improve the efficiency for medium and high downforce circuits progressively and project a significant improvement in aerodynamic efficiency by the Japanese Grand Prix.
Almost as a side benefit, rear stability has been improved, which should enable planned suspension changes for the Austrian Grand Prix to come into effect, resulting in even better traction from low speed corners.
It's further believed that the team is taking on Jos Verstappen for the remainder of the season, in return for some extra engine development from Honda, which could see big evolutions available for the Hungarian, Italian and Japanese Grands Prix.
Silverstone Pays Well
A recently published FIA report on the economic findings of the 1996 event revealed that the British Grand Prix generated a staggering £30 million for the local economy. Over 90 per cent of that money came into the area from outside while the average spectator spent £166 per day on tickets, parking, accommodation, food, drink, entertainment and tourist purchases.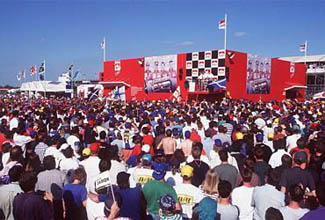 Around 5,000 temporary jobs were created during race week, with those local companies most dependant on Grand Prix business employing almost 45,000 people. In all, nearly 15,000 people can be employed in staging the Grand Prix itself.
In the front line are 1,200 highly trained but unpaid marshals. Included in these is a team of 325 fire and course marshals, 108 flag marshals, 57 observers, 30 incident officers, 11 tender crews and six rescue vehicles.
Silverstone's medical centre is one of the best-equipped accident and emergency centres in the county. It includes beds for 15 patients, plus a heli-pad and an operating theatre. No less than 50 doctors will be on call during the weekend, while two air ambulances will be ready to transport patients to hospital, and there will also be 24 ambulances and 150 medical staff available.
Over 5,000 plumbers, electricians, telephone engineers, carpenters and painters will be at work during the four day race meeting, while the meeting is sponsored by the Royal Automobile Club(RAC). They will have a 100-strong team waiting to deal with any automotive problems; last year they dealt with over 500 breakdowns during the event.
Before the race has even started, Silverstone will have received over 50,000 telephone enquiries, while over 85,000 programmes will be printed. An additional 700 telephones have been installed but over 990 two-way radios are also in use. Over 6300 watts of sound will be used to power the 440 speakers around the circuit, while 22 remote-control TV cameras will keep an eye on the track action for race control, each one linked to a video.
The airfield within Silverstone becomes the world's busiest airport on race day. Staff are drafted in from Heathrow to handle over 4,000 helicopter landings at three separate heliports. At peak times on raceday, a helicopter takes off or lands at Silverstone every 9.5 seconds.
The quarter of a million visitors to Silverstone, including the 700 journalists that will attend this weekend's GP, will need to eat. Silverstone's caterers will employ an extra 1,800 staff for the weekend and there will be 23,225 square meters of temporary restaurant. Almost 780 tons of marquees, carpets, tables and chairs will create the exclusive paddock club.
And they will eat: 1,000 fresh salmon, 500 fillets of beef and 22,000 three course meals. Visitors will also purchase more than 200,000 hamburgers onto which they will pour 1,245 litres of tomato ketchup and 286 litres of mustard. A further 200,000 cups of tea or coffee will wash it all down.
But when it's all over, spare a thought for the 55 cleaners who will spend the next week clearing up the litter!
Drivers' Superstition
One doesn't associate the hard world of Grand Prix racing with superstition but where there is luck involved, where a driver can so easily lose, anything that turns that luck around to make a win is looked on with favour.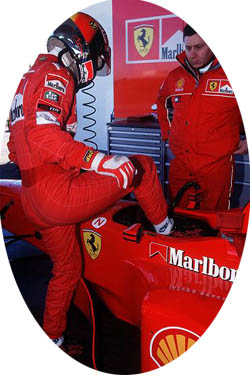 Sometimes, though, it is actually habit that seems to verge superstition. Michael Schumacher, his brother Ralf, Alessandro Zanardi, Pedro de la Rosa, Pedro Diniz and Jean Alesi all get into their cars from the left hand side. Some say that is simply more convenient, others admit that it is lucky.
"I always get into the car from the left hand side, with the right foot first," says Schumacher. "It's always brought me luck, so there's no reason to change. I always get out of the car on that side too." Stewart driver Johnny Herbert used to do the same thing. After he outqualified Heinz-Harald Frentzen at Budapest in 1996, the mechanics pointed out that he had got into the car from the left, and had laid out his gloves neatly on the side of the car. He continued to do that until the end of last season. Now he's hoping that a change of helmet colour might change his luck.
The most obvious lucky story is Alexander Wurz's. Take a look at his racing shoes and you will understand why. The left one is red, and the right is blue. Why? When he was in New Zealand, racing at Formula Ford, his teammate hid one of his shoes, so he had to take a shoe from another pair, which was a different colour. But he won the race, so he has stuck to what he considered a lucky omen ever since. He, however, always gets into the car from the right - and he won't sleep in a hotel room with his feet facing the door.
Pedro de la Rosa has a different kind of good luck charm: he has a picture of the Madonna taped inside his helmet - the picture is a present from his aunt. His girlfriend Maria always hides a similar picture in the cockpit of his racing car.
Less obvious - thankfully - is the story of David Coulthard's pants. He had a lucky pair of underpants which he used to wear in every race. They were wearing out quite badly when he had an accident in Formula Opel and they had to cut off his overalls. His mother found out that he was wearing old underpants and forbade him from ever wearing them again. He has obeyed her, but still takes them in his luggage. He also has a St Christopher's medal.
One of the weirder stories concerns Jean Alesi - who swears he's not superstitious. Even so, he believes that a string of garlic can bring good luck. Last year, he brought a string back from Naples as Sauber had been having a bad run of races. At Spa, Jean claimed third place; the garlic had done its job, he says. Jean is also a stickler when it comes to tidiness. He lays out his helmet, balaclava and gloves in the pits and nobody is allowed to touch them in case it brings bad luck.
Finally, two tales from the toilet: Rubens Barrichello apparently always disappears 12 minutes before the start of a race and more disconcerting, Jacques Villeneuve won't take off his helmet when he goes to the loo just before a race!
Silly Season Update
The Silly Season has had a quiet week, with the replacement for Damon Hill after Silverstone expected to be Jos Verstappen - as part of an improved engine deal for Jordan in 2000.
The other major rumour is not driver related; it's concerned with the replacement of the Stewart name with Jaguar in 2000.
The Jaguar name has never been associated with Formula One. However, this year - more than any other - rumours of the Big Cat's entry into the arena have been rife. BMW teaming up with Williams has produced massive exposure, resulting in increased car sales, before the German manufacturer had even built their first viable engine.
Jaguar have started trying to expand from their "top executive" image, and are taking on BMW's 5-series with their new S-type. The example set by BMW in becoming involved with Formula One has not been lost on Jaguar. Chairman Wolfgang Reitzle was quoted last week saying, "We will add some excitement around our core products. We are all agreed on adding elements - both products and activities - that must be convincing bridges to the sporty core of the brand."
Many pundits believe these activities include Formula One, and that Ford will replace the Stewart name with Jaguar in 2000 or beyond.
The Grapevine will have a regular Silly Season update, along with the Silly Season Page of the F1 Rumors Team.
Picked from the Bunch
Rumours of Liability Waivers have been in the news, since Hill announced his intention to race at Silverstone. It's been speculated that Hill, his wife, and his solicitor were all asked to sign waivers of indemnification in the event of an accident. It transpires, these are not special waivers - simply a restatement of the original undertaking that drivers race at their own risk, that all drivers sign at the start of the season.
Ferrari are expected to make the Silverstone event tough for McLaren. It's believed the team has some tricks up their sleeve that could be ready for the weekend - including revised rear aerodynamics and suspension to be used in their "qualifying setup." It could give them the advantage in qualifying, although these modifications are not expected to be used in race trim.