Damon Hill has announced his retirement, although at the time of writing it remains unclear whether the British Grand Prix was indeed his last race or not. None the less, our scribe has a look back at some of the notable farewells in the history of racing

You Say Hello, and I Say Goodbye...

Drivers have bid farewell to racing in many ways, some planned, others not. In 1992, seven-time NASCAR Champion Richard Petty spread his farewell over an entire season - and ended his last race literally in a blaze! His car suffered major damage from a fire that resulted from a crash. However, the King's crew was able to repair the car in time for Petty to be running at the end of the race, although many laps behind.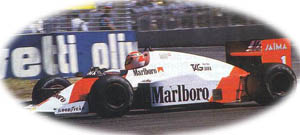 Others, such as Niki Lauda in his first farewell, abruptly depart. Lauda did several laps during practice in the new Ford DFV-powered Brabham BT49, pulled into the pits and announced that he was quitting and then left. When Lauda retired in 1985, his last race saw him depart the race at about half-way when his McLaren had brake problems and he hit a wall.
Early during the 1973 season, Jackie Stewart informed Ken Tyrrell of his intention to retire at the end of the season. Not a word was leaked by the team. The United States Grand Prix at Watkins Glen was to be his 100th start, a nice milestone to mark his departure. But the triumph of his third Championship and any joy of his forthcoming retirement was cut short when teammate Francois Cevert crashed into the Armco during practice and was killed instantly.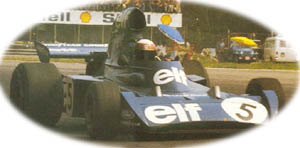 Alberto Ascari made an unusually memorable farewell in 1955 from racing when his Lancia D50 managed to deposit itself in the harbor at Monte Carlo. He was dead just four days later when the Ferrari sports car he was lapping Monza in crashed, tossing Ascari on the track with mortal injuries. Although no official reason has ever been given and many have speculated and offered no end of theories, much of the evidence seems to point to a failure of one of the Engelbert tires on the car.
Phil Hill did exactly what most drivers want to do on their last time on a circuit - he won! Hill and co-driver Mike Spence won the 1967 BOAC 6 Hours in their Chaparral 2F. Although it was not intended to be Hill's swansong, it was an entirely appropriate one for a driver who was easily one of the premier sports car drivers on his time. And to win in an American car the last race of the big-banger sports car series was something that even Hollywood would have suggested as improbable...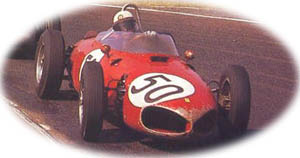 Some make impressive debuts and then when they leave virtually no one notices. Giancarlo Baghetti retired from Formula One after the 1967 Italian Grand Prix when the Ford DFV powering his Lotus 49 failed 18 laps from the end of the race while he was running in sixth place. And he had started from the back of the grid. Baghetti is best remembered for his string of victories in the Federale Italiana Scuderia Automobili Ferrari 156 Dino. The first three times Baghetti raced the Dino he won! He captured the Grand Premio di Siracusa - beating the Porsches of Dan Gurney and Joakim Bonnier, the Gran Premio di Napoli on the Posillipo circuit, and the Grand Prix de l'ACF - the French Grand Prix - at Reims, once again holding off Gurney for the victory. And this was his first World Championship event!
Louis Chiron, a great pre-WW2 driver, was 55 when he drove his last Grand Prix de Monaco in 1955 at the wheel of a Lancia D50. And he made other attempts to qualify for the race in 1956 and 1958. His presence was felt at the race until the late 1960's in his role as Clerk of the Course. The Monaco native attended his home race right until the last one before his death in 1979.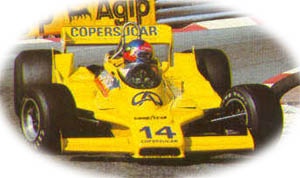 Emerson Fittipaldi quietly walked away from driving Formula One at the end of the 1980 season where his departure from the United States Grand Prix at Watkins Glen was his fourth consecutive failure to finish a race in the Fittipaldi F8. In a season where only a third at Long Beach and a sixth Monte Carlo brightened up truly dreary season, most thought that they had seen the last of Emerson Fittipaldi. When Fittipaldi finally announced his retirement from racing in 1997, in addition to his two World Championships and 14 Grand Prix victories, he had one CART Championship, two Indianapolis 500 wins, and a total of 22 CART victories. The 1996 accident at Michigan which broke his back and another accident in an ultra-light aircraft led Fittipaldi to remark that, "Last year I had a message from God. This time it was an order."
At Estoril, during the 1993 Portuguese Grand Prix weekend, once again faced with the possibility of being teammate to Ayrton Senna da Silva, Alain Prost announced his retirement. He finished the season with three consecutive second place finishes, the last two being to Senna.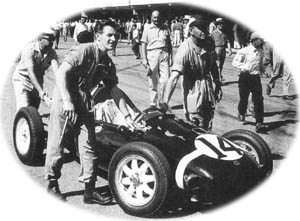 The retirement of the prototype of the modern racing driver came after a series of laps around the rainswept Goodwood circuit in a Lotus 19 of the British Racing Partnership on 1 May 1963. Although the conditions were wretched he managed to set very good lap times. However, while those watching were impressed, the driver was now certain that it was time to retire - for the first time he was having to think about driving a racing car. Prior to this it was instinctive, he just knew when to shift, glance at the mirrors, assess the gauges, look at the crowd - but, no more. Almost 13 months after an accident that still has not been satisfactorily explained, Stirling Moss was now a former racing driver....
After a season in which two teammates died during races - Luigi Musso at Reims and Peter Collins at the Nurburgring - and in which another driver, Vanwall team member Stuart Lewis-Evan, suffered mortal injures, after winning the Championship at Casablanca, Mike Hawthorn decided to seriously consider retirement. The announcement of the new formula for 1961 through 1964, with a maximum of 1500cc, was just one more reason to depart. On 7 December 1958, Hawthorn formally announced his retirement. On 22 January 1959, a Thursday, Mike Hawthorn died in an accident on the Guildford By-pass, just past John Coombs' Garage....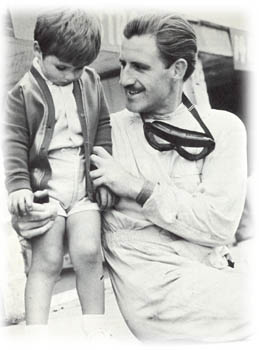 For some it is hard to stay retired. In 1980, nearly 10 years after his last race, the temptation was too much and he had to do it again. In the number 48 Chevrolet, seventh on the grid, was once again the familiar black helmet. He was second in the race, the Riverside 500, before his gearbox failed and he ended up being classified 28th. His final Formula One race, the 1970 British Grand Prix, ended early due to overheating, but in the previous race he had score a point, his 133rd, for finishing sixth in his McLaren M14A. And in Can-Am, he won at both his outings in the McLaren M8D, Mosport and St. Jovite. His almost final race had been in a Riverside Trans-Am race, in a Plymouth-Cuda, where he finished fifth. For Dan Gurney, it was finally over.
And, lastly, at the 1975 British Grand Prix, Graham Hill formally announced his retirement as a driver. In a career in which he started 176 races, won 14 Championship events, sat on the pole in 13 of them, ran the fastest lap in 10 races, and collected 289 Championship points, Hill was also the last driver to share the same grid with the likes of Fangio, Hawthorn, Moss, Behra, Clark.... However, it all truly ended on a foggy evening in November.