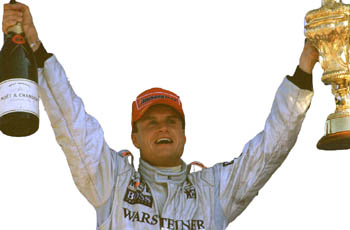 Sunday's British Grand Prix served to shake up the 1999 World Championship in more ways than one, David Coulthard's first win of the year and Michael Schumacher's premature exit from the title chase have left the way open for Coulthard and his McLaren teammate, Mika Hakkinen.

Or has it?

McLaren must be wondering about what now seems to be a clear path to the title. Mika Hakkinen's retirement wasn't an easy one for the team. Another one. And from here on in they are dealing with a rather different animal in Eddie Irvine as a lead driver at Ferrari.

But the British GP was a McLaren benefit.

Mika Hakkinen took charge right at the outset on Friday Morning, albeit some way off his testing pace there a fortnight back, in an easy session, from Eddie Irvine and Michael Schumacher in the Ferraris allegedly working on set-up that session. Eddie was once again quick out of the box.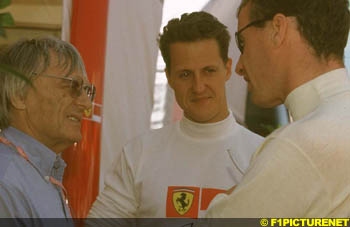 Ralf Schumacher ended up behind his brother, the Williams man ahead of David Coulthard, his session hampered by a big spin, but good enough to beat off Villeneuve, Zanardi and Frentzen.
Mika stayed on top in the second session, the only man to break the 1min.27 barrier, but Ralf Schumacher sped to second in an encouraging performance for Williams, with Irvine third from Coulthard, Barrichello - finding form in the Stewart-Ford, and Schumacher sixth - after a spin in the Ferrari. Damon Hill confirmed he's not over and out with seventh.
Qualifying
Mika stayed on top Saturday morning and easily stole his sixth pole of '99 in the afternoon, following it with his regular line of "The car has been perfect all weekend. I think we timed the run just right and I am very pleased to be on pole for tomorrow's race."
Michael Schumacher must have been considering his disastrous last two Grands Prix when he studied the timesheets. "I got pretty close to the limit of the car on my first run and from then on I tried to, but did not go any quicker," lamented the German, seeing his title hopes stating to dim ever so slightly.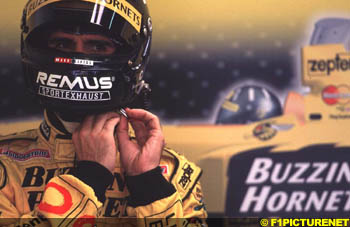 "I have been having trouble with stability under braking," rued David Coulthard on his third grid slot at his home GP, but Eddie Irvine was happy with fourth. "I got quite a good set-up on my last run," said the Irishman. Behind him Jordan made the third row an all-yellow affair. That after Frentzen got a big push going while trying to edge Eddie off the second row. "The car suddenly understeered and I missed the apex," He said. Damon was happy, "It was sliding around the slow corners, but perfect in the high speed stuff."
Rubes Barrichello, Ralf Schumacher, Jacques Villeneuve and Jean Alesi rounded off the top ten, ahead of Johnny Herbert, Pedro Diniz, Jargon Trulli, Alex Zanardi, Olivier Panis and Ricardo Zonta. The Benettons found themselves among the Arrows, while the Minardis were alone at the rear this time round.
The Race
The race ended as quickly as it started, the red flag coming out after Jacques Villeneuve and Alex Zanardi stalled on the grid.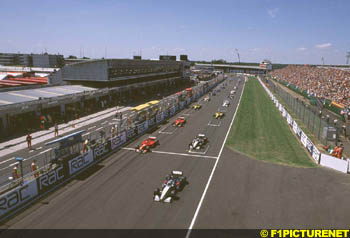 However, at the very same time an incident saw Michael Schumacher's Ferrari heading straight into the Stowe tyre barrier and the wall. The Ferrari went straight as Schumacher attempted to turn in, almost taking teammate Irvine with him as the Irishman passed by, skipping over the apparently useless gravel traps and into the wall. Michael tried to climb out of car, but his leg was snagged in the shattered cockpit.
Medical staff attended to Schumacher at the scene of the crash, and he was then taken to the Silverstone medical centre, from where he was flown by a helicopter to hospital, where the German was admitted with a fractured lower right leg and broken fractured tibia and fibula, simple fractures not expected to cause complications. He was also suffering from a badly bruised right knee.
Mika Hakkinen led off the restart 40 minutes later, running a processional race comfortably until just after the first pit stops when a rear wheel hub problem put him out at half distance. That opened up the race between the second men, Coulthard and Irvine, in the Battle of Britain.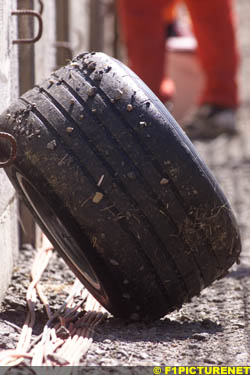 Irvine led initially, but it was Coulthard who took the advantage at the first round of pit stops when Eddie overshot his pit in another Ferrari pitstop fault. "I couldn't get a clear view of my pit because of the McLaren mechanics standing in the pit lane waiting for Mika. When I saw the pit it was a bit late and I slid straight on a few feet too far. That cost the mechanics a couple of extra seconds getting the fuel in and tyres changed which was enough to cost me the race when I came out behind David," said Eddie.
Eddie chased David all the way to the flag, his Ferrari crossing the line only 1.8s behind Coulthard's McLaren.
"The race could have gone either way," admitted a delighted Coulthard after. "Track position is everything here. I got ahead at the first pit stop and stayed there at the second. It won me the race."
Ralf Schumacher was close to 30 seconds behind the leaders, taking his opportunity to slip ahead of countryman Frentzen at the first stop and resisting Heinz-Harald's pressure until the end of the race. Jordan teammate, Damon "Will he or Won't he" Hill, ended a few seconds adrift in a happy fifth place, albeit a valve pressure problem. The ex-World Champion refused to confirm nor deny his retirement after the race.
The final point went to Pedro Diniz in the Sauber, the Brazilian holding off a spirited challenge from Giancarlo Fisichella's Benetton in the closing laps.
Barrichello ended eighth – that after heading for fifth, but an unscheduled stop to repair a puncture cost him the points, while Trulli and Wurz rounded off the top ten.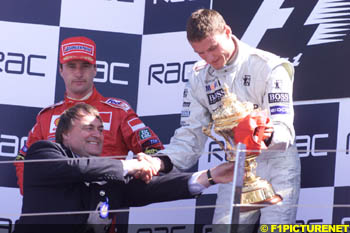 Johnny Herbert, also a candidate for points, was delayed by a 10 seconds stop-go penalty for passing Jean Alesi under the safety car, while Jean himself slowed with a throttle problem after a good opening half of the race running seventh.
There were only six retirements, including both BAR entries - Jacques Villeneuve blew an engine and Ricardo Zonta stopped with a rear suspension failure. Villeneuve, in effect, also retired after the first start - a gearbox failure left him sitting on the grid again.
The British Grand Prix was, without doubt, the turning point of the 1999 F1 Season. With Michael Schumacher out until, probably, the Italian Grand Prix in September, Eddie Irvine will suddenly find himself as Ferrari's number one man. Mika Hakkinen is not far ahead, and who knows - with a little leading role care from the team, Eddie could just be a far more significant dark horse for the '99 crown than he ever was...
Final Race Results

CLASSIFIED

 1. Coulthard     McLaren Mercedes   1h32:30.144 
 2. Irvine        Ferrari             + 0:01.800 
 3. R.Schumacher  Williams Supertec   + 0:27.400 
 4. Frentzen      Jordan Mugen-Honda  + 0:27.700 
 5. Hill          Jordan Mugen-Honda  + 0:38.600 
 6. Diniz         Sauber Petronas     + 0:53.600 
 7. Fisichella    Benetton Playlife   + 0:54.600 
 8. Barrichello   Stewart Ford        + 0:58.500 
 9. Trulli        Prost Peugeot       + 1:12.000 
10. Wurz          Benetton Playlife   + 1:12.100 
11. Zanardi       Williams Supertec   + 1:17.100 
12. Herbert       Stewart Ford        + 1:17.700 
13. Panis         Prost Peugeot       + 1:20.400 
14. Alesi         Sauber Petronas     + 1 Lap    
15. Gene          Minardi Ford        + 2 Laps   
16. Takagi        Arrows TWR          + 2 Laps   
                                                                    
Fastest Lap: Mika Hakkinen, 1:28.309 (209.536 kmph), Lap 28 
                                                                    
NOT CLASSIFIED / RETIREMENTS                                        
                                                                    
    Zonta         BAR Supertec         41    rear suspension
    Hakkinen      McLaren Mercedes     35    rear hub        
    Villeneuve    BAR Supertec         29    engine          
    Badoer        Minardi Ford          6    overheating     
    de la Rosa    Arrows TWR            0    Gearbox         
    M.Schumacher  Ferrari              DNS   crash / injury 


Top Ten Fastest Race Laps

Pos  Driver        Team                 Lap  Time              
 1.  Hakkinen      McLaren-Mercedes     28   1:28.309s         
 2.  Irvine        Ferrari              53   1:28.782s  + 0.473
 3.  Coulthard     McLaren-Mercedes     47   1:28.846s  + 0.537
 4.  Hill          Jordan-Mugen Honda   48   1:29.252s  + 0.943
 5.  R.Schumacher  Williams-Supertec    26   1:29.414s  + 1.105
 6.  Barrichello   Stewart-Ford         49   1:29.493s  + 1.184
 7.  Diniz         Sauber-Petronas      27   1:29.819s  + 1.510
 8.  Herbert       Stewart-Ford         52   1:30.103s  + 1.794
 9.  Fisichella    Benetton-Playlife    54   1:30.296s  + 1.987
10.  Alesi         Sauber-Petronas      35   1:30.334s  + 2.025


Top Ten Pit Stop Times

Pos  Driver         Team                 Time   Lap 
 1.  Hill           Jordan-Mugen Honda   25.10  46  
 2.  Coulthard      McLaren-Mercedes     25.20  42  
 3.  Frentzen       Jordan-Mugen Honda   25.30  45  
 4.  Herbert        Stewart-Ford         25.70  23  
 5.  Trulli         Prost-Peugeot        26.00  24  
 6.  Irvine         Ferrari              26.00  41  
 7.  Zanardi        Williams-supertec    26.20  22  
 8.  R.Schumacher   Williams-Supertec    26.20  24  
 9.  Coulthard      McLaren-Mercedes     26.30  24  
10.  Panis          Prost-Peugeot        26.30  26  


The British Grand Prix, Lap by Lap
It's sunny and the temperature is 22 degrees as the cars take to the track, although the temperature is rising and the track temperature is 37 degrees. There is a great atmosphere as the cars take up their grid positions, with Olivier Panis in his spare car because of a pneumatic air problem in his race car.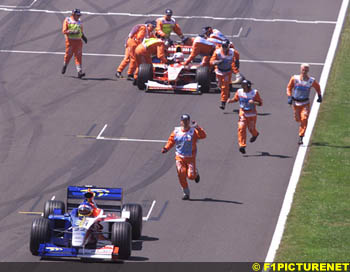 Start: When the lights go out, Hakkinen goes straight into the lead from Coulthard with Irvine slotting into third from Michael Schumacher going into fourth place. Back on the grid, neither Villeneuve nor Zanardi have started, their cars being pushed away, but the red flag is soon shown. However, it is not quickly enough for Schumacher who, going down into Stowe corner at the end of Hanger Straight, dives down the inside of Irvine on what Irvine would later say is a dirty track. Schumacher's car then goes straight on and off onto the gravel trap and hard into the barrier at a seeming unabated speed. While the rest of the cars come back to the start/finish line, Professor Watkins attends to Schumacher, who has nearly got himself out of the car on his own, but is clearly injured. We are later told, during the race, that he has suffered two broken bones in his right leg. It is 40 minutes before the remaining cars take the second start.
Re-start: Hakkinen goes straight into the lead from Irvine, followed by Coulthard, then Frentzen, Ralf Schumacher and Hill. However, Pedro de la Rosa's car has this time stopped on the grid due to broken transmission and the pace car goes out to bring them round their second lap before it comes in at the end of that lap.
Lap 4: Hakkinen is pulling away from Irvine now with a lead of 2.1s over the Ferrari with a margin of 1.3s back to Coulthard in third. Then comes Frentzen, followed by Ralf Schumacher being pushed by Hill and then Barrichello being pushed by Alesi, and Herbert who has just overtaken Diniz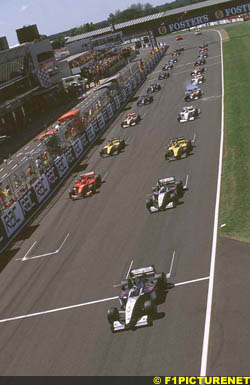 Lap 6: Badoer pits due to engine overheating with debris in his radiators after an earlier excursion. However, as he comes into the pits, the gearbox fails and although he tries to rejoin, he has to retire
Lap 8: Hakkinen's lead is now 4.0s from Irvine still being followed closely by Coulthard. Then comes Frentzen, soon to be caught by Ralf Schumacher, then Hill, Barrichello with Alesi close behind, then a similar Stewart-Sauber battle with Herbert pushed by Diniz, and then the biggest battle of the lot: Villeneuve with Zanardi, then Trulli and Fisichella
Lap 9: The lead gap actually dips three tenths on this lap
Lap 13: Hakkinen is now 4.7s ahead of Irvine who has pulled away by 1.8s from Irvine, then there's 10s back to Frentzen, 1.7s back to Ralf Schumacher, just over a second to Hill and then 5.7s back to the Barrichello-Alesi duo. Behind Herbert and Diniz, Villeneuve has pulled away from those behind
Lap 19: The lead gap is up to 6.1s with Irvine 1.7s ahead of Coulthard and then a 15s gap back to Frentzen. Further back, Barrichello has opened up a gap to Alesi. On this lap, Gene pits for 8.1s as the two stoppers begin to pit
Lap 20: Fisichella comes in for 8.8s and Takagi pits for 8.2s
Lap 21: Hakkinen is still six seconds ahead of the rest while Alesi pits for 8.3s and Wurz comes in for 8.4s
Lap 22: Ralf Schumacher is beginning to close on Frentzen again, the Jordan driver suffering oversteer which they will try and cure at his pit stop. Zanardi pits for 7.2s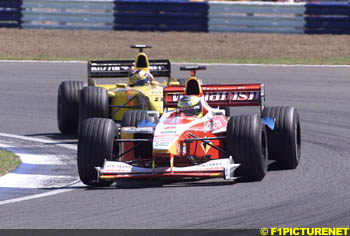 Lap 23: Hill pits from sixth place in 8.5s, having a small wing adjustment made as he is also suffering oversteer, while Herbert also comes in
Lap 24: Now it's the turn of the leaders, Coulthard pitting for 7.6s, Frentzen coming in and having a small wing adjustment made and having to wait when Ralf Schumacher, who has also pitted, pulls out in front of him, thus losing his fourth place. Diniz pits and so does Trulli, the latter in 9.0s
Lap 25: Now Hakkinen comes in for 9.2s but there's a problem with his left rear wheel. Barrichello pits on this lap for 9.5s and Zonta also comes in
Lap 26: Hakkinen comes back into the pits again where once again, his left rear wheel receives attention and he rejoins after 27.6s. However, Irvine also comes in and is unsighted by McLaren mechanics and just overshoots his pit so that his stop takes 12.0s. That's enough for him to come out behind Coulthard, the pivotal point of the race. Hakkinen rejoins in 11th place. Panis also pits
Lap 27: Coulthard just leads from Hakkinen and then there's a 20s gap back to Ralf Schumacher in third, then 3.9s back to Frentzen fourth followed 2.2s further back by Hill, then 4.3s to Barrichello, 1.7s to Villeneuve still to stop, then 2.5s to Alesi and 4.2s to Herbert ahead of Diniz
Lap 28: Hakkinen sets fastest lap of the race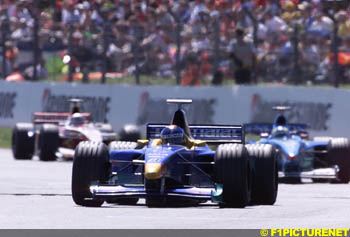 Lap 29: Villeneuve pits and so does Hakkinen, because as he came through the final corner, his left rear wheel fell off. He gets into the pits where a new one is fitted in 24.1s, but he's out of the running
Lap 31: The pace car is sent out initially in order to retrieve Hakkinen's wheel, but in fact a marshal has bravely done that when Villeneuve stops against the pit wall as the engine has simply stopped so the safety car is still out. Trulli pits again on this lap in order to take advantage of the safety car period. Zonta also comes in, having problems with tyres
Lap 32: At the end of this lap, the safety car comes in, but just before it does, Alesi brakes quite sharply and Herbert has to overtake, moving up to seventh place but the stewards have noticed...
Lap 33: Coulthard is still being pushed hard by Irvine while there is then a 2.6s gap to Ralf Schumacher and then 2.9s back to Frentzen being pushed by Barrichello who has just overtake Hill at Club. Hill has Diniz, Fisichella, Zanardi and Wurz close behind, while Alesi pits on this lap with an electronic problem with the accelerator which will cause his eventual retirement after another pit stop on the next lap.
Lap 36: Coulthard still leads from Irvine but the gap to Ralf Schumacher is growing, now up to 3.7s. Frentzen is next about to be caught by Barrichello from Hill and then Herbert being pushed by Diniz, and then Fisichella and Zanardi. Hakkinen is brought in as there is slight brake damage and there seems no point in continuing.
Lap 38: Panis pits in 7.8s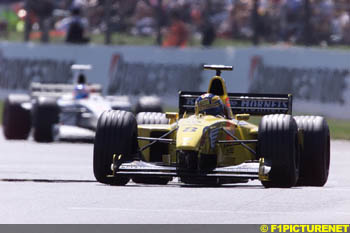 Lap 39: Zanardi pits in 10.5s
Lap 40: Ralf Schumacher comes in now as does Herbert in 8.8s. Gene also pits on this lap
Lap 41: Irvine pits for 7.1s, Diniz for 9.7s, Wurz , Zonta and Takagi.
Lap 42: Coulthard comes in for 6.3s and emerges ahead of Irvine, while Barrichello's stop is 8.6s and Fisichella also pits. Zonta has been complaining about the car and has a spin on this lap which puts him out of the race, suspension damage being suspected.
Lap 43: Neither of the Jordans have pitted so they lead, Frentzen 3.6s ahead of Hill, then a similar gap back to Coulthard leading by a second from Irvine, then a gap of 11s back to Ralf Schumacher
Lap 45: Frentzen pits in 6.8s
Lap 46: Hill pits in 6.1s
Lap 47: Coulthard leads again by 2.7s from Irvine and then a 14s gap back to Ralf Schumacher in third, about to be caught by Frentzen in fourth. Hill is next from Herbert. Barrichello pits on this lap
Lap 49: Frentzen is right behind Ralf Schumacher, while Herbert comes in on this lap for his stop-go penalty
Lap 51: The Ralf Schumacher-Frentzen duel continues while Diniz, in sixth place, is being closed on by Fisichella. Wurz, Zanardi and Panis are next from Barrichello, who provides all the fireworks in the closing stages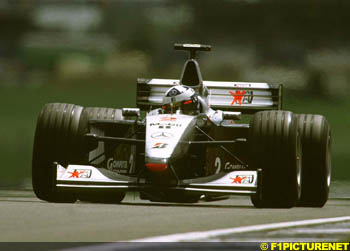 Lap 54: There's still a great battle going on between Diniz and Fisichella, and then Trulli, and Wurz but Barrichello has overtaken Panis
Lap 56: Barrichello overtakes Zanardi while Frentzen runs wide for the first time in his pursuit of Ralf Schumacher, dropping back a little
Lap 57: Frentzen does the same on this lap
Lap 58: Coulthard leads from Irvine, then Ralf Schumacher pushed by Frentzen. Hill is next from Diniz still under pressure from Fisichella. Barrichello moves ahead of Trulli
Lap 59: Barrichello overtakes Trulli; he's up to eighth, having taken four places on the last six laps
Lap 60: Coulthard wins, 1.8s ahead of Irvine