Take two McLaren drivers, an expert chef and bake slowly in the kitchen of one of Europe's finest restaurants. Season and serve...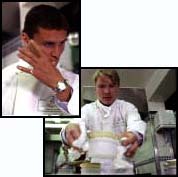 There is heat and noise and mounting pressure as well-drilled teams work together in perfect unison to ensure that not a moment is wasted during the changeovers between start and finish. This is a race against the clock.
But even though David Coulthard and Mika Hakkinen are in the thick of the action, this is not the pits at Silverstone. Instead, the drivers find themselves in the refined milieu of the kitchens of Raymond Blanc's Le Manoir Aux Quat' Saisons, a short helicopter ride away at Great Milton.
The McLaren team regularly stay at Le Manoir over the weekend of the British Grand Prix, the result of a long-standing friendship between team boss Ron Dennis and chef patron Monsieur Blanc, a great F1 fan. The exquisite Oxfordshire country house hotel and its celebrated gourmet restaurant, one of only a handful in the world to rate the accolade of two Michelin stars, provides an oasis of calm for the drivers after a hard day at the track.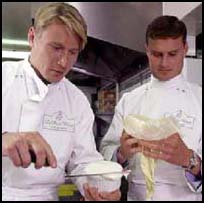 However, as David and Mika discovered when they were invited into the kitchens to be shown the art of making a perfect Grand Marnier soufflé by head pastry chef Benoit Blin, behind the scenes the atmosphere is not quite as tranquil as that enjoyed by patrons in the sumptuous dining room.
In fact, there are moments during the serving of dinner when the intense activity is reminiscent of a pit-stop - never more so than when four chefs descend to huddle over a dish, adding the finishing touches before standing back and allowing it to be carried to the table.
"Sauces cannot be allowed to stand for a moment too long," says Le Manoir's Rowan Elmes, explaining the need for split-second timing in the preparation of each dish. Wall-charts in the kitchen flag the restaurant's 40 tables. "The figures scribbled against each table represent the time, in minutes past the hour, when the next dish must be served there," says Elmes. "Guests must not be kept waiting between courses, especially those who have chosen the eight-course menu gourmand."
The first thing that strikes you as you enter Monsieur Blanc's recently refurbished, state-of-the-art kitchen is the heat - anything up to 45°C, despite air conditioning. "That's something these guys have in common with us," observes David, watching the team of 40 chefs, sous-chefs and other kitchen staff busying themselves among the stainless steel ovens. "In the cockpit of an F1 car, with the engine right behind you, the temperature can build up to well over 40°C. In fact, this place actually feels quite cool by comparison."
David and Mika are both looking the part in their chef's whites as Benoit Blin welcomes them to his pastry section, one of the busiest parts of the Manoir. Staff will be on duty at 4:00am each day to bake the breakfast croissants and the last man will not leave until 2:00am the next day.
It turns out that David is a one-time winner on TV's celebrity cookery show "Ready, Steady, Cook". His speciality dish is mince-and-tatties (potatoes), and he's something of a dab hand in the kitchen. "But only when I'm cooking for myself," he admits. "I'm not much good when it comes to anything fine and fancy."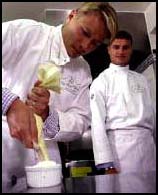 Mika also claims to be able to look after himself when necessary. "My speciality is steak and pasta. I eat lots of pasta," he says, adding with a smile: "When you leave home as a single guy you have to learn how to cook for yourself. Now that I'm married and have a wife to look after me, I have to say that I'm eating a lot better."
Benoit effortlessly demonstrates the art of making the perfect soufflé. He emphasises the importance of whisking the basic egg white, sugar and lemon juice mix to exactly the right consistency, of running a thumb around the rim of the filled soufflé dish to ensure that the content rises without sticking to the edge, and of cooking for precisely the right amount of time to achieve the perfection of crispness on the outside and creaminess in the centre.
When it comes to David's and Mika's turn, their whisking style is judged a little hesitant. "We're too slow," murmurs Mika. "It's just as well that we're not working here ­ the place would go bankrupt!"
The pair make a fair job of buttering and sugaring the inside of the soufflé dishes before squeezing the mixture through a piping bag and levelling off the contents with a spatula. Minutes later, professional-looking soufflés emerge from the oven. Benoit is impressed.
"I think I might try this on my girlfriend," grins David. "I won't mention anything to her and then I'll just whip one up for a surprise next time we get an evening at home." Not that he's quite ready yet for a change of profession. "I guess if you've got a passion for cooking you would get pleasure from that, but I'd find it strange not to be able to see the customers enjoying my creations. I would be desperate to know what they thought."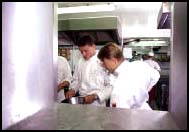 In the pressure cooker environment of F1, there's little enough free time for drivers, even away from the circuits, so Mika and David are appreciative of the elegant ambience of the 19-bedroom, 15th century manor house hotel and its landscaped gardens.
"Normally when I'm staying here I have my food sent to my room. I usually get back late from testing and I just want a quiet time to myself," says David. "It may seem like an awful waste when you're staying in a place like this, but you just want to eat and get off to bed. Tonight, though, I'm making an exception and eating in the restaurant."
Both drivers have to adhere to fairly rigid diets to stay in shape, but neither is a slave to calories. David, for instance, prefers not to eat red meat before a race, opting for chicken or fish, but both he and Mika are willing to break out once in a while. "I've eaten here many times since I first came here in 1993 and it is a great treat - the food's fabulous," says Mika.
"I eat an awful lot of pasta throughout race week to help build up my energy levels. The problem with that is that it can get boring, and then I do fancy a steak. There's nothing wrong with eating good food before a race. You have to enjoy yourself!"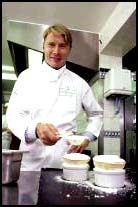 Raymond Blanc is the first to admit that, like most Frenchmen, he drives far too fast. "It is part of our culture," he says with a Gallic shrug. "For us, a car is an extension of our manhood."
However, after a succession of accidents - "You don't want to know 'ow many cars I 'ave bro-ken," he sighs in fractured English - he reformed his behaviour following an embarrassing incident five years ago when a local woman he had carved up drew up beside him waving furiously.
"She was shouting at me and when I wound down my window she said: 'Monsieur Blanc - that is the third time this year you have nearly killed me!' I realised then that I had to improve my style of driving."
His greatest thrill came last year when he drove a McLaren F1 on a test circuit, a treat arranged as a result of his long-standing friendship with Ron Dennis. "I only took it to about 150mph but it was very exciting," he recalls.
An armchair motor racing fan - he can't afford the time off to go to the meetings - Raymond was delighted when Ron started bringing the McLaren team to stay at Le Manoir for Silverstone shortly after it opened 14 years ago, thereby securing them pole position off the track.
"McLaren is the only team we have staying here," says Raymond. "We wouldn't want to add to the stress by having one of their rivals here at the same time. Imagine what it would be like if we had Ferrari staying in the same hotel!"