Leaving a circuit around a lake, we move to the circuit between the lakes: Interlagos. In its current form, Interlagos is the third shortest Grand Prix circuit and is one of the slowest, comparable with Magny Cours. This was not always so. In 1990, the circuit length was shortened from 7.874 to 4.325 Km (4.893 to 2.687 miles). In 1997 further modifications to the track at the pit exit reduced the lap distance to its current 4.292 Km (2.667 miles).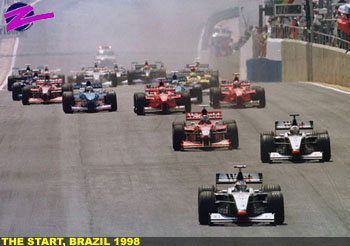 Interlagos is one of the bumpiest circuits in the calendar. The circuit is extremely hard on both man and machine with cramps and driver fatigue becoming major problems. Interlagos is unusual because, like Imola and Kyalami, it is run in an anti-clockwise direction, hence the majority of corners are left-handers. David Coulthard explains: "Because drivers regularly race and test on clockwise tracks this can cause some discomfort on the left hand side of the neck which isn't as used to experiencing g-force loads as the right side."
The FIA was wise to ban flexible wings, after Jacques Villeneuve and Johnny Herbert's spectacular crashes following wing failures, as Interlagos tends to destroy flimsy structures like that. This circuit is a real challenge with many changes in elevation and several challenging corners. There are only two passing opportunities; at Senna's S at the end of the pit straight and Descida do Lago, at the end of the Reta Oposta (back straight). Unlike Melbourne, if you end up in the sand-traps you are very likely to stay there.
Bridgestone's technical manager, Yoshihiko Ichikawa, had this to say about Interlagos: "While Albert Park had longish straights and comparatively slow corners, Interlagos is shorter and has faster corners. The biggest difference will be in the degradation of grip, which was not as serious a problem in Australia as we expect it to be in Brazil, for this reason we think the drivers will find that there is a bigger difference between the Soft and Medium tires in terms of degradation." In other words the surface of Interlagos is quite abrasive and the tires will wear more quickly than in Melbourne. Right-hand tires also tend to wear out more quickly than the left-hand ones due to the anti-clockwise direction of the track.
São Paulo is very close to the Tropic of Capricorn. In the dry, Interlagos tends to be hot, humid and dusty. Rain in São Paulo is always a possibility, the start of the 1996 race was a wash-out. Altitude also affects the set-up, as Gary Anderson of Stewart GP explains: "In Brazil you run a high downforce setting on the car but because of the high altitude you lose about 10 per cent of the downforce". Despite these drawbacks, many drivers thoroughly enjoy Interlagos.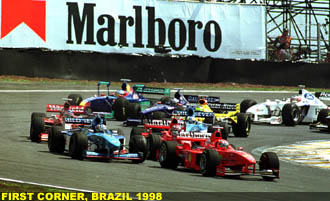 One of the strangest facts in F1 is that, since 1994, the winner at Interlagos was destined to become the World Champion. This also happened in 1991 and 1992. In fact, since the Brazilian Grand Prix returned to Interlagos in 1990, the race winner was either a World Champion or a future World Champion. Many Formula 1 drivers are quite superstitious, including Mika Häkkinen with his toy frog, Alex Wurz with his different coloured boots and Johnny Herbert with his lucky underpants. A superstitious person might believe that the winner of the 1999 Brazilian Grand Prix will be the 1999 world champion. No rational person could accept this, as it would mean that the other 13 or so Grand Prix are irrelevant. What does this mean? Perhaps it simply means that a driver and his team must be in a position to win at Interlagos otherwise they will not catch up later in the season.
McLaren must be favourites again following their blistering pace at Melbourne and their total dominance last year. They have finished in the points in 5 of the last 6 races with a total of 34 points. Have they got rid of the gremlins that plagued them at Melbourne?
Mika Häkkinen must be favourite to win this race. He won last year, winning pole position and setting fastest lap. In fact, the 1998 Brazilian Grand Prix may have been the event that changed Mika from being a "Nearly Man" to a champion. Last year's race, which he won without assistance, made him really believe that he could do it. Furthermore, he has finished in the points in the last 4 Brazilian GPs. Mika's recent comments have been very optimistic: "The car was already perfect in Melbourne before the technical problems arrived, we were so quick we didn't give anyone else a chance, and this year will be even better. We will be able to add another championship-earlier than in '98." However, Mika made a few mistakes prior to the race at Melbourne. If Mika can win, he will be very difficult to beat over the remainder of the season.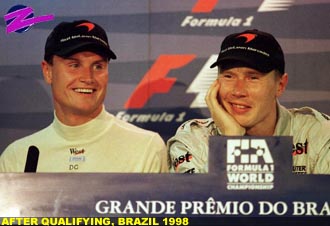 David Coulthard finished 2nd in his Brazilian GP debut in 1995 and again in 1998. David has been more realistic in his comments, saying: "I'll be very surprised if we maintain that level of advantage, but we still expect McLaren to be quick." If David wants to be the 1999 World Champion, he must find a way to beat Mika at Interlagos, if only to plant seeds of doubt in Mika's mind. Following in his wheel-tracks will not be enough.
Ferrari must also be considered a favourite after Eddie Irvine's win at Melbourne, despite Murphy's law applying to his team mate, Michael Schumacher. Ferrari last won at Interlagos in 1990 but have finished in the points over the last 5 years with a total of 20 points. Ferrari needs to consolidate its win at Melbourne with a win for Michael Schumacher if they want to make a serious bid for both the manufacturer's and driver's championship.
The Melbourne winner, Eddie Irvine, has never scored a point in Brazil. Interlagos is a circuit where Eddie's back problems might adversely affect his performance. Eddie, always disarmingly honest, commented: "We were lucky that both the McLarens ran into problems in the [Australian] race or it would have certainly been a different story. Ten points are a great way to start the season and I hope I will be able to build on that start in Brazil."
Michael Schumacher is the most successful and consistent driver at Interlagos, having finished in the points in every single Brazilian GP that he has entered. 1997 was the only year that he did not have a podium finish. Michael is the highest points scorer, averaging 5.67 points per race since 1993 but if you look at his Ferrari scores alone, his average falls to 3.33. "Of course, mechanical reliability is essential," Michael commented. "Since the last race we have done a lot of testing and had no major problems. The heat and fast track layout in Brazil puts a lot of strain on the engine and car systems which I hope will work in our favour." Michael claims that he isn't too worried about McLaren's speed advantage over Ferrari at this stage in the championship: he should be, remembering Interlagos' history.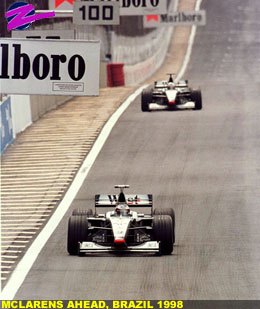 Jordan's second position at Melbourne must keep their momentum going, however Jordan has never done well at Interlagos and have only finished in the points once, in 1994. Last year, Ralf Schumacher spun while Damon Hill was disqualified. I would chose Damon Hill over Heinz-Harald Frentzen at Interlagos. Damon racked up one victory, two 2nd places and two pole positions for Williams. Heinz-Harald's 5th place in 1998 was his only points finish in 5 races. Jordan's chief designer, Mike Gascoyne: "Some of the strengths of the Jordan Mugen-Honda 199 lie in its ride quality and its traction out of slow speed corners, so we should fare better at Interlagos than some other teams might."
Stewart will be looking for a podium finish with a Brazilian driver. Are their reliability and structural integrity good enough? The Director of Ford Racing Europe, Martin Whitaker, stated that "the fact remains that we are still at the very early stages of the engine's development and need to complete more race distances before we can be really confident in the engine's reliability. However, it should be clear from our performances so far that we have a good chance of another points finish in Brazil and in particular Rubens must feel he has a better opportunity than ever of doing well in his home event."
Rubens has an excellent chance of a podium finish if his Stewart Ford isn't shaken to pieces. "I have some great memories of Interlagos," he says, "and I enjoy the circuit a lot. The area between the Reta Oposta and Descida do Lago is where I learned to race karts. As a young boy I would ride my bicycle up from the karting track and sit there watching my Formula One heroes drive past."
Johnny Herbert has yet to match his team mate's pace, but he is still optimistic. "Looking back at Melbourne," says the Briton, "Rubens could have won and I probably would have finished in the points seeing how the race panned out. If we have the same type of race in Brazil, our chances are looking very good."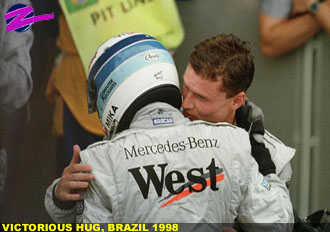 Williams is the best of the Renault/Mecachrome/Supertec-powered set and they have always done well at Interlagos, finishing in the points in all races since 1993 with a total of 38 points. Their cars tend to be able to withstand the rigours of Interlagos, except for Damon Hill's FW17 which had a suspension failure in 1995, robbing him of victory.
Ralf Schumacher has not completed a race at Interlagos. A repeat of his solid perform at Melbourne could keep him in the points. Ralf is hoping for rain, "If the weather is wonderful and dry and the other teams have no reliability problems it will become difficult for us to be in front but the weather at Interlagos changes very fast with stormy rainfall and under wet conditions I am quite optimistic."
Alex Zanardi scored his only F1 championship point in the 1993 race. Always the optimist, Alex is not quite there yet. "I really like this circuit, it has a good variety of corners. The circuit is very bumpy which I tend to look at more as a characteristic than a weak point."
Benetton is the most consistent points finisher at Interlagos over the past 6 years with 39 points. They have outpaced BAR in recent tests at Silverstone and posted similar times to BAR at Catalunya. Alexander Wurz finished a very creditable 4th last year at his first Grand Prix on this circuit. In fact, last year's race was perhaps the most boring race of the year and Wurz' spectacular passing manoeuver over Heinz-Harald Frentzen was one of the few thing that brightened that dull race. Giancarlo Fisichella's record at Interlagos has been mediocre, scoring one point in 2 races.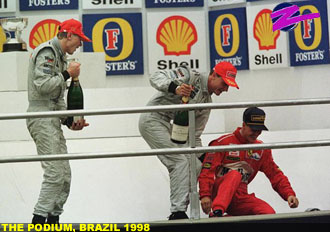 British American Racing (BAR) Team Manager, Greg Field said "We've made good progress on reliability issues as well as the overall performance of the car and believe we should be in good shape for Interlagos. As ever, though, we won't know for sure how we stack up against the other teams until the weekend gets under way."
Jacques Villeneuve swept the board in 1997 but will be lucky to qualify in the top 10 in 1999. Ricardo Zonta had a promising start at Melbourne, but the BAR is still likely to be off-the-pace. Ricardo knows Interlagos quite well having driven their in other formulae.
TWR-Arrows were the surprise team of Melbourne - Pedro de la Rosa and Tora Takagi both put in solid performances at Albert Park. With all the financial instability, lawsuits and other distractions over the winter, who would have thought that TWR Arrows would finish in the points? Can they make it into the points consecutively? Stranger things have happened in F1.
Alain Prost's team is still trying to break out of the middle of the pack. Alain has the might of Citroen-Peugeot behind his cars and two capable drivers in Jarno Trulli and Olivier Panis. The Peugeot engine was running too hot at Melbourne but the team found that cutting additional holes in the bodywork to improve cooling badly affected the aerodynamics of the car. Jarno had a miserable race at Melbourne, getting tangled with Damon Hill and then Marc Gene while Olivier Panis qualified in 20th place. Jarno has yet to score a point at Interlagos after two starts. Olivier has done quite well at Interlagos, finishing 3rd in 1997 and 6th in 1996.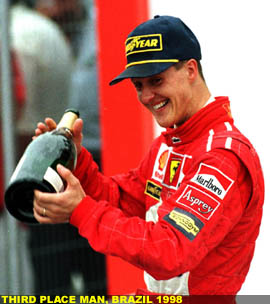 Minardi will want to perform better than they did at Melbourne where they occupied the last row of the grid. Novice Marc Gene was reinstated after being eliminated by the 107% qualifying rule. Marc had his first race terminated after a collision with the luckless Jarno Trulli while Luca Badoer's race ended with gearbox trouble. Minardi has been set-back by Luca's crash in testing that broke bones in his right hand. Giancarlo Minardi has yet to name a substitute driver for the Brazilian GP.
Sauber-Petronas has been struggling in 1999. Jean Alesi is the only driver to have competed in every GP at Interlagos since 1990. Jean finished in the points in 6 of these 9 races. If only he had a competitive car.
The best that Pedro Diniz can hope for is a points finish, something he has yet to achieve in F1 at Brazil. Pedro's best result at Interlagos was a 2nd place in a Formula 3 race in 1990.
For two of the three Brazilians in the field this will truly be a home GP. Both Rubens Barrichello and Pedro Diniz were born on São Paulo. Ricardo Zonta was born in Curitiba, Paraná, which is about 200 miles SW of São Paulo. However, Brazilian drivers haven't scored a point at Interlagos since Rubens Barrichello finished 4th in 1994 with a Jordan 194 Hart. And the last year this race was won by a Brazilian was 1993 - no prizes for guessing who that was!
My Predictions:
In the event of rain:
1. Michael Schumacher *,
2. Damon Hill,
3. Mika Häkkinen,
4. David Coulthard,
5. Ralf Schumacher,
6. Jean Alesi,
* Although Ferrari has been making noises about not having experience with the latest Bridgestone wet tires, this is my pick.
If it is dry, I'm going to stick my neck out and pick McLaren, Ferrari and Stewart as the top three teams.
Starting grid:
1. Mika Häkkinen,
2. David Coulthard,
3. Michael Schumacher,
4. Rubens Barrichello,
5. Eddie Irvine,
6. Damon Hill,
7. Johnny Herbert,
8. Heinz-Harald Frentzen,
9. Ralf Schumacher,
10. Alex Zanardi,
11. Alexander Wurz,
12. Giancarlo Fisichella,

As for the race itself - they will probably finish in this order, with attrition determining the final positions.
And will the winner of the 1999 Brazilian Grand Prix be the 1999 world champion? Time will tell. To be safe, carrying a Mojo or some other talisman could do no harm.