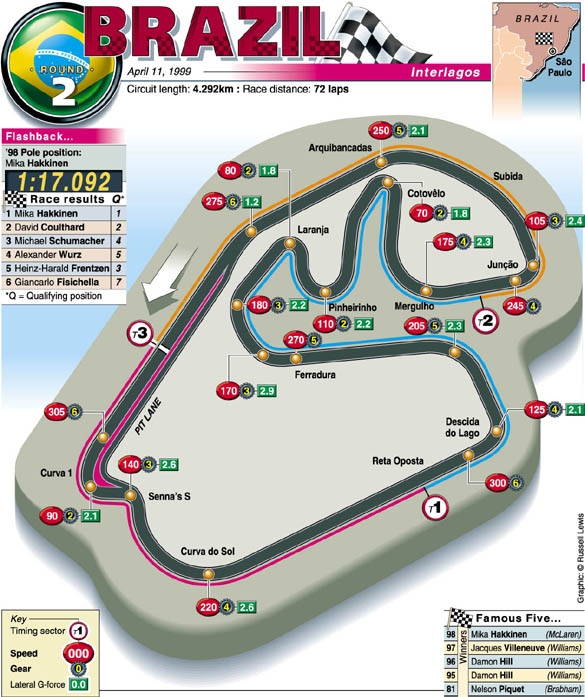 Heinz-Harald Frentzen talks through a lap of Interlagos:
"Interlagos is a difficult circuit because it is very bumpy. Not only does this mean that the engineers have to find a unique set up, unlike any other track in the F1 calendar, but it also means that for the drivers racing is very uncomfortable. You get some very hard shocks on your whole body and have to find the compromise between pain and going fast."
"The Brazilian Grand Prix has a very special atmosphere, and with three Brazilian drivers competing this year (Barrichello, Diniz and Zonta) the crowd will be even more passionate. I won points in Brazil last year and hope to do so again on 11th April and increase my tally and that of my team."
"The first corner is not as easy as it looks. On TV you cannot see how steeply it drops downwards, nor how tight it is. The apex is blind so you can only see the corner very late on braking. The start is very slippery because the track is dirty outside the line so it is easy to make mistakes. A lot of drivers go off at this first bend."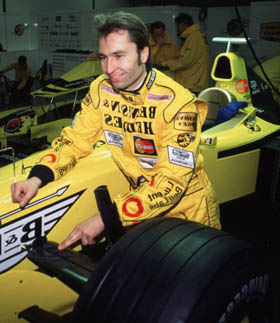 "After this you have a combination of turns where it is important to get on the power early because the left hander is not really a real corner - you accelerate through it - and it is followed by a long straight where you want to be going flat out. If your car has good traction, which my Jordan Mugen-Honda 199 does, you can overtake at the end of this straight."
"The Ferradura right hander is very bumpy and, in my opinion, one of the most difficult corners in F1 racing. Into this corner the cars can be very nervous because of the bumps."
"The next right hander is tricky - I went off here on my first race in 1994. It is a double right hander and it is important to find the line as there is only really one quick line. It is easy to lose your rhythm there."
"Laranja is a very tight right hander where the car only does 60kms - the slowest part of the track. It is important to have a good balance in slow speed. The whole in-field section is very slow compared with the rest of the track and it is easy to lose time here if you are not precise and smooth with the car."
"Cotovelo is also slow and from there you accelerate out into Merghulo which is the quickest corner on the track. You only have a small lift and then you go back on the power again as quickly as possible - making speeds of about 220 km/h. It is very important to have good balance for this corner. This corner is bumpy and there is a lot of G-force which makes the car bottom heavily. This corner has a big influence on how the engineers set up the car for the race as you have to run quite a lot of ride-height to get over the bumps."
"Juncao is the last corner before the long straight, and it important to be early on the power because you want to carry as much speed out of this corner to the start/finish line. You should reach speeds of 320kms an hour even though you are driving uphill. If you get a tow you can gain one or two tenths."