Atlas F1 is proud to present a series of features on the all-time greatest drivers of Formula One, written by veteran journalist Barry Kalb.

This week's feature: The Could have been and Should have been

In almost any racing season, there are one or two drivers who possess that extra amount of drive, that extra bit of racing sense, and above all - that extra bit of innate physical ability, that put them a cut above the rest. Year in, year out, these men will give their all virtually any time they step into a racing car; they will dominate a season when they are in a good car, and produce wins nobody thought possible in a mediocre car; they will turn in performances that racing aficionados talk about for decades to come.

This is their story.




The Might-Have-Been-Greats, and the Near-Greats

Just under the rank of the great drivers are those whose under any other circumstances would be considered the best in their professions. They are the small number of men who win races and championships in abundance, who are capable on many days of taking the lead on their own, who are always in a position to take over the lead if a greater drivers falter, whose ability and steadiness often pays off with victory. Here is a list, with brief comments.


Alberto Ascari
| | |
| --- | --- |
| Championship starts | 31 |
| Wins | 13 |
| Podium finishes | 17 |
| Poles | 14 |
| Fastest laps | 12 |

Alberto Ascari, like many drivers before and after him, had his career cut short by death. He ran off the road and into the harbor in Monte Carlo in 1955, and was badly shaken. During private practice a short time later, as he was attempting to regain the feel of the racing car, he went off the road on a perfectly sunny and dry day, and died. During his four full seasons, however, the Italian was world champion twice, in 1952 and '53, second in '51, and he built up a record second only to Fangio's. To this day, he still ranks second statistically in all-time wins and points per start, third in poles and fastest laps per start.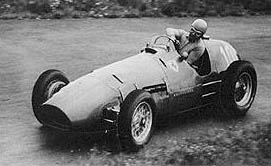 It is difficult not to place such a man in the top category of his sport, but those who knew suggest Ascari did not quite belong there. Moss, for example, said of him: "Certainly Alberto Ascari was wonderfully good... he was rather better than good, he was very good indeed. He may have been as fast as Fangio... but he had not got the polish that so distinguished Fangio." Ferrari, in his book, was more specific about Ascari's shortcomings: "Alberto Ascari had a precise and decisive style, but he was a man who had to start in front. Ascari in the lead was difficult to overtake; I would dare to say it was impossible to pass him. Ascari relegated to second place, or further back, was not the combatant I would have liked to see... When he had to follow and pass an opponent, he evidently suffered, not from an inferiority complex, but from a nervousness that did not let him express his true class."

Guy Moll
Guy Moll was born in Algeria of a French father and a Spanish mother. He appeared on the grand prix stage for one brief season - "a meteor," Enzo Ferrari called him - and then vanished as suddenly as he arrived. It is impossible to say how well he might have done over a full career, whether he was just a flash in the pan, and yet...
He won the first grand prix of 1934, Monaco, in an Alfa Romeo. He came second in the second race, the Tripoli Grand Prix, and in the third race, at Avus, he won again. He started four more races, and was battling for third place at the Coppa Acerbo in Pescara when his car suddenly swerved off the course at 170 mph and he was killed.
Moll might have faded. The Englishman Tony Brooks, during his first three seasons in Formula One, his first 22 races, scored six wins, two seconds and three poles. He looked to be budding superstar. But then he accepted an inferior car for two years, had a few third-, fourth- and fifth-place finishes, and retired at the end of 1961.
One person who had no doubts about Moll's skill was Enzo Ferrari. Moll was driving the Alfas of Scuderia Ferrari, and Ferrari wrote of him: "He had the stuff of one of the greatest flying aces that ever existed…Among the drivers who arrived at my stable, Moll was not the first foreigner, but he was without doubt the first sensational driver…He was, in my opinion, the only driver, together with Moss, able to be placed alongside Nuvolari."

Alain Prost
| | |
| --- | --- |
| Championship starts | 199 |
| Wins | 51 |
| Podium finishes | 106 |
| Poles | 33 |
| Fastest laps | 41 |

Alain Prost ran up more wins, more podium finishes, more points and more fastest laps than any driver who ever participated in Formula One. He is tied for second, with Jimmy Clark, for the most poles. He also started more Grands Prix between 1980 and 1993 (he sat out the 1992 season) than almost any driver in history. It is obviously a very subjective decision to place him anywhere below the very top in the pantheon of Formula One drivers.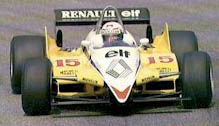 Despite his records, and despite his undeniable ability to wring the best out of a very top car, the Frenchman fades a bit on a statistical basis: he ranks only 7th in wins per start, for example, only 11th in poles per start. That by itself would hardly be enough to disqualify him from the very top rank. What really does it, in this reporter's opinion, was his driving style. Like Enzo Ferrari's description of Ascari, Prost was a driver who was untouchable when he had the best car and was in the lead, but who often failed to fight to get there. Unlike Senna, his great rival, and unlike Schumacher, Prost often wouldn't force himself past another driver even when he was demonstrably faster; he would sit back, wait for the other driver to make a mistake, settle for second place if no mistake was made. He didn't like the wet, didn't drive well in it. On a number of occasions, it appeared that he just gave up.
No driver wins a Formula One race unless he is very, very good. No one wins 10 races, let alone 51 races, as Prost did, unless he is an excellent driver. Prost was superb, probably among the 20 best drivers ever to step into a Formula One car. But he did not live up to Enzo Ferrari's description of greatness: "...men who in whatever type of car, in any type of circumstance and on any race course, give their all." I would place him, like Alberto Ascari, just one half step down from the very best - and accept that some afficionados will disagree with me very strongly.

Jacques Villeneuve
| | |
| --- | --- |
| Championship starts | 51 |
| Wins | 11 |
| Podium finishes | 21 |
| Poles | 13 |
| Fastest laps | 9 |
After only two seasons in Formula One, the Canadian Jacques Villeneuve had amassed a spectacular record by the end of 1997: one championship and one close second place, 11 wins, 13 poles, 19 podiums, 159 points. He had come to Formula One fresh from winning the Indycar championship in the United States, and it seemed that he was fulfilling the promised greatness of his late father, Gilles, who was killed in a Ferrari in 1982.
The Williams that Villeneuve drove during those first two seasons was far and away the superior car in the field. In 1998, Williams fell far behind the McLarens and Ferraris, and Villeneuve had to fight hard to score several podium finishes and a total of 21 points. But fight he did, and it was a creditable performance in a terribly lackluster car. He starts 1999 with a brand new car and a brand new team, and such combinations are rarely successful in the first year despite the skill of the driver, so it might take more time before Villeneuve's skill can be fairly assessed. He will almost certainly be judged a top driver when his career is over. Whether he will rank among the greats is an open question at this point.

Damon Hill
| | |
| --- | --- |
| Championship starts | 101 |
| Wins | 22 |
| Podium finishes | 42 |
| Poles | 20 |
| Fastest laps | 19 |

By the time he had won the championship in 1996, after only his fourth real season in Formula 1 (he had a few false starts in 1992 in a vastly inferior Brabham), Graham Hill's son Damon had racked up one of the most incredible records in Grand Prix history. The Englishman was third in the championship race in 1993, his first season, second in '94 and '95, and champion in '96. Statistically, he ranked just behind Fangio in several categories at that point. Despite one absolutely miserable and one very mediocre season since, he is still among the top ten drivers of all time in every major category, both absolutely and statistically.
Yet nobody thinks Hill a great driver. Even during those first four seasons, despite his wins and poles and points, there were always very visible flaws, and audible criticism. The negative judement was confirmed in 1997, when, having been dropped from Williams and unable to get a ride with any of the top teams, he signed on with Arrows.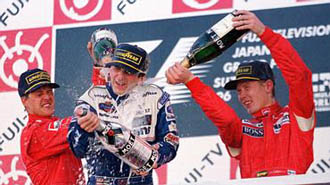 Nobody expected much from him in the underpowered Arrows, but he was the ex-champion, after all, he had those superb statistics: no one predicted just how bad he would look at the end of '97. He did almost win the Hungarian Grand Prix that year, until his hydraulics packed up just a few laps from the end and he had to settle for second. Aside from that, though, there was one sixth place, and nothing else to show for the entire season. At times, he didn't even seem to be trying.
In 1998, in a Jordan, he had a terrible first half, but in the second half of the season he began to move up on the starting grid and finish in the points again with regularity, and he capped the season with a victory at Spa -Jordan's first-ever win. Damon doesn't have the dash of his late father, but experts have said he might be a somewhat better driver. He still has a potential win or two ahead of him, and if he doesn't make a fool of himself during his final few seasons of racing, he will always rank as one of the very, very good drivers. Even if he does make a fool of himself, he has won 22 Formula One championship races, one of only ten men ever to break 20. Bad drivers don't win, certainly not to that extent, in Formula One.

Graham Hill
| | |
| --- | --- |
| Championship starts | 176 |
| Wins | 14 |
| Podium finishes | 36 |
| Poles | 13 |
| Fastest laps | 10 |

Damon's father won the championship twice, in 1962 and 1968. He won the Indianapolis 500. He had 14 championship wins, 13 poles, 10 fastest laps. He had some legendary battles with Jimmy Clark, and at times he won. He was extremely popular, extremely good. Moss characterized him thus: "Graham is in my view the ultimate mechanic-driver... precise, smooth, knowing. Given the equipment, he'll go really quickly... But if your car is faster than Graham's, you have a fair chance of beating him. He's not the type to risk blowing up an engine or going off the road to catch you, nine times in ten."

Nigel Mansell
| | |
| --- | --- |
| Championship starts | 187 |
| Wins | 31 |
| Podium finishes | 59 |
| Poles | 32 |
| Fastest laps | 30 |

The Briton, who was champion in 1993, has 31 wins (fourth after Schumacher), 32 poles, 30 fastest laps to his credit. He left Formula One after '93, and won the Indycar championship in the U.S. He was erratic, a notorious complainer, but he could be brilliant. He ranks among the top ten in overall performance in Formula One.

Niki Lauda
| | |
| --- | --- |
| Championship starts | 171 |
| Wins | 25 |
| Podium finishes | 54 |
| Poles | 24 |
| Fastest laps | 25 |

The Austrian was a careful tactician, a consistent winner, three times world champion (1975, '77, '84). He came back after an accident that left him terribly burned, to win a third championship. He is in the top ten in all absolute categories, but statistically falls into the second rank.

Achille Varzi

Varzi was a countryman and contemporary of Nuvolari. They were famous rivals, who drove on the same team in 1927, and competed against each other thereafter. Varzi won six grand prix races between 1934 and 1936, and notched up numerous 2nds and 3rds. He had the touch of greatness. He became addicted to morphine, however, and was never a real threat, and barely a presence on the racing scene, after the 1936 season.

Next Week: Conclusion and Statistics