Leaving the town of Mogyorod in Hungary, Formula One heads to the home of the Belgian Grand Prix: Le Circuit Nationale at Spa-Francorchamps.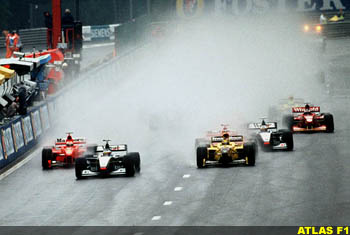 At 6.968 Km, Spa-Francorchamps is the longest active Grand Prix circuit and it is the third fastest. The original circuit at Spa was a 14.1 Km road course linking the villages of Malmedy, Stavelot and Francorchamps in the Ardennes Forest. It crossed two valleys and it was not unusual for half the circuit to be wet while the other half, in the neighbouring valley, to be dry.
The original circuit was unbelievably dangerous for both drivers and spectators. On the 12th of June 1966, Formula One changed forever. BRM teammates Jackie Stewart and Graham Hill, along with American privateer Bob Bondurant, aquaplaned on the first lap at the Masta Kink of Spa. After hitting a telegraph pole and a woodcutter's shed, Stewart ended up trapped by the steering column of his BRM for 25 excruciating minutes. Although seven cars were off the circuit, the red flag was not waved. Stewart had internal injuries, several broken bones and was soaked with fuel. Hill and Bondurant had to borrow tools from a spectator to remove the steering wheel. Hours passed - Stewart's medical treatment was farcical with the ambulance driver getting lost.
Stewart then led a crusade to improve circuit and car safety, which led Formula One out of the insanity of the dead-or-glory era. Gradually Formula One adopted the safety equipment we now take for granted, including safety belts and quick-release steering wheels.
Formula One left Spa in 1970. The modern Spa circuit was reopened in 1979 and, fortunately, it retained the best sector of the original circuit including La Source, Eau Rouge and the Raidillon with a magnificent new section added between Les Combes and Stavelot that bypassed the Masta straight. In stark contrast to 1966, every driver walked away unharmed from the 13-car accident of 1998, at the exit of the La Source hairpin.
Spa-Francorchamps is another of the seven wonders of the Grand Prix world and it represents the ultimate test of driving ability. The list of drivers who have succeeded at the modern Spa-Francorchamps is a short one: Alain Prost, Nigel Mansell, Ayrton Senna, Michael Schumacher and Damon Hill. With Michael Schumacher absent and Damon Hill off form, it is likely that a new king will be crowned on Sunday.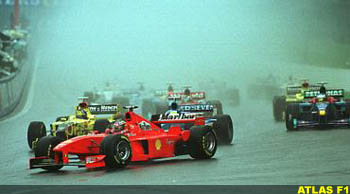 Spa-Francorchamps is also synonymous with rain. The heavens can open with little warning and the track takes a long time to dry due to the shade provided by the trees of the Ardennes Forest. Williams' Ralf Schumacher explains the challenges presented by Spa-Francorchamps: "Spa is not an easy track for the drivers or the teams. Downforce is medium to low, to enable a high top speed on the long straights, especially after Eau Rouge and Stavelot. Eau Rouge is one of the most amazing corners. It's taken in sixth gear and the car must be really well balanced to keep all the revs for the following long straight. From Les Combes to Stavelot most of the corners are medium-speed. Apart from Eau Rouge you need a good aerodynamical package for Blanchimont, which is a very fast left hander."
Ferrari's Eddie Irvine expands on the thrill and challenge of Eau Rouge: "It is certainly the most exciting corner of the season. One which you almost have to set the car up especially for. If the car is too low, it bottoms out in the corner and makes it very nervous. If you set-up the car stiffer or with a higher ride height, you have problems in the other corners on the track. It's important to get Eau Rouge right because there is a steep climbing exit over a blind brow onto the main straight. If you do not get a good exit speed, you can lose out badly down the straight to other cars behind you. If the car is working well, you can just about take the corner flat in qualifying trim which is the kind of thrill that F1 is all about."
BAR's Ricardo Zonta adds that, "You need to go 'flat' through this corner (Eau Rouge), but the new grooved tyres might make the corner even more difficult than it normally is. It's important to make a good exit from Eau Rouge because, after that, there's Raidillon and the long Kemmel straight."
Pitstop and tyre strategies
Attrition can be moderate to high at Spa-Francorchamps so finishing is everything. Fifteen cars were running at the end of the 1997 race, Fourteen cars finished in 1995 and 1994 races, ten finished in 1996 while only eight cars finished in 1998.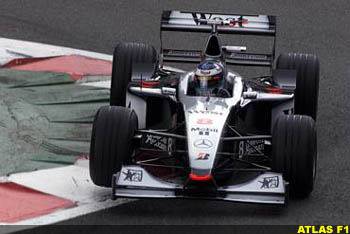 Pitstop strategy depends critically on the weather conditions. "Everything can be going perfectly and then the rain throws you a curved ball. Quick decisions over pit stops and tyre changes can easily win or lose you the race if there are changing conditions, which is often the case at Spa," points out Eddie Irvine. In last year's wet race, most finishers used a two-stop strategy while Pedro Diniz and Jarno Trulli opted for a one-stop strategy.
On tyre choice, Bridgestone will again offer the teams a choice of soft or medium compound tyres and most teams are expected to use the soft compound tyre. Bridgestone Motorsport's Technical Manager, Yoshihiko Ichikawa, stated, "Spa is also different from the more common artificial circuit. It is a complex track, with a long lap time, some highly technical corners and a surface with comparatively low grip characteristics."
Ichikawa added, "We will have two specifications of wet-weather tyre for Spa, one of which will be the new Heavy Wet variety which we developed after experience in the French GP. Because the surface at Spa tends to retain water even after it has stopped raining, we expect the Heavy Wet to be suitable under cool temperatures even in the sort of light rain which is familiar from previous races here."
The Teams
Ferrari now leads the manufacturers' championship by just four points after Hungary. Ferrari won the Belgian Grand Prix in 1996 and 1997 and finished second in 1990, scoring only 26 points at Spa-Francorchamps in the 1990's.
Eddie Irvine's run of good luck ran out at the Hungaroring. The World Championship leader has yet to score a point at Spa-Francorchamps, his best classification was tenth in 1997 after a last-lap collision with Pedro Diniz at the bus-stop chicane. His highest grid position was fifth in 1998. Irvine had a frightening moment in 1995 when his Jordan caught fire in the pitlane.
"We have got some revised aerodynamics for Spa and we should go pretty well, but as it's a circuit which we cannot test on during the season, so you can never be certain just how competitive the car will be until we run it on Friday," he says.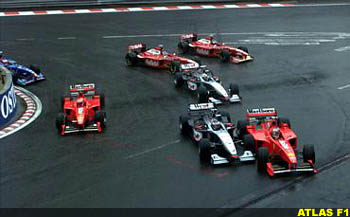 Mika Salo is now ninth equal in the Championship. Salo has been a consistent finisher, but has yet to score a point at Spa-Francorchamps. His best finish in Belgium was a creditable seventh in 1997 for Tyrrell when he was one of the fastest cars on the circuit. Salo's highest grid position was 11th for Tyrrell in 1995. Salo had a massive crash during last year's practice and was eliminated in the first lap accident. Salo stated, "We have been testing in Mugello since Hungary and I hope to have a lot more confidence with the car in Spa than I had at the last race. It's certainly not the sort of track to drive if you don't feel comfortable with the car."
McLaren have regrouped after their disastrous weekend at Hockenheim. At last, in Hungary, they have found a successful 'Plan B' to follow when events don't go according to 'Plan A'. Although McLaren have won the Belgian Grand Prix six times and scored 42 points at Spa during the 1990's, they haven't won since 1991 or scored a point since 1996. Nonetheless, their horsepower and aerodynamic advantages are very important at this circuit. Once again, a pattern of Hakkinen setting pole position and Coulthard setting fastest lap during the race is emerging as the season progresses.
Mika Hakkinen is second in the drivers' championship and has had some success at the Spa-Francorchamps. Hakkinen was classified second in 1994 and finished third in 1996, after briefly leading, for McLaren. He finished third in 1997 but was disqualified for using illegal fuel during qualifying. Hakkinen also finished sixth in 1992 for Lotus. Hakkinen set a record pole position in last year's race but did not make it beyond the La Source hairpin after tangling with Michael Schumacher and Johnny Herbert.
Hakkinen could greatly enhance his position in the Formula One record books on Sunday. A win would make him twelfth equal in Grand Prix victories with Jack Brabham, Emerson Fittipaldi and Graham Hill. He would be in eleventh place in total points, overtaking Jim Clark, Juan Manuel Fangio, Riccardo Patrese and Emerson Fittipaldi (though these are uncorrected total points. All of these drivers would have scored more points if the modern scoring system had been used in their eras). A pole position will make him ninth equal with Damon Hill. A fastest lap will make him 18th equal with Alberto Ascari, John Surtees and David Coulthard.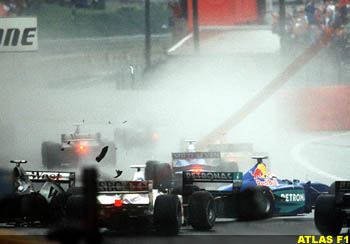 David Coulthard has jumped to third equal in the drivers' championship after the Hungarian Grand Prix. Coulthard finished fourth in 1994 for Williams at his first Belgian Grand Prix. Coulthard led the 1994, 1995 and 1996 races and set the fastest lap in 1995. Coulthard's highest grid position was second in 1998. Last year's race, with his involvement in three accidents, was the worst day of his racing career and no good will come from reopening the wounds created by one of the most disturbing off-track incidents in the history of Formula One.
Coulthard is also set to make history on Sunday. A third position would be sufficient to move him to 21st place in total points, ahead of Clay Reggazoni. Another fastest lap will make him 17th equal with Rene Arnoux.
Jordan are still a distant third in the manufacturers' championship. The Team have scored 23 points at the Spa-Francorchamps, finishing first and second in 1998, second in 1997 and sixth in 1995. Once again their reliability may prove to be crucial in Sunday's race. The team's Chief Executive Eddie Jordan stated, "I think everyone in the Jordan team is looking forward to Spa. It has so many great memories for us! I think we can allow ourselves a few minutes to re-live those feelings, but no more than that. We have to keep pressing on to secure our third place in the Championship."
Heinz-Harald Frentzen is now third equal in the drivers' championship after the Hungarian Grand Prix. Frentzen has been a consistent points scorer finishing third in 1997 and fourth in 1998 for Williams and fourth in 1995 for Sauber. Frentzen's highest grid position was 7th in 1997.
Damon Hill is now ninth equal in the drivers' championship. Hill won his second Grand Prix victory at Spa in 1993. He won again in 1994 for Williams (after Schumacher was disqualified) and in 1998 for Jordan. Hill finished second in 1995 and fifth in 1996 for Williams. Hill set fastest lap in 1994 but his highest grid position was second in 1996. Hill is ninth highest in total points scored in Formula One and is within one point of Jackie Stewart's points total.
Williams is still fourth in the manufacturers' championship. Williams have been a very successful team at Spa-Francorchamps, winning the Belgian Grand Prix three times, in 1986, 1993 and 1994 and scoring a total of 62 points at Spa in the 1990's.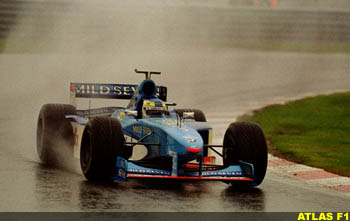 Ralf Schumacher is still sixth in the drivers' championship. Ralf finished second in 1998 at Spa-Francorchamps for Jordan. Ralf's highest grid position was sixth in 1997. Ralf stated, "I have good memories of Spa because I finished second there last year, which is my best result so far in F1."
Alex Zanardi finally seems to be matching the pace of his German teammate. Zanardi has never started a Belgian Grand Prix. On the worst day of his racing career, Alex broke his neck in an accident during practice for the 1993 race when the suspension of his Lotus failed at Eau Rouge. "Despite the fact that in Spa I have probably the worst memories of my career with the bad accident I had, I still like the place - I love it actually," the Italian says. "The length of the track is superior to anywhere else in our circus. What really makes it special is the variety of turns. It's a beautiful circuit but I just hope it won't rain as to race there in the dry with the right grip is great."
Benetton is still fifth in the manufacturers' championship and have been making progress in performance over the past three Grands Prix. Benetton has been quite consistent and successful at Spa-Francorchamps, winning the Belgian Grand Prix in 1994 and scoring 50 points in the 1990s.
Giancarlo Fisichella is still seventh in the championship. Fisichella finished second in 1997 but narrowly escaped serious injury in last year's race when he rear-ended Shinji Nakano's Minardi at the Bus-Stop chicane. Fisichella's highest grid position was fourth in 1997.
Alexander Wurz is now eleventh equal in the drivers' championship. Wurz has yet to finish at Spa-Francorchamps, retiring from his first Belgian Grand Prix last year following a collision with David Coulthard. Wurz showed great sportsmanship after last year's race by mediating between Michael Schumacher and David Coulthard.
Stewart is still sixth in the manufacturers' championship. Team founder, Jackie Stewart, holds the qualifying record for the 14.1 Km Spa circuit, but the Stewart team has yet to score a point at Spa-Francorchamps, their best result was Jan Magnussen's twelfth position in the 1997 Belgian Grand Prix. The new Series 3 Ford V10 engine was both competitive and reliable at the Hungaroring, but the team may opt for the newer Series 4 unit on Sunday.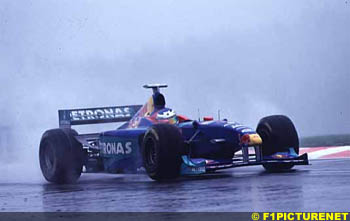 Rubens Barrichello is still eighth in the drivers' championship. Barrichello set pole position in 1994 but his only finish in the points was a sixth in 1995 for Jordan. Johnny Herbert is thirteenth equal in the drivers' championship. Herbert finished fourth for Sauber in 1997 and fifth for Lotus in 1993. Herbert's highest grid position was fourth in 1995.
Sauber is seventh in the manufacturers' championship and had a disastrous race in Hungary. Sauber has scored ten points at Spa-Francorchamps, finishing third in 1998, fourth in 1997 and 1995. Jean Alesi has had some success in nine starts at Spa-Francorchamps, finishing third in 1998 for Sauber and fourth in 1996 for Benetton. Alesi has twice qualified in second position in 1995 and 1997. Alesi is 19th in total points scored in the modern era. Pedro Diniz is eleventh equal in the drivers' championship and finished fifth in last year's Belgian Grand Prix for Arrows.
Prost is eighth in the manufacturers' championship. Team owner Alain Prost won twice and his team has scored one point at Spa-Francorchamps. Olivier Panis is thirteenth equal in the drivers' championship. Panis has yet to score a point at Spa-Francorchamps, his best finish being seventh for Ligier in 1994. Jarno Trulli finished sixth in last year's race.
BAR's reliability showed signs of improving at the Hungaroring but Team Manager, Robert Synge, expressed cautious optimism. "Our race engineers, Mick (Cook) and Jock (Clear), have made some good tactical calls when it has come to changeable weather conditions this year and have shown themselves quite capable of choosing an unconventional strategy if they feel it is required. We know the chassis handles well, and the new aerodynamic package introduced in Hungary provides a significant performance improvement in terms of drag and downforce levels. Given the high-speed nature of Spa, that should assist us to an even greater extent than at the Hungaroring," said Synge.
Jacques Villeneuve finished second in 1996 and fifth in 1997 for Williams. Villeneuve also set pole position in 1996 and 1997 and set fastest lap in 1997. Villeneuve escaped injury following a high-speed accident at the Raidillon in last year's race but he is enthusiastic about the upcoming race. "Spa is an amazing track and I just really like racing on it," he says. "I've never been particularly successful there, although I have managed to get good results in qualifying. It is a pleasure to drive the circuit - there are great corners and the track follows the landscape in a majestic way. When you complete a lap at Spa, you feel like you've done something, that you've travelled somewhere. Eau Rouge is a brilliant corner that you can take flat out. Hopefully, I can still do that this year."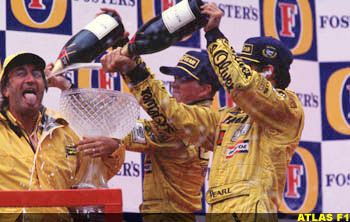 Ricardo Zonta has finished his second Grand Prix. Zonta has competed at Spa-Francorchamps in F3000 in 1996 and 1997. "Spa is the longest circuit of the season," Zonta observes. "It has lots of medium-fast corners. I competed there twice in Formula 3000 and finished fifth in my last visit. I like the Spa circuit, but at Eau Rouge, it's very easy to lose the car and come off. Our car should be good in the medium-speed corners, but we might have a problem with the long straights. We will also need to find good grip."
Arrows seems to be focusing its efforts on the 2000 season. Last year's race weekend was a financial disaster for Arrows with all but one of their cars being seriously damaged; fortunately Pedro Diniz finished fifth with that car. A finish in the points for either Pedro de la Rosa or Tora Takagi would be a bonus on Sunday.
Minardi had another reliable race at the Hungaroring and they have a reasonable record of finishing, but yet to score a point at Spa-Francorchamps. Shinji Nakano's eighth place finish in last year's race was their best result. They will be hoping for both Marc Gene and Luca Badoer to finish on Sunday.
My Predictions:
If it is dry, I'm going to pick McLaren, Ferrari, and Stewart as the top three teams for qualifying with Jordan and Williams making up the top five.
Starting grid:
Mika Hakkinen
David Coulthard
Eddie Irvine
Rubens Barrichello
Mika Salo
Heinz-Harald Frentzen
Johnny Herbert
Damon Hill
Jacques Villeneuve
Ralf Schumacher
Giancarlo Fisichella
Jean Alesi
What if it rains on Sunday? Looking back to the French Grand Prix, the only wet race so far this season, the following drivers were doing well in the rain:
Heinz-Harald Frentzen, Mika Hakkinen, Rubens Barrichello, Ralf Schumacher, David Coulthard and Jean Alesi. The Ferraris of Michael Schumacher and Eddie Irvine were surprisingly mediocre, indicating perhaps that Bridgestone wet-tyres perform quite differently from the Goodyears that Ferrari successfully used in the past. Spa-Francorchamps is quite different from Magny-Cours but it would not be surprising to see these same drivers performing well again in the rain.

Sunday's race is likely to be eventful - qualifying is not terribly important. Ironically, the pole sitter at Spa-Francorchamps has not won since 1991. The weather, pitstops strategy and reliability are likely to determine the outcome.

The 1999 Belgian Grand Prix Preview in a Nutshell:

Spa-Francorchamps represents the ultimate test of driving ability. After winning at Spa, a Formula One driver can be regarded as a great driver.

McLaren-Mercedes have regrouped from their disaster in Germany. Only three McLaren drivers have won at Spa-Francorchamps. Can Mika Hakkinen or David Coulthard be the fourth?

Ferrari will want to bounce back from the disappointments of Hungary. Only five Ferrari drivers have won at Spa-Francorchamps. Can Eddie Irvine or Mika Salo be the sixth?

The Best of the Rest: Jordan, Stewart, Benetton or Williams? Watch these teams if the weather conditions turn bad.

Always in the points at Spa-Francorchamps in the 1990's: No one.

One way or the other Formula One history will be made on Sunday.