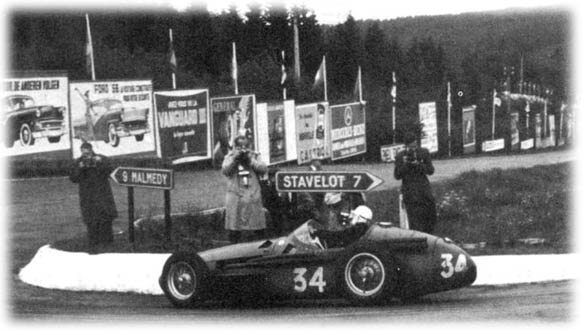 Spa-Francorchamps - the name alone draws admiration and respect from drivers and spectators alike, holding some of the most memorable moments in auto racing. Even before the Formula One World Championship series began in 1950, Spa separated the men from the boys, having illustrious winners such as Tazio Nuvolari and Rudolf Caracciola. In fact, the first race held at Spa was in 1925 and was won by Alfa Romeo driver Antonio Ascari, the father of Alberto Ascari - who himself won the race twice in his days, both times for Ferrari.
However, although most people immediately relate the Belgian Grand Prix to Spa, Formula One has been away from the famous track for Twelve years. During most of the '70s, the race was held at Nivelles and at Zolder. The last track is mostly known for taking the life of one of the greatest drivers of recent decades: Gilles Villeneuve.
Towards the end of qualifying for the 1982 Belgian Grand Prix, Villeneuve was second on the grid behind his Ferrari teammate Didier Pironi, when he began his last run of the session. He desperately wanted to beat Pironi, after the Frenchman disobeyed team orders and snatched Villeneuve's win in the San Marino race two weeks before.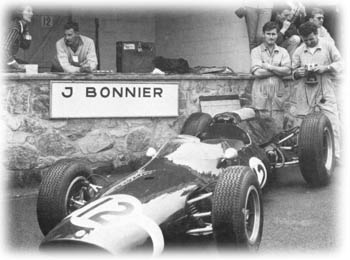 Villeneuve came up to the slow March of Jochen Mass, who was just returning to the pits. Mass made room for Villeneuve by going to the right side of the road, but Villeneuve had already decided he would go around Mass and also steered towards the right side of the track. As a result, Villeneuve's left front-wheel hit the right rear-wheel of the March and the car was launched into the air, with Villeneuve thrown out of the cockpit. The Canadian didn't stand a chance and died hours later in the hospital.
Incidentally, a young man was present at Zolder that weekend - a promising talent that was competing in the European Formula Ford 2000 series, which had its races as support events to the Formula One races. 12 years later, on a different track, that young driver would also end his life during a Grand Prix. His name was Ayrton Senna.
Villeneuve's death, however, was not the first in the Belgian Grand Prix. In 1960 Formula One was shocked by two deaths in one race, after Stirling Moss had already had an accident in practice which cost him two months of his career. Both Chris Bristow (Cooper) and Alan Stacey (Lotus) were killed during the race, leaving the others driving on a bloodstained track for multiple laps. After this disaster, Formula One almost lost another Briton driver, who was set to retire from racing: Jim Clark.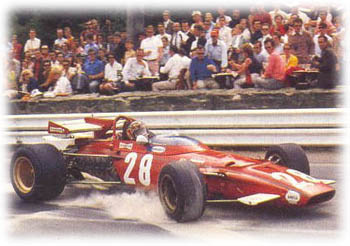 Clark was the first to see that Bristow had crashed and was horrified by seeing the marshals pull the dead body from the car. Stacey, who was killed later on that race, was Clark's teammate. The trauma was too much for Clark, but luckily for Formula One fans, Clark did not retire eventually, and although he hated the Belgian venue, Clark made Spa his most successful circuit, winning there four times consecutively from 1962 through 1965. Senna was the only other driver to achieve the same feat later on, from 1988 until 1991. Senna also won in 1985, making him the only Formula One driver to win the event five times.
Jim Clark's third win was one of the strangest finishes in Formula One history. Towards the end of the race, Dan Gurney was leading in his Brabham when he ran out of fuel. Graham Hill passed him with the BRM, but suffered the same fate just a few hundred meters from the finish line. Bruce McLaren (Cooper) appeared to become the lucky third. However, in the final corner his car failed and he got passed by Lotus driver Clark on the straight to take what is probably the luckiest win in history.
However, in 1968, Bruce McLaren finally managed to win the Belgian Grand Prix, giving the team that was named after him its first win.
Since the return to the shortened Spa in 1985, only five drivers have managed to win there: Ayrton Senna, Nigel Mansell, Alain Prost, Michael Schumacher and Damon Hill. This also marks the fact that future champions can come out of Spa: for Senna, his first win in Belgium was only the second win of his career, and Schumacher scored his maiden win on the track in the Ardennes.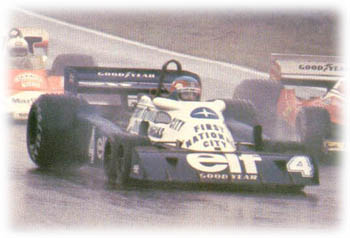 The 1987 Grand Prix proved to be a remarkable event too: Senna (Lotus) and Mansell (Williams) collided first on the track, putting both cars out, and later in the pits, where the two engaged in a celebrated fist fight. But after that, it was just Senna in Spa. From 1988 to 1991 the Brazilian McLaren driver was the master of the track, not seldom in wet conditions for which the track is notorious.
Strange as it may seem, the rain prevented Senna from taking in 1992 his fifth Belgian win in a row. Starting out in the rain, all cars went away on slicks with the impression the rain would stop soon. When the rain got worse, only Senna's McLaren stayed out on slicks, thus falling back. However, that race marked the transition of generations, as Senna would not win again on that track, but a new face debuting there only a year before, would win that race to become the heir to the track.
Spa was the debut race of Schumacher - then in a Jordan - in 1991. He qualified a remarkable seventh but did not finish that race due to a clutch failure. But the 1992 saw him in the Benetton, winning his first Grand Prix in much the same style that was later to become his trademark: Schumacher saw the blisters on the tyres of his Benetton teammate Martin Brundle and directly went in for fresh rubber. His rivals ran on with bad tyres and by the time they had changed tyres too, Schumacher was already in the lead and heading for victory.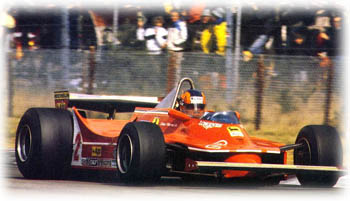 After that race, Schumacher made Spa his home away from home. Schumacher finished second in 1993, and crossed the line first in the next four consecutive years. However, he only won three times since - in 1994 the German saw his win taken away after the FIA's post race official scrutiny found the Benetton's wooden plank a few millimetres short of the legal thickness. Schumacher claimed it wore out when he had a slight off on one of the curbs, but he was nonetheless disqualified, handing the Williams driver Damon Hill his second win at Spa in as many years.
In 1995 Michael Schumacher truly showed his talent after qualifying in his Benetton only 16th on the grid, following mechanical problems in his car which prevented him from clocking in a lap while the track was still dry. But, after a sensational race loaded with overtakes (!), the German won once again, just barely holding off Damon Hill's Williams who started from 8th.
1996 is mostly remembered for Dutchman Jos Verstappen's crash at Stavelot, where he missed the corner because of a defect on his Arrows and hit the barriers at 250 kmph. While the safety-car was out, Schumacher was the first to enter the Ferrari pits for new tyres, whereas a misunderstanding in the Williams team made Villeneuve come in a lap later and Damon Hill another lap later, handing Schumacher enough advantage. After both the leading McLarens made their stops, Schumacher was ahead, driving towards yet another one of his Spa home-runs.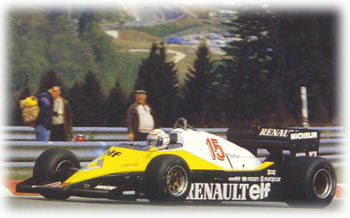 The next year, an hour before the race start, the rain was pouring down, only to stop just before the race. Jacques Villeneuve started out in front after taking his tenth pole, ahead of Benetton driver Alesi and Michael Schumacher (Ferrari). On the drying track Michael Schumacher scored his third consecutive win, with Jordan's Fisichella finishing second, scoring his second podium spot of his career. Mika Hakkinen finished the race third in his McLaren, but was later disqualified because of illegal fuel, thus promoting Williams' Heinz Harald Frentzen to third.
Schumacher needed to win last year's race to match Senna's record of four consecutive wins and 5 overall wins in Belgium. But what seemed like a sure win and another remarkable drive in the wet from Schumacher, ended in the back of David Coulthard's McLaren, a memorable three-wheels drive back to the pits and an exchange of ugly words in the garages. Oddly enough, it was Damon Hill again - this time in a Jordan - when picked up on that lost win, making him one of the few to win at Spa three times or more.
But Hill's first Spa victory in 1993 was too overshadowed. In qualifying, Lotus pilot Alex Zanardi crashed at 300 kmph into the barriers of the famous Eau Rouge corner.
But back to last year's Spa - another historic picture added to Formula One history, when half the field piled up on the extremely wet track, just after the start. On the way down to Eau Rouge, McLaren driver David Coulthard lost control of his car, bumping into the barrier and plummeting back into the raging field of cars. After that it was all a rain-soaked pile of carbonfibre, ending with Ricardo Rosset driving into the debris without having a chance to brake. With an estimate of seven million Dollars' worth machinery ruined - the restart was taken over an hour later, without a few drivers who just did not have a car to drive in!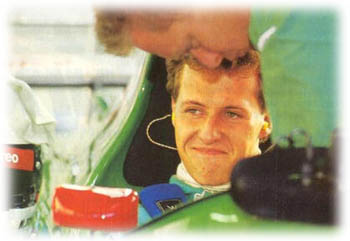 However, it wasn't the only much talked about crash. First on Friday, Jacques Villeneuve went off in Eau Rouge, banging into the barriers at full speed. The entire paddock held its breath, fearing the worst, only to see Villeneuve climbing out of his Williams, explaining that this was the best crash he'd ever had in his career. In the light that his father Gilles died in Belgium, this wasn't regarded as Jacques' best quote of the season.
And then there was that crash between Schumacher and Coulthard, but in the end there was one man happier than everybody else. Eddie Jordan saw his team's first victory become a reality and to add a golden edge, Damon Hill and Ralf Schumacher made it a one-two, with Jean Alesi, who had driven for Jordan in his F3000 days, completing the surprising podium.

Belgium - Just the Facts
This will be the 46th Belgian Grand Prix - no record there - and actually only the 34th at the Spa Francorchamps circuit. The other Belgian Grands Prix were held at Nivelles (2) and Zolder (10).
However, Spa is probably the oldest Grand Prix venue currently in use. It dates all the way back to 1921, which is a year earlier than Monza. Of course, all that changes when Indianapolis comes on the calendar next year, and instantly becomes the oldest venue - it started in 1909.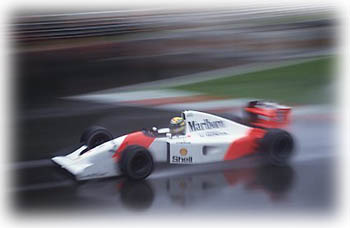 Spa is not only the oldest venue on the calendar, it is also the longest, at 6.968 kms. Of course, it used to be even longer - at 14.080 kms - before the Grand Prix went to Nivelles and then Zolder. In the meantime, the circuit was shortened by what is still called the 'nouvelle portion', even though it is now 20 years old. The reduced length is as a result of that shortening. The Grand Prix returned to Spa in 1983.
Amazingly, Jim Clark won around this difficult circuit four times in succession from 1962 to 1965, while Ayrton Senna did the same from 1988 to 1991. Since then, only Damon Hill (1993, 1994, 1998) and Michael Schumacher (1992, 1995, 1996, 1997) have won at Spa.
Two of Clark's wins were from flag to flag (the one in 1963 by a full lap over Bruce McLaren), while three of Senna's were just as dominant. Twice Senna lead home teammate Prost in a McLaren one-two. He also lead home teammate Gerhard Berger another time.
Michael Schumacher's career is inextricably linked with Spa. He won't be racing there this year but he made his debut at the circuit in 1991 driving for Jordan, and his first win was in that 1992 event when he also set fastest lap. He also finished first in 1994 but was disqualified, handing the race to Hill.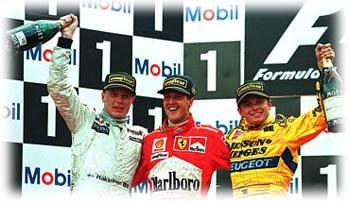 In terms of teams, Ferrari have had ten wins at the circuit, while McLaren have eight and so too have Lotus, although five of McLaren's were in succession from 1987 to 1991. Williams have won there four times. We have already mentioned McLaren's four one-twos, but Ferrari have had the same number. Only one other team has managed that: Jordan, last year when they won a Grand Prix for the first time in the team's history. Incidentally, Spa has also been good news for constructor/drivers and their own cars; it was the scene of McLaren's first win in 1968 when Bruce was driving one of his own cars, and Dan Gurney scored Eagle's only Grand Prix win a year earlier.
Both Clark and Carlos Reutemann started runs of races in the points in Belgium, and ended them at the same circuit a year later. In 1980, the Argentine finished third at Zolder and then finished the next 14 races in the points - a record - until he won at Zolder again the following year. Jim Clark did the same by winning at Spa in 1963 and then finishing the next 11 races in the points (including another eight wins) until Spa the following year.
In terms of the grid, Ferrari have filled the front row of the grid once in each decade since the World Championship began, and that included the first three cars on the grid in 1952 and 1961. McLaren have filled the front row four times, and Williams three times. Ligier filled it in 1979, and Alfa Romeo filled the front row with three cars in 1950.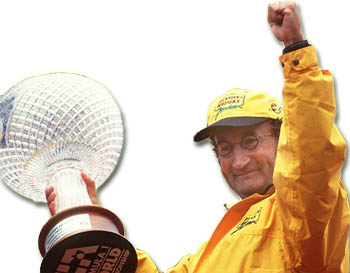 Some less common statistics: the Englebert tyre company scored their first win of 10 in 1952 at Spa, equipping Alberto Ascari's Ferrari. Dunlop scored their last win of 83 at Spa in 1970. In 1962, Ricardo Rodriguez became the youngest driver ever to score points with fourth place. He was just 20 years old and 123 days. At the other end of the scale, eleven years earlier at the same venue, the field's average age was 42 years 315 days. Never, before or since, was the field so old!
Of course, last year's race was remarkable for the dubious reason that it saw the biggest pile-up in Grand Prix history, when 13 cars crashed just after the La Source hairpin, beating the previous record of 12 at Silverstone in 1975. Thankfully, no one was hurt. Incidentally, that was in the wet and qualifying or the race have been affected by wet weather every year since 1994.
There are few milestones; it's coming up to Olivier Panis' 33rd birthday on September 2nd, while this should mark Johnny Herbert's 140th Grand Prix. Marc Gene, Ricardo Zonta and Pedro de la Rosa will all be making their Grand Prix debuts at the circuit, as will Alessandro Zanardi as he crashed heavily in practice and didn't start in 1993.
Hill has always been classified in this race, winning three times and never qualifying lower than ninth. Alesi has never qualified lower than tenth in nine visits, while Herbert has been to Belgium as many times with a best of fourth in 1997. Coulthard has only once scored points in five visits, while Salo's finishing record is second only to Hill's. Mika Hakkinen, incidentally, has never won this race, but finished second in 1994 and third in 1996 - but Irvine has never even seen the chequered flag in Belgium although he has twice been classified.