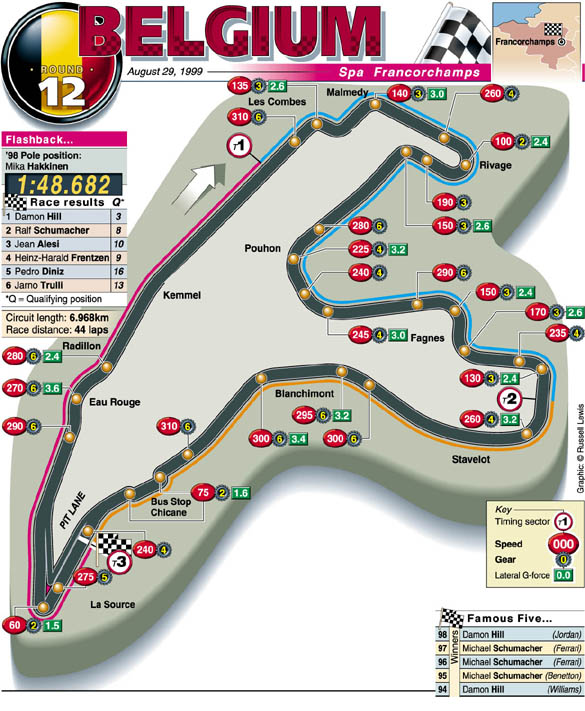 As the field crosses the start/finish line, the drivers brake hard before changing down to first for the tight La Source hairpin. The track is doubly wide on the exit, so expect to see a wide variety of lines in an attempt to gain extra speed on an opponent before the run in to the fearsome Eau Rouge.
Driving steeply down hill, past the old pit lane that is currently used for support races, the track twists left, hard right and uphill, then left again. Eau Rouge is the key for the entire lap. If taken fast enough, the opportunity exists to out-drag an opponent along the Kemmel straight into the Les Combes chicane.
A tight hairpin, Malemedy and nearly flat left hander, Rivage, lead the drivers into the fast Pouhon double apex left hander. A brief straight, and the drivers follow the road right into the fast Les Fagnes chicane. No time to relax, as there is only another short straight before the next corner, the tough right hand Stavelot. The third gear corner leads onto the main straight, so drivers slide their car wide in a desperate attempt to get their speed up.
The straight is, in fact, a series of left hand, flat-out kinks - the toughest being the particularly tight Blanchimont. A pair of fast chicanes - the Bus stop sequence - slow the cars down slightly before they return to the pit straight and start another lap of this most challenging of circuits.