When the lights blinked out for the start of the 1999 British Grand Prix at Silverstone, few could have imagined that the events of the next few moments would trigger off a set of circumstances, that would add a whole new dimension to the Formula One landscape.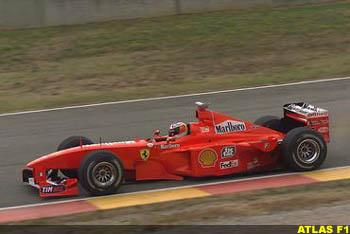 When Michael Schumacher makes his return to the cockpit at the Italian Grand Prix at Monza in mid-September, Ferrari will be faced with the ultimate dilemma. Support Eddie Irvine in the chase for the World Championship title, as logic would surely dictate, or continue their policy of total support for Michael Schumacher, leaving Eddie Irvine out on a limb.
The news that Schumacher is unable to race in Belgium has thrown a lifeline of sorts to Irvine as he struggles in his lone bid for glory. The more points he can score before Schumacher returns, the greater the chance that even Schumacher will be unable to invoke the clauses in his contract that compels the Ulsterman to defer to the German.
That Schumacher has become indispensable to Ferrari is almost a given in the minds of almost all the Ferrari management. He has always been more than just their number one driver, in fact to most observers, the Ferrari team has in effect become "Team Schumacher". The team's collective soul sold to the one man they believed could bring to the Maranello based outfit the championship that they had attempted to win for so long. The wisdom of this arrangement has never even been seriously questioned, let alone discussed - until now.
The position that Schumacher has created for himself at Ferrari is unique in modern Formula One history. As Frank Williams once dryly remarked - "The No. 1 driver in the team may be our most important employee, but he is still an employee." Never any doubt as to who calls the shots in Frank's team and woe betide any driver who forgets it.
Over at McLaren the story is the same. Alain Prost and Ayrton Senna may have won six drivers' titles between them for the Woking-based outfit, but team boss Ron Dennis always ultimately called the shots, even though he had his hands full controlling the competitive instincts of these two drivers in the late eighties, when they raced to the limit in barely controlled aggression for two glorious years. In the end it was the McLaren team that benefited, winning a record 15 out of 16 races in the 1988 season.
That Prost refused to exercise the veto he was offered in '87 when the name of Senna was first aired as his new teammate showed his true stature as a man, even if it eventually cost him his unofficial title as the world's best driver. It was the team's interest that was paramount, so the team's management managed, and the drivers drove. There never was a "Team Prost" or "Team Senna" at McLaren.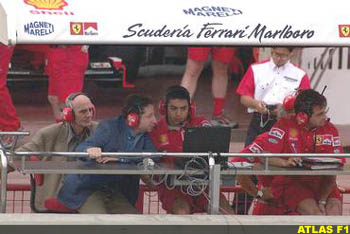 At "Team Schumacher" things are so different. Points were potentially lost to the Ferrari team at the recent French Grand Prix when Eddie Irvine was forced to stay behind his team leader and not pursue the Williams of Michael's brother, Ralf. Michael Schumacher's interests first, Ferrari's second. The line between each one's true interest blurred some more.
The weakness in the Ferrari strategy was exposed the instant Schumacher hit that Silverstone tyre barrier. Motor racing is a dangerous sport. Drivers get killed, drivers get injured, sometimes drivers even just get tired of driving. Once Michael Schumacher could no longer drive, Ferrari's whole reason for racing was called into question. Were they racing for victories for "Team Schumacher" or team Ferrari? Team director Jean Todt clearly seemed confused. His lack of enthusiasm for the back to back wins scored by Michael Schumacher's designated No. 2 has been plain for all to see. First Ross Brawn was drafted in to share the winner's podium celebrations in Austria, then chief mechanic Nigel Stepney in Germany. Disinterest by disassociation!
The plain fact is, of course, that those victories by Eddie Irvine undermined the whole - largely Jean Todt inspired plan - for Michael Schumacher to capture that elusive world championship crown, and thus repay the vast amounts of money outlaid for his services over what is already almost a four year period. Whether the money could have been better spent is becoming more of a moot point the closer Eddie Irvine gets to that championship win. Look at it another way: the combined payments to Mika Hakkinen and Adrian Newey at McLaren for the '98 season would have been around US$10 Million. Is Michael Schumacher really value for money at three times that amount?
Even the muted critical comments levelled by Todt after Irvine's minor mistake in Hungary were stronger than those he uttered after Schumacher turned into Jacques Villeneuve at Jerez in '97 or his accidental ramming of David Coulthard at Spa in '98.
So as Michael Schumacher ponders the return to his Ferrari cockpit the questions as to his immediate future role for the remainder of the '99 season mount up. Will he drive as Irvine's No. 2, and perhaps the key question of all - will he be as fast as before?
Only a driver who has suffered an injury as a result of crash in a racing car can fully appreciate the psychological impact that this can have. Extracting the maximum from a Formula One machine is largely about motivation and confidence. Confidence comes from the experiences that have gone before. The confidence in Michael Schumacher's case, being that he can throw the car into a corner at a little over the limit and sort out the consequences as they happen. If the accident was the result of driver error then this confidence can be badly dented and Mugello is not the test that the high-speed Monza track will be.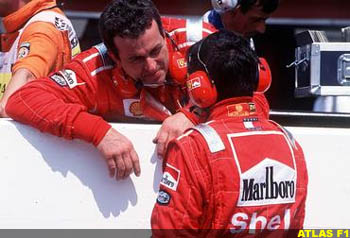 Ferrari's statement that the accident was solely due to the failure of the rear brakes raised more than a few eyebrows. Given that the FIA released data that the initial deceleration achieved was some 3.1 G and bearing in mind that the maximum achievable braking G-force by a Formula One car is around 4-G, then no wonder questions remain as to whether the full story has been told. Did he suffer some brake related problem, but did he also miss his braking point in his haste to put Irvine behind him?
Motivation? Michael Schumacher has never been short of motivation all through his Formula One career. But he has spent most of his waking moments throughout the past three and a half years planning and scheming how to win the world championship driving a Ferrari car. Achieve it, and in racing terms immortality follows. To help another driver win it can hardly ever have raised itself even remotely as a possibility. To assist a driver of so much lesser ability achieve it would surely rank as his ultimate indignity. One gets the feeling that if Schumacher overcomes the pain barrier and returns to the track ahead of time, he will be racing on his terms and no one else's.
In practical terms it will not be easy to assist Irvine to the driver's title anyway. Whatever Schumacher may do Irvine will still have to finish ahead of Hakkinen, something he has failed to do all year whilst the Finn's McLaren has been healthy. If Schumacher is to finish ahead of Hakkinen and therefore deny him some points, Irvine will somehow have to be manoeuvred in front of both of them, a task even Ross Brawn may find beyond him. Of course if Ferrari politics were to suddenly decide that the constructors' title was their only goal then it would all be very straightforward. No team orders, and most likely of all, no title for Eddie Irvine.
The driving career of Michael Schumacher has been highlighted by brilliant wins and yet dogged by almost constant controversy. When he returns to the track in Italy, there will still be four races to run in this '99 title chase, time enough for more of either, or perhaps, in the true Schumacher style - both.