This week's Grapevine brings you
information fresh from the paddock on:

Ferrari to Spoil the Jordan Party
Silly Season Update
Picked from the Bunch
Ferrari to Spoil the Jordan Party
Jordan's return to Spa coincides with major steps forward in all departments on their car. Heavy revisions to the engine, aerodynamics and suspension mark the team's attempts to make a considerable step forward at the track which saw their first Formula One win last year.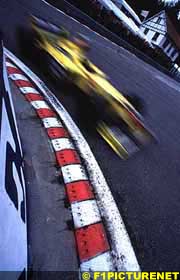 The new engine is believed to produce only 12bhp more peak power, but it has greater torque through the range, and slightly improved drivability. It should be available for both qualifying and the race. Alongside the improved aerodynamics, the team was hoping to be in a position to challenge for pole and a race win.
Originally, McLaren were seen as the key rivals at this circuit. Last year, it was not Irvine's best event and Salo was out-qualified by Pedro Diniz, so in the absence of Michael Schumacher, the Silver Arrows were always likely to be the biggest problem. However, Ferrari are determined not to let their lead in both Championships slip away easily, and they have been working hard since Hungary to provide Irvine with a chance at beating the McLarens.
Jean Todt, to his distaste, has been compelled to admit that Salo will probably not be right on the pace this weekend – he just has not had enough time in the car. However, the team has been working very hard evaluating new aerodynamic components and an engine upgrade of their own for the forthcoming race. Additionally, the team is believed to have focussed on generating an effective wet racing set-up for the weekend ahead.
The Ferrari plan appears to be consistent with the other races this year. Race positions score points, so they are prepared to risk qualifying off the front row to optimise the race performance. This seems to be in direct contrast to Jordan's approach this year: they are hoping to pass Ferrari in qualifying performance, then hold on to the advantage for the race. It's going to be interesting to see which strategy works out!
Silly Season Update
Johnny Herbert believes his seat at Stewart is safe for 2000. The buy out clause is very high, so it's possible that he will remain.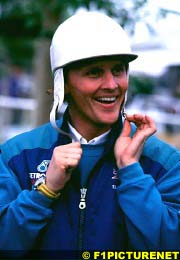 Many pundits are saying that nothing can save his seat, however: they do not consider his appalling luck a factor to be considered, just his lack of results.
Dario Franchitti has confirmed that he has no interest in Formula One next year. After seeing the fate of Alex Zanardi, he is waiting for a change to the specification which would permit him to perform well. Furthermore, he would only accept a seat with a front running team – currently McLaren or Ferrari – and they have no openings.
Nick Heidfeld is looking almost certain for a seat with the team next year, as Jean Alesi's teammate. the current Prost drivers, Jarno Trulli and Olivier Panis, are thought to have signed with Jordan and Arrows respectively.
The Grapevine will have a regular Silly Season update, along with the Silly Season Page of the F1 Rumors Team.
Picked from the Bunch
Gerhard Berger, BMW's racing director, revealed this week that their engine work for next year's Williams is going according to plan.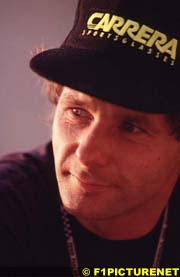 "We can't really comment on that before the car with the new engine has begun trails," the Austrian said, adding: "Only then will we know how good a job has been done how much fine tuning will be required. Rosche said we are still on course." Rosche is Paul Rosche the engine's designer.
Sly Stallone's Formula One movie is moving one step ahead. Stallone signed action-director\producer Renny Harlin ("Die Hard 2") for the project, the two visited the F1 circus at Hungary last week. The movie also has a work title - Into Thin Air - and filming is scheduled to being in April 2000.
The Ayrton Senna Foundation, supporting children in need at Brazil, will gain support from two Formula One drivers this coming fall. Rubens Barrichello is scheduled to hand Senna's sister and manager of the foundation, Viviane, a fat cheque of donations collected for the foundation. The second driver, Jos Verstappen, will provide his race overall from the 1998 and a special limited scale model series of his Stewart SF2 car to be auctioned, at an event named "Holland racing for Kids in Brazil" which is scheduled for November.
Jacques Villeneuve thought that if he retires from the Hungarian Grand Prix, he might as well speed in the pitlane - there would be no stop\go penalty for him anyway. Well, he thought wrong. The stewards at the track fined the Canadian with $8,000.