Bruce McLaren thought second place in the 1968 Belgian Grand Prix at Spa was a good result, but he couldn't understand why his team mates were going berserk on the finishing line...
Every season, the more capable and confident drivers within the Formula One circus look forward to racing around the rolling, pine-forested hills of the Belgian Hautes Fagnes range. Spa-Francorchamps' Circuit National is perhaps the most classical surviving Grand Prix venue of them all. Spa takes no prisoners - to win there is to climb a motor racing Everest. What a place, then, for a team to gain its first championship Grand Prix victory.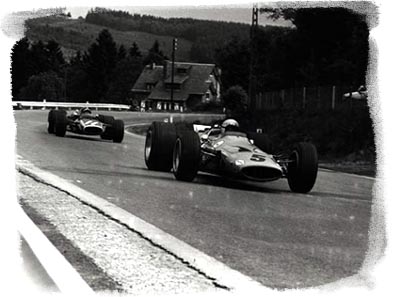 Team McLaren arrived for the 1968 Belgian GP with gleaming new papaya-liveried M7A cars, Cosworth-Ford DFV 3.0-litre V8 engines in the back. They were to be driven by Bruce McLaren himself and Denny Hulme.
In practice, the McLarens were twitchy. They were losing time in the high-speed curves. For race day, Bruce tried lower-geared steering and wider front rims. "On full tanks the car felt a lot better," he said afterwards. "I decided to be ultra-cautious for the first half of the race. Yet I vividly remember having all four wheels on the grass at the start and I must have been nearly last up the hill into the forest."
Topping the ridgeline, the traditional old Spa circuit used to plunge left-handed out of sight before arcing right and right again, down into the neighbouring valley. From a double right-hander at the Malmedy crossroads, it speared down the super-fast, downhill Masta Straight towards the village of Savelot.
There was a catch here, a road-maker's joke. In the middle of the Masta Straight lay Masta hamlet itself - the road flicked through a lazy ess bend between two stout houses. A 270 kmph tremor... no dozing off.
"Graham Hill had won the last two races," said Bruce. "But he didn't seem very happy. I followed him until he waved me past, so I set off after a bunch in the distance. My pit signals said 'Hulme first' with a thumbs up, and I was shooting at third."
John Surtees had led nine early laps in his V12 Honda, before suspension trouble. Hulme tore by with Jackie Stewart's Tyrell-run Matra, another Cosworth V8 customer. They swapped the lead until Denny's McLaren spat a drive shaft, leaving the wee Scot in command.
Bruce was screaming round in a duel with the two BRMs of Piers Courage and Pedro Rodriguez. "Every time I opened up a gap," he said, "we came upon a slower car. One lap, it was Denny, limping back with only one drive shaft.
"Now the signals were telling me I was second. Piers' engine had blown, but twice Rodriguez got by me - the car was getting twitchy with the fuel load gone. But then the BRM got smaller in my mirrors and I stopped worrying about a last-lap Mexican coup. "I crossed the finish line, braked hard, pulled in behind the pits and tried to drive back up to our transporter in the paddock. Second in the Belgian GP wasn't too bad. Our crew had seemed pleased too, jumping up and down as I'd crossed the line. But there were so many people milling around that I had to stop the car and climb out.
"Then Cyril Atkins, BRM's chief mechanic, ran up talking excitedly about Jackie Stewart's late pitstop, and saying 'what a finish!' I was puzzled. 'You crossed the line number one,' he said. But my car was number five. And then he shouted 'You've won! Didn't you know?'
"I didn't. It's about the nicest thing I've ever been told. Jackie had stopped at the pits for fuel starting the last lap and I hadn't seen him as I went by. I had won without realising it..."
So it was at Spa-Francorchamps 31 years ago that the McLaren team won its first ever World Championship Grand Prix. And, in those pre-intercom days, the driver of the car didn't even know he had done it...