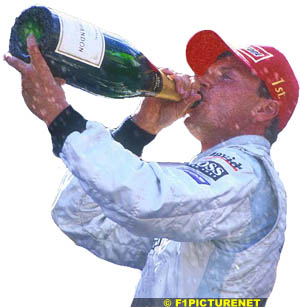 David Coulthard dispelled any speculation of his ability on Sunday at Spa, leading the Belgian Grand Prix from flag to flag, in spite of some close first corner attention from his new championship leader teammate, Mika Hakkinen. But while the McLaren-Mercedes domination must be hailed, a lack of team orders could well cost the team dear, when the curtain eventually comes down of a riveting season often punctuated by boring races.

For while Heinz-Harald Frentzen ended another fine third, Eddie Irvine manhandled the evil-looking Ferrari home to fourth, losing only three points to Hakkinen, who should, in an easily achievable ideal position for McLaren, have led the Irishman by five points in the drivers' chase today.

Fourth at first glance may look like a nightmare to Ferrari, but the Scuderia must be smiling quietly. Hakkinen ending second made Eddie's fourth even better than a second place would have been - if Hakkinen had won.

Ferrari went home in a good position - Irvine but a point behind Hakkinen despite a dismal performance, thanks to the normally faultless McLaren team failing to fully capitalise on another dream result. And a nine-point lead in the manufacturers' championship race isn't all as much as many are claiming - especially with Michael Schumacher returning to the fold at Monza.

But the race was all about David Coulthard, who drove a blistering Grand Prix to win a victory no-one will ever doubt was all his own making, and in so doing he finally shredded that bridesmaid mantle he's earned over the past two seasons.

Qualifying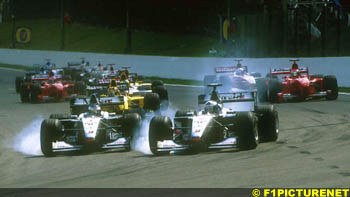 Mika Hakkinen started a race - controversial before it had even begun, thanks to behind the scenes wrangling and spectacular incidents - from a dominant pole position, confident of regaining the world championship lead. Only his teammate showed any sign of competition in qualifying, the Scot also very impressive around Spa all weekend.
"It was, as ever, a great team effort which helped me to achieve my tenth pole of the season," Mika said later. David was happy too, "I enjoyed the session, the car was going well."
The second row was an all-Jordan affair, Frentzen fighting to third in the dying seconds. "I knew it would be hard to catch the McLarens, so I am very happy with today's qualifying result." Damon Hill ended an impressive fourth. "I am very happy, it was close between me and Heinz. But he's a damned good driver." Fifth was an equally good Ralf Schumacher in the Williams. "I am happy with my position."
Championship leaders Eddie Irvine and Ferrari needed more than just a tactical masterstroke to beat the flying Silver Arrows on Saturday evening. "I did not expect to be one and a half seconds off pole," Irvine said on Saturday. "What's worse is that another team has slipped between us and our usual rivals. My target is to get on the podium."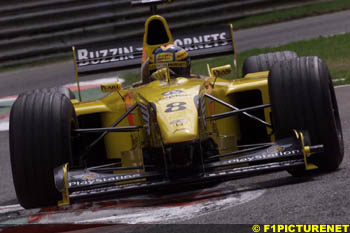 The Ulsterman fought the jittery Ferrari to sixth. For the rest, Rubens Barrichello's Stewart-Ford qualified seventh from Zanardi in the second Williams, Mika Salo's Ferrari and Johnny Herbert in the other Stewart rounding off the top ten. Then came Villeneuve, his early time good for eleventh, Trulli, Fisichella and Zonta, also thanks to his earlier time, from Wurz, Panis, Diniz and the usual suspects bringing up the rear.
But qualifying last week will be remembered for the BAR team's frightening afternoon, as first Jacques Villeneuve and then Ricardo Zonta destroyed their cars, causing qualifying to be red-flagged twice in two accidents that were as frightening in magnitude as they were similar.
Jacques lost the rear of his car, ploughing backward onto the tyre wall on the outside of Eau Rouge and rolling, before coming to rest the right way up. Jacques emerged from the wreck, beckoning fire marshals to hurry, before running off and waving to a concerned crowd, to fetch his mule.
No sooner had the session restarted, than Zonta lost his BAR at the identical point, in the exact manner of his teammate, only exiting to contact the inside tyre barrier, also rolling 360 degrees. He jumped from the wheel-less wreck, thankfully, like his teammate unscathed.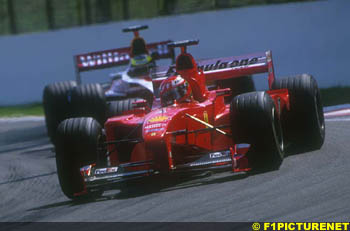 "I know what happened, I made an error. If you know what happens there is no reason to be scared, " said Jacques, while Zonta admitted, "it's difficult to say what happened, but some people said it was a little bit damp there."
The Race
The race started in perfect conditions, a treat for the normally inclement Spa.
David Coulthard made a good start from second, strangely on the clean side of the track, to lead his teammate into the first-corner hairpin for the first time. Mika appeared to get going a little early, but stopped again. "The car jumped forward. I stopped the car and then went again when the lights went out. Considering that, I made quite a good start."
But Mika had other intentions and the McLarens touched again, Hakkinen the culprit this time. Both recovered and managed to fend off a well-positioned Frentzen to lead away into the hills. David later said, "I managed to get a better start than Mika and although we came very close at La Source. We touched briefly at the first corner but fortunately it was nothing to worry about for either of us." But Mika wasn't too philosophical about the incident.
"It was an experience again. Not a very pleasant one. I have no further comment," said Hakkinen afterward about his ongoing contact with his teammate. The longstanding strong relationship between the McLaren duo appeared to be taking some strain after the race.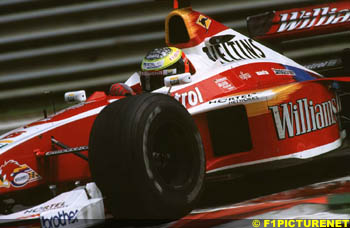 Irvine made a fine start, forcing his way into fourth, behind Frentzen and ahead of Ralf Schumacher.
Considering that was the finishing order and little real action happened between these drivers, it can be said that the Belgian Grand Prix was another procession.
Behind Schumacher was his teammate, Zanardi enjoying a competitive race, from a poor-starting Hill and Salo.
Takagi and Zonta remained on the grid, the Arrows going no further and the BAR taking almost a lap to get going.
There was some speculation about Hakkinen's start, and then lending some attention to his teammate on the first corner, coming to under the attention of the stewards, but nothing came of it.
The only real action - as Coulthard drove away from Hakkinen, who drove away from Frentzen, who drove away from Irvine, who drove away from Schumacher, who also drove away from the duelling Zanardi, Hill and Salo - was coming from an inspired Alesi. Jean was picking off drivers on a regular basis as he recovered from a dreadful qualifying, while Panis was busy on a similar, if not as effective charge through the field.
On lap nineteen, Pedro Diniz, who was having an off weekend by his standards, emulated the BAR's qualifying antics, losing the Sauber through Eau Rouge, only spinning along the tarmac and in so doing softening his ultimate impact with the tyre barriers. Like his BAR rivals, Pedro emerged quickly from the car and made off.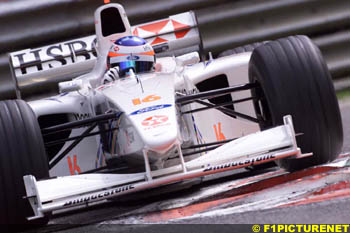 The McLarens were doing their regular domination, only in reverse order this time, as the first stops approached, headed off by Panis and the Minardis pitting early. Most teams were on a two-stop strategy, although the McLarens took their time to pit, obviously getting more out of their tyres than the rest, but BAR and notably, Williams were gambling on a one-stopper.
This allowed Ralf into second for a while, as Hakkinen wasted a couple of seconds getting going after his initial stop, but Mika soon disposed of the Supertec-powered Williams on the run up the hill to restore the status quo. Hakkinen put in some quick laps in his middle stint, but his teammate had nothing of it, responding easily and maintaining a significant cushion around ten second mark.
"We were racing so hard that either the car would have broken or one of us would have gone off. It was better to finish second than not to get any points at all," the champion admitted later.
Schumacher, in the mean time, was posing a problem for Ferrari, as when the Williams rejoined after its eventual mid-race stop, Ralf was poised to demote Irvine to fifth when the Irishman eventually stopped again.
But Mika Salo earned his keep this weekend, hindering Ralf, who came up behind him and losing the German enough time to allow Eddie to slip out of the pits just ahead of the Williams after his second stop. The Ferraris had a close shave though, as Eddie inadvertently squeezed his teammate against the armco as he sped out of the pits.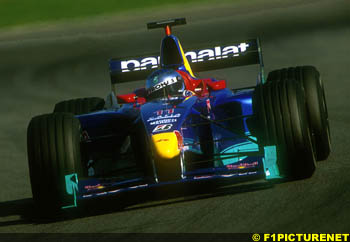 Sadly for Zanardi, who was heading for a points finish in sixth, the Williams team, which had much to say about Salo defending his position earlier, failed to fill Alex' car sufficiently during his planned single stop. They let the Italian down yet again, as he was forced to stop a second time.
Frentzen slipped into second for a short while, after Hakkinen pitted a second time, but slipped back again after his own stop, while there was some exciting action in the midfield as Barrichello, Alesi and Fisichella battled for ninth, at one point three abreast as they fought away.
Johnny Herbert ended in the tyre wall after it appeared that something went awry in the Stewart, while de la Rosa parked the Arrows in front of the pits. Zonta drove into the pits to retire and Badoer's Minardi expired, bringing total retirements to six, to yield a strong finishing rate at a tough circuit.
So David Coulthard cruised home to a notable and memorable victory. "This is my first victory at Spa and it is a circuit at which I have always wanted to win, so today's result is great. This is always a great circuit and the car was feeling better than it had done in warm-up this morning, so I was able to push throughout the race, which gave me a buffer to the competition."
Mika followed David home, "I made a mistake at the start and it resulted in David getting away from the grid more strongly than I could. We were very close round the first corner and obviously it was disappointing not to get ahead. Today's result makes the championship very interesting and there is everything still to play for."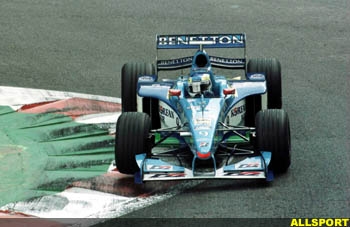 Frentzen was on the podium again for Jordan, "The McLarens were just too quick for us today. It was a great race for us, although not so exciting for the spectator. The McLarens were unbeatable, but I think we'll be very strong in Monza, so I'm looking forward to trying to beat the McLarens there."
Irvine drove the recalcitrant Ferrari to fourth, confirming his relief about the absence of team orders at McLaren. "Considering my starting position and the problems we had with the car this was actually a good result for me," Eddie admitted. "I'm happy that I am only one point behind the new leader in the Championship. I thought it would be a bigger gap." Behind Irvine came Ralf Schumacher, "due to some circumstances that we couldn't predict I was prevented from getting a better result. Anyway, I scored another two points," and a resurgent Hill claiming another point for Jordan. "The main thing is we got both cars in the points."
Salo ended seventh, from Zanardi - "well, at least I finished the race" - who had a good run spoiled by a duff stop in a race that saw excellent reliability almost across the board. Alesi was a fighting ninth from Barrichello, the Stewart losing some of its early season sparkle as the year wears on, Fisichella, and Trulli, all on the lead lap. Panis, Wurz, Villeneuve, finishing a race at last in the BAR after a torrid weekend, and Gene were the last finishers.
David Coulthard won a fine race at Spa, he did everything right – from lights out to the flag. But his win could well become clouded in a few months, as it has allowed Ferrari to come away from their worst race of the year so far in a stronger position than they ought to have.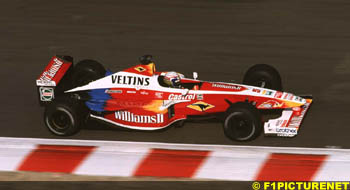 Mika Hakkinen only leads Eddie Irvine by a solitary point and Eddie will more than likely have Michael Schumacher as his wingman in Italy.
That's a very different Ferrari than McLaren has had to deal with in the last four races. In essence, Hakkinen should be closer to claiming his second world championship on the trot en route to Monza. Instead, he's faced with an uphill battle with a full-strength Ferrari from here on in.
Despite Spa being being a great victory for the Scot and a self-saluting act of the team's apparent morals, those four points that McLaren allowed Coulthard to keep from his teammate in winning Spa's battle, could well be the deciding factor in who wins the World Championship war this year.
Final Race Results

CLASSIFIED

Pos  Driver        Team                  Time                   
 1.  Coulthard     McLaren Mercedes      1h 25:43.057           
 2.  Hakkinen      McLaren Mercedes        +   10.400           
 3.  Frentzen      Jordan Mugen-Honda      +   33.400           
 4.  Irvine        Ferrari                 +   44.900           
 5.  R.Schumacher  Williams Supertec       +   48.000           
 6.  Hill          Jordan Mugen-Honda      +   54.900           
 7.  Salo          Ferrari                 +   56.200           
 8.  Zanardi       Williams Supertec       + 1:07.000           
 9.  Alesi         Sauber Petronas         + 1:13.800           
10.  Barrichello   Stewart Ford            + 1:20.700           
11.  Fisichella    Benetton Playlife       + 1:32.100           
12.  Trulli        Prost Peugeot           + 1:36.100           
13.  Panis         Prost Peugeot           +    1 Lap           
14.  Wurz          Benetton Playlife       +    1 Lap           
15.  Villeneuve    BAR Supertec            +    1 Lap           
16.  Gene          Minardi Ford            +    1 Lap           

Fastest Lap: Mika Hakkinen, lap 23, 1:53.955 (220,128 kmph)

NOT CLASSIFIED / RETIREMENTS
                                                                
     de la Rosa    Arrows TWR           35     transmission     
     Badoer        Minardi Ford         33     broken suspension
     Zonta         BAR Supertec         33     gearbox          
     Herbert       Stewart Ford         27     brakes/spun off  
     Diniz         Sauber Petronas      19     spun off         
     Takagi        Arrows TWR            0     clutch           


Top Ten Fastest Race Laps

Pos  Driver         Team                Lap  Time              
 1.   Hakkinen      McLaren-Mercedes    23   1:53.955         
 2.   Coulthard     McLaren-Mercedes    28   1:54.088  + 0.133
 3.   Hill          Jordan-Mugen Honda  25   1:54.954  + 0.866
 4.   Salo          Ferrari             43   1:55.299  + 0.345
 5.   Frentzen      Jordan-Mugen Honda  24   1:55.412  + 0.113
 6.   Irvine        Ferrari             27   1:55.582  + 0.170
 7.   Zanardi       Williams-Supertec   33   1:55.786  + 0.204
 8.   R.Schumacher  Williams-Supertec   27   1:55.964  + 0.178
 9.   Alesi         Sauber-Petronas     31   1:56.016  + 0.052
10.   Barrichello   Stewart-Ford        34   1:56.131  + 0.115


Top Ten Pit Stop Times

Pos  Driver         Team                 Time   Lap 
 1.  Frentzen       Jordan-Mugen Honda   28.20  32  
 2.  Salo           Ferrari              28.30  34  
 3.  Trulli         Prost-Peugeot        28.60  30  
 4.  Hill           Jordan-Mugen Honda   28.70  16  
 5.  Zanardi        Williams-Supertec    28.70  31  
 6.  Coulthard      McLaren-Mercedes     28.70  32  
 7.  Irvine         Ferrari              28.80  18  
 8.  Coulthard      McLaren-Mercedes     29.00  19  
 9.  Trulli         Prost-Peugeot        29.20  14  
10.  Hill           Jordan-Mugen Honda   29.40  28  


The Belgian Grand Prix, Lap by Lap
As the cars form up on the grid, Takagi's race car has a fuel system problem as he arrives on the grid, but fortunately the pit lane isn't closed and he manages to take up his grid position for the start in the spare car.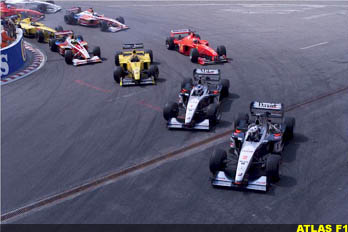 Start: It's 20 degrees and sunny as the cars form up on the grid, with a track temperature of 25 degrees. Hakkinen's clutch grabs before the lights have gone off and he moves forward only to stop again before the lights go off, and then gets away as they do so. But all that has caused a slight distraction, and Coulthard makes the better start to be fractionally ahead into La Source. He turns in to go around the outside of Hakkinen, who slides wide and the two touch briefly, but Coulthard has the lead from Hakkinen as they accelerate down the hill to Eau Rouge, with Frentzen in third place ahead of Irvine fourth, then Schumacher, Zanardi and a poor starting Hill. Takagi fails to get away due to a clutch problem, while Zonta is also pushed away after stalling but takes the start a lap down
Lap 1: Coulthard finishes lap one 1.4s ahead of Hakkinen being pushed by Frentzen, then 1.1s to Irvine ahead of Schumacher, 1.3s to Zanardi, then Hill being pushed by Salo, Barrichello, Herbert, Fisichella, Wurz, Alesi and Villeneuve
Lap 2: Coulthard's lead is 2.1s over Hakkinen, who has pulled away a little from Frentzen, while Zanardi has been caught by Hill, Salo and Barrichello. Further back, Alesi has overtaken Wurz and Trulli has overtaken Villeneuve
Lap 3: Barrichello, in ninth, drops away from the battle ahead of him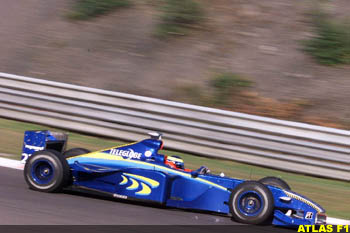 Lap 5: Coulthard's lead over Hakkinen is now 3.0s, while the Finn is 4.1s ahead of Frentzen. Then comes a 4.8s gap to Irvine still being pushed by Schumacher, then another widening gap to Zanardi, still with Hill and Salo close behind. Barrichello is next, then a gap to Herbert who now has Alesi close behind, as Alesi overtakes Fisichella, the Benettons on a one stop strategy. Further back, Villeneuve, who is also on a one stop strategy, is overtaken by Panis
Lap 7: Coulthard's lead over Hakkinen leaps 1.3s to 4.7s, while behind Frentzen, the Irvine and Schumacher battle is beginning to break up. Further back, Alesi picks up another place when he overtakes Herbert to move into tenth place
Lap 8: Hakkinen loses another 1.1s and is told to 'Push' by his team, although there's little evidence of him doing so
Lap 9: The lead gap goes up by 0.4s, while the only real battle is over sixth place where Zanardi is still leading Hill and Salo, while Alesi is now catching Barrichello
Lap 10: Alesi is right behind Barrichello. Panis overtakes Wurz for 14th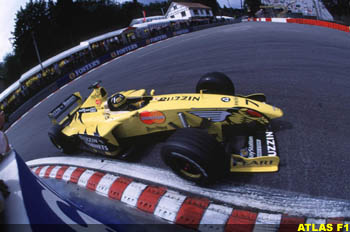 Lap 11: While Coulthard is now 6.5s ahead of Hakkinen, there is an 8.4s gap back to Frentzen, then 6.1s back to Irvine. The battles are for sixth with Zanardi, Hill and Salo, for ninth between Barrichello and Alesi, and for 11th between Herbert, Fisichella, Trulli, Panis and Wurz
Lap 12: Panis is the first to pit in 7.4s
Lap 13: Badoer pits in 9.8s
Lap 14: Coulthard's lead leaps another 0.9s while further back, Alesi pits for 10.2s and behind him, Herbert misses his braking at the chicane and loses a place to Fisichella. Trulli, Gene and de la Rosa also pit on this lap
Lap 15: And Coulthard's lead increases by a further 0.9s to 9.3s. Schumacher has pulled away to open up a margin of a second over Hill and Salo. Herbert pits for a relatively long 10s. Diniz also pits
Lap 16: Now Hill comes in for 6.8s, rejoining just behind Fisichella
Lap 17: Coulthard's lead is over 10s, while third placed Frentzen pits for 7.7s, Salo is in for 8.1s, Barrichello comes in too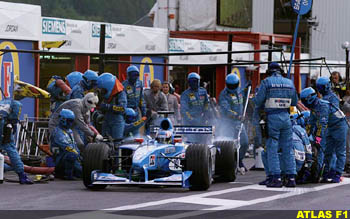 Lap 18: Hakkinen pits for 7.7s, rejoining just behind Schumacher, while Irvine also pits for 6.9s
Lap 19: Now Coulthard pits for 7.2s, while Hill overtakes Frentzen and quickly pulls away
Lap 20: Coulthard's lead is still 10s over Hakkinen who has got past Schumacher, then Zanardi has next - the Williams's yet to stop - followed by Frentzen, Irvine, Hill, then Fisichella pushed by Salo, and Wurz, Alesi and Barrichello. Diniz spins at Eau Rouge and although he hits the tyre wall, there is no major damage
Lap 21: Now the one-stoppers come in: Zanardi in for 9.2s and Fisichella for 11.1s, while just behind, Alesi overtakes Wurz again at Les Combes. Zonta also pits on this lap
Lap 22: Schumacher pits for 11.9s and Wurz also comes in
Lap 23: Hakkinen suddenly puts in fastest lap of the race so far and the lead gap comes down 1.9s to 8.1s, while Hakkinen is 14s ahead of Frentzen who is 9.7s ahead of Irvine, Then comes Hill, Salo, Ralf Schumacher and then Zanardi, Alesi, Barrichello and Villeneuve
Lap 25: Coulthard's lead jumps a second when Hakkinen is bottled up behind Zonta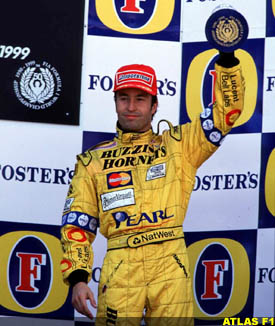 Lap 26: Villeneuve makes his one and only pit stop in 9.6s. Badoer also pits
Lap 27: Panis pits on this lap
Lap 28: Hill pits for the second time, while Herbert goes off at Pouhon with a brake problem which he then pumps and they feel fine, but he goes off again into the barrier at the next corner, Fagnes, and out of the race
Lap 29: Schumacher catches Salo, but is unable to pass, the pair of them lapping three seconds off the pace. Alesi pits and so do Gene and de la Rosa
Lap 30: Coulthard loses 0.9s on this lap to Hakkinen, while Trulli pits
Lap 31: Hakkinen pits in what is recorded as 7.1s but it was a false start, and Hakkinen loses at least a second more. Zanardi also comes in despite being on a one stop strategy but he didn't take enough fuel last time around, while Schumacher is still caught up behind Salo
Lap 32: Now Coulthard pits in 6.9s, Frentzen in 6.8s and Irvine in 8.0s while further back, Barrichello also comes in.
Lap 33: Coulthard's lead is up to 11.9s from Hakkinen while Frentzen is more than 20s further back, from Irvine and then Salo, who has now pulled away from Schumacher
Lap 34: Salo pits in 6.4s. Badoer stops just before the start finish line after bouncing across the kerbs and breaking his suspension. Zonta also retires after losing third gear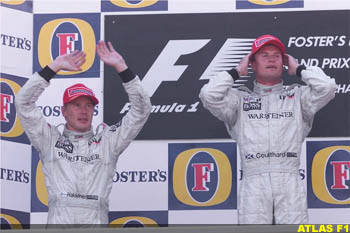 Lap 35: Coulthard's lead is now 13s from Hakkinen with Frentzen still a distant third, then Irvine, Schumacher and Hill from Salo who is 21s behind the former winner
Lap 36: De la Rosa retires with transmission failure which he has been suffering all race
Lap 38: Coulthard's lead is now 15s from Hakkinen and then Frentzen with none of the gaps changing much
Lap 41: The only gap that does seem to change is the revitalised Salo who is now 8.1s behind Hill
Lap 42: The lead comes down fractionally, with Salo closer again to Hill
Lap 44: Coulthard wins by 10.4s from Hakkinen. Behind Frentzen, Irvine is in fourth, just 3.1s ahead of Schumacher, while Hill is just 1.3s ahead of Salo at the flag. Further back, Villeneuve finishes for the first time this year.