Leaving Silverstone in Northamptonshire, England, we cross the English channel and make our way to Zeltweg, in the foothills of the Styrian Mountains of Southern Austria, to the home of the Austrian Grand Prix: the A-1 Ring.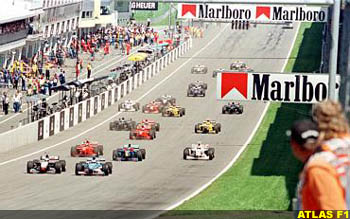 At 4.297 km, the A-1 Ring is average in length and is a faster than the average circuit. The A-1 Ring was built on the site of the Osterreichring which was a long, blindingly fast circuit with sweeping bends and many changes in elevation. The A-1 Ring follows the 1990's straight-slow corner-straight-slow corner-twisty infield formula. The Remus Kurve, an unusual uphill hairpin, provides the best overtaking opportunity but it is also an accident blackspot - more on that corner later.
Being situated in an Alpine region, the A-1 Ring can have changeable weather. Although both previous races at the A-1 Ring were dry, rain is a possibility as happened during qualifying for the 1998 race. Amazingly, the circuit is snow-covered during the winter which leaves a lot of debris on the circuit every year.
Stewart-Ford's Johnny Herbert explains the challenge posed by the A-1 Ring: "Because there are no real high-speed corners at the circuit, it's important to find time in the middle sector (from the Remus Kurve to the Gerhard Berger Kurve). You can lose a lot of time through this section. Putting it all together here can make or break your lap." Ferrari's Eddie Irvine added, "It's not a very fast average speed with slow to medium fast corners where good braking, grip and traction are important."
Pitstop and tyre strategies
Attrition is average at the A-1 Ring. Twelve cars finished in both the 1997 and 1998 races. In last year's race Benetton, Ferrari, Jordan, Stewart and Tyrrell opted for a two-stop strategy while McLaren won on a one-stop strategy.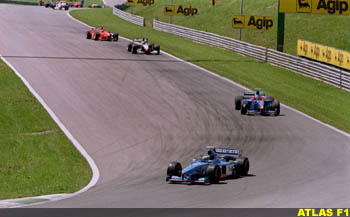 Tyre wear is very unpredictable at the A-1 Ring. On tyre choice, Bridgestone will again offer the teams a choice of soft or medium compound tyres. "With its smooth surface and varied corners, the A-1 Ring does not present any particular problems," stated Yoshihiko Ichikawa, Technical Manager of Bridgestone Motorsport. "I expect that some teams will want to take advantage of the slightly better grip and traction available on the Soft option, but to do so they will have to be able to control the tendency of their cars to understeer when the tyre is new and unscrubbed." BAR engineer Jock Clear added, "In terms of chassis set-up, it is a medium-to-high-downforce circuit that is reasonably demanding on brakes."
The Season So Far
Sunday's race is the ninth Grand Prix of 1999 and is the first race of the second half of the Formula One season. The first half of the season has been quite unpredictable partly due to unreliability and instability of the cars. The manufacturer's title is a straight fight between McLaren and Ferrari with Jordan, some way back, in third.
Following the events of the British Grand Prix the driver's championships have been turned upside-down. At this stage, with 80 points still to be contested, mathematically, any driver in the top six teams could win the title. Realistically, the driver's title is now a contest between Mika Hakkinen, Eddie Irvine, Heinz-Harald Frentzen, David Coulthard and Ralf Schumacher unless something else happens.
The second half of the Formula One season has four fast circuits, (the A-1 Ring, Hockenheim, Monza and Spa-Francorchamps), two medium-speed circuits (Nurburgring and Suzuka) the slow Hungaroring and the wild-card Sepang circuit.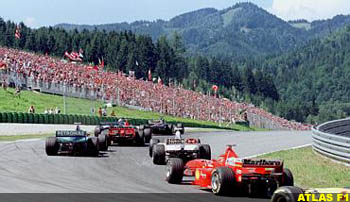 The first eight Grands Prix have been won by five different drivers which hasn't happened since 1985. Mika Salo, Damon Hill, Ralf Schumacher and Rubens Barrichello still have a chance of scoring a Grand Prix victory in 1999. One disturbing statistic is that four Grand Prix drivers were injured in the first half of the season, let's hope this trend doesn't continue into the second half of the season.
The Teams
Ferrari still leads the manufacturer's title and has been the most reliable team of 1999, but the second half of the season, with four fast circuits, is less favourable for the Scuderia. Ferrari has never won at the A-1 Ring.
As all of us know, Michael Schumacher has been side-lined with a broken leg sustained in his accident at Silverstone. Schumacher's accident was bad for Formula One because, for many people, Michael Schumacher IS Formula One. It was a wake-up call for the FIA as the failure of the tyre-wall at Stowe corner showed that the circuit was not as safe as they had anticipated. It was also a blow for the British Racing Drivers Club, the Silverstone organisers, who are still fighting to retain control of the British Grand Prix. However, the track marshals and trauma team at Silverstone deserve praise for their skill and professionalism.
Michael will likely miss the next four Grand Prix. With a favourable prognosis, Michael could be back as early as the Italian Grand Prix in September or as late as the Malaysian Grand Prix in October. "I feel very lucky because the accident could have been worse. I know I won't be able to race for at least two or three months and I have lost all my chances of the Championship for this year," says Michael.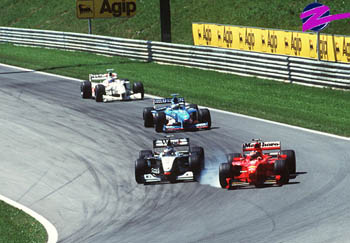 Eddie Irvine is now second equal in the World Championship. Irvine wanted to be the leader of a Formula One team and now that day has come. Irvine stated that, "Obviously Michael's accident has thrown a different light on the rest of the season for me. I have a team that's 100 percent behind me to go for the title and I will put in 100 percent to try and take it for them and myself." It should be noted, though, that Irvine has yet to score a pole position and has only once set a fastest lap in his Formula One career (in Canada this year).
With the opportunity to freely contest for the world driver's championship, he needs to set at least one pole in the next four races to advance his career. Team principal, Jean Todt added, "The team will work harder to give Irvine a car which is able to win races." Irvine finished fourth in Austria under team orders in 1998 and his 1997 race came to an end after a collision with Jean Alesi at the Remus Kurve.
Mika Salo will substitute for Michael Schumacher for the foreseeable future. Ironically, the best thing to happen to him in his career was being fired by Arrows! He described his call-up by Ferrari as "the biggest opportunity of my life." This will be the first time in his career that he will be at the wheel of a competitive car but he will probably still be acclimatising to the Ferrari F399 in Austria. "I shall be listening, all the time, to everything the team has to offer over the radio throughout the race and hope to do a good job," he said. Salo has had little success at the A-1 Ring, retiring from both races.
McLaren is the most successful team in the short history of the A-1 Ring. McLaren have closed the gap with Ferrari to just two points and the second half of the Formula One season is favourable for McLaren. Their aerodynamic advantage is important at this circuit and in last year's race, McLaren got everything right.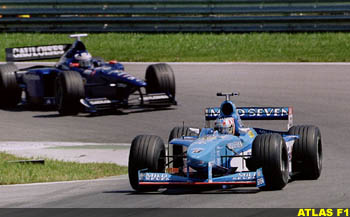 The World Championship leader, Mika Hakkinen, won last year's race and blew his Mercedes engine on the first lap of the 1997 race. David Coulthard has jumped to fifth in the 1999 World Championship after his victory at the British Grand Prix and is back in the hunt for the 1999 title. Coulthard is the most consistent driver at the A-1 Ring having finished second in 1997 and 1998. The 1998 Austrian Grand Prix was the race of his career, setting fastest lap as he clawed his way back from last place after being skewered by Mika Salo's Arrows at the Remus Kurve.
Jordan is a clear third in the manufacturer's championship. Jordan's success drastically improved during the second half of last season. They have consistently finished in the points at the A-1 Ring, finishing fourth and fifth in 1997 and fifth in 1998. Once again their reliability may prove to be crucial in Sunday's race.
Heinz-Harald Frentzen remains in fourth position in the World Championship after the British Grand Prix. Frentzen finished third in the 1997 race for Williams and blew his Mecachrome engine in 1998.
Damon Hill has decided to continue driving for Jordan. This news should please everyone apart for the Jos Verstappen Fan Club who will have to wait a bit longer for the Dutchman's return to Formula One. Chief Executive Eddie Jordan commented, "We are all extremely pleased with Damon's decision. His contribution to this massive team effort is invaluable and we are all eagerly anticipating the last eight races."
Damon is now only two points away from Jackie Stewart's points record and one victory behind Nelson Piquet in Grand Prix victories. Damon finished seventh in 1997 for Arrows and seventh again in 1998 for Jordan.
Williams is still fourth in the manufacturer's championship and seem to be steadily improving as the season progresses. 1999 was supposed to be a transition year for Williams but it is clear that they are laying the foundation for a title challenge in 2000. In Austria, Williams finished first and third in 1997 and sixth in 1998.
Ralf Schumacher has slipped back to sixth in the World Championship despite his excellent podium finish at Silverstone. Ralf finished fifth in 1997 and again in 1998 at the A-1 Ring for Jordan. Ralf stated, "I am always happy to go to Austria as it is a very nice country with beautiful houses and good food. Personally, I am not in love with the A1-Ring as I feel the circuit is missing something. Maybe this is because I knew the old track which was more exciting with its fast corners. In the past, the main problem was the surface which has very little grip especially on the Friday and Saturday. Our Williams FW21's are still being improved so, having scored points in Austria before, I hope to do the same this time around."
Alex Zanardi will want to put the grim first-half of the season behind him. Although Zanardi has never competed at the A-1 Ring, he had this to say: "I have heard that Austria is a beautiful country but I've never been there. I am very much looking forward to going and I'm hoping I will enjoy the place and, of course, the circuit - if I like it!"
Benetton is still fifth in the manufacturer's championship and have been inconsistent throughout the first half of the season. Benetton has yet to score a point at the A-1 Ring.
Giancarlo Fisichella has slipped to seventh in the driver's championship. Fisichella set his first and only Formula One pole position during the wet qualifying session of last year's race but he came to grief at the Remus Kurve. Fisichella finished fourth in 1997 for Jordan. Waithofen's Alexander Wurz has yet to score a point in his home Grand Prix, finishing ninth last year in his first Austrian Grand Prix.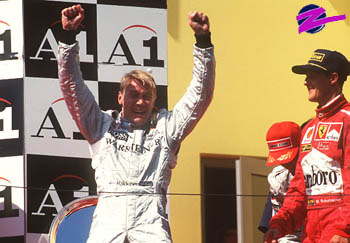 Stewart is still sixth in the Manufacturer's championship. Despite flashes of brilliance, the Stewart team have struggled to be consistently competitive and reliable but the elusive first victory cannot be too far away. Stewart Grand Prix will be using a new Ford engine in Sunday's race.
Martin Whitaker, Director of Ford Racing, Europe, explains: "We completed a simulated race distance on the new Series 3 specification of engine and as a result we will introduce it at the A1-Ring this weekend where we intend to practice, qualify and race it. This engine specification gives improved top end performance and a wider spread of power to help acceleration. The most obvious external difference is the adoption of a new exhaust system, featuring a short tailpipe exiting through the top bodywork."
Team founder Jackie Stewart never won at the Osterreichring and his team has yet to finish in the Austrian Grand Prix.
Rubens Barrichello is still eighth in the World Championship. Barrichello could have another points finish on Sunday. Johnny Herbert is now tenth equal in the championship. Barrichello's thoughts on the A-1 Ring: "From a driver's point of view there are chances to overtake under braking which makes a nice change from other circuits. There is a quite a lot of load on the front tyres so tyre conservation and race strategy are important. Because the track is surrounded by mountain ranges, the weather can close up very quickly and rain can appear from nowhere which can make strategy a bit of a gamble."
Johnny Herbert has finished eighth in both Austrian Grand Prix for Sauber. Herbert was optimistic after the Monza tests, saying: "I left the test in a very positive frame of mind. I will be aiming to be at least in the top eight in qualifying which will give me a solid base for the race. If I can get a race finish in Austria, I would expect to be in the points again."
Sauber is now seventh in the Manufacturer's championship. Sauber's development has been encouraging as the season progresses but they are still struggling with reliability. Sauber have yet to score a point at the A-1 Ring.
Jean Alesi turned down a chance to drive for Ferrari in Michael Schumacher's absence. I'm left scratching my head over his decision but he must have felt that he had more to lose than gain by driving Michael Schumacher's car in mid-season. Alesi started last year's race from the front row of the grid, but both his Austrian Grand Prix came to an abrupt end at - you've guessed it - the Remus Kurve.
Pedro Diniz is now tenth equal in the championship. Diniz was another victim of the Remus Kurve in 1998 and has yet to score a point in Austria.
Prost has slipped to eighth in the Manufacturer's championship. The Peugeot engine is obviously fast but its power-curve seems to be awkward and it has not been competitive in combination with the Prost AP02 chassis. Team owner Alain Prost won at the Osterreichring on three occasions, but his team has yet to score a point at the A-1 Ring.
Olivier Panis has yet to complete a lap of the Austrian Grand Prix. Panis missed the 1997 race due to his leg injuries and was left on the grid in the 1998 with a dead clutch.
Jarno Trulli drove the race of his life in 1997 when he led the first half of the race, consistently setting fastest laps, until he suffered an engine failure while lying second with twelve laps to go. Trulli finished tenth in last year's race.
BAR will want to put the first half of the season behind them - no points and 14 DNFs. The potential to score points is obviously there but they have been let down by unreliability. Unfortunately BAR appears to have been publicly looking for scapegoats. The problem with this approach is that you eventually you run out of people to blame.
Team Manager, Robert Synge remains however positive. "We know we are just a hair's breadth away from making the breakthrough," he said. "I'm sure once we take some points, then we'll start to score more. The mood within the team remains very positive and optimistic. They are a great bunch of people and their dedication to the job in hand is such that, collectively, we will succeed."
Jacques Villeneuve won the 1997 Austrian Grand Prix from pole position and set the lap record. In 1998, Villeneuve finished sixth after a solid, consistent performance.
Ricardo Zonta has been very successful at the A-1 Ring in other Formulae. "I've been there twice," recalled Zonta, "In 1997, I finished second behind Juan-Pablo Montoya in a Formula 3000 round. It was an amazing race. I lost some positions at the start, but managed to pass everyone except Montoya before the end. Last year, I won the FIA GT race there. It was a very important result as far as achieving the championship title at the end of the season was concerned."
Arrows have plodded along after a very promising start to the season. They have yet to score a point at A-1 Ring. Neither Arrows drivers finished in last year's race and Tora Takagi didn't make it around the first corner in his Tyrrell. Damon Hill finished seventh for Arrows in 1997. With average attrition, a finish in the points for either Pedro de la Rosa or Tora Takagi on Sunday is unlikely.
Minardi, the eternal optimists, have yet to score a point this season. Minardi's finished eleventh in the Austrian Grand Prix of 1997 and 1998. Luca Badoer and Marc Gene have never competed on this circuit before and Luca Badoer's morale must be in a low point after being passed-over for the seat at Ferrari.
My Predictions:
In the event of rain at the A-1 Ring, anything can happen but the points could be divided up by the following seven drivers:
Mika Hakkinen
David Coulthard
Eddie Irvine
Heinz-Harald Frentzen
Ralf Schumacher
Rubens Barrichello
If it is dry, I'm going to pick McLaren, Ferrari and Jordan as the top three teams for qualifying with Stewart and Williams making up the top five.

Starting grid:
Mika Hakkinen
David Coulthard
Eddie Irvine
Heinz-Harald Frentzen
Rubens Barrichello
Damon Hill
Mika Salo
Ralf Schumacher
Johnny Herbert
Giancarlo Fisichella
Jacques Villeneuve
Jean Alesi
Sunday's race could be very exciting but speed and reliability is likely to determine the outcome.
McLaren have dominated the short history of this Grand Prix and they should have the advantage on Sunday. Mika Hakkinen and David Coulthard are closely matched at this circuit.
Can Eddie Irvine and Mika Salo keep up the challenge for Ferrari in the absence of Michael Schumacher?
The Best of the Rest: Jordan, Stewart or Williams? At the end of the day, Jordan's reliability could give them the edge. Heinz-Harald Frentzen, Damon Hill, Ralf Schumacher and Rubens Barrichello will all be looking for points finishes.
Always in the points at the A-1 Ring: David Coulthard, Michael and Ralf Schumacher and Jacques Villeneuve.
Dark Horses: Jean Alesi, Jarno Trulli and Jacques Villeneuve.