As the Formula One grid arrives at the A1 Ring for the Austrian Grand Prix, the circus finds itself in a somewhat uncertain situation. The biggest contributor to this is the fact that Michael Schumacher won't make the trip, remaining in Switzerland recovering, hopefully for a return sooner, rather than later, from his injuries suffered in the recent British Grand Prix.
The well-publicised and documented rise of Eddie Irvine to Ferrari's number one seat will no doubt be of utmost interest this weekend. And the other Mika, the guy who grew up down the road from the Hakkinens, Salo, has a dream opportunity to challenge his rival since childhood, as Eddie's shotgun rider.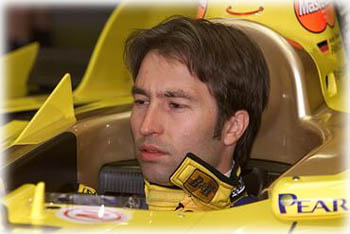 It will be most interesting to see how the "more relaxed" Irvine-led Ferrari squad shapes up in Austria, especially after the Irishman's positive showing at Monza last week. Irvine turned in a quickest final day time, albeit five tenths off the fastest lap of the week, to show his intent. Salo, restricted to circulating at home in Maranello, got down to a respectable time there too.
Ferrari are still in the hunt for the championship, but it remains to be seen if they can pull it off – and the A1 Ring should give a good indication to whether that's possible.
But there's another man in another car, who can upset the Ferrari championship aspiration applecart. And that isn't Mika and the Mac, the natural candidates at this point.
Heinz-Harald Frentzen has had a wonderful year, and despite his unfortunate Canadian experience, has shone bright in 1999. He's still sore from Montreal, but that never stopped him from slotting the Jordan onto the top of the Monza testing timesheets, with only one day's work last week Thursday.
If anything, the second half of 1999 promises to be rather different to the first.
The Big Macs were third and fourth in Lombardy, Mika leading David, they and the fifth and sixth men, an impressive Pedro Diniz in the Sauber and Ralf Schumacher's Williams were all quicker than Michael Schumacher's '98 pole time.
Jacques Villeneuve's BAR led Monza's midfield men, including the Benettons - Wurz ahead of Fisichella, Zonta, Zanardi and Herbert, while Jean Alesi headed up the rear, comprising Gene, Panis, de la Rosa and Takagi.
So Formula One continues sans one of its currently competing World Champions in Austria. And it isn't a confused Damon Hill, that everyone expected to be missing, that won't be there, but the injured Michael Schumacher.
Many would have expected that to rob the championship of much of its spice.
But that, at this point, doesn't seem to be the case, as Eddie Irvine races into the future without the requirement to be a bodyguard or bouncer, and the possibility of writing a world title under his name this year. Don't forget Heinz-Harald Frentzen, he could well emerge as a serious outsider. And McLaren has to deal with a foe it doesn't yet understand - in either of these men, before it can claim a back-to-back championship.
And don't forget last year's Austrian Grand Prix, highlighted by a lottery grid headed by Fisichella and Alesi, saw a mistake by Michael Schumacher venturing too close to leading Hakkinen, and some controversy as a result of incident. It was a memorable race...

Test Times Summary
Monza F1 Testing June 1999

Pos  Driver        Best      13       14       15       16 July    
 1.  Frentzen      1:24.410   -        -       1:24.41   -         
 2.  Irvine        1:24.468  1:26.29  1:26.22  1:25.63   1:24.47   
 3.  Hakkinen      1:24.691   -       1:25.59  1:24.69   -         
 4.  Coulthard     1:24.831  1:26.28  1:25.84  1:24.83   -         
 5.  Diniz         1:25.088   -        -       1:25.96   1:25.09   
 6.  R.Schumacher  1:25.240  1:26.11  1:26.29  1:25.24   -         
 7.  Villeneuve    1:25.321   -       1:27.19  1:25.32   -         
 8.  Wurz          1:25.354   -        -       1:25.52   1:25.35   
 9.  Fisichella    1:25.371  1:26.23  1:26.24  1:25.37   -         
10.  Zonta         1:25.490   -       1:28.77  1:25.49   -         
11.  Zanardi       1:25.751  1:26.77  1:26.51  1:25.75   -         
12.  Herbert       1:25.890   -       1:26.18  1:25.89   -         
13.  Alesi         1:26.091  1:27.24  1:26.09   -        -         
14.  Gene          1:26.540   -       1:27.90  1:26.54   -         
15.  Panis         1:27.741   -       1:27.74   -         -        
16.  de la Rosa    1:27.487  1:28.43  1:27.49   -         -        
17.  Takagi        1:27.491   -         -      1:27.49    -        

circuit length: 5.770 km                                   
1998 pole: Michael Schumacher (Ferrari) 1:25.289                
1999 fastest testing time: Heinz Harald Frentzen (Jordan) 1:24.410

The Test Times Summary only includes drivers who are participating in the 1999 F1 World Championship and therefore does not include test drivers. For a full test times summary and previous test times set this year, visit Atlas F1's 1999 Testing section