Eddie Irvine's victory at the A1 Ring in Spielberg was more akin to the movie producer with the same name as the Austrian region than anything else. It had all the ingredients of a great movie flick.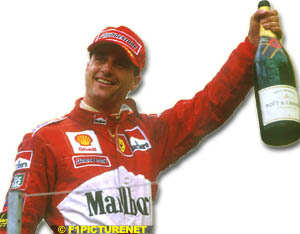 McLaren's boss was one of Eddie Irvine's primary detractors in the week before Austria's classic 1999 Grand Prix. But it was he and his team who ended up with egg on their faces, proving once again, that the hare doesn't necessarily have to beat the tortoise... It was a brilliant race.
Free Practice
The McLarens dominated all weekend – except, of course, for Damon Hill's Friday second session surprise. David Coulthard led Eddie Irvine in the first session, with Mika Hakkinen and David following the flying Jordan in an altogether odd second session that saw Ricardo Zonta fourth, ahead of Jean Alesi and the Minardis thirteenth and fourteenth. Eddie was strangely happy with ninth, his new teammate, Mika Salo, not too keen to be sixteenth.
Saturday morning left the impression of a close race – Coulthard leading Hakkinen and Irvine, all three within twelve hundredths of a second of each other. Johnny Herbert followed from Giancarlo Fisichella and Heinz Harald Frentzen.
Qualifying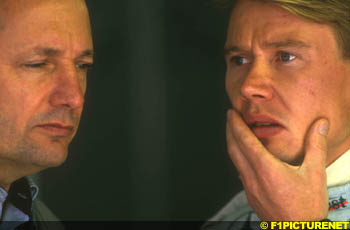 But Mika Hakkinen and David Coulthard had qualifying all to themselves, the McLaren duo swapping pole a couple of times before Mika clinched his seventh of the season.
The big Macs were scintillating in their speed and agility, a clear second ahead of Irvine and another third ahead of Frentzen. But was it safe to take the difference between the McLarens and the Ferrari and Jordan, or fifth placed Rubens Barrichello's Stewart seriously? Would McLaren be as quick in race trim?
Looking at Eddie's laconic attitude after running that race set-up on Friday, the Irishman and Ferrari clearly had another tactical masterpiece planed for Sunday. Another indicator were both Frentzen and Irvine's pace at Monza a fortnight prior, and Damon Hill's surprise pace in the other Jordan Friday.
All wasn't as the timesheets may have lead one to believe.
But none of that could take away Hakkinen's brilliance in his qualifying effort – approaching Villeneuve's full-slick pace in the Williams when all of them were still competitive. Remember that? It was but two years back...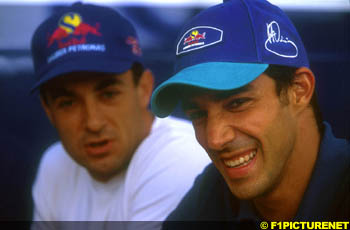 "This is a tough Grand Prix, hard on the cars and brakes with many things that can happen," reflected Mika after swapping to his T-car during the session, making his performance all that much more impressive. "But I'm going to go flat out and try to gain the maximum from the race."
"I have felt really comfortable with the car all weekend," reflected Coulthard, "and I think we should have a great race tomorrow." But Eddie has plans for David, reporting that, "I'm confident for tomorrow. Third is a good place to start, and I hope to get past David and try and chase Mika. The car is well balanced and we will be much closer in the race."
Frentzen, too, confirmed our sentiments for the race: "I have a lot of confidence in the car for tomorrow and we will be running some modifications for the first time in a race, So I'm looking forward to a good day."
Barrichello, was also looking ahead with optimism. "There are chances to overtake under braking here so I expect to be challenging for the podium if I can get a good start and our race strategy works out," the Brazilian said.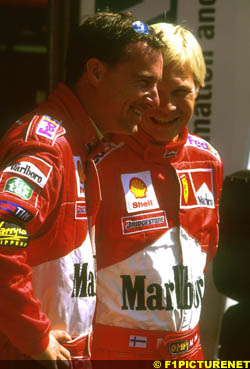 It was a good day for Stewart, Herbert taking the other third row slot ahead of Ferrari newcomer Salo in a good seventh, while Ralf Schumacher, Jacques Villeneuve and Alex Wurz wrapped up the top ten. Then came Damon, last year's pole man Fisichella, Jarno Trulli, Alex Zanardi, Zonta, Pedro Diniz and Jean Alesi - way off his front row slot here last year. Olivier Panis headed the regular tail-enders of Arrows and Minardi.
But for all intents and purposes, the race promised to be much closer than the qualifying times suggested, not to mention a tactical battle...
The Race
The grid filed away cleanly, nothing going wrong in the normally dramatic Spielberg first corner. But David Coulthard saved that for turn two. There, he stopped concentrating and shafted Mika into a spin, luckily not hurting either car, but relegating Mika to the back, along with poor Johnny Herbert and Mika Salo, victims of the dreaded concertina and needing an early stop each.
"I completely misjudged the second corner of the race," David admitted later, "I am very sorry for what happened with Mika." But Mika looked stern later when he commented, "Whatever happened at the second corner is no longer important and I appreciate David's apologies."
The shunt woke Coulthard up for long enough to streak into a strong early lead from Barrichello - who benefited from an easy path through the McLaren melee - Irvine, Frentzen and an impressive Zonta. Static up front, the race was interesting at the back, Mika slicing through the pack on his way back to the front.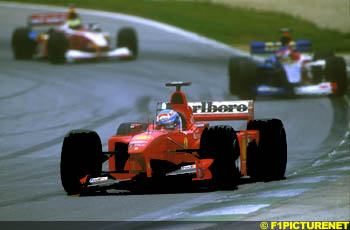 As the first stops approached, Hakkinen was on a charge, albeit finding it difficult to pass the further he got up the leaderboard, struggling also with yellow flags at the worst possible times. "The car did not feel right after the incident but even so I just went flat out to regain positions and to finish in the points," he said later.
But was Coulthard doing enough? Barrichello and Irvine, not to mention Frentzen, were closing on the Scot, who seemed to be dawdling off again.
Meanwhile, Jean Alesi woke up when approached from behind by Hakkinen, Jean suddenly cut as swathe through the field, leading Mika past the top of the midfield. But Alesi was out soon after his early pitstop – sadly ending another flash of brilliance from the French-Sicilian.
As the pitstops continued, Coulthard, Barrichello, Frentzen and Hakkinen, now fifth, all stopped, leaving Irvine way out front, but still to stop. Surely he'd drop back to third after that. But almost unnoticed, Eddie was flying, while a combination of prolonged lethargy and traffic held up Coulthard.
Eddie eventually pitted on lap 44 and a brilliant stop by the Ferrari men saw him out again in the lead.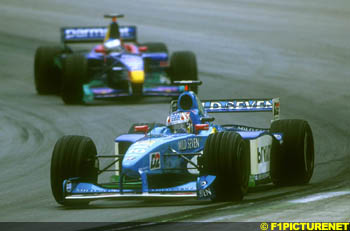 Once again, Ferrari's brilliant tactical play had paid off, and Eddie had the most important thing in Austria on Sunday Afternoon - track position and a fairly good lead.
Meanwhile Mika showed some brilliant form in his handling of the third and fourth placed Barrichello and Frentzen. Both risky moves utilised more Mika brute force and psychology than McLaren and Mercedes-Benz. The Jordan, firstly, and then the Stewart-Ford were way too agile to simply power past like the rest. Mika relied on Heinz-Harald's survival instinct when he bullied him, and both survived. The same with Rubens, coming from a long way back each time to pull off two brilliant passes and move into third. It wouldn't have worked with everyone on the grid, but Mika needed those two points too badly to sit and wait for them.
Out front, things were heating up. Salo, as he did prior to his stop when Coulthard caught him, remained far enough ahead to allow Eddie some grace while David was tooling about just too far behind him to make the blue flags matter. But other traffic caused quite some problems for both leaders, "I was unable to put in quick laps just after my stop as I was caught in traffic," David confirmed.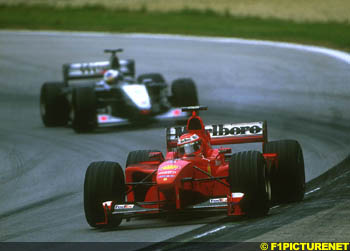 With three laps to go, David was right under the Ferrari's wing, but that's as far as he got. Dispelling any myths, Eddie Irvine brought the Ferrari home to an incredible win – retaining the scuderia's two point championship lead and closing to within two of Mika in the driver's title. "I knew qualifying did not represent our true performance and because of that and the right strategy I was able to win. I have proved I can do the job, " Eddie remarked after, "The smoke from my car towards the end of the race was probably coming from my brain because I had to think about so many things - the fuel, the brakes the tyres. It was not just a case of driving. Coulthard caught me quicker than I expected and I had to push very hard again and forget about my brake problems. I wished the chequered flag would come sooner."
David was rueful. "today was my nightmare scenario, not only did I take my teammate off at turn two but we came second to our opposition," said the Scot, while Mika looked on the bright side: "To come here and score points was important and we have done that."
Poor Barrichello retired late in the race, the Ford coming to a smoky end after a fine race. "It's frustrating when you get the chance for points and they disappear like that," he rued. Frentzen collected fourth, keeping him in the frame for the title: "Today was really a race against ourselves as we could not keep up with the cars ahead of us, but a fourth place finish is still good."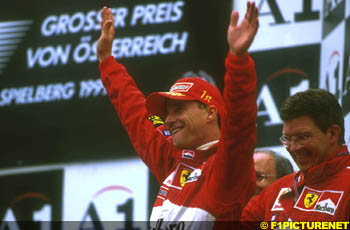 The last points went to local lad Alexander Wurz, continuing Benetton's consistent point scoring form. "I finished fifth which is cool for me and for the team!" said joyous Wurz, and Pedro Diniz, who had another good race echoed: "I'm really pleased to score another point."
Eddie taught the big Macs a lesson in Austria (that after they sorted themselves out first), and the championship is wide open. Despite new-found reliability, David and Mika fell over each other and allowed Eddie the chance to beat them fair and square.
Now he knows he can do it.
And that may be all Eddie Irvine needs...
Final Race Results

CLASSIFIED


 1.  Irvine        Ferrari              1h 28:12.438
 2.  Coulthard     McLaren Mercedes     + 0.313     
 3.  Hakkinen      McLaren Mercedes     + 0:22.282  
 4.  Frentzen      Jordan Mugen-Honda   + 0:52.803  
 5.  Wurz          Benetton Playlife    + 1:06.300  
 6.  Diniz         Sauber Petronas      + 1:10.900  
 7.  Trulli        Prost Peugeot        + 1 Lap     
 8.  Hill          Jordan Mugen-Honda   + 1 Lap     
 9.  Salo          Ferrari              + 1 Lap     
10.  Panis         Prost Peugeot        + 1 Lap     
11.  Gene          Minardi Ford         + 1 Lap     
12.  Fisichella    Benetton Playlife    + 3 Laps    
13.  Badoer        Minardi Ford         + 3 Laps    
14.  Herbert       Stewart Ford         + 4 Laps    

Fastest Lap: Mika Hakkinen, 1:12.107 (215.629 kmph), Lap 39  
                                                                    
NOT CLASSIFIED / RETIREMENTS                                        
                                                                    
     Zonta         BAR Supertec         63     clutch      
     Barrichello   Stewart Ford         55     engine      
     Alesi         Sauber Petronas      49     out of fuel 
     de la Rosa    Arrows TWR           38     spun off    
     Zanardi       Williams Supertec    35     out of fuel 
     Villeneuve    BAR Supertec         34     rear upright
     Takagi        Arrows TWR           25     engine      
     R.Schumacher  Williams Supertec     7     spun off    


Top Ten Fastest Race Laps

Pos  Driver        Team                 Lap  Time              
 1.  Hakkinen       McLaren-Mercedes     39   1:12.107         
 2.  Herbert        Stewart-Ford         67   1:12.641  + 0.534
 3.  Irvine         Ferrari              43   1:12.767  + 0.660
 4.  Coulthard      McLaren-Mercedes     69   1:12.855  + 0.748
 5.  Diniz          Sauber-Petronas      49   1:13.093  + 0.986
 6.  Frentzen       Jordan-Mugen Honda   42   1:13.176  + 1.069
 7.  Alesi          Sauber-Petronas      47   1:13.228  + 1.121
 8.  Barrichello    Stewart-Ford         36   1:13.278  + 1.171
 9.  Panis          Prost-Peugeot        67   1:13.465  + 1.358
10.  Salo           Ferrari              67   1:13.481  + 1.374


Top Ten Pit Stop Times

Pos  Driver         Team                 Time   Lap 
 1.  Diniz          Sauber-Petronas      24.80  52  
 2.  Panis          Prost-Peugeot        25.90  46  
 3.  Alesi          Sauber-Petronas      26.10  25  
 4.  Trulli         Prost-Peugeot        26.10  45  
 5.  Irvine         Ferrari              26.50  44  
 6.  Frentzen       Jordan-Mugen Honda   26.60  44  
 7.  Salo           Ferrari              26.70  41  
 8.  Hakkinen       McLaren-Mercedes     27.10  40  
 9.  Wurz           Benetton-Playlife    27.20  44  
10.  Hill           Jordan-Mugen Honda   27.30  45  


The Austrian Grand Prix, Lap by Lap
It's cloudy with an ambient temperature of 17 degrees and a track temperature of 22 degrees as the cars form up on the grid. There are no dramas, and the lights are off. Coulthard initially makes the best start, but Hakkinen then pulls ahead and leads his teammate up the hill through the first corner. As they approach Remus(the second corner) Coulthard pulls up alongside on the inside but Hakkinen takes his line. Hakkinen's left rear wheel and Coulthard's right front touch and the Finn spins which drops him right to the back. Herbert slows and is hit by Salo who damages his nose cone.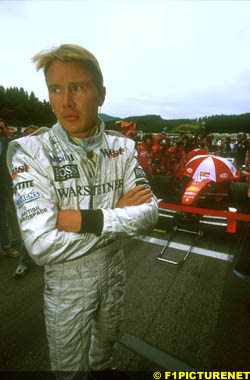 Lap 1: Coulthard leads by 1.2s from Barrichello who has Irvine and Frentzen right up with him, before a gap to Salo whose nose section is flapping and he has Villeneuve, Schumacher, Fisichella and then Diniz, Wurz, Trulli, Zonta and Hill behind him. Hakkinen is last and Herbert pits for a new rear wing which takes four laps to fit
Lap 2: Coulthard quickly pulls away, building up a lead to 2.6s on the next lap, as Diniz moves up to eighth ahead of Fisichella and further back, Zonta gets past both Wurz and Trulli. Even further back, Alesi gets past de la Rosa and Badoer who heads for the pits after hitting the rear end of Hill's Jordan
Lap 3: Coulthard is now 4.0s ahead of Barrichello who has Irvine behind him with a small gap to fourth placed Frentzen. Behind them, though, Salo pits for a new nose section and rejoins 20th. Hakkinen, meanwhile, has got past Gene and Panis
Lap 4: Moving up to fifth after Salo's stop is Villeneuve under pressure from Schumacher, while further back, Alesi has overtaken Hill for 12th place
Lap 6: Coulthard's lead is now 6.9s from Barrichello pushed by Irvine, and they have pulled away from Frentzen in fourth. Then there's a gap to Villeneuve and Schumacher who have been joined by Diniz, both Saubers clearly on a double fuel stop strategy as Alesi has also moved up another place ahead of Trulli
Lap 9: Coulthard's lead is now 9.2s from Barrichello still holding off Irvine and they are 3.1s ahead of Frentzen in fourth place. Then there's 7.4s to Villeneuve now pushed by Diniz after Schumacher spins out of sixth place. Fisichella is next from Zonta, then Wurz being pushed by Alesi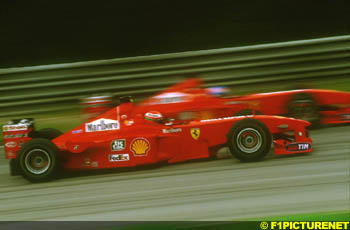 Lap 11: Coulthard's lead is 10s while further back, Diniz overtakes Villeneuve for fifth place, leaving the Canadian to fend off Fisichella and Zonta. Wurz is next with Alesi close behind and Hakkinen is next in 11th place
Lap 13: Barrichello finally pulls away a little from Irvine while Wurz loses two places to Alesi up to ninth and Hakkinen
Lap 15: Coulthard leads by 12s from Barrichello who is now 3.6s ahead of Irvine, now 4.0s ahead of Frentzen and then a 5.4s gap to Diniz. Then there's 6.4s to Villeneuve ahead of Fisichella, while Alesi has moved up again now ahead of Zonta
Lap 16: Hakkinen follows Alesi through passing Zonta
Lap 18: The lead gap has risen to 13s but it won't rise much more. Alesi is now on Villeneuve's tail after overtaking Fisichella at Remus for seventh place
Lap 19: Alesi overtakes Villeneuve for sixth place and Hakkinen overtakes Fisichella at Remus for eighth
Lap 20: Hakkinen does the same to Villeneuve at Remus for seventh place. Badoer pits again, this time a scheduled stop
Lap 24: For the first time for many laps, the lead gap actually comes down. The gap from second to third has stabilised at around three seconds and third to fourth is up to 11s. No surprise that the first to stop are the Saubers, Diniz coming in on this lap for 9.9s
Lap 25: And now it's Alesi's turn in 8.1s
Lap 26: Coulthard leads by 12s from Barrichello who is 3.1s ahead of Irvine. Then there's a gap of 13s to Frentzen, 5.3s back to Hakkinen and then a gap of 11s to Villeneuve followed by the two Benettons, Fisichella ahead of Wurz. Takagi retires with a failure in the engine
Lap 28: Just the Benetton battle and Trulli holding off Hill for ninth are close
Lap 30: The lead gap has come down a couple of seconds, now Coulthard just 10s ahead of Barrichello with Irvine getting closer behind the Stewart, under three seconds behind. 16s further back is Frentzen, now with Hakkinen on his tail. De la Rosa pits on this lap
Lap 34: Hakkinen overtakes Frentzen at Castrol for fourth place while further back, Villeneuve comes into the pits and retires with a driveshaft problem
Lap 35: Gene pits for fuel and tyres followed by his teammate a lap later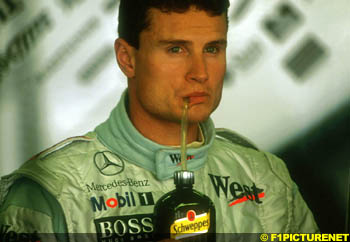 Lap 36: Zanardi retires when he runs out of fuel after his radio fails and he doesn't see pit boards
Lap 37: Suddenly Coulthard's lead dips by 2.1s to 7.9s due to being held up by a slower car
Lap 38: After half distance, and the leaders begin to make their pit stops. Barrichello comes in for 12.5s and further back Zonta also stops
Lap 39: Coulthard pits for 10.5s. Herbert also pits on his 39th lap. De la Rosa, suffering brake problems, spins off and out of the race
Lap 40: Hakkinen pits for 9.6s
Lap 41: Hakkinen leads, and he's extending his lead over Coulthard in second place, although of course, the Ferrari hasn't yet stopped. Instead, Salo comes in for 9.0s
Lap 43: Fisichella pits for 10.3s
Lap 44: Irvine comes in from a 22s lead for an 8.6s pit stop, and emerges in the lead by 1.9s! Frentzen also stops on this lap, as does Wurz
Lap 45: Trulli and Hill(in 9.0s) both stop on this lap, but emerge in the same order as before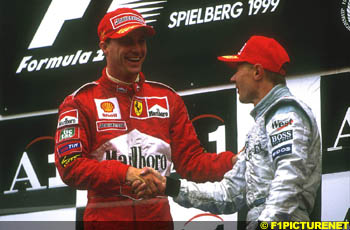 Lap 46: Irvine leads Coulthard by 1.9s and then there's a 16s gap to Barrichello who has been caught by Hakkinen. Then there's 10s to Frentzen, who is again being caught by Alesi and then 9.5s to his teammate Diniz. Wurz has emerged ahead of Fisichella in eighth place, while Panis pits on this lap
Lap 50: Irvine has pulled away so that he leads Coulthard by 3.1s, but now Hakkinen moves into third place, overtaking Barrichello at Gosser. At the same time, Alesi pulls out of sixth place, out of fuel, having not seen his pit board telling him to come in!
Lap 52: The lead is up to 3.7s while Diniz makes his second pit stop from sixth place in 7.0s
Lap 53: The lead is up to 3.9s, but it won't get any greater
Lap 56: The lead has been down to 3.1s again, with Irvine suffering more brake problems. Further back, Fisichella runs wide and loses a place to Diniz, and as Barrichello pulls out of fourth place with a blown engine, Diniz is now sixth
Lap 59: All eyes are now on the lead battle, for Irvine's lead is less than 2.0s
Lap 66: Coulthard is now less than a second behind Irvine
Lap 68: Coulthard is getting ever closer
Lap 71: Irvine wins by just 0.313s!