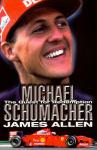 Those who are familiar with James Allen probably know him best as ITV's pitlane reporter. A typical race telecast finds Allen peering at Schumacher's refuelling rig, trying to judge the Ferrari's pitstop strategy by keeping track of the amount of fuel that the car takes on board. This book sees Allen step away from the fuel pumps and timing monitors, and instead take a long, hard look at Michael Schumacher himself.

Michael Schumacher's name is synonymous with flair and brilliance on one hand, and controversy on the other. His career has followed a pattern of amazing drives, interspersed with a series of questionable incidents which have lead to a great deal of debate within Formula One's worldwide following. While some of these acts, such as the German's collision with the Williams of Damon Hill at Adelaide in 1994 (an encounter which led to the retirement of both drivers and handed Schumacher his first championship), have helped to shape Michael's reputation as a driver who feels completely happy to go well beyond the limits of fair play to secure a win that he probably felt was his by divine decree in the first place, his indiscretions would, for the most part, be forgotten after he celebrated yet another incredible victory in the wet.

This all changed at Jerez in 1997. In many respects, the situation was similar to that in Australia three years earlier. The race for the championship had come down to the final round, with two men capable of taking the title. In the red corner, Michael Schumacher in his Ferrari; in the blue corner, the Williams piloted by Jacques Villeneuve. The brief for both drivers was simple: Get the car across the line first, and the championship is yours. Coming out of the final pitstops, things looked good for Schumacher. He held a lead of a couple of seconds over the Williams - not much, but seemingly enough to guard against an attack from Villeneuve in the immediate future. The German's position was strengthened by the fact that Villeneuve's tyres were close to losing their edge, which would make the young Canadian's task considerably more difficult than it already was.

Villeneuve's move at Dry Sack, then, was a surprise to everybody, nobody more so than to Schumacher himself. One moment, the Williams was safely tucked away in the Ferrari's mirrors. An instant later, it was right alongside.

What happened next was one of those moments that will be talked about, argued over, and replayed on highlight reels for years to come. Schumacher's initial reaction was to instinctively pull his car away from Villeneuve's - the natural reaction of somebody trying to avoid a collision. But almost within the same movement, he apparently had a change of heart, and steered his car straight into the Williams. Many observers saw it as a repeat of Adelaide 1994, with one major difference - this time, Schumacher's aggression had left him beached in the gravel, while the Williams (sporting the distinct imprint of a Ferrari wheel on its flank) just kept going round and round and round.

If the Ferrari had taken a battering, it was nothing compared to the effect that the ram-raid had upon Schumacher's reputation and public image. Schumacher was initially dismissive of the uproar that exploded after Jerez, however the hammering that he received in the German and Italian press, former Schumacher safe-havens, soon made the great extent of the disapproval clear. Ferrari and their star driver suddenly had a major PR nightmare on their hands.

This is roughly where Allen picks up the story. "Michael Schumacher: The Quest for Redemption" represents an attempt to analyse Schumacher's progress through the 1998 season, as he fought Mika Hakkinen for the championship while trying simultaneously to rebuild his reputation.

It must be hard to find informants that are close enough to the situation to have something worthwhile to say, yet do not have their own barrow to push. Everybody has an opinion when it comes to Michael Schumacher, and in the case of F1 insiders, most also have a related agenda. Allen does a superb job of wading through all this, and offers the most balanced, and most carefully considered assessment of Schumacher that I have ever read.

Allen has a great analytical mind; that much is clear to anybody that receives ITV's coverage of the races. It is a talent that the author puts to great use as he attempts to dissect the circumstances and events that saw Schumacher fall from grace, and then attempt to rebuild his image.

Without exception, the people that Allen spoke to while conducting his investigation have genuinely interesting and insightful things to say. Authors of books like this one occasionally fall into the trap of using pointless information from useless informants to help pad the book out a little. With "The Quest for Redemption", however, this is most certainly not the case. Not only does Allen talk to the right people, but he also asks the right questions. This is never more true than when he speaks with Schumacher - I have never read an interview where the German discusses himself so frankly; nor have I seen him engage in a real self-analysis to anything like the same degree that he does here. Whether you are a Schumacher fan or not, this is invaluable stuff.

One of Allen's greatest strengths is his ability to reduce any aspect of Formula One to its most basic essence - he has a well-honed knack of being able to strip all the outside layers away and show things as they really are. A classic example of this is the passage where he is discussing the nature of paddock life, and the relationship between a spectator's vantage point for the race, and their sense of personal status and prestige. Most of the 'behind-the-scenes' books make some reference to this, but nowhere is the subject dealt with as well as it is here. Many fans find some of the peripheral aspects of F1, such as inter-team politics, a little difficult to understand; while "The Quest for Redemption" won't make it crystal clear for you, it will certainly help to sharpen the focus a little bit.

Bad points? There are not all that many. Most readers will no doubt disagree with some of the arguments that Allen puts forward, but that it inevitable when the subject being dealt with is one as volatile as the reputation of Michael Schumacher. If I were to make one change to the book, I would rip out the photos. They are surprisingly badly reproduced and add absolutely nothing to the text. The exception here is the stunning head-on shot of Schumacher's Ferrari at Belgium in 1998, an image that would be worthy of a poster were it not for the conspicuous absence of a front wheel.

Allen's greatest achievement, though, is that he has managed to write a book about Michael Schumacher that could potentially appeal to anybody. Fans will enjoy seeing a more human portrayal of Schumacher than we are used to, while his detractors will be interested in the way that Allen deals with some of the German's more notorious indiscretions. That said, there are different elements of Allen's arguments that will have members of both the yay-Schuey and the nay-Schuey camps pointing at each other and saying, "I told you so!"

Don't make the mistake of dismissing this book as a simple driver biography, because that is one thing that it is most certainly not. Instead, this is probably the best, most insightful work that will ever be written about the best driver of the current era.