The season opener at Australia is only the fourth Grand Prix to be held at Albert Park, Melbourne. But the track, set out around a lake and 5.278 Km in length, is rather enjoyed by most drivers; it is not generally regarded as a very demanding track, although it is bumpy in some braking zones.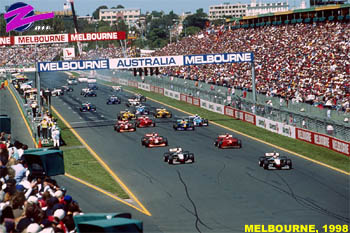 No single driver has dominated the Melbourne races, but the Williams and McLaren teams did. Over the three Melbourne races, McLaren have scored 30 championship points, Williams 21 and Ferrari 13. But this year's race could be won by any driver with talent, a competitive car and a little bit of luck. And a lack of experience on the track does not seem to be a big factor, as Jacques Villeneuve, for one, has proven in his maiden race there, in 1996, when he grabbed pole and would have won the race had it not been for a mechanical failure at the latter stages of the Grand Prix.
This year, the extra groove in the tyres will lead to more pit-stops and more pressure on the pit-crews, so pit-stop strategies will be critical. In 1998, McLaren, Benetton and Jordan went for a 2-stop strategy while Ferrari and Williams went with a one-stop. As we all know, Mika Hakkinen won on an accidental 3-stop strategy. If it is dry on Sunday it is likely that most teams will opt for a 2-stop strategy while some teams with strong engines may opt for a "tortoise and hare" strategy - sending out one driver on a 2-stop strategy and the other on a 3-stop strategy.
McLaren must start the year as favourites. Aerodynamics are still going to be a big factor in F1, which should favour McLaren. The biggest doubt about McLaren is their reliability - the McLaren-Mercedes MP4/14 has had a disturbing number of failures during pre-season testing. They would be well advised to stick to a 2-stop strategy.
Defending champion Mika Hakkinen must be the favourite to win the season opener. He is the only driver to finish in the points in all three Melbourne races, and he won the 1998 race after getting pole position and setting the fastest lap. Buoyed by his 1998 championship, he says that he is very confident for 1999. Mika has the psychological momentum to keep winning. On slicks in 1997 he finished third. Grooved tyres appear to have benefited him in 1998 and with even less grip in 1999, this apparent advantage could be reinforced.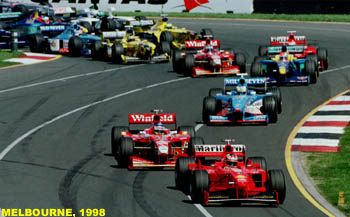 David Coulthard won at Melbourne in 1997 and ceded victory to Mika Hakkinen in 1998. David has publicly stated that he wants 1999 to be his championship year and Ron Dennis has pledged that there will be equal support for the two McLaren drivers, so David is free from team orders in 1999.
In 1995-1997 David was famous for his "rocket" starts. In 1998 it was "After you, Mika". Was this McLaren team orders or had his starting advantage been wiped out? Perhaps he could no longer put the same amount of power on the track through grooved tyres. If this is so, no wonder he is against further reductions in traction. Nonetheless, he has a good chance of winning if he can qualify ahead of Mika and can get a clean start.
Ferrari really wants to win this year - twenty years had passed since they last won the World Championship title, and McLaren now has the same number of Manufacturers titles as Ferrari. They had closed the gap to McLaren at the end of 1998 but have they kept pace with McLaren's development over the winter?
Michael Schumacher has won on almost every Grand Prix circuit, but he has never won at either Melbourne or Adelaide. His only result was 2nd in 1997, he did not finish in any other Australian Grand Prix since 1994. Michael has never had a pole position or set fastest lap at Melbourne either, so he will want to rectify this and add Australia to his illustrious CV. He will pounce on any mistakes made by Mika Hakkinen or David Coulthard, as he thrives in "come-from behind" situations. He may repeat his three-stop strategy that was so successful at last year's Hungarian Grand Prix. Needless to say that if it rains, Michael will probably win.
Eddie Irvine is always difficult to predict and he will be bound by Ferrari team orders. His best result at Melbourne was 3rd in 1996 after qualifying ahead of Michael. Eddie is reportedly unhappy with grooved tyres and has had limited time testing the Ferrari F399. However, if Michael should drop out, this could be the Ulstermna's chance to win his first Grand Prix.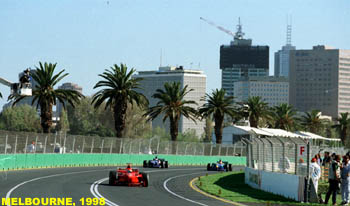 Williams were off-the-pace in 1998 but were extremely reliable. Many people have said that the distractions of the Senna trial in 1997 were a big factor in their uncompetitiveness during 1998. Now it seems to be business as usual at Williams, so unless the Mecachrome engine gets a big power boost, I can't see Williams FW21 getting many pole positions or victories in 1999. Williams values Manufacturer's Championship points so they are likely to play it safe with 2-stop strategies for both drivers.
Ralf Schumacher was the most improved F1 driver of 1998. Unfortunately, in Australia, Ralf has covered less than 5 laps under race conditions. However, in pre-season testing he has been consistently faster than his Williams team mate, Alex Zanardi.
Alex is the dark horse of this race. He drove his last Grand Prix at Adelaide in 1994, and he has never raced at Melbourne. He has never won a Grand Prix but his CART successes more than compensate for this. In fact, Alex won the 1998 Australian CART event at Surfer's Paradise, Queensland. He is intelligent and may plan to run a clean race, keep out of trouble and finish in the points.
Jordan was the most improved team of 1998. They steadily improved despite being outclassed for the first half of the season. Jordan finally won their first Grand Prix at Spa-Francorchamps and finished fourth in the manufacturer's championship. They had no distractions over the winter and appear to be on a roll. Tests at Catalunya suggest that the 1999 Jordan-Mugen Honda is very competitive but, historically, Jordan has never done well at Melbourne. They were, by the way, the first team to leave for Melbourne which is a sign of good organisation.
Damon Hill won at Melbourne in 1996. He likes to win from the front and is not bothered by either grooved tyres or wet weather. The Jordan 199-Mugen Honda may provide him with the vehicle to have his second win at Melbourne.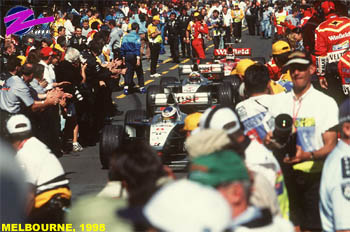 His teammate, Heinz-Harald Frentzen, set the fastest lap in 1997 and finished third in 1998. Heinz-Harald has a lot to prove; he would, at the very least, like to finish ahead of the Williams team. On a 3-stop strategy he just might achieve that.
Benetton was in disarray at the end of last season but the pre-season testing has shown that they have responded quickly to the challenge. Giancarlo Fisichella and Alexander Wurz are very evenly matched but they have yet to score a point at Melbourne. Both have also yet to win a Grand Prix. The Benetton B199 appears to be fast and reliable and the team seems to be ready to do battle, but they are stuck with the aging Mecachrome engine.
The biggest surprise of the pre-season was BAR. Few people expected BAR to make a big impact in their first season, but their progress over the winter has been remarkable. Then they made the fatal mistake of getting distracted over - of all things - paintwork. Instead of solving mechanical problems during testing they were fighting the FIA in court and wasting time revising colour schemes. None the less, they may just surprise everyone in Melbourne this weekend.
Jacques Villeneuve won pole position in 1996 and 1997 and set fastest lap in 1996. He should have won his debut race in 1996, but had to slow due to engine problems. In 1997, he was taken out in an incident with Johnny Herbert and Eddie Irvine. If the BAR is up to snuff he could make a very good showing at Melbourne. His team-mate Ricardo Zonta was Formula 3000 champion in 1996 and FIA GT1 champion in 1997. He is very impressive and is a man to watch, but he has had little time to prepare for Melbourne.
Of the rest of the field, there are three other "wild cards" who could finish in the points: Jean Alesi, Rubens Barrichello and Jarno Trulli - all of whom have set highly competitive times at the pre-season testing at Catalunya. Sauber finished in the points in 1997 and 1998, will this well-organised team do this again on Sunday?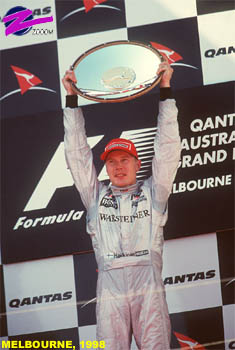 My Predictions:
If it is dry, I'm going to stick my neck out and pick McLaren, Ferrari and Jordan as the top three teams.
Starting grid:
1. Mika Hakkinen
2. David Coulthard
3. Michael Schumacher
4. Heinz-Harald Frentzen
5. Eddie Irvine
6. Damon Hill
7. Ralf Schumacher
8. Alex Zanardi
9. Giancarlo Fisichella
10. Alexander Wurtz
Race results:
1. Mika Hakkinen
2. David Coulthard
3. Michael Schumacher
4. Heinz-Harald Frentzen
5. Damon Hill
6. Eddie Irvine
7. Alex Zanardi
8. Ralf Schumacher
(I'm giving up to 8th, just in case the McLarens expire.)
And if I'm wrong - "Sorry Mate!"