126 days after the last Grand Prix of 1998 in Japan, the 50th season of the Formula One World Championship, and the last of the millenuim, gets underway in Melbourne, Australia, on March 7th.
16 races await us this year - the Argentinian Grand Prix has disappeared from the calendar and in its place, as the penultimate round of the series, comes the Malaysian Grand Prix. This will be the first Grand Prix to be held in the country and will be run on the brand new Sepang circuit near the new Kuala Lumpur international airport.
After last year's major technical changes, there are only a few this year, but the main one is the addition of a fourth longitudinal groove in the front tyres, giving the drivers even less grip than before. Of course, there is now just one tyre supplier - Bridgestone - after Goodyear quit the sport last year, so everyone runs on the same tyres. Remember too, that the teams are now limited to a total of 200 sets of tyres for testing purposes. Testing days will be limited to 25 "fixed" days and a further 25 days by arrangement with Bridgestone.
Other technical changes include an 8mm cable connecting each wheel to the main structure of the car to prevent wheels flying off in the event of an accident and each car must be fitted with an extractable seat. This is so that the driver can be lifted out easily and quickly while not inflicting any further injuries on perhaps an already injured driver. Other technical regulations have been introduced to eliminate "grey areas" surrounding throttle control, braking, adjustments to electronic differentials, headrests and tyres.
Other changes see the loss of the Tyrrell team, replaced by British American Racing (BAR). Returning to Formula One is two-time CART champion Alessandro Zanardi who drives for Williams, having quit Grand Prix racing at the end 1994, while making their Formula One debuts will be Spain's Pedro de la Rosa (with Arrows), compatriot Marc Gene (with Minardi) and Brazilian FIA GT champion Ricardo Zonta (with BAR).
In terms of Grand Prix management, David Richards is no longer with Benetton, replaced by 29-year old Rocco Benetton having his first full season in control. Meanwhile, down the road at Arrows, Tom Walkinshaw has delegated day to day control of his Formula One team to new managing director Roger Silman. Due to a financial rescue package engineered by the team's new Nigerian marketing director, Prince Malik Ido Ibrahim becomes the first black team principal in Formula One.
So those are the changes, but who's hot and who's not in '99?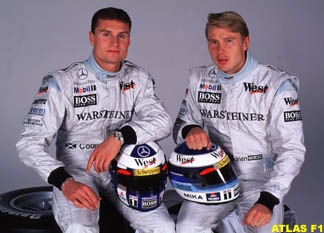 McLaren MP4-14, Mercedes V10
McLaren must start as favorites to retain their Constructor's title in 1999. Although the MP4-14 is said to have retained only 10% of parts in common with its title winning predecessor, the MP4-13, it has been described as evolutionary and not revolutionary by team boss Ron Dennis. Testing form has been a little patchy with nothing like the dominance achieved last year, and there were even suggestions that updated '98 cars would be raced in Melbourne. Provided though McLaren's quality control systems have overcome '98 Achilles heal, lack of reliability, then the strength in depth of the team should see them emerge as champions again come Suzuka, continuing technical director Adrian Newey's remarkable run of success.
Mika Hakkinen
Winning the Driver's Championship last year will have boosted Mika Hakkinen's confidence level and made him a faster and more relaxed driver. If he is to defend his title successfully he will need all this extra speed as he is unlikely to start the season with the huge advantage he enjoyed last year. No driver has yet managed to beat Michael Schumacher over a 16 race season in a car that is closely matched. If Mika Hakkinen can achieve this feat in '99, then not only will he be a double World Champion, his place in Formula One history will be assured.
David Coulthard
With rumours already circulating that he will be replaced in the McLaren team at the end of the year, Coulthard really needs to stamp his authority on proceedings early in the season. His "nice guy" image may make him popular with the sponsors, but it doesn't win him races, or help in mobilizing the team's support behind him in the jungle that is Formula One. Coulthard must come out of his corner fighting in Melbourne, lay down a marker and then build on it.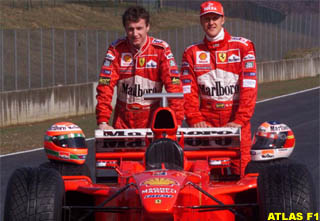 Ferrari F399, Ferrari V10
As has become normal in recent years, the Ferrari team commences the season with "this is our year" hype ringing in their ears. On paper one has to say that they deserve equal favoritism status with Mclaren, as the other half of what was effectively the "big two" in '98. But championships are not won on paper. It remains to be seen whether the combination of Schumacher, Brawn, Byrne, Todt and Ferrari can finally take that extra elusive step. Their outright pace is hard to judge as they only once tested in tandem with other major teams at Barcelona, where they were slightly shaded by McLaren. If they are on the pace in Melbourne and they can retain their almost legendary reliability from '98, then they could, at last, get the job done.
Michael Schumacher
Schumacher's ability in a Formula One car is not in question. Give him rough parity throughout the year and he would be most pundit's pick to win the title. Somehow though, it seems that straightforward years are something that he has not experienced since the Benetton year of '95. The tendency to drive brilliantly in one race and self destruct in the next, hangs increasingly over his head like his own personal sword of Damocles. If Ferrari can provide him with a reliable and competitive car from Melbourne onwards, then winning the title by points accumulation might be his biggest challenge yet.
Eddie Irvine
Irvine faces yet another year at Ferrari playing second fiddle to Michael Schumacher. Whether he will score that elusive first win depends more on the reliability of his team mate's car than on any driving brilliance on his own part. There are increasing signs that his patience with this arrangement is wearing thin. "Fast Eddie" though is caught on the horns of a dilemma. How to prove to the world that he is number one driver material, when to ensure his continued presence in the team, Ferrari requires him to act as the perfect number two.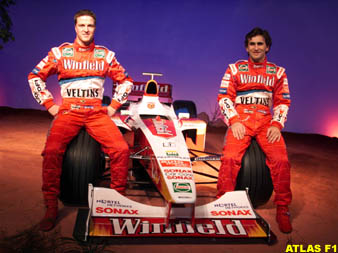 Williams FW21, Supertec V10
Sir Frank Williams admitted to being humiliated by last year's barren season. The team's answer has been to produce the FW21 which they claim is "radical" and a departure from the FW20 which was deemed as too conservative. Patrick Head has also been more closely involved in the design process of the new car than with its predecessor. As with all the cars powered by the Supertec (nee Renault) engine the power deficiency is only likely to grow as the season progresses. Add to that the disruption of assimilating into the team two new, though talented drivers and another difficult year looks likely.
Alessandro Zanardi
Just what impression Zanardi will make in his first season back in Formula One is hard to predict. He has consistently been slower than Ralf Schumacher over the winter testing sessions. In a display of frankness that is unusual in Formula One, he has admitted to struggling to re-adapt to the modern breed of F1 cars, especially to the left foot braking required. Zanardi though, is a talented natural racer and is likely to find solutions to these new challenges, although it might take him four or five races to achieve it.
Ralf Schumacher
Ralf Schumacher will be looking to continue where he left off last season, a regular points scorer and challenger for podium positions. He has generally looked the stronger of the two Williams drivers during pre-season testing, a psychological advantage he will look to exploit against his new team mate. Ralf will also need to adjust his attitude to his on-track relationship with brother Michael. Frank Williams, not an easy man for a driver to please, will expect him to race as hard against Ferrari number 3 as the other 20 cars on the grid.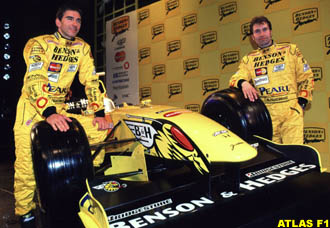 Jordan 199, Mugen Honda V10
This is an important year for Jordan. Last year they finally broke through to become a "big four" team and at a minimum they will be looking to retain that slot, at best to worry Ferrari and McLaren on occasions. The Jordan has so far proved to be one of the most reliable cars on show in testing and they must rank as a good outside bet for an early-season win. New technical boss Mike Gascoyne has gone for the evolutionary route, just a little more of the good things, like power and down-force. Less of the bad things like weight and drag. With Honda increasing their involvement with the engine programme, it is possible that Jordan could move into a clear third as the Supertec engined teams struggle for power. Could '99 be the year of the "big three"?
Damon Hill
Damon Hill is starting the second year of his two year contract with Eddie Jordan's Silverstone based team. There is already speculation that he would like to stay for a third year and have a serious shot at the title. If the team can provide him with a front running car then he could be the only challenger to prevent a McLaren-Ferrari whitewash. Should the car fail to live up to expectations this could be the eighth and last year of Formula One for Damon Hill.
Heinz-Harald Frentzen
The enigma that is Frentzen continues in F1 for another year, this time with Jordan. It will be interesting to see which one of these two ex Williams refugees wins the inevitable team mate battle that is part of life in Formula One. For Frentzen the stakes are high. To hold his place in a serious team moving forward, or to continue his slide back towards the mid-field. Put another way, can Eddie Jordan succeed in unlocking Frentzen's potential, where Frank Williams failed?
Benetton B199, Supertec V10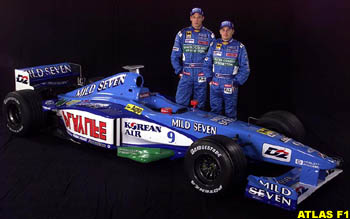 Benetton claim that the B199 is totally different to last years unsuccessful 198. Amongst their revolutionary ideas is the "Front Torque Transfer" system(FTT) - which is basically a way of improving stability on corner entry by eliminating front brake lock up. Benetton are obviously hoping to win back by technology in the corners what they will lose on the straights due to Supertec's expected lack of horses. New team boss 29 year old Rocca Benetton - the third in three years - faces the task, together with technical director Pat Symonds and designer Nick Worth, of reversing the team's declining fortunes. It will not be easy, the battle for the title as "best of the rest" looks as tight as ever.
Giancarlo Fisichella No longer the new boy Fisichella needs to start delivering on his undoubted promise. It will help that for the first time in his Formula One career he will be staying for a second year in the same team. Some still question his ability to stay focused throughout an entire race and this, more than his outright speed, seems to be in question.
Alexander Wurz
The 25 year old Austrian will be looking to build on what was an impressive debut season. Second seasons are traditionally more difficult as mistakes are less easily tolerated, whilst the pressure from the team is likely to increase. If the new car can deliver then Wurz could be in line for a first win. Unlikely perhaps, but possible.
Sauber C18, Petronas V10
The Sauber team start the year with perhaps more reasons for genuine optimism than ever before. It was the mid-field teams like them that suffered most from the Goodyear- Bridgestone tyre war, now a thing of the past. They start the season powered by Monza '98 specification, Petronas badged Ferrari engines, which should give them a power advantage over most teams on the grid. If the team can develop their car consistently throughout the year and the promised Ferrari upgrade is delivered, Sauber may yet embarrass some of their more illustrious rivals in '99.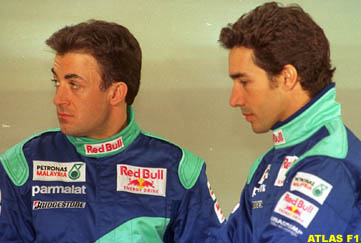 Jean Alesi
Now more than ten years into his Grand Prix career and still a question mark hangs over Jean Alesi. The raw talent is there, but neither Ferrari or Benetton were able to successfully tap it. Now into his second year with Peter Sauber's Swiss based outfit his fortunes are impossible to predict. If the car is good Alesi might still steal a win somehow, but if the car disappoints, the odds are that Jean will too.
Pedro Diniz
This season marks the best opportunity for Pedro Diniz to finally prove that he has earned his place in Formula One on driving ability alone and not just due to the size of his wallet. He has at times during the past two seasons shown up well at against more highly rated team mates and his contest with Alesi will be interesting to observe.
Arrows A19B/A20, Arrows V10
The Arrows "will start their turnaround this year" story is getting as long in the tooth as the Ferrari saga. The financial security seemingly guaranteed by the recent buy-out of the team is unlikely to have any positive outcome this season save that of ensuring that they make the grid in the first place. They are still the only team, with Ferrari, to manufacture their own engine. This is still a mixed blessing although one assumes that now some serious development work can commence. Tom Walkinshaw remains in charge of all things technical and the experienced Scot knows that results are the only thing that will restore a reputation that has recently come under considerable pressure. The seemingly "tug of money" over whether to employ Salo or Takagi does not bode well for the team's '99 prospects.
Toranosuke Takagi
The late inclusion of Takagi at the expense of the more experienced Salo is yet another example that for some teams, at some times, the need for cash is greater than the need for speed. That said, the 27 year old Japanese driver showed last year that he could hustle his Tyrrell around at a respectable pace and he could well do the same for Arrows in '99.
Pedro de La Rosa
Pedro was the Jordan team's test driver last year and has already impressed his new team by being quicker than Salo on occasions in pre-season testing. He spent three years racing in Japan, winning the Japanese F3 title in 1995 and back to back Formula Nippon titles in '96-'97.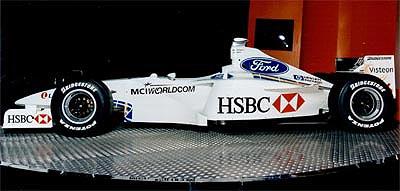 Stewart SF3, Ford V10
There appears to be an air of real optimism coming from Jackie Stewart's Ford powered team this year. The SF3 was launched much earlier than its predecessor the SF2 and there has been a back to basics approach to this year's car. There has also been much speculation that unless they can deliver some much improved results, Ford will take over the team which is in line with the current trend of direct manufacturer involvement. Early testing has confirmed the car's initial potential, but also some serious bugs with the new lighter Cosworth engine.
Rubens Barrichello
It still seems hard to believe that this likable 26 year old Brazilian is about to commence his seventh year in Formula One. A second place finish in the '97 Monaco Grand Prix remains the highlight of his time with Stewart and clearly he needs to eclipse that if he is going to re-start a rather stalled career. Barrichello has in the past proved to be somewhat mentally fragile when paired with a quick team mate and Johnny Herbert is likely to present him with a sterner test than either Magnussen or Verstappen.
Johnny Herbert
The last three years at Sauber yielded very little in the way of solid results for this 34 year old Monaco based Briton, who still remains one of the most popular drivers in the pit lane. The Stewart drive was something of a lifeline after a mostly unhappy '98 with Sauber and Herbert must make the most of this opportunity if he is to stay in F1. A proven winner, he might just be the Stewart driver to benefit most should the SF3 prove to be both fast and reliable.

Prost AP02, Peugeot V10
The initial Formula One design from the Prost team the, AP01, was a total disaster and it therefore comes as no surprise to learn that they started from a clean sheet of paper for the AP02. Now based at a new factory at Guyancourt, outside Paris, things can only get better for what has become virtually a French national F1 effort. Question marks remain however on the level of engine supplier Peugeot's commitment and whether Alain Prost can successfully integrate the technical input of John Barnard's B3 design group based in the UK with his own Paris based team.
Olivier Panis
The revelation of the mental pressures experienced by Panis during the '98 season puts his results (or the lack of them) into a new prospective. Not only saddled with an unreliable and evil handling car, the Frenchman was advised that any further injury inflicted on his legs prior to the removal of the pins and supports inserted into them following his Canadian GP crash of '97, would almost certainly end his driving career and also, possibly, his ability to even walk. Free now from these worries he must be hoping that the AP02 allows him to continue the form he showed in early '97 where he at times threatened the leaders.
Jarno Trulli
Trulli's career suffered something of a setback in '98 courtesy of the uncompetitive Prost AP01 that interrupted a hitherto meteoric rise to F1 stardom. His name has already been linked to some of F1's most illustrious teams and although his career can probably survive a one year hiatus, two years would seriously test memories in a notoriously fickle sport where momentum is everything.
Minardi M01, Ford V10
Once again Minardi have produced a neat little car to be propelled by a lower tech version of the Cosworth V10 which also powers the Stewart team. The car has shown promise in initial testing and the team may still challenge some of its more well-heeled brethren on occasions. Points finishes will almost certainly remain out of reach, podiums can only be dreamed of.
Marc Gene
Marc Gene becomes the first Spanish driver in Formula One for some ten years and follows the Minardi "tradition" of being well supported financially. Fortunately he has a solid background in the lower Formula's including two years in the British F3 series and some European F3000 experience. He impressed the team in a late '98 test session which secured his drive and has set some impressive test times with the new car at Barcelona.
Luca Badoer
Badoer returns to the Minardi team having driven for them during the 1995 season. The current Ferrari test driver, Badoer's F1 experience dates all the way back to the '93 season when he drove for Eric Broadley's Lola-Ferrari team. Though he may lack Gene's raw speed, his car sorting skills will be highly valued by a team with limited resources.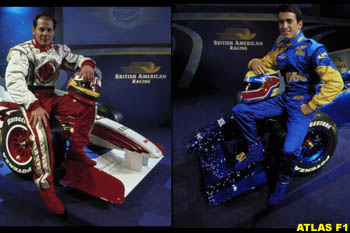 BAR 01, Supertec V10
Few teams have arrived in Formula One with such a high profile as British American Racing(BAR). Liberally funded by British American Tobacco to the tune of around US$250 million and in partnership with the highly successful racing car manufacturer Reynard, they have set themselves the public target of winning their first ever F1 race. The car is powered by the Supertec engine and has been described by its designer Malcolm Oastler as being a "contemporary F1 car." Reality, in the form of extended reliability problems in the course of a 5 day test at Kylami, will have sounded some warning bells of the magnitude of the task ahead. Just how the BAR team will fare during the next seven months of Grand Prix action promises to be one of the fascinations of the '99 season.
Jacques Villeneuve
Jacques Villeneuve's decision to turn his back on the '90's most successful team Williams and drive for the fledgeling BAR outfit is most certainly a risk to his driving career despite the undoubted financial benefits. There is no doubt that the team will be based around him and after a rather difficult time getting his set-up preferences accepted at Williams, this will be a welcome change. Whether the aggravation that comes from driving for a new team will be seen as worthwhile come Suzuka is a moot point.
Ricardo Zonta
Ricardo Zonta would rate as one of the most talented newcomers to enter Formula One for a long while. The 22 year old Brazilian has won the European F3000 and GT1 titles in successive years. Last year he tested for both McLaren and Jordan teams and proved to be extremely quick. He will relish the opportunity to be compared against a former world champion in the same equipment and may turn more than a few heads.