Spanish Grand Prix Review

---

Circuit de Catalunya, Barcelona, Spain
8th - 11th May 1998
by Paul Ryder, England
The F1 Circus arrived at Barcelona for the 5th Grand Prix of the season, with the championship 'top 3' - consisting of Mika Hakkinen, David Coulthard and Michael Schumacher - closed up after Imola. Mika Hakkinen was keen to re-establish his place as 'Number One' in McLaren after Coulthard's only win of the season so far last time out, a win which was perceived by many as important to both drivers for showing McLaren who should and can be the World Champion.
The 'best of the rest' were all looking for improvement in Barcelona: Ferrari tested their new exhaust system the prior week and decided that both cars would use it at the race after impressive performance during testing; Williams were also looking for a drastic improvement, as time is running out for them, if they are to stand any chance of winning this year; and both Benetton and Jordan looking for that extra bit of speed which can take them closer to Ferrari, currently the only team catching up to McLaren.
Before the race
As in Imola, qualifying was no surprise. Mika Hakkinen dominated the free practice sessions, with times more than 0.4 seconds ahead of team mate David Coulthard, who was having problems finding confidence within the car on this track. Hakkinen set the pace from the start, claiming pole with a time of 1:20.262, his fastest time of the weekend. David Coulthard could only manage 1:20.996, 0.734 adrift of the Finn. This would normally have resulted in a worse grid position than second, but because of McLaren's sheer dominance at this circuit and in general, he still had over 0.8 seconds over Michael Schumacher on 3rd, compared to his 7th position in free practice.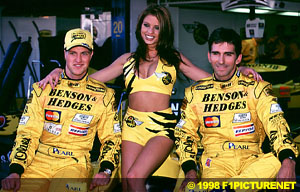 The Benetton pair had a good session for once, claiming 4th with Giancarlo Fisichella and 5th with Alexander Wurz. Eddie Irvine claimed the 6th spot with fellow Britons Johnny Herbert and Damon Hill both putting in impressive runs to take up 7th and 8th respectively. A fantastic performance from Rubens Barrichello placed his Stewart in the 9th place, compared to teammate Jan Magnussen down in 18th place. The Williams pair appeared to be struggling here even more than in previous races, with Jacques Villeneuve only able to manage 10th place, only shortly after going off circuit in attempt to improve, and teammate Heinz-Harald Frentzen finding himself back in 13th place. This is by far one of the worst qualifying sessions for Williams in memory, but then again, so is their season so far. Other notables were Jean Alesi down in 14th, and Ricardo Rosset who sadly failed to meet the 107% time limit, probably because of the McLaren dominance.
All this meant that the race looked settled before the lights went out on Sunday.
The Race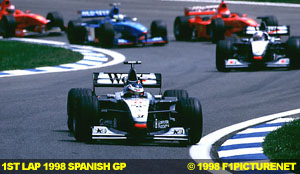 As the grid shot away on a bright and sunny track, Mika Hakkinen lead into turn one with no challenge from team mate David Coulthard who took up second spot. Michael Schumacher was left behind slightly, enabling Eddie Irvine and Giancarlo Fisichella to shoot past him, both nearly coming together going into turn one, forcing Fisichella to use the dirt to avoid collision. Alex Wurz kept his 6th place and fantastic starts from both Rubens Barrichello and Jacques Villeneuve leapt them both up to 7th and 8th respectively.
Heinz-Harald Frentzen had a bad first lap (and a terrible race), and whilst trying to pass Alesi around the outside of the first corner, both cars spun and ended up at the back of the field. Positions at the end of lap 2 where as follows: Hakkinen -> 3.300 -> Coulthard -> 2.700 -> Irvine -> 0.600 -> Fisichella -> 0.900 -> M.Schumacher -> 1.200 -> Wurz.
Hakkinen had already opened up a 4 seconds gap to Coulthard, which was destined to increase at 1 second per lap with David pulling away from 3rd placed Irvine at a slower rate.
By lap 8 the top 10 remained unchanged, with all the racing going on in the lower places. Hakkinen, still pulling away from Coulthard, was now 8.1 seconds ahead of his teammate, who held a 5.2 second lead over Irvine. Fisichella was closer to Irvine, with only 1.3 seconds separating the Ferrari and the Benetton. Michael Schumacher was still in 5th place as the ham in the Benetton sandwich, with 1.2 seconds behind Fisichella and 2 seconds ahead of Wurz. There followed a 6.1 seconds gap before Barrichello in 7th place with Villeneuve in 8th, closely followed by Herbert and Hill.
On Lap 10 there was still no change in the running order of the top 10, with Prost driver Olivier Panis in 11th and his teammate Jarno Trulli in 12th. The rest of the field was rounded out with Jan Magnussen, Mika Salo, Tora Takagi, Ralf Schumacher, Jean Alesi, Shinji Nakano, Esteban Tuero, Heinz-Harald Frentzen and Pedro Diniz. So far over the race, both Ralf Schumacher and Jean Alesi have failed to match the pace of their teammates.
Hakkinen's gap to 2nd placed Coulthard continued to increase until lap 15, when he began to encounter traffic. Coulthard was now 13 seconds behind the Finn.
Thus, on lap 15, the top 10 looked like this:
Hakkinen -> 13.000 -> Coulthard -> 6.100 -> Irvine -> 1.900 -> Fisichella -> 2.100 -> M. Schumacher -> 3.800 -> Wurz -> 10.600 -> Barrichello -> 3.100 -> Villeneuve -> 0.600 -> Herbert -> 1.800 -> Hill.
The two noticeable battles in the top 10 were those of Irvine and Fisichella, with Michael Schumacher poised to take advantage, and that of Herbert, who was still putting pressure on Villeneuve but was unable to get close enough to make any challenge.
By lap 20 Hakkinen's lead was down to 12.1 seconds. Irvine had now managed to open up a gap of 3.6 to Fisichella, and likewise Villeneuve, now 1.1 seconds ahead of Herbert in his Sauber. Coulthard took another half a second off Hakkinen's lead the following lap, obviously dealing with the traffic better than the Finn. On the same lap, both Arrows cars retired as they came down the start finish straight. Both cars had engine problems, and came to a smoking halt yards from each other, in what seemed a rather comical way to exit a race.
Lap 22 and the pitstops began. Barrichello, Herbert and Hill all pitted for the first of two stops. Wurz and Trulli stopping one lap later for fresh fuel and rubber.
Eddie Irvine and Giancarlo Fisichella left their stops till lap 25. This allowed Schumacher, yet to pit, to take up 3rd place and open a gap of 17.7 seconds before his stop. Schumacher is renowned for his quick laps before stops, which often is the key to him getting that extra race position, and a testament to Ferrari tactics. Hakkinen stopped on lap 26 getting back out in second place. Coulthard and Schumacher pitted on lap 27, along with 6th placed Villeneuve.
Upon exiting the pit lane, Schumacher managed to slip out just in front of teammate Irvine, leaving "Fast Eddie" struggling to hold off Fisichella, who was now 0.3 seconds behind the Ferrari. It is interesting to note that before Irvine and Schumacher pitted, Irvine held a 5.3 seconds lead over his teammate. With Only three laps later, Schumacher was leading Irvine by 1.5 seconds, a total loss of 6.8 seconds for Irvine, which left him in a very difficult position in the race.
On lap 28 Fisichella, 0.3 seconds behind Irvine, made a move to the outside of Irvine going into turn 1. Despite being on the dusty part of the track, the Italian continued the move and the cars collided taking both drivers into the gravel and out of the race. What followed was a very heated reaction from Fisichella toward Irvine. Fisichella was obviously blaming Irvine for the incident, he in fact looked almost ready to start a fight, but the Irishman calmly walked to the tyre barrier holding back any desire to continue the argument. In this kind of a situation, both drivers are to blame and it is usually put down to a racing incident, but oddly enough the race officials chose to punish Fisichella, with a $7,500 fine.
Back to the race, where at lap 30 the positions where as follows:
Hakkinen -> 15.400 -> Coulthard -> 14.500 -> M.Schumacher -> 8.800 -> Wurz -> 19.600 -> Barrichello -> 0.900 -> Villeneuve -> 2.600 -> Herbert -> 5.000 -> Hill -> 2.200 -> Panis -> 15.400 -> Trulli.
Coulthard seemed to realise he could be put under slight pressure from Schumacher if he allowed matters to continue, so he pulled away from him over the next few laps. There was a big gap of 13 seconds back to Wurz, and another 20 seconds from Wurz to Barrichello in the Stewart. Rubens was still under pressure from Villeneuve, who was equally under pressure from Herbert. On Lap 38 Michael Schumacher was called in for a pit lane speeding 10-seconds penalty, leaving the pits 1 position back in 4th place, but only 4.2 seconds adrift of Wurz.
The second round of pit-stops began on lap 42. Panis and Ralf Schumacher stopped along with Heinz-Harald Frentzen who was still at the rear of the field. Frentzen exited the pit lane just in front of Damon Hill, who was ready to lap the German. Frentzen proved difficult to pass, and Hill later said he believes this was intentional. At one point Hill attempted to pass the Williams but was forced to run wide and off into the gravel and back onto the circuit. After the race Hill blamed Frentzen for the incident, branding him a dangerous driver and "one brick short of a load".
On Lap 44 Barrichello, Herbert and Hill stopped, followed a lap later by Hakkinen and Villeneuve. A further lap later (lap 46) saw Coulthard and Wurz pit with Michael Schumacher making his stop on Lap 48 and coming out notably ahead of Wurz.
The positions at the end of the 2nd round stops were:
Hakkinen -> 6.000 -> Coulthard -> 39.800 -> M.Schumacher -> 4.500 -> Wurz -> 25.500 -> Barrichello -> 2.600 -> Villeneuve.
Over the next few laps Hakkinen opened up the gap slightly to 9.4 seconds. Barrichello was still doing well in 5th place, followed by Villeneuve in the points in 6th, with Herbert still trying to close up. It was later revealed, though, that Herbert was racing at this point with a cracked exhaust. Herbert's team mate Jean Alesi had by now moved up into 10th place after recovering from his earlier accident with Frentzen.
On lap 59 the top positions were:
Hakkinen -> 8.00 -> Coulthard -> 35.500 -> M. Schumacher -> 12.600 -> Wurz -> 36.800 -> Barrichello -> 2.900 -> Villeneuve -> 0.600 -> Herbert -> 23.800 -> Panis
The recent run of bad luck for Olivier Panis and the Prost Grand Prix team continued as on lap 60, the AP01 retired because of yet another mechanical failure.
Positions remained the same over the next 6 laps. Hakkinen, by now going at a slightly slower pace, was able to keep a reasonable gap between himself and Coulthard. Schumacher was unable to do anything about the 37 seconds gap between himself and Coulthard, and had settled a long time ago for 3rd place. Wurz was 15 seconds behind Schumacher but again was unable to give himself a shot at a podium finish. Barrichello followed 42 seconds behind, with Villeneuve putting him under increasing pressure. Villeneuve, however, could not find a way past the Brazilian and settled for 6th in the end. Frentzen, who had made an impressive run to get to 8th place (although this was aided by incorrect usage of blue flags by the marshals), now followed Johnny Herbert.
Hakkinen took the flag at the end of lap 65, followed 9.4 seconds later by Coulthard, M. Schumacher, Wurz, Barrichello and Villeneuve.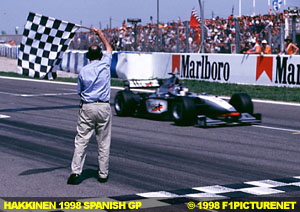 The race itself was far from exciting with the only action being during the pit stops and even then this didn't affect the McLaren domination. Ferrari predicts their team will close the gap in Monaco and we will hopefully see a different race there. Hakkinen drove a superb race leading from start to finish and dominating throughout the weekend. The battle between the McLaren teammates continues unabated but it seems that the Finn is gaining the upper hand. Benetton gave an impressive performance, slightly clouded by Fisichella's move and post-crash argument with Irvine. Rubens Barrichello did a great job holding 5th place, giving a fantastic result for the Stewart team, which made Jackie Stewart a very happy man and released a lot of pressure from the British team. World champion Jacques Villeneuve finished in 6th and, along with Heinz-Harald Frentzen, must be wondering when, if ever, things are going to get any better.
Onto Monaco, and hopefully a more exciting race.
The Times (65 Lap Race)
---
Pos
Driver
Team
Time
Lap
1
Hakkinen
McLaren Mercedes
1h33:37.621
65
2
Coulthard
McLaren Mercedes
+ 0:09.439
65
3
M.Schumacher
Ferrari
+ 0:47.049
65
4
Wurz
Benetton Mecachrome
+ 1:02.538
65
5
Barrichello
Stewart Ford
+ 1 Lap
64
6
Villeneuve
Williams Mecachrome
+ 1 lap
64
7
Herbert
Sauber Petronas
+ 1 lap
64
8
Frentzen
Williams Mecachrome
+ 2 laps
63
9
Trulli
Prost Peugeot
+ 2 laps
63
10
Alesi
Sauber Petronas
+ 2 laps
63
11
R.Schumacher
Jordan Mugen
+ 2 laps
63
12
Magnussen
Stewart Ford
+2 laps
63
13
Takagi
Tyrrell Ford
+2 laps
63
14
Nakano
Minardi Ford
+2 laps
63
15
Tuero
Minardi Ford
+2 laps
63
16
Panis
Prost Peugeot
Mechanical
60
NOT CLASSIFIED
Hill
Jordan Mugen
Engine
19
Fisichella
Benetton Playlife
crash
37
Irvine
Ferrari
crash
37
Salo
Arrows
engine
44
Diniz
Arrows
engine
45
Fastest Lap: M.Hakkinen - 1'24"275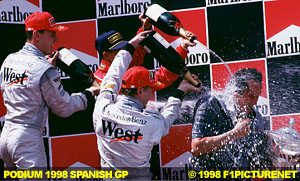 ---
Paul Ryder
Send comments to: paul@f1world.com