1998 SuperStats
---
Spanish Edition. Compilation by Rory Gordon, Australia
This edition of the SuperStats, for the 1998 Grand Prix of Spain, presents some new figures - based on the race morning Warm-Up session.
The figures in the table below are based on the average in each category for each driver so far this season. The table is sorted merely by driver name.
While the original intention was to see if there was any connection between warm-up position and final race position (which will be featured in another edition of the SuperStats), in compiling the figures, this table virtually constructed itself.
Please remember that the figures are based on each driver's average performance so far this season, and so the following facts may need to be considered: Rosset failed to qualify for the GP of Spain; Herbert's time in the warm-up for the GP of Argentina was officially 9m18.807s; and, a number of drivers (Barrichello, Magnussen, R Schumacher and Takagi) failed to record a fastest lap at one or more GP.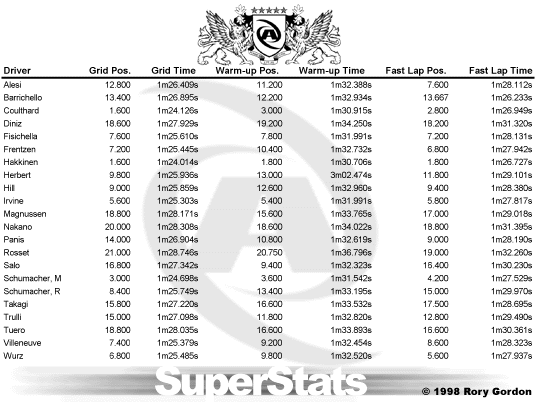 ---
NOTES
The raw data are copyright © 1998 Fédération Internationale de l'Automobile (8 place de la Concorde, Paris 75008 France). These compilations are copyright © 1998 Rory Gordon. Reproduction in any form of these compilations is forbidden without the express permission of the compiler.
The data are subject to revision. The compiler will not be held responsible for any errors or omissions.
For any comments, please contact the compiler.
Rory Gordon
Send comments to: gordon@atlasf1.com