Grand Prix of San Marino Preview

---

Autodromo Enzo e Dino Ferrari, Imola, San Marino
24th - 26th April 1998
by Max Galvin, England
Ferrari and Michael Schumacher took victory at the last Grand Prix in Argentina thanks to errors by McLaren, tyre developments by Goodyear and a good drive by Michael Schumacher. Arriving at Imola the pressure is on both McLaren and Ferrari to keep winning and on Williams to get back to the front of the grid again.
Weather forecasts indicate hot weather for the weekend and this will undoubtedly worry the Goodyear teams who have suffered from excessive wear in hot conditions in the past. The Bridgestone teams, on the other hand, will be happy as their tyres work best in warm conditions. Of those teams, both Benetton and McLaren will be happiest as it should push them ahead of their closest opponents and perhaps see the first all-Bridgestone podium.
A lap of Autodromo Enzo e Dino Ferrari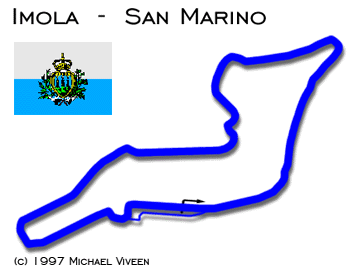 he circuit starts with the drivers hard on the power, passing the start-finish line flat out, heading towards the entrance of the Tamburello. After shedding around 100mph and dropping down to 2nd gear, the cars are back hard on the power again on the run up to Villeneuve, a 4th gear (130mph) corner completely destroyed by the "improvements". A short spurt back onto the power on the approach to the tight Tosa corner. The cars slide quite a lot on the exit as they try to get the power down hard on the run up the hill. At the crest of the hill there is a quick flick right at full speed before the drivers have to scrub off some speed for the entry of the 4th gear Piratella.

After Piratella there is a short downhill section before the Acque Minerale. Once again, the drivers have to get on the power as soon as possible for the short, but relatively steep climb to the Variante Alfa, a tricky third gear chicane with very slippery curbs on the exit.

Yet again, it is hard on the power, for a very fast downhill right-hand bend, passing under the bridge. Hard on the for the deceptive 2nd gear (70mph) Rivazza section, and then back on the power as the drivers speed towards the end of the lap. The cars usually hit around 170mph before scrubbing of half of their speed for the entrance to Variante Bassa and the final corner, Traguardo. After the exit it is hard on the power and a quick glance at the pit board before the next lap starts.

Circuit length: 3.040 miles / 4.892 km Race length: 63 laps (191.504 miles / 308.196 km)

What happened last year?

Atlas F1 1997 San Marino Grand Prix Review
1996 Race Results
1.
Heinz-Harald Frentzen
Williams-Renault
1hr31:00.673s
2.
Michael Schumacher
Ferrari
+ 1.237s
3.
Eddie Irvine
Ferrari
+ 1:18.343s
4.
Giancarlo Fisichella
Jordan-Peugeot
+ 1:23.388s
5.
Jean Alesi
Benetton-Renault
+ 1 Lap
6.
Mika Hakkinen
McLaren-Mercedes
+ 1 Lap

---

Pole position:
Jacques Villeneuve
Williams-Renault
1:23.303s
Fastest lap (42):
Heinz-Harald Frentzen
Williams-Renault
1:25.531s
The Field
Winfield Williams-Mecachrome Goodyear
Williams have now suffered 3 Grands Prix in a row with appalling results taking just 8 points home from the 6 starts. For any top-flight team this would be bad but for a team with the recent record that Williams has, this is unacceptable. Obviously the entire team are doing their best to pull them out of the rut they're in, but there doesn't seem to be an immediate fix. People at Williams have said that the new Goodyear tyres that have worked wonders for Ferrari have done little for them and short of another new tyre or major redesign of the car, this won't change. Still, a disaster for Williams still leaves them capable of picking up tail end points with Jacques Villeneuve looking more potent in both races and qualifying session. Outside shot of the podium, but more likely to scrape the low points.
Marlboro Scuderia Ferrari Goodyear
Ferrari arrives at their first "home" Grand Prix of the season with the expectations of the Tifosi on their shoulders for a win. Even though the car is good, the tyres much better than before and the drivers fired up, it will take more that Ferrari have got to topple McLaren if the "Silver Arrows" are on form. That said, both Eddie Irvine and Michael Schumacher are driving well and both are capable of top 4 qualifying positions and top 3 finishes. Schumacher is sure to have the upper hand in both race and qualifying and it would take reliability problems or an uncharacteristic error from the German for Irvine to beat him in either.
Mild Seven Benetton-Playlife Bridgestone
As I've said before, Benetton have been rejuvenated and a lot of it seems to be down to Alex Wurz. Not only is the young Austrian fast over a single lap, but in races he drives like a man possessed without apparently exceeding the limits of the car. Giancarlo Fisichella on the other hand, has gone from the "driver most likely to succeed" to "disappointment of the year" so far and for no apparent reasons. Whether this shows that Wurz is just better than previously thought or Fisichella more fragile when faced with such a fast team mate I can't tell but he needs to do something if he is to keep his seat beyond the end of 98. As far as results go expect qualification in the top 10 from both drivers and a top 6 finish from Alex at least. If Fisichella rediscovers his form in front of his Italian fans, then he might be up there as well.
West McLaren-Mercedes Bridgestone
McLaren's only aim this weekend has to be total domination. Following a poor performance in Argentina, Ron Dennis will be keen to show it was an aberration and not the sign of things to come. Mika Hakkinen was not on form in Argentina and settled for second place when he could have won and David Coulthard was more than a little erratic so both drivers have room for improvement. With the hot weather forecast for the weekend, the Bridgestone tyres should come into their own and leave McLaren clear once again. If this wasn't enough, their car is tremendously fast in a straight line and as such should be well ahead. Expect Mika to have the upper hand over David all weekend, but both drivers to be on the podium.
Benson & Hedges Jordan-Mugen Honda Goodyear
If Jordan are to be believed, Imola should be the first race where they will be on the pace following dismal showings in Australia and South America. Ralf Schumacher has been fast when on track but more often than not has been unable to stay off the grass for very long and Damon Hill has just generally been slower but more consistent. Sadly consistency is no use if it means consistent 8th place finishes and the team and drivers know this. An extensive testing schedule has left them with reworked rear suspension that has supposedly improved the car dramatically. With the strength of the opposition they will need to have improved by an amazing amount or have an amazing number of the others to retire to be in a position to fight for the top spots so I would expect them to be lucky to win their first points here. Expect Ralf to be faster than Damon in qualifying but for the former World Champion to teach his team mate a thing or two in the race.
Gauloises Blondes Prost-Peugeot Bridgestone
Another of 1998's disappointments is the lack of performance showed by the Prost team. So far Alain Prost's boys in blue have either been unreliable, slow or both at the same time. Last week both Jarno Trulli and Olivier Panis outpaced Johnny Herbert at Magny-Cours testing, but the team have always had an advantage at the French circuit so it's hard to tell whether this indicates an upturn in fortunes or not. The Peugeot powerplant should be a big advantage at Imola so they should show better than they have so far and both drivers are easily capable of getting the best from the AP01 chassis so there won't be any problems there. Sadly, I still think they have too much left to do so the best they can hope for is a lucky point following a string of retirements from the other teams.
Red Bull Sauber-Petronas Goodyear
Sauber are have performed well so far in 1998 with one of the two drivers usually up at the sharp end of the race. Sadly it seems they are still only able to get one car running well at any given time despite having two talented and experienced drivers in the team. The start of the European season also usually signals the start of the decline of Sauber as developments arrive on other teams cars and they stand still, but in 1998 the Hinwill based team aim to avoid this. Whether they can remains to be seen but both Johnny Herbert and Jean Alesi will be sure to do their best and spur both the team and each other on. I would expect both drivers to be very close in both qualifying and the race as both have driven here extensively over the years. Expect top 10 grid positions and a possible top 6 finish for both drivers.
Danka Arrows-TWR Bridgestone
Arrows is looking weaker by the race. In Argentina both drivers were gone well before half-distance following a terrible qualifying session where Mika Salo and Pedro Diniz qualified 17th and 18th respectively, only beating both Minardi's, 1 Stewart and a Tyrrell. For men like Tom Walkinshaw and John Barnard, used to running at the front, this must be a terrible situation to be in but it really appears to be one that all the money in the world will not fix in 1998. Arrow's in-house engine needs a lot of work and the innovations on the chassis also need time and more than likely a second generation of evolution to work properly and this isn't something that gets done overnight. Mika Salo is certainly faster than his team mate, but not by much, further suggesting that the car is the limiting factor, not the drivers. Expect both cars to be around the tail end until their retirement before half the race is over.
Stewart-Ford Bridgestone
Stewart is suffering from exactly the same problems as Arrows, but with the backing of a major works engine behind them. Rubens Barrichello is again looking the superior of the two drivers with Jan Magnussen apparently reverting to his early '97 form. When on track the team seems unable to get anywhere near the pace you'd expect of the works Ford team but reliability cripples them long before finishing at the back becomes much of a worry. Expect lower midfield qualifying positions for Barrichello with Magnussen some distance behind him and midfield racing for both.
Tyrrell-Ford Goodyear
On recent form it would be hard to disagree with Ken Tyrrell that 1998 is a good year for his former team. They have a neat chassis, a decent engine and seem to be getting the best out of the Goodyear tyres. Toranasuke Takagi has done wonders so far taking the Tyrrell further up the grid than it has been seen since 1994 but their second driver, Ricardo Rosset is well behind and shows no signs of improving fast. Reliability seems suspect but not as poor as the other teams. Midfield positions in qualifying and race for Takagi seem on the cards, but for Rosset you will need to look around the back of the grid.
Minardi-Ford Bridgestone
Minardi are arriving at their first home Grand Prix of 1998 with as little chance of points as usual. The engine is the same as Tyrrell use (therefore not too bad) and they have good tyres, but the chassis is said to be one of the worst from the small team for several years. This means the drivers have little faith in it and are unable to do their best as they do not feel safe taking it to its limits. Esteban Tuero and Shinji Nakano seem on a par, but expect them to be around the back of the field in both qualifying and the race.
Enjoy the race...
---
Max Galvin
Send comments to: galvin@atlasf1.com