McLaren's double WC is attributed, to much extent, to Adrian Newey - the highly acclaimed and ingenious car designer. This is his story.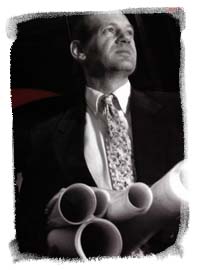 For a lad who left school at 16, the plum job of technical director at the McLaren International racing team would probably seem like a lofty and impossible dream. You just don't get that kind of post if you've flunked college, do you? Well, yes, actually you do. And Adrian Newey is living proof. Not only did he drop out of school but, when he eventually got himself into higher education, he almost failed to finish that as well. "At one point I almost dropped out of university altogether," he says. "I was thinking: 'I just can't do this.'"
It's an extraordinary admission from a man who is now acknowledged as world motorsport's leading aerodynamic engineer. A quiet, slightly self-effacing 39-year-old, Newey is in such demand that he is in a position to choose who he works for, rather than a team choosing him.
His current expertise is the peak of a lifetime's slow accumulation of knowledge, starting with some very rough-and-ready self-taught mechanics. The son of a Warwickshire vet, Newey was always fascinated by cars and spent hours as a boy assembling the popular Tamiya 1/12th scale model F1 kits. "They were great because they taught you about all the components of a racing car," he says. "All the parts were labelled 'rear upright' and 'rear top wishbone', which taught you which bits were which as well as the terminology involved."
Despite his technical interest, it was driving that first attracted him to motorsport. "When I got into my teens I wanted to go karting, but my father said: 'Well, I'm not going to spoil you, so I will give you a pound for every one you earn on a paper round'. So the money available for karting wasn't great. I bought this knackered old Barlotti kart with a Villiers engine and off I went. It was hopeless, but it did teach me to maintain and modify it, which I think sparked my interest in the technical side."
Unfortunately, Newey was too busy wrestling with his education to think about a full-time career in motorsport - and he wasn't a star pupil. "I left school early - under a bit of a cloud, I have to admit," he grins. "Then I did an OND [Ordinary National Diploma] at the local technical college, which helped me get into Southampton University. To be honest, I was lucky to get in because this OND wasn't really equivalent to A-levels. I had a struggle keeping up."
Once there, however, Newey luckily met Ian Reed, who offered him a job when he went on to become one of many draftsmen at March Engineering. "To March's enormous credit, it recommended that I carry on with my degree course," he says. " Just as well, because it was only that, plus some timely encouragement from my lecturer, that persuaded me to stay on."
He graduated with a degree in astronautics and aeronautics and, at his subsequent position with March, at Bicester, quickly gained a reputation for aerodynamic innovation. "I'd done that particular degree because I felt racing cars were closer to aircraft than to road cars," he says. "As a result, my final-year project was on ground-effect aerodynamics. That proved very useful, because when I was subsequently writing to every racing team for a job I could point to this fact. It was also lucky timing, I suppose, because this was 1980, the year when ground-effect technology in F1 was really taking off."
March boss Robin Herd was something of a mentor to Newey and the diversity of the company's business meant that the fledgling engineer learned a lot in a short time. The company was involved in F2, sports cars and even built a special closed-circuit record car, but it was on the high-speed ovals of the US Indycar championship that Newey really honed his skills. It led him to the post of chief designer with the March team when it returned to F1 in 1988, a role which he retained until 1991 when he accepted an invitation to join Williams to work alongside Patrick Head.
Yet, as Newey concedes, even by that time the days when a single individual was almost solely responsible for the design of a specific Grand Prix car had long passed. Now, as he is quick to emphasise, it's a question of teamwork. "I try to be good at delegation," he says, "but I suppose you should really ask the people I worked with. I think it's important that people are given a reasonably free rein so that they can express themselves in engineering terms - provided it's within the overall team structure, of course."
So does he feel that leaving Williams late on in 1997 for McLaren was a career step - to graduate from chief designer to technical director? "I think, ultimately, Patrick [Head] and I got on well, but when it came to it he was my boss," Newey reflects. "The title 'technical director', as such, doesn't interest me. But I wanted more freedom, a fresh challenge. I'd been at Williams for seven years, remember.
"At Williams I had a great degree of autonomy, but no influence in other areas. I have more responsibility here at McLaren, and not just on the technical side. That's obviously the side I'm good at, but it's nice to be involved in other things like [working with the] drivers, the new factory and so on."
Newey surprised other engineers at McLaren with some of the ways he likes to do things. For instance, he still likes to map out his F1 designs on a drawing board, working to half-scale. "I just like to have everything laid out in front of me to a reasonable scale," he explains. "One of the limitations of a CAD/CAM system [Computer-Aided Design/Computer-Aided Manufacturing] is the size of the screen. It is just one of my personal preferences."
Ironically, at a time when Newey has gained more administrative freedom at McLaren, the 1998 narrow-track, grooved-tyre F1 regulations have conspired to tighten even further the design straitjacket within which Grand Prix car designers have to operate. Did he find that frustrating? "It can be," he admits. "From a technical point of view, it would be nice if the rules were less restrictive. The days of active suspension, anti-lock braking and traction control were tremendously interesting. Even so, we have done a good job with the MP4-13." With a double World Championship, clinched at the Japanese Grand Prix last weekend, Newey, at best, is being modest.
You wonder if he might have any particular formula for creating the right environment for his design work. Does he, perhaps, like to have music playing in the background while he concentrates on the high-tech intricacies of his work? The answer was instant and decisive: no! "At the end of my first-year exams at college, I listened to music all the time I was revising - and failed dismally!" he laughs. "I'm afraid that's one thing I struggle with: noise and distraction. I like peace and tranquillity to do my thinking. That's obviously in pretty short supply when I'm at a race track, but it's certainly the priority when I'm back here at the factory."
So does he like his racing car designs to be aesthetically pleasing, or does he believe that a car's looks must always be secondary to out-and-out performance? "No, I do like cars to be aesthetically satisfying," he admits. "Given two solutions in the wind tunnel which are aerodynamically identical, I will try to choose the pretty one. But ultimately you've got to go with the wind tunnel results and, of course, one has to satisfy the regulations. I have to say I think the new breed of narrow-track cars are less attractive than the previous ones.
"You have to realise that the changes for 1998 - the combination of narrow track, grooved tyres and wide chassis - represent the biggest technical change since the introduction of the flat-bottom rules at the start of 1983. But I think that rule changes through the years have proved that the teams that are quick before the changes remain the ones which are quick afterwards."
Newey freely admits that he would be interested in designing a road car at some time in the future and he tries to make time to indulge his passion for old cars. He has a pre-war Jaguar SS100 and took part in the historic Monte Carlo Rally a few years ago in, of all things, a Wolseley 1500. "Good fun, but a little bit like banging your head against a brick wall," he jokes. "It was nice when it stopped. I'm not sure I'd do it again."
For the time being, however, the helter-skelter intensity of life in F1 means that he is concentrating exclusively on a single ambition: to build the best Grand Prix car in the business for McLaren. A few would say nowadays, that he has not yet fulfilled that goal; Newey, on the other hand, is already working on the 1999 McLaren. As far as he's concerned, we haven't seen nothing yet.