It's time to give the teams and drivers their performance evaluation of 1998. Roger Horton explains who gets to graduate and who flunked.

Williams FW20, Mecachrome V10
3rd, 38 points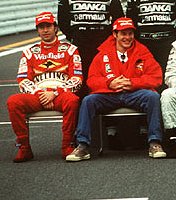 Judged against their own very high standards, Williams experienced a rather poor year in 1998. Obviously the loss of their Renault works engines and the departure of Adrian Newey played its part, as did Goodyear's decision to concentrate their efforts in Ferrari's direction. Maybe, just maybe, the many years of winning has sapped the motivation at the very top of the Williams management tree. The arrival of Alex Zanardi just might rekindle the spark required to move the team forward in readiness for the next major challenge, winning with BMW.
Jacques Villeneuve 5th, 21 points
Villeneuve deserves credit for the way he persevered during the season. From the time he was lapped during the season's opening race in Australia, it was obvious to all that he would be unable to effectively defend his title, yet he kept his head down and never "cruised" through the races. That said, he never managed to pull out the one performance that might have put some gloss on what overall became a season to forget for the French-Canadian. There were just too many mistakes, most notably in Canada - where an outside chance of a victory beckoned, the tangle with Coulthard in Argentina and the "offs" that cost him finishes at both Spa and Monza. If 1998 was "character building" then 1999 promises to be more of the same.
Heinz-Harald Frentzen 7ht, 17 points
Frank William's two years experiment with Frentzen as his "Schumacher beater" is over. The reasoning was flawed from the start, and in hindsight the decision for him to replace Hill looks as ill advised now, as it did back in late 1996. When he won convincingly at Imola last year and followed up with pole at Monaco, I thought he was on his way. But he proved unable to drive at that level consistently. This year we have seen more of the same. Flashes of brilliance, like his comeback drive from last to 8th in Spain, in between some very average performances. Just how much of this is due to the Williams team's famed "man management" techniques is hard to tell, but I am sure Frentzen is a lot better a racing driver than his result this year would suggest.
Ferrari F300, Ferrari V10
2nd, 133 points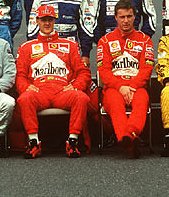 Ferrari spent most of the year playing catch up. This they did with commendable energy, showing once and for all that they now have in place the management structure and organization to win races and Championships. Their reliability record was second to none, Schumacher suffering just one engine failure in Australia, and a possible clutch problem in Japan. In the end this was not quite enough to snatch the Driver's title away from McLaren, but it was close.
Michael Schumacher 2nd, 86 points
In the end he narrowly failed to achieve his goal of winning the World Driver's title with Ferrari, but you always had the feeling the red car number 3 was being driven totally on the limit. Sure, he was aggressive, and if this aggression bought him wins in Argentina, Hungary and Canada, it cost him points at Monaco and Austria. The low point was undoubtedly Hockenheim, where an elementary driving error in the friday morning's practice session, followed by a rare mechanical glitch, seriously compromised his race performance. In the wet he was, as always, totally brilliant, his measured pace at Silverstone, where the conditions didn't suit his Goodyear tyres and his "dry" set-up, showed just how much of a thinking driver he has become. This only makes his collision with Coulthard at Spa, and its aftermath in the pit lane, all the harder to understand. Still the best driver on the grid by a wide margin.
Eddie Irvine 4th, 47 points
It is indeed hard to judge Irvine's true ability as a racing driver. He has made the choice to sign away his chances of winning races in exchange for the glory and money that driving for Ferrari brings. Just how much of his race weekend is compromised by the need to support Schumacher's efforts only insiders at Ferrari would know. At Suzuka, where events suddenly thrust him into the number one role, he finished a strong second, and ahead of Coulthard in a straight fight. All told he finished in the points a total of eleven times, including three second places. How many of these places would he trade for one victory, scored totally on his own merit?
Benetton Playlife B198, Mecachrome V10
5th, 33 points

For the first time since 1989 Benetton finished outside the top four in the Constructors Championship. Like everyone else they were blown away by the pace of the McLarens in Melbourne and unlike Ferrari they lacked the resources to fight back. Once the early season advantage provided by their Bridgestone tyres evaporated, they fell back behind both Williams and Jordan. The resignation of Dave Richards leaves the team in young and somewhat inexperienced hands. Benetton are a team at the cross-roads.
Giancarlo Fisichella 9th, 16 points
Overall Fisichella emerged from this season with his reputation enhanced. Benetton's decision to switch to Bridgestone tyres gave the team an edge in the early battle to be the "best of the rest" behind the dominant McLaren and Ferrari teams. He recovered well in mid-season to score two worthy second place finishes at Monaco and Canada, after being somewhat overwhelmed by his new team mate's early season's form. With his growing maturity he has seemingly put to rest some earlier question marks over his mental strength in tight situations, his Spanish clash with Irvine being the exception.
Alexander Wurz 7th, 17 points
At the half way point of the season Wurz could have been forgiven for believing that this business of being a Grand Prix driver was a doddle. With just three races under his belt prior to the season, he was finishing in the points with a monotonous regularity. Critics were mentioning his name in the same breath as Schumacher, even Ferrari were inquiring about the status of his Benetton contract. His Monaco clash with Schumacher was even praised as "laying down a marker" rather than attracting the criticism that others would perhaps have received. Reality, in the shape of Bridgestone's decision to concentrate their development to suit McLaren at the expense of the others, saw him struggle during the latter half of the season, and the points supply dry up. But for a first season, a mighty impressive performance.
McLaren MP4-13, Mercedes V10
1st, 156 points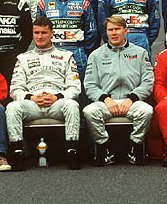 From the time they blitzed the field in Melbourne it was apparent that McLaren could effectively only lose the Championships - so great was their margin of superiority. Their troubles started with Hakkinen's gearbox problem at Imola, and continued with Coulthard's blown engine at Monaco. Both cars then retired in Canada, whilst the French race turned into something of a disaster, especially for Coulthard, who needed two extra pit stops due to troubles with his refueling rig. From the mid-season onwards it was clear that the team's priorities were centered around Hakkinen, and when his car was running perfectly he was dominant. Mechanical troubles at both Hungary and Italy, compounded by a driver error in Belgium, opened the door for Ferrari's late charge. Not to be forgotten, is the fact that the Adrian Newey designed cars, have now won the Constructors title six times in the last seven years. Who would bet against McLaren making it seven out of eight next year?
David Coulthard 3rd, 56 points
However hard he tries, it is going to be hard for Coulthard to look back on his 1998 season with much real satisfaction. One win against your teammate's eight is an unimpressive ratio by any standard. In the qualifying stakes it was 3-13 to Hakkinen, a huge margin in identical cars. In Argentina he was somewhat "savaged" by Schumacher, but thereafter his race fell to pieces, and he struggled home 6th. Mechanical problems blunted his Championship hopes at Monaco, Canada and France, and were finally extinguished when he spun out at Silverstone. Thereafter he was forced into a supporting role and was unable to prevent Schumacher's victory in Hungary, had a totally disastrous race at Spa, and was off the pace at the Luxembourg GP. There may be a World Championship in David Coulthard but not on this form.
Mika Hakkinen 1st, 100 points
For much of the season Mika Hakkinen enjoyed a car advantage over his main title rival Michael Schumacher. He exploited that advantage to the full and won eight races decisively. His early season victories in Brazil, Spain and Monaco were especially emphatic, races won from the front in dominating fashion. He experienced a mini mid-season crisis, with a retirement in Canada, a disappointing 3rd in France and a 2nd in Britain under controversial circumstances. All this whilst Schumacher surged to three straight wins. After more McLaren induced dramas at the Hungaroring and Monza, he struck back magnificently to score perhaps his best ever win at the Luxembourg GP, beating Schumacher decisively. In the final "battle of nerves" at Suzuka, he made no mistakes and, leading from start to finish, won in a manner worthy of a true Champion.
Jordan 198, Mugen Honda V10
4th, 34 points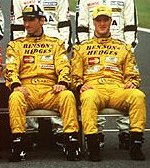 August 30th 1998 will be forever etched into the collective memories of Jordan Grand Prix. That was the date, when at their 127th attempt, they finally broke through and joined the select band of Grand Prix winners. That they managed a one-two at Spa, the 13th round of the Championship, after only scoring their first point of the season at the 9th round at Silverstone, puts into sharp focus just what effect the mid-season redesign overseen by outgoing technical chief Gary Anderson had. Chassis and aerodynamic improvements, along with more power from their Mugen Honda engine, all played their part.
Damon Hill 6th, 20 points
It is clear that at this stage in his career Hill needs to smell the front of the grid in order to produce top level performances. The early season Jordan was frankly awful, and it was noticeable that Hill was not prepared to go to the ragged edge to make up a place at the rear of a race. As his car improved so did his performances, and his victory at Spa was a well deserved reward for so much previous aggravation. Should the Jordan team's upward momentum continue, Hill could yet add to his already impressive tally of 22 wins.
Ralf Schumacher 10th, 14 points
A tale of two halves, this season of Ralf Schumacher. Prior to the British GP just about nothing went right. Forced to start from the rear of the grid, his mature drive through the field in the wet and difficult conditions to a 6th place finish at Silverstone drew universal praise. Afterwards he looked a different driver, and became a regular points scorer. Now on the move to the Williams team, just how his relationship with their Technical Director, Patrick Head, develops, will be one of the stories of next season and could well determine his future success as a Grand Prix driver. In Formula One, they will forgive you almost anything if you are quick, and Ralf Schumacher is.
Prost APO1, Peugeot V10
9th, 1 point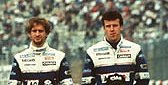 Clearly the challenge of designing a totally revised car to suit its new engine supplier Peugeot and moving from its Magny-Cours base to a new location outside Paris, proved too much for the Prost team in 1998. They ended the season with a solitary World Championship point to show for their efforts. Whether Alain Prost can successfully harness the talents of John Barnard to assist his team move up the grid remains to be seen.
Olivier Panis
To say that the 1998 season has been a struggle for Panis would be an understatement. At times it appeared that his relationship with the team had all but broken down and that a parting of the ways was inevitable. The Monaco win of '96 and the early competitiveness in '97 must be distant memories by now.
Jarno Trulli 15th, 1 point
Trulli out-qualified his more experienced teammate Panis 9-7 and scored the Prost team's only World championship point at Spa after a mature drive in very difficult conditions. Still young enough not to have to worry about lack of early success, he will no doubt be hoping that a more settled Prost team will provide him with the means to show off his undoubted talents in 1999.
Sauber C17, Petronas V10
6th, 10 points

The Sauber team finished the year in 6th position in the constructors table, a one place improvement from the previous two years. Clearly this team is struggling to make any progress towards the front end of the grid and one has to wonder at the wisdom of locking itself into an engine supply deal, that ensures it will never enjoy engine performance parity with Formula One's serious players.
Jean Alesi 11th, 9 points
I still think it's sad in a way when the highlight of Jean Alesi's year was a 3rd place finish at a rain soaked Spa. In times gone past he would have perhaps thrilled us all with his uncanny car control and stolen an unlikely victory. If Jean Alesi is mellowing as the years pass, I am unsure as to whether this is a positive or negative development.
Johhny Herbert 15th, 1 point
Herbert's hitherto good relationship with the Sauber team unfortunately did not survive the arrival of Alesi into the Swiss team's driver line up. A solitary point for his 6th place finish in Australia seems scant reward for a lot of hard driving. This, though, is the lot of the mid-field team driver and I cannot help but think that his move to Stewart is a case of out of the frying pan and into yet more fire.
Arrows A19, Arrows V10
7th, 6 points

For whatever reason, Tom Walkinshaw appears unable to land the engine supply deal that would be the salvation for his struggling team. The John Barnard designed A19 was a beautifully made car, that often showed well on tracks that allowed it to minimize the effects of a serious power shortage, from its in-house produced engine. With an already serious budget problem now acute, a buy out of the entire team is increasingly likely.
Pedro Diniz 13th, 3 points
1998 hopefully marks the end of Diniz's "pay driver" tag era. He out-qualified Salo five times during the season and was seldom far away in the races. His Sauber drive represents an opportunity to wipe away the few condescending smiles left in an F1 paddock that hates to be proved wrong, once it has signalled its collective judgement.
Mika Salo 13th, 3 points
A difficult year in a difficult car, mainly hampered by the lack of power provided by Arrows in-house engine. There is no driver in the F1 paddock with a bigger self-confidence than Finland's "other" Mika. Yet I can't help but wonder whether his big F1 chance has passed him by. In this season's game of musical chairs, the right teams didn't ring and yet another year in a struggling team is in prospect.
Stewart SF-2, Ford V10
8th, 5 points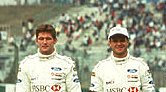 For Stewart Grand Prix to finish the season in 8th place, one point behind Arrows, with the advantage of a fully factory supported engine deal, puts their lack of progress into sharp focus. The decision to hire Gary Anderson is a clear step forward and it remains to be seen just how much more time the present management team will be left alone to make progress. The relative stability of the technical regulations will help, but others will benefit too.
Rubens Barrichello 12th, 4 points
Four points for two 5th places was the sum total of Barrichello's reward for a season of hard work in Stewart Grand Prix second year in Formula One. That he wanted to move from the team is hardly surprising, though still only 26 years old, his six years in F1 have not brought him the success his early promise would have suggested he deserved. Perhaps significantly no team was prepared to pay the required fee to buy out the remaining year of his Stewart contract. Barrichello needs to make something happen in 1999 and he must be hoping that the arrival of Gary Anderson will help Stewart produce a chassis for him to show off his true potential.
Jan Magnussen 15th, 1 point
The failure of Magnussen to make the transition from F3, where he had set a new record in the number of race wins, to F1 is something of a mystery. Yet in between these two single seater disciplines, he spent time in both the DTM and its successor the ITC courtesy of Mercedes-Benz. It is known that other drivers making the transition from Touring Cars, no matter how sophisticated, to high power single seaters have initially struggled to adapt to the different techniques required. Whatever the reason, it would appear that a major potential talent has been lost to F1.
Jos Verstappen
Joining the Stewart team at the French GP, replacing the outgoing Magnussen, Verstappen appeared to be very much a stop-gap measure for the Milton Keynes based team. Although he managed to out-qualify Barrichello at the British GP, thereafter his relative qualifying performances fell away and with it his chances of holding on to his place in the team. In the races, he stalled on his debut in France, triggering a restart, but survived to finish 12th. There then followed a whole string of retirements. A struggling driver in a struggling team.
Tyrrell 026, Ford V10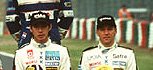 It might have been kinder to all concerned, if this once great team had been allowed to leave gracefully at the end of last season. As it turned out we were forced to witness its long drawn out death-throes as it struggled through the season, having no realistic hope of achieving anything meaningful. None of this should be construed as criticism of the personnel involved, just an acknowledgement that the days of the under funded hard triers are very much a thing of the past.
Ricardo Rosset
Rosset duly inherited the mantle so recently held by Pedro Diniz as everyone's favorite whipping boy. Unwanted by the departing Ken Tyrrell he endured a tough year in a dying team. Conveniently forgotten was the fact that he had been a race winner in F3000 and runner up in the 1995 Championship. Although he is never likely to challenge any of the front runners in F1, by the same token he is not the total no-hoper that he was often portrayed.
Toranosuke Takagi
From the time Takagi started to set some quick lap times in pre-season testing, the impression soon formed that here at last was a truly talented Japanese driver. In the Tyrrell he was never going to be able to score any outstanding results, but he sometimes managed to hustle the Tyrrell further up the grid than it had a right to be, most notably in both Australia and Argentina where he qualified in 13th position. No points, but lots of promise.
Minardi M198, Ford V10

Once again the Minardi team completed another season in Formula One, which for a team running on a budget roughly 15% of the Ferrari team is something of an achievement. With the Formula one grid limited to just twelve teams (24 cars), Minardi's days of running as an independent "small" team are probably limited. Yet their demise would be a shame, for the team clearly loves its motor racing and for them just finishing a race is cause for celebration.
Shinji Nakano
Driving a Minardi in F1 is always going to be something of a test of character, but as Fisichella proved several years ago, it can still be a passport to better things. Nakano though, looks an unlikely candidate for upward progression. A seventh place finish in Canada was the highlight of his year.
Esteban Tuero
The 19 year old Argentinean came into F1 with very little racing experience, and it showed. Out-qualified 5-11 by his Japanese team mate, as he struggled with so many unfamiliar tracks. An 8th placed finish in Spain being his highest placed result.