A look back at the sixteen rounds of the 1998 FIA Formula One World Championship - the memorable moments, and those we'd rather forget.

Round 1 - Melbourne, Australia
Winner: Mika Hakkinen; Pole: Mika Hakkinen; Fastest Lap: Mika Hakkinen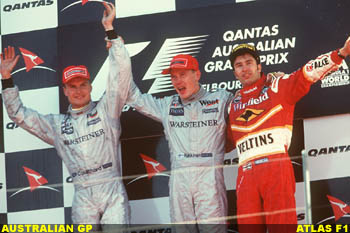 The opening race of the season answered a lot of questions and created many new ones. Who was the fastest? The two McLaren Mercedes MP4-13 runners by miles. But would McLaren's second brake pedal allowing selective braking on one side of the car be banned? The new narrower cars, with grooved tyres looked odd close-up, but on the track it was still more or less the same F1 we fans had come to know and love over the years. Mika Hakkinen narrowly out-qualified teammate David Coulthard, but the pair were comfortably ahead of third placed Michael Schumacher in his new Ferrari F300. Further down the grid, the new defending world champion, Jacques Villeneuve fought his way into fourth place, albeit the best part of a second off pole. The guy Villeneuve had acquired his title from, Damon Hill, lined up a disappointing mid-field runner in the unfamiliar yellow livery of his new Jordan team. It was the start of a dismal first half of the year for the Mugen-Honda-powered cars.
Come the race, it looked like it was to be a McLaren benefit. Their only real competition in the form of Michael Schumacher evaporated on lap 5 with a broken engine. Then there was huge controversy just as the race entered its final laps. Hakkinen was mistakenly called into the pits, causing him to hand over his lead to Coulthard, yet just three laps from home and right in front the pits, Coulthard slowed to let his teammate back into the lead. The pair had agreed that the first man into the first corner should be allowed to win the race. The agreement was supposed to last the season, but was promptly outlawed.
Round 2 - Interlagos, Brazil
Winner: Mika Hakkinen; Pole: Mika Hakkinen; Fastest Lap: Mika Hakkinen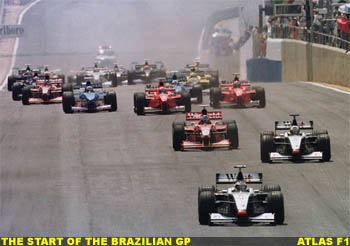 As expected, Ferrari led a successful revolt against McLaren's novel selective braking system, which was deemed a steering aid. By this time Jordan and Williams were already experimenting with similar systems and it was even rumoured that Ferrari had started work on their own version just in case their appeal failed. Even though McLaren had to remove the offending brake accessory, it didn't stop them from dominating the proceedings in Brazil. Hakkinen began to show that he was top dog in McLaren, out-qualifying a mystified Coulthard by over half a second. Schumacher was 4th, while Villeneuve was a distant and dissatisfied tenth, reflecting serious problems with the Williams' rear suspension, although teammate Frentzen managed a creditable third on the grid.
Johnny Herbert suffered whiplash after crashing his Sauber badly and Olivier Panis walked away from his badly damaged Prost. In the race, Hakkinen led Coulthard and Frentzen followed. There was a lengthy battle between Schumacher and Alexander Wurz's Benetton for fourth place, with Wurz enjoying the upper hand for most of the time. Villeneuve had a better race than expected and even indulged in passing Irvine and Jean Alesi on successive laps. Later it was the turn of Wurz to tackle the other Williams of Frentzen, passing the German in some style on lap 53. Schumacher notably suffered a stalled engine in the pits, but just scraped back onto the track without losing his third place, behind the McLaren pair.
Round 3 - Buenos Aires, Argentina
Winner: Michael Schumacher; Pole: David Coulthard; Fastest Lap: Alex Wurz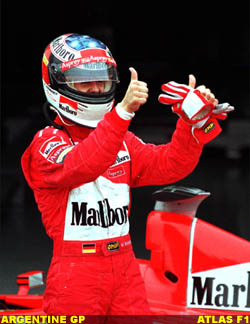 Maybe the writing was on the wall after the first practice session. Instead of the now-expected McLaren dominance, Michael Schumacher headed the times. Come official qualifying, Schumacher split the McLarens and a lacklustre Hakkinen was back in third. In the race, the McLaren pair crossed the line after the first lap line astern with Coulthard leading, but the next time around, Schumacher had demoted Hakkinen to third once again. Schumacher soon caught Coulthard up and noticed that the Scot was taking a slightly wide line through one of the hairpins. This was because Coulthard was having a downshift problem but it wasn't a part of the circuit for overtaking. Unfortunately for Coulthard, Schumacher didn't agree and on lap 4 Coulthard left just enough room to invite Schumacher to take a look up the inside. It all ended in tears with Coulthard closing down the Ferrari and ensuing contact sending him off the circuit. Schumacher's car amazingly survived, going on to win and despite Coulthard's assertion that Schumacher's driving was 'unethical', no punishment was forthcoming and he went on to win the race, with Coulthard a distant sixth. Hakkinen, meanwhile, seemed unable to get into top gear and was a subdued second.
Round 4 - Imola, San Marino
Winner: David Coulthard; Pole: David Coulthard; Fastest Lap: Michael Schumacher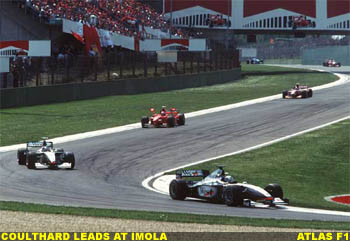 After a very unsatisfactory start to the season, this is where it all came right for David Coulthard. He was quickest in every practice session and led the race from start to finish - only Schumacher spoiled the neatness of his win by stealing fastest race lap. Ironically, it was Hakkinen's worst race by far at that stage of the season. Unable to do anything about Coulthard was bad enough, but to retire with gearbox maladies on lap 18 was a bitter blow.
Meanwhile, Schumacher ran a good race in his Ferrari, which had sprouted side pod wings like several other cars. Eddie Irvine's similarly x-winged F300 came home a solid fourth. Just out of the points, Damon Hill's much-modified Jordan had an impressive run after colliding with Alexander Wurz's Benetton on the first lap. All but last on lap two, Hill worked his way back up to seventh place before his engine packed up. Jean Alesi did well to collect a point for sixth after starting from 14th spot on the grid, while Wurz will look back on the weekend's work with some satisfaction after qualifying his Benetton fifth although his race ended early with gearbox problems.
Round 5 - Barcelona, Spain
Winner: Mika Hakkinen; Pole: Mika Hakkinen; Fastest Lap: Mika Hakkinen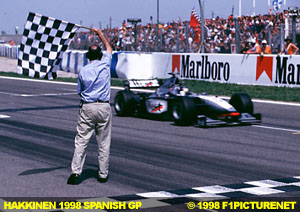 McLaren were back to top form again in Spain. Hakkinen was an astonishing 1.5 seconds quicker in qualifying than third placed Schumacher's Ferrari. Coulthard, after his domination at Imola, was very disappointed not to be in the same ball park as Hakkinen's pace, despite sharing the front row with him.
The race turned out to be quite eventful. Although the McLarens streaked off into the distance, Hakkinen finishing 47 seconds ahead of Schumacher in third, the German had to endure a ten second stop/go penalty for speeding in the pit lane, while his Ferrari teammate, Eddie Irvine, collided with an irate Giancarlo Fisichella who felt his Benetton had won the corner of their demise. The Italian attracted a controversial $7,500 fine for "causing an avoidable collision". Meanwhile, Heinz Harald Frentzen's Williams exited the pit lane rather carelessly in front of Damon Hill, causing the latter's Jordan to take avoiding action, ending up off the track.
Overall, it was not a weekend to remember for Williams - both cars qualifying 10th and 13th, their worst performance for nine years. However, Benetton were going well, with Wurz finishing a fine 4th and Fisichella starting from 4th on the grid before his incident with the No.2 Ferrari.
Round 6 - Monte Carlo, Monaco
Winner: Mika Hakkinen; Pole: Mika Hakkinen; Fastest Lap: Mika Hakkinen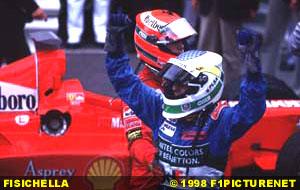 Mika Hakkinen, who has lived in Monaco for several years, later singled out his win at the Mediterranean principality this year as his most rewarding of the season. Not everyone assumed the sleek McLaren Mercedes would suit the tight confines of the Monaco streets and the Ferraris were getting increasingly competitive. However, during qualifying, not only were the McLarens way out in front, Hakkinen leading the way, but it was Giancarlo Fisichella's Benetton which found third place on the grid in front of Schumacher's Ferrari.
Hakkinen led the race from start to finish. Initially pursued by Coulthard, that challenged ended on lap 17 with a blown engine. Schumacher was having a spirited fight on his hands from Alexander Wurz, the Austrian impressively defending his position with wheels inter-locked round the Loews hairpin. Contact between the two entering the tunnel forced Schumacher to stop for repairs, the German even getting out of the car at one point. Wurz was only rewarded for his troubles by a head on crash at the chicane exiting the tunnel a few laps later - the incident blamed on damage when he and Schumacher clashed. Mika Salo, who qualified 8th, did exceptionally well to finish 4th in his Arrows. While Monaco was a joyous occasion for Arrows, their ex team leader, Damon Hill was having a torrid time in the Jordan, being chased over the line at the finish by a Minardi, no less.
Round 7 - Montreal, Canada
Winner: Michael Schumacher; Pole: David Coulthard; Fastest Lap: Michael Schumacher
As usual, the McLarens filled the front row, only with Coulthard on pole. But this was definitely a race to forget for the silver arrows. It took two attempts to get the race started as Alexander Wurz precipitated a collision, which somersaulted his Benetton above the gravel trap, into the first turn and involving Jean Alesi and Jarno Trulli as well. This carnage brought out the red flag. The second start was a bit of a mess too. Ralf Schumacher, who had stalled his Jordan at the first start, repaid his reprieve in the second start by losing it at the first corner causing the unfortunate Alesi to find Trulli's Prost on top of his Sauber.
Meanwhile, Hakkinen immediately dropped out unable to get out of first gear, Unfortunately for the Finn, this time the race wasn't red flagged and instead the safety car came out. Early in the race, Coulthard kept a steady lead over Schumacher until lap 18 when his throttle linkage failed. The race was barely one-third complete and both McLarens were gone. At the same time, Mika Salo crashed his Arrows heavily and the safety car was out again for the third time, having earlier been required after the other Arrows of Pedro Diniz started to litter the circuit with lumps of turf after an off-track excursion.
Instead of assuming the lead, Schumacher pitted, allowing Fischella's Benetton into a lead he would keep for 13 laps. Local hero Villeneuve, managed to get his Williams in front of Fisichella for the briefest of moments in the lead, but promptly understeered wide and let the Italian by again. The drama wasn't over yet. Schumacher was penalised for forcing Frentzen off the road as he exited the pits. This let a charging Hill up into an improbable second place. However, Schumacher was over two seconds a lap faster and was rapidly gaining on the Jordan. Hill defended his position vigorously, or in the eyes of Schumacher he weaved. The net result was a dramatic game of dare into the pits straight, forcing a livid Schumacher to straight-line the chicane. Unfortunately for the team in yellow, Hill and the prospect of Jordan's first points of the season were out a few laps later and Schumacher duly won the race comfortably from Fisichella without a silver arrow in sight.
Round 8 - Magny-Cours, France
Winner: Michael Schumacher; Pole: Mika Hakkinen; Fastest Lap: David Coulthard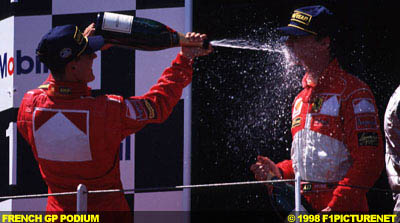 After a point-less race in Canada, McLaren and Mika Hakkinen in particular were desperate to restore their early season dominance. Once again, Michael Schumacher would spoil the party. Qualifying saw the German's Ferrari as the filling in a McLaren sandwich, with Hakkinen on pole and Coulthard third, Irvine made it a McLaren/Ferrari front two rows. Villeneuve lined up an improved Williams in 5th, followed by Ralf Schumacher and Damon Hill in their Jordans.
The race started with embarrassment for Jos Verstappen, who replaced Jan Magnussen in the second Stewart. The popular Dutchman started his first race for Stewart by stalling on the grid, forcing a restart. Hakkinen got off the line well at the first start, but both Ferraris stole the show second time around, with Schumacher leading Irvine. On lap 4 Ralf Schumacher and Alexander Wurz made contact at the hairpin, but both continued. Hakkinen was all over the rear of Irvine's Ferrari, but couldn't find a way past and on lap 20 fell victim to desperation, executing a 180 degree spin and falling back to 4th. Coulthard made a better job of passing Irvine, but was delayed in the pits. More refuelling problems sent Coulthard down the field and he was only able to salvage 1 point with the consolation prize of race fastest lap. Hakkinen almost got the better of Irvine on the last corner of the last lap, but in the end it was an emphatic 1-2 for Ferrari.
Round 9 - Silverstone, Britain
Winner: Michael Schumacher; Pole: Mika Hakkinen; Fastest Lap: Michael Schumacher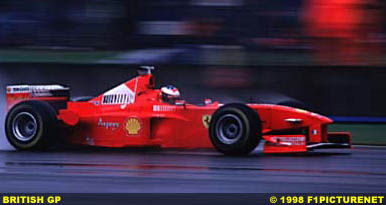 Once again, Hakkinen claimed pole position, but Michael Schumacher was lurking dangerously in second place. Jacques Villeneuve put in a tremendous effort to win third, while an unhappy Coulthard started his home race in, for him, a lowly fourth. Race day was distinctly wet. The rain had stopped by the time the race started, but the circuit was very damp and everyone started on intermediate rain tyres. Hakkinen made strong start and was quickly leaving Schumacher in his wake, literally. By lap three the rain was resuming, but this didn't prevent Coulthard from making the passing move of the season on Schumacher.
Lap 14 saw the demise of the local favourite, Damon Hill, spinning out after putting the power down a tad too early. By lap 19, the rain was getting worse, but Schumacher elected to stay with slicks at his first stop. So did Coulthard two laps later, despite the fact that the rain was now teeming down. Hakkinen was fortunate to get full wets at his first stop and was some 40 seconds ahead of Schumacher. By mid-distance, the circuit was getting very treacherous, but the leaders managed to stay on the road. On lap 38, Coulthard, still on intermediates, spun off terminally at Abbey corner.
Four laps later, Hakkinen had a huge multi-turn spin at Bridge, damaging his front wing and barge boards, crippling the car's handling. However, he remained comfortably, or so we thought, ahead of Schumacher. The good news for Schumacher was the appearance of the safety car on lap 42, and a Hakkinen's half minute lead was no more. Schumacher was also able to change to full wets and with the damaged McLaren to aim for, Schumacher duly swept by on lap 51 after the safety car pulled off. That, should, perhaps have been that, but hesitation by the race stewards over a yellow flag infringement by Schumacher ended in farce as the German crossed the line on the last lap in the pit lane to serve a 10 second penalty. He was later confirmed the winner, with Hakkinen second. Meanwhile, Ralf Schumacher finally scored Jordan's first point of the season, the start of an impressive second half of the season for the Silverstone-based team.
Round 10 - A1-Ring, Austria
Winner: Mika Hakkinen; Pole: Giancarlo Fisichella; Fastest Lap: David Coulthard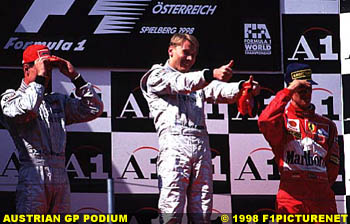 Finally, McLaren got back on track at Austria. Qualifying was a bit of a lottery after the session started wet and gradually eased off in the final quarter of an hour. Fisichella and Alesi were the unlikely front row occupants, with Hakkinen and Schumacher demoted to the second row. Race day was back to being hot and sunny and the McLarens looked very comfortable in the warm up. Although Panis was stuck in neutral at the start, the race began anyway. Hakkinen out-dragged the upstart front row and led into the first corner. Tora Takagi's first corner exuberance collected Johnny Herbert's Sauber and Esteban Tuero's Minardi. The next corner saw further drama with Pedro Diniz clashing with Coulthard, who had started from 14th spot. This left the Scot dead last at the end of the first lap. A huge effort saw him climb through the field to finish no less than second. It wasn't the only remarkable recovery either.
Michael Schumacher was struggling to stay with Hakkinen an on lap 17 went wide and rattled over an un-yielding gravel trap. This removed the front wing and damaged a barge board, forcing a lengthy stop for repairs which dropped the Ferrari to last place. 35 laps later and 13 places higher, Schumacher was gaining on teammate Irvine. Schumacher senior had been offered no favours by his younger brother and we wondered what Irvine would do. Three laps from home, Irvine fumbled, neatly letting the No.1 Ferrari through. Elsewhere, front row sitters, Alesi and Fisichella, managed to end their respective races by crashing into each other.
Round 11 - Hockenheim, Germany
Winner: Mika Hakkinen; Pole: Mika Hakkinen; Fastest Lap: David Coulthard
Michael Schumacher suffered from a mistake in Austria which certainly lost him second place. Mistakes from the German in front of his home crowd were also to dog him during the practice sessions. Ferrari's attempts to get their car to handle got them nowhere and Schumacher lined up a disastrous 9th on the grid, three places behind Irvine. On pole was - you guessed it - Hakkinen, closely followed by Coulthard in second and an on-song Villeneuve in third. The two Jordans of Ralf Schumacher and Damon Hill lined up 4th and 5th.
A poor start by Wurz made Michael Schumacher's start even more difficult as he avoided the Benetton. Up ahead, the two McLarens were being chased quite effectively by Ralf Schumacher's Jordan, which was carrying less fuel. That strategy failed to pay off and Schumacher junior later fell back to 6th after the stops, behind his brother in 5th. Hill was a comfortable 4th, unable to challenge Villeneuve in the final podium place. Hakkinen slowed in the latter half of the race, raising suspicion that he might have a technical problem, but Coulthard wasn't going to challenge his teammate. The only other major drama was a scary moment for Michael Schumacher while lapping Takagi.
Round 12 - Hungaroring, Hungary
Winner: Michael Schumacher; Pole: Mika Hakkinen; Fastest Lap: Michael Schumacher
McLaren's new-found dominance in Austria and Germany came to an abrupt halt in Hungary. It was business as usual in qualifying with Hakkinen on pole, leading Coulthard, but the race was to prove rather fraught for the championship leader. Tyres and strategy were the key to the race and it turned out that Ferrari had the better of both this time. For the first half of the race, McLaren seemed in control, but in truth Schumacher's Ferrari had yet to show its real potential as it was stuck behind Villeneuve's slower Williams.
Free of the Williams buffer, Schumacher quickly closed in on the McLarens, but if he couldn't pass a Williams, a McLaren would be even more difficult. Pit stops would be crucial and the Ferrari's ace was an extra stop, making three in all, to leap-frog the McLarens in the pits. McLaren seemed mesmerised by Schumacher's progress, as he punched in one fast lap after another, and appeared to be confused in their response to the Ferrari strategy. Then Hakkinen suddenly lost a great deal of speed, holding up an obliging Coulthard in the process - Schumacher was escaping and it took McLaren three laps to let Coulthard pass Hakkinen in a vain attempt to prevent the Ferrari from collecting all ten points. Hakkinen's handling, later identified as a suspension failure, was worsening and he was lucky to salvage a single point in the end.
Round 13 - Spa Francorchamps, Belgium
Winner: Damon Hill; Pole: Mika Hakkinen; Fastest Lap: Michael Schumacher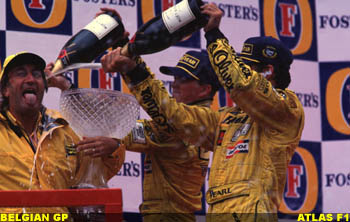 Once again, the dismal weather which had dogged Europe all summer was a critical factor in the race. As dismal as the rain was Hakkinen's continuing run of bad luck. Qualifying was dry and once again it was McLaren and Hakkinen which dominated. The surprise of the weekend was Damon Hill's yellow Jordan in third place on the grid. The '96 champion had been consistently in the top four or five all weekend, revelling in a much improved car. Even sweeter was the fact that he had out-qualified his old sparring partner, Michael Schumacher. Villeneuve had qualified 6th despite a massive crash after attempting to take Eau Rouge flat out.
Race day was drenched by the rain, but the conditions weren't too bad at the first start and many cars started on intermediates. The horrific cascade of collisions which ensued will be talked about for many years to come. Rubens Barrichello was the only driver to be hurt - luckily not too badly, but Mika Salo, already suffering the effects from a huge crash the day before, also elected to sit the race out and Prost ran out of cars for Olivier Panis to take the restart.
The second start was also eventful and no further than the first corner, Hakkinen was eliminated, being gently swung around by contact with Michael Schumacher. Hakkinen's McLaren was undamaged as it came to rest, but almost immediately it was swiped by Johnny Herbert's avoiding Sauber. Amazingly, Hill was in the lead and for a few laps it looked like Schumacher was stuck in second place. As the conditions worsened, Schumacher eventually worked his way past Hill and stormed, literally, off into the lead. Why, with such a commanding lead, Schumacher seemed to pay little heed to the poor visibility and treacherous standing water, only he can tell, but as we all know he was eliminated after crashing into the back of Coulthard's McLaren. Schumacher's black rage was evident back at the pit garages where he confronted Coulthard. Meanwhile, Hill survived a slowly deflating tyre to win his first race since Japan in 1996 and Jordan's first ever.
Round 14 - Monza, Italy
Winner: Michael Schumacher; Pole: Michael Schumacher Fastest Lap: Mika Hakkinen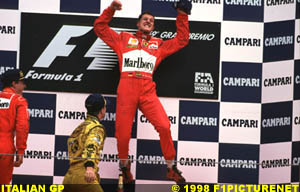 This was Ferrari's last celebration of the season as it turned out. But where better for the Prancing Horse to perform? Schumacher was electric in qualifying, well over a second ahead of out-going world champion Villeneuve who even surprised himself with second on the grid. Hakkinen and Coulthard could do no better than 3rd and 4th, with Irvine 5th. At the start of the race, Schumacher's hard work winning pole was quickly wasted. The leading group braked for the first chicane, with Hakkinen leading Coulthard comfortably and Irvine third with Schumacher back in fourth. Hakkinen initially led but after ten laps it was Coulthard who was let by into the lead. This was to be short-lived as Coulthard's Mercedes cried enough on lap 17.
Schumacher had, by this time, got past Irvine and was closing on Hakkinen. Ironically it was the smoke and oil produced by Coulthard's detonated engine which gave Schumacher the opportunity to wrest the lead from Hakkinen. The two were side by side but Schumacher had the momentum and that was that. Still, second place and six points wouldn't be a total disaster for Hakkinen, we thought. Then brake failure struck the Finn, sending him backwards for what seemed an eternity. He survived and soldiered on to an eventual fifth place virtually without brakes, while Eddie Irvine joined Schumacher to celebrate a great 1-2 for Ferrari at home. It was a double celebration for the Schumacher family as Ralf joined his brother on the podium. Now Hakkinen was in real trouble as his championship lead had dwindled to nothing.
Round 15 - Luxembourg Grand Prix, Nurburgring, Germany
Winner: Mika Hakkinen; Pole: Michael Schumacher; Fastest Lap: Mika Hakkinen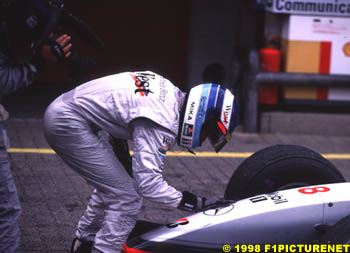 After 14 of the season's 16 rounds, the drivers championship arrived at the Nurburgring for the Luxembourg Grand Prix with the scores back to square one, with Mika Hakkinen and Michael Schumacher tied on 80 points. The big question was whether Hakkinen, who was entering new territory in the championship stakes, would crack under the mounting pressure from Schumacher and Ferrari.
Qualifying saw a seemingly crushing performance by the Ferraris, with Eddie Irvine making it a 1-2 after Schumacher sealed pole. The race, however, was pure frustration for Ferrari. Schumacher and Irvine got off the line well, but the latter was powerless to keep Hakkinen at bay for long. Schumacher was relentlessly pursued by Hakkinen and after the first pit stops, Hakkinen emerged in the lead with barely a few metres to spare. However, Hakkinen was totally focussed and refused to allow Schumacher even a darting opportunity of re-taking the lead. Hakkinen duly won in style what was widely regarded as the defining race of his season. Schumacher followed home a disheartened second. It was going to take a miracle for him to overhaul Hakkinen's 4 point lead at the final race in Japan five weeks later.
Round 16 - Suzuka, Japan
Winner: Mika Hakkinen; Pole: Michael Schumacher; Fastest Lap: Michael Schumacher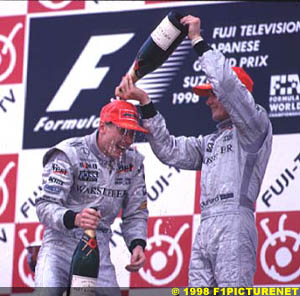 Ferrari apparently spent a fortune on testing during the five week break between the Luxembourg and Japanese races. Here we were at the final race and championship decider - Michael Schumacher started promisingly with a commanding pole position after qualifying. Nothing less was any good to Schumacher, who needed to score a minimum of five points more than his Finnish rival. However, Mika Hakkinen was biding his time and lined up second on the grid - the two aces a whole second a lap ahead of the best of the rest, in this case, David Coulthard and then Eddie Irvine.
Disaster struck Schumacher who stalled his car on the grid after the pack formed up for a second start. Any chance of Schumacher adding 1998 to his 1994 and 1995 championships was realistically gone as he lined up 21st and last on the grid for the third start. Hakkinen maintained a commanding lead throughout the race and, if anything, had an uneventful race. Irvine did his best to keep the pressure on Hakkinen, but compared to the McLaren's Bridgestone tyres, Goodyear's final effort before withdrawing from F1 wasn't quite up to the rubber Bridgestone had brought for their home Grand Prix. Schumacher, later saying he enjoyed his race through the field, reached an incredible third place at one point, but an exploding right rear tyre ended his race and the championship fight on lap 31. Hakkinen came home a popular and deserving champion.