Monaco Grand Prix Preview

---

Monte Carlo Grand Prix Circuit, Monaco
21st - 24th May 1998
by Max Galvin, England
A lap of the Monte Carlo Grand Prix circuit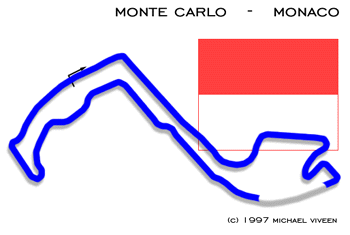 The cars cross the finish line flat out, reaching around 165 mph before braking hard for the 2nd gear Sainte Devote corner. Whilst the entry is tight, there is plenty of run off if things go wrong and things usually do in the first lap of the race. After this, it is hard back on the power in the run up the hill (Beau Rivage) reaching around 160mph before the drivers have to stand on the anchors to slow for the 80 mph Massenet, which in turn leads into the 70mph Casino corner and the start of the downhill section of the circuit.

Hard on the power, avoiding the bump on the road on the exit of Casino, touching 130mph and 4th gear before slowing for Mirabeau. From here there is a short spurt up to one of the two 1st gear corners at the track, the famous, Loews hairpin. Even though this is not a hard corner, many drivers have been punted off by over-enthusiastic colleagues. The next corner is Portier which is treated by many drivers as a double-apex corner rather than a pair of corners as it really is. Portier also ends the downhill section of the track and the start of the most famous part, the tunnel section.

At the exit of the corner, the cars will reach in the region of 170mph, slowing to 30mph for the Nouvelle Chicane. Out of the chicane it is hard on the power for the 4th gear left-hand Tabac and the swimming pool section. The exit of the swimming pool is taken at around 60mph, and the drivers are allowed another quick spurt through a short sweeping left hander, before arrival in the 1st gear Rascasse corner. Once through this corner safely there is only the 2nd gear Antony Hughes corner before the start-finish straight starts.

Circuit length: 2.068 miles / 3.328 km Race length: 75 laps (155.094 miles / 249.600 km)

What happened last year?

Atlas F1 1997 Monte Carlo Grand Prix Review
1997 Race Results
1.
Michael Schumacher
Ferrari
2h 00:05.654s
2.
Rubens Barrichello
Stewart-Ford
+ 53.306s
3.
Eddie Irvine
Ferrari
+ 1:22.108s
4.
Olivier Panis
Prost-Mugen Honda
+ 1:44.402s
5.
Mika Salo
Tyrrell-Ford
+ 1 lap
6.
Giancarlo Fisichella
Jordan-Peugeot
+ 1 lap

---

Pole position:
Heinz-Harald Frentzen
Williams-Renault
1m 18.216s
Fastest lap:
Michael Schumacher
Ferrari
1m 53.315s
The Field
Winfield Williams-Mecachrome Goodyear
Spain was an almost total disaster for the Grove-based team what with Jacques Villeneuve finishing 6th and Heinz-Harald Frentzen apparently deciding to leave his brain at home for much of the weekend. However, in the 4 days of testing at Magny-Cours last week, the Williams drivers both ended up as closest runners to the top 2 teams of the moment, Ferrari and McLaren. Monaco is sure to be hard for them though as there will be few changes to the chassis and Monaco is one place that you need a car that is driveable and the current Williams is anything but. I would expect Heinz-Harald to pip his Canadian team mate in Monaco as Jacques has never done well in the streets around his home. Podiums seem unlikely but both cars should be capable of finishing in the points.
Marlboro Scuderia Ferrari Goodyear
Ferrari is still the team most likely to take the challenge to McLaren and Monaco offers a good chance for the team to take a second 1998 win. Yet again this will not be down to the team so much as the #1 driver at Ferrari, Michael Schumacher. The German has emerged as the successor to such Monaco greats as Graham Hill, Alain Prost and Ayrton Senna and, ignoring a silly mistake in 1996, has an impressive record already at the Monegasque street circuit. The F300b has proved to be a useful tool in the hands of both Schumacher and Eddie Irvine and with tyres and aerodynamic efficiency less of an issue here than at the previous tracks, the gap to McLaren is sure to be slim. Of the pair, I would expect Schumacher to be in the running for pole position with Irvine on the second or third row. In the race expect the German driver to dominate his team mate and challenge for the race win if McLaren give him half a chance.
Mild Seven Benetton-Playlife Bridgestone
Benetton has still quite not made that jump from great potential to podium finishers despite a number of good performances from the drivers. Both Giancarlo Fisichella and Alex Wurz are fired up and whilst the engine isn't great, it's still one of the top 3 engines in F1 and, as all will acknowledge, the Bridgestone tyres give them another edge. However if the team and drivers are to make that step up from also-rans to a real challenger podiums are needed. For Alex Wurz, this is his first trip to Monaco in an F1 car but with the commitment and bravery he has shown so far I would expect him to do well although not as well as Fisichella. This is the 3rd trip to the principality for Giancarlo and a golden opportunity to shine without too much pressure from his team mate. Expect both drivers to be in the top 8 on the grid and to finish in the top 6 if they reach the end of the race. Of the two, the Italian should be the leader but it only takes one mistake at Monaco to ruin a weekend.
West McLaren-Mercedes Bridgestone
McLaren, and in particular Mika Hakkinen, arrives in Monte Carlo following a crushing display of superiority at the Spanish Grand Prix. Whether they can expect to start and finish 1-2 in Monaco is a bit of a mystery and is primarily down to how well their drivers adapt to the confines of the street circuit. On recent performance Mika Hakkinen would be expected to be the dominant force in the team but similar things were said after the first Grands Prix of this season and David Coulthard bounced right back. That said, I believe that the nature of the victory in Spain and the recent tests show that Mika has either reached another level in his driving or found something extra in his car and this shows through. 1-2 finishes are the intended result and only retirement or Schumacher's Ferrari seem to stand any chance of stopping this.
Benson & Hedges Jordan-Mugen Honda Goodyear
Things are looking up for Jordan. After a miserable start to 1998, the last two races have given cause for hope in the Silverstone based team despite the fact that they still haven't scored a single point. There are doubts that the new, longer wheelbase Jordan will be as good at Monaco as it has been on the faster road courses and neither driver has any particular affinity with the circuit which is bound not to help. That said, Damon Hill is a neat, smooth driver whose style works well on technical circuits like this and should give the team direction regardless of how well Ralf Schumacher gets on. Ralf is still something of an enigma, showing great pace at times and a distinct lack of it at others and I can't help feeling that his time is running out and he needs to improve fast if he wants to race in 1999. Tyres are less of an issue here so there is no reason why Jordan can't have at least one car in the top 6, but expect Damon Hill to be the faster of the two drivers when it matters.
Gauloises Blondes Prost-Peugeot Bridgestone
My comments of the last Grand Prix seem a little bit of a false dawn for Prost. Recent testing at Magny-Cours show increased reliability but reduced pace at a track the team usually excel. Rumours of the arrival of John Barnard (the Arrows designer) at Prost have surrounded the team since the new suspension for the AP01 was constructed at Barnard's facilities in Surrey. Regardless of future developments, there seems little hope of Olivier Panis repeating his 1996 Monaco win this weekend and even a single point would be something to cheer about. Jarno Trulli is certainly looking the least happy of the two drivers and his pace appears to have suffered over a single lap. His race performances however are ultra-consistent and he is able to match the pace of Panis without too much trouble. Expect Panis to be ahead on Saturday but for Trulli to match him on Sunday.
Red Bull Sauber-Petronas Goodyear
There seems to be little to be said for Sauber that hasn't been said so far this season. Both drivers are quick and consistent in both qualifying and race conditions. The Magny-Cours tests prove nothing beyond the practically identical performances of both Jean Alesi and Johnny Herbert and that Sauber are still one of the fastest midfield teams on the grid. Herbert and Alesi both have a good pedigree at Monaco and I would expect both to qualify in or around the top 10 and race at the bottom end of the top 6 or thereabouts. Which driver will be fastest? Hard choice, but I'll predict that Jean Alesi will finish ahead of Johnny Herbert in the race because of his superior starting ability.
Danka ArrowsBridgestone
The only way can be up for Arrows following the sight of both cars retiring at the same time that even Mika Salo had to describe as a funny one. Although the TWR-built Hart engine is improving in power, the reliability is as bad as anything Ferrari suffered in their lowest days and Tom Walkinshaw must surely be looking for reliability rather than power again. Sadly it seems that it's not just the engine that is causing problems and there are rumours that John Barnard is on shaky footing after overspending on the design of the 1998 car and not finding the reliability that the team need. Shades of 1997, with a big-name scapegoat on hand to carry the can for problems that the whole team should be working on? This aside, the drivers are doing their level best with the tools they have and both Mika Salo and Pedro Diniz are doing so without complaint. Points seem unlikely in Monaco but with more emphasis on chassis than engine, who knows? Expect Salo to outqualify and out race Diniz.
Stewart-Ford Bridgestone
The last Grand Prix saw Rubens Barrichello score the second lot of points for Stewart-Ford in their history, just over a year after he finished second at Monaco. Looking at matters realistically, I doubt the ability of Stewart to get on the podium this year but at least by bringing along 3 new chassis, both drivers will have the chance to show what they can do (although Jan Magnussen has had no testing in the new car). The engine is still the weak point but at least at Monaco this isn't as much of an issue and the strain on an engine is limited. I would expect Rubens to beat Jan in both the qualifying session and the race but expect the Dane to be closer to his team mate than he has been so far.
Tyrrell-FordGoodyear
The situation at Tyrrell reminds me of the comments that Ayrton Senna made about Benetton in 1994, namely that there were two teams being run within the team, and one much better than the other. Where at Benetton this was the case, at Tyrrell I would say that they're almost running in different formulae, with Ricardo Rosset being made to look worse by his Japanese team mate Toranasuke Takagi as the races pass. Ken Tyrrell (the former boss of Tyrrell) said last week that Takagi appears to be as fast as Mika Salo and Jos Verstappen (his '97 drivers) but declined to comment on Rosset and perhaps wisely. The Brazilian is not a bad driver, as his F3000 record shows, but it seems that the new-style F1 cars are beyond him and he is unable to get the best from them. Back to the matter in hand I would say that Takagi will once again destroy his team mate and get his car into the front 2/3 of the grid ahead of much better funded teams. It will be interesting to see what happens in the race but you can be sure that Rosset won't be the faster of the two drivers.
Minardi-Ford Bridgestone
Another race, another difficult task to write about Minardi. I wouldn't expect either driver to excel in Monaco if only because Esteban Tuero is new to it and Shinji Nakano didn't exactly cover himself with glory in last years race. If other teams make a mistake expect either of the Minardi's to get ahead of them, otherwise they should be firmly at the back of the grid (ignoring for a moment Ricardo Rosset). Tuero should have the better of Nakano by the end of the weekend as, after all, Monaco is a drivers' circuit.
Enjoy the race...
---
Max Galvin
Send comments to: galvin@atlasf1.com