It was Friday, a cold autumn morning in November. I remember it like it was yesterday.
I woke up hearing the name Hakkinen on the radio and thought that he must have done well in the first qualifying session of the Australian Grand Prix. But regular news wouldn't report a thing like that and what occurred to me wasn't nearly as pleasing: Mika, it was reported, had a bad accident and was in a coma. He was fighting for his life.
The next morning the great news spread that he had woken up and was speaking. After a brief period of great relief, I became greedy. Quite selfishly I missed seeing that familiar Marlboro sponsored Mclaren dicing on track with Mika behind the wheel, driving the only way he knew - as fast as the car would allow him to. Only a day after the accident and I was hoping to see him back on the track. That was how fast I forgot he had just won the fight for his life. It was pretty shocking to realise that, having been a fan of him since the 1990 British F3-season, I wasn't just hoping for him to survive, but I was asking questions like "will I ever see him on track on old form again?"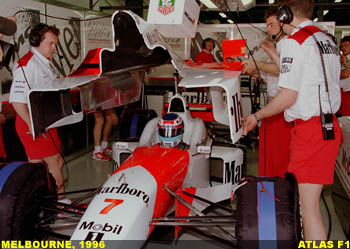 For everyone's relief, Mika made a speedy recovery. "Maybe a little wiser, hopefully not slower," I recall thinking and again my wishes were answered. Exactly 87 days after his accident Mika was given a chance to run his 1995 Mclaren MP4/10 in a sunny Le Castellet (Paul Ricard) circuit in France. Mika himself recounts there were many nervous faces in the garage before he got into the car, including himself. Everyone was silently supportive, yet slightly worried - "could he do it like he used to?" … a calm before the storm as it turned out to be. The Mechanics started the Mercedes engine and for the first time in three months Mika heard that familiar sound behind him. "It sounded fantastic," Mika recalled later.
No one should have been worried. In his first stint of merely 8 laps he was just pacing himself, getting a feel for the racing car again, but still with a lap-time of 1:08.8s he nearly managed to match the pace of Rubens Barrichello of Jordan set a day before. Had that time remained his best for the day, everyone would have probably crowned the test as a successful comeback. But Mika had other plans in mind. "The first couple of laps I took it easy, just to see how I felt - then I wanted to go faster, to throw the car around a bit and I loved it," he said. On his second run Mika showed unbelievable confidence and pushed hard to drop the time to 1:07.1s, almost 0.6s faster than the time set by Michael Schumacher in his Ferrari earlier.
If the 1996 marked a successful comeback for Mika, for the Mclaren team it turned out to be another disappointing year. Although Mika set the pace at the main pre-season tests at Estoril before the Australian GP, Mika knew he wouldn't be the one to set the pace at Melbourne. "I had balance problems in too many corners around Estoril," he admitted. In fact, the fastest time was set on a qualifying type run, which many of the competitors didn't bother to do and chose to 'sandbag'. As the first Grand Prix of the season arrived, Williams was head and shoulders ahead of its rivals with Mika lining up fifth on the grid. Everyone but Mika was full of praises about his official comeback but he himself was down-playing the achievement: "We're not here to qualify fifth, we're here to be on pole, so I'm not satisfied." Clearly, he wanted to put the Adelaide accident behind him and go on, continue his F1 career as if nothing ever happened.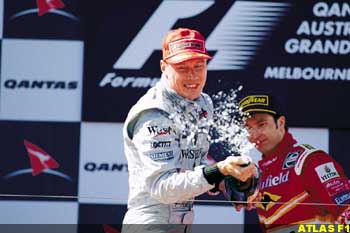 The start of the 1997 season was a glorious one for the Mclaren team as David Coulthard went to win the season opener at Melbourne, with Mika finishing third behind Schumacher. Most of us can remember the pictures of Mika rushing from his car to David's and lifting him in the air showing emotions as though he won the GP himself. One could feel nothing but sympathy towards the sportsmanship of the pairing. Not surprisingly, Mika was afterwards asked if he envies David as he was the man to win Mclaren's first GP since the late Ayrton Senna won at Adelaide in 1993. His reply was quick: "No, I was just happy to see us being so competitive, David demonstrated that with our car one can win and I was thinking that it will be me in his place soon." Just like Mika, I couldn't wait.
The 1997 season was a real roller coaster ride for the whole Mclaren team. The sights of Mika at Grands Prix like Silverstone, Austria and Nurburgring stranded track-side with the engine blown while having been in the lead were frustrating and touching. We never saw him mad, hitting his steering wheel or cursing the machinery in flamboyant manner. The walk back to the pits in Nurburgring was classic: walking down the pitlane Mika was given sympathetic looks by everyone and he answered them with a shake of the head and a wry smile. How could he act like that, people asked? "there's always the next GP and I'd rather retire from the lead one hundred times than finish fourth or fifth," was his reply.
And then there was that unique relationship between Mika and his team boss, Ron Dennis. Unlike the late Ayrton Senna with whom Ron had quite a flamboyant yet close relationship with high mutual respect, Mika joined Mclaren as a young and shy boy. Ron Dennis says that at first Mika was almost afraid of him. Ayrton always demanded a lot from his team and complained about his machinery if he wasn't happy with it - he wanted to have the best car on the grid and wasn't afraid to demand it. Mika was never like that, he always sounds much more integrated with the team, almost as if part of those engine failures had been down to him; the "we have to improve" attitude that also typifies Michael Schumacher and Jacques Villeneuve.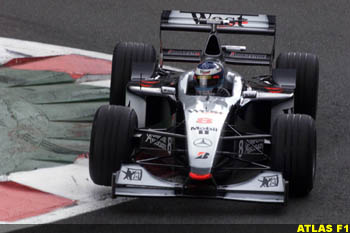 But it's easy to understand the depth of the relationship between Mika and Ron if one looks back to what they have gone through together since Mika joined the team in 1993. And there's no doubt Mika and Ron have an extraordinary relationship and probably Mika's teammates have been the ones to realise it best. I wonder what went through David Coulthard's mind just after he won the 1997 Italian GP due to the great pit work from Mclaren while Mika falling back due to a puncture and Ron was quick to state "I'm hugely disappointed for Mika, he set so many fastest laps today, he wants to win so badly."
For the whole latter part of the 1997 season, Mika was at least as competitive as the two guys fighting for the title - Schumacher and Villeneuve - yet bad luck always seemed to interfere at some point of the race. After the Italian GP came the Austrian and Luxemburg GPs where Mika retired from the lead with blown engines and the frustration and sympathy just went higher. "Can he ever be more than the unofficial world champion of warm-ups," I recall joking back then.
We all know Mika was handed his first win at Jerez and to me personally that was thoroughly understandable even with my heavy bias. Ron Dennis knew that, after snatching the 'Schumacher of designers' - Adrian Newey from Williams, his car for the 1998 season would be a serious contender for the titles. Added to that, Mercedes-Benz was considered to be the most powerful engine out there. All Ron Dennis needed was improved reliability and two established GP winners. Both Ron Dennis and Mika's manager and close friend, the 1982 World Champion Keke Rosberg, agreed that having that maiden victory under a driver's belt helps his confidence enormously. Keke went as far as saying that "Mika will be a transformed man after having won his first GP." Besides wanting Mika to gain the experience of a GP victory and the confidence it brings, it's not hard to imagine Ron wanting to pay Mika back for the loyalty he had given to his team over the years.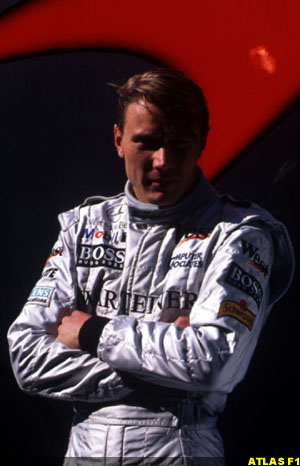 With just one race to go, the 1998 season has seen Mika more consistent, committed and level headed than ever before. He has driven more like Alain Prost than on ragged edge, like he did in the 1994-1995 seasons. He's been in total control, knowing when to push and when not to. He has been able to minimize his weaknesses. At tracks like Argentina he has never been at his peak, so if some wondered why Mika settled for second place there to Schumacher I personally wasn't surprised. Last year in Argentina Mika qualified 17th and basically the whole weekend was a struggle for him. Furthermore, at that point Mika was considering Coulthard as his main title rival for the 1998 season, so in a way it made sense that Mika was just content finishing ahead of David in a track which seems to favour David much more than Mika.
Mika's been often criticised of being a poor car developer, and it's probably true that had Schumacher been in Mclaren during those critical years the car would have developed faster. While Schumacher and Senna make the whole team work for them, Mika is more of a listener who takes what he's given. If Mika in testing is like a patient in car reporting the engineers what's wrong, then Schumacher is more like a doctor reporting also the solutions. Bridgestone's technical director Mr Hirohide Hamashima said lately that they had difficulties getting feedback from Mika at the beginning of the season, not because he couldn't but because he was shy and too silent with the feedback. Mr Hamashima says that, as the season progressed, their technical relationship improved immensely. Mika is not a natural born leader, he's a guy who prefers standing back and listening. All he wants to do is to race... and to win.
Mika has traditionally appeared as a 'late season driver' - he generally has had a relatively weaker first part of the season, only to get stronger at the latter half. This was probably down to two factors - the tracks in the latter part of the year seem to favour him much more and it seems he needs the time to get the car tailored to his liking (it didn't help that the Mclarens before 97 were considered pretty poor cars out of the box).
This year has changed that too. He has seen the chance to become the Formula One World Champion and he has grabbed it with both hands, not letting go even if the task is getting harder and harder. The saying "When the goings get tough, the tough gets going" could easily sum up races like Austria and Luxembourg. Those are the races where Mika really showed he deserves the title - he was battling with the toughest of them all, Michael Schumacher and turning in his best races ever. If Mika wins the title at Suzuka he can and should thank Schumacher for being right there with him and losing; it would prove all the more what a deserving champion he really is.
So here we are, just a few days before the thrilling showdown of the 1998 season in Japan. Back in early 1997, Mika was asked if he ever feels like packing it all in and taking those riches off to a beach somewhere. Mika grinned. "Everything is relative," he exclaimed, "It's like a job that isn't finished. You want to go back and finish it off. When that is done, I'll pack my luggage and clear off out of here!"
Today - and for the few nights before the Japanese GP - Mika is closer than ever to finishing 'that job off'. But whether he wins it or loses it, there's little doubt: Mika has come a long long way since Adelaide, 1995.

                    MIKA  HAKKINEN, BIOGRAPHY

Date of birth:      28th September 1968         GP-Starts: 111
Current age:        30 years                    Poles:      10
Place of birth:     Helsinki, Finland           Wins:        8
Residence:          Monte Carlo, Monaco         GP-Points: 208

Height:             1,79 m
Weight:             71 kg
Marital status:     married to Erja 
Children:           none

Sports:                  skiing, swimming, tennis, jet-ski 
Favourite music:         pop music
Favourite singers:       Michael Jackson, Phil Collins
Favourite drink:         water, Coca-Cola
Dream:                   "To win the FIA Drivers Championship"

Start of racing career:  at the age of six in karts
First racing car:        Formula Ford 1600
First success:           Finnish Kart Champion in 1981

Career:      1974-1986 Kart, 5 times Finnish Champion
             1987      Formula Ford 1600,
                       Finnish, Swedish and Nordic Champion
             1988      Opel Lotus Euroseries Champion; 
                       British GM Lotus Series, runner-up
             1989      Brit. Formula 3-Championship, 7th; 
                       winner of Cellnet Superprix
             1990      Brit. F3-Champion/West Surrey Racing,
                       winner F3 race Italy, Germany, Macau
             1991      F1 Lotus-Judd, 2 points, 15th 
             1992      F1 Lotus-Ford, 11 points, 8th 
             1993      F1 McLaren-Ford, 4 points, 15th
             1994      F1 McLaren-Peugeot, 26 points, 4th
             1995      F1 McLaren-Mercedes, 17 points, 7th
             1996      F1 McLaren-Mercedes, 31 points, 5th
             1997      F1 McLaren-Mercedes, 27 points, 6th, 1st GP win
             1998      F1 McLaren-Mercedes, 86 points, 7 wins,
                       leading WC after 15 rounds