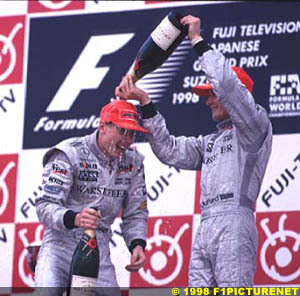 Mika and Michael finally squared up in Japan last Sunday to decide the 1998 Formula One world drivers championship. The weekend was full of incidents and sharply changing fortunes, though the perfect spectacle of a wheel to wheel fight to the flag was, alas, not to be. In reality, the idealistic hope of a championship decided in high drama at the finishing line is one that only rarely happens. In actuality, it was the perfect Finnish to the year by Mika Hakkinen but the second year in succession that Michael Schumacher and Ferrari were left frustrated after having come so close to championship victory last tasted in 1979.

Qualifying:

Things started in promising fashion for Schumacher, who was the underdog after all. Yet it was championship leader Mika Hakkinen who looked like the guy under pressure. The German was generally relaxed and smiling, enjoying the welcome autumn sunshine which blessed the Suzuka circuit this year. Hakkinen, on the other hand, was visibly stiff and anxious - out of the car at least. Hakkinen admitted that once cocooned inside the cockpit of his McLaren Mercedes he could forget the tension.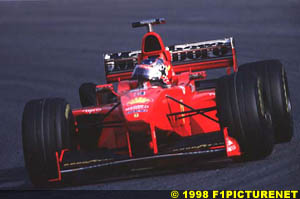 Throughout most of the preliminary sessions there wasn't a great deal to choose between either Schumacher or Hakkinen. The latter chose to concentrate on race set-up on the Friday, ending up just 5th. The brothers Schumacher had monopolised the top of the time sheets, with Ralf's Jordan Mugen Honda trailing Michael's Ferrari by half a second. Just over a quarter of a second separated Ralf's second place to Hakkinen in 5th, with Heinz Harald Frentzen's Williams Mecachrome and Eddie Irvine's Ferrari in between. David Coulthard shadowed his McLaren team mate in 6th, with Damon Hill's Jordan 7th and outgoing champion, Jacques Villeneuve in 8th with his Williams. Michael Schumacher was pleased, but not lulled into a sense of superiority: "Of course I am happy to be on the provisional pole, but I do not think today's result shows the whole truth and therefore I expect qualifying to be very close tomorrow." He was certainly right.
On Saturday morning, Michael Schumacher set about exploring the absolute limits and had a couple of excursions off the tarmac in clouds of tyre smoke. No damage was done, but some set up time was lost earlier on because of a hydraulic problem. Come the qualifying hour, it was Hakkinen who chose to set the pace early in the session, setting a time two seconds quicker than in the morning. Schumacher quickly responded, slicing four tenths off the Finn's provisional pole time. The two were in a class of their own. Back came Hakkinen, but a relatively poor first sector left him a tantalising sub one hundredth off Schumacher's time. Schumacher later improved by a further tenth, proof perhaps that Goodyear had the better tyre for qualifying. Of course, it was a similar story at the Nurburgring five weeks earlier, with a Ferrari 1-2 on the grid, but the race showed that Bridgestone had the endurance/grip compromise better sussed than Goodyear.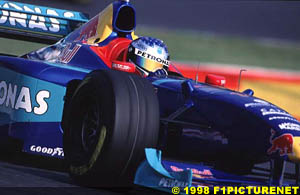 In fact Hakkinen ended up just two thousandths of a second slower than his 4th place Suzuka qualifying time in last year's less restricted McLaren. It was a remarkable effort which eclipsed his team mate by just over a second. On Hakkinen's last run he put right the tardy first sector by a clear margin and the Ferrari team managers held their breath, but Hakkinen went wide and stirred up the track side dirt - his run was finished less than half way around the circuit. Schumacher was already out on track to defend his pole. Instead, he returned to the garage happy in the knowledge that round one was to him and it was his third pole in succession.
In the post-qualifying interviews, however, Schumacher was downbeat: "Qualifying is one thing and that's it. There is no point in celebrating. Tomorrow is the day. It helps to achieve this target but that's all. I've lost a few laps and I feel I am missing some track time." He also played down the rumoured 800BHP plus qualifying engine Ferrari had brought with them: "We have something more but only small things. Nothing mega... I am sure Mercedes did the same and I expect everyone else is the same." Schumacher was surely hoping that Eddie Irvine, who was revelling in the comfort of his new high-tech seat, might have repeated his Nurburgring feat and demoted Hakkinen from the front row. Back pain-free for the first time in years, it took Irvine until his last run to get a decent lap in, but it was only enough for fourth, behind Coulthard's McLaren.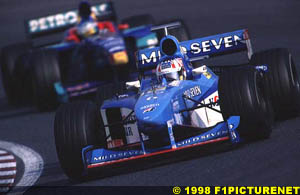 Next up, in neat pairings, were the Williams, Jordans and Benettons. Ex or soon-to-be former champions had to play second fiddle to their less illustrious team mates on rows three and four. Heinz Harald Frentzen got the better of his Canadian team mate for one last time, while Ralf Schumacher did the same to Damon Hill, though barely four tenths of a second covered the five cars from Irvine to Hill. The Jordan pair were a bit disconsolate, especially as they were over two seconds away from pole despite receiving a Suzuka special from Mugen Honda. Slow speed mechanical grip, especially into the chicane was the main Jordan weakness. Jordan desperately wanted to at least beat Benetton into fourth place in the constructors championship. So far so good for the Silverstone-based team as both Benetton stars, Giancarlo Fisichella and Alexander Wurz were struggling. Wurz was the better of the two, but had his last run spoiled after subtle on-track exchange of pleasantries with Johnny Herbert's Sauber. Wurz explained: "I drove the car close to the limit, but unfortunately on my last run I held up Johnny Herbert because I didn't see him in the mirrors and he returned the favour!"
Elsewhere, Sauber and Stewart had a pretty miserable time - Herbert and Alesi were some three seconds off the lead pace back in 11th and 12th, respectively, while Barrichello and Verstappen were a further second a lap back in 16th and 19th. Much was expected of the heavily revised B-spec Prost which was entrusted to Jarno Trulli, but in the end it proved difficult to set up and Trulli (14th) was out-qualified by Olivier Panis (13th) in the older AP01 'truck'. Considering the Arrows' desperate power deficit, Mika Salo qualified a creditable 15th, with Sauber-bound Pedro Diniz suffering from a bad cold back in 18th. Tora Takagi gave a brief fillip to his soon to be unemployed Tyrrell team with an impressive drive into 17th, though the second Tyrrell in the hands of Ricardo Rosset languished last and beyond the 7 percent excess time limit, some 7 seconds a lap slower than Schumacher's pole-sitting Ferrari. The Minardis of Shinji Nakano and Esteban Tuero were the final qualifiers in 20th and 21st places, respectively.
The Race:
Michael Schumacher might reasonably have hoped for rain. That hope was only partially realised with an overnight deluge before race day. However, even by the early morning warm up session the circuit had dried out and 148,000 spectators were greeted by sunshine and a balmy 20 degree breeze. Once again Schumacher's Ferrari was top of the time sheet, this time shadowed by Coulthard, Hakkinen, Ralf Schumacher and Eddie Irvine. Further back there was some drama as Jarno Trulli damaged his new Prost, forcing him to switch to the old version for the race. In the end, he hinted it wasn't such a bad setback as the new car was still not set up properly.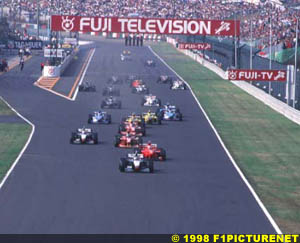 At One PM, local time, the 21 car grid lined up after the customary formation lap. All the red starting lights came on, but then instead of flashing off to signal the start of the race, the yellow caution lights flashed on. Several cars jumped forward from their starting positions, noticeably Hakkinen, Coulthard and Ralf Schumacher. The trigger had been Trulli, who had stalled his Prost. Almost immediately, the black-suited McLaren mechanics swarmed onto the grid to attend their cars, equipped with dry ice packs to minimise heat build up. The Ferrari mechanics seemed unprepared for the stalled start and for what seemed an age the only company Schumacher had on the grid was a race official. It's possible that the delay in attending to Schumacher's Ferrari precipitated the German's sensational predicament some ten minutes later.
Trulli, as required by the rules, lined up last for the re-start. As he rolled onto position 22 on the grid, up at the front, Schumacher's Ferrari amazingly lurched forward as the clutch cut-in, stalling the car instantly. It was thirteen minutes past the thirteenth hour of the day. Mika Hakkinen later observed: "As I sat on the grid, I felt great seeing my boys cooling my car down before the second false start. When I looked over I could see that Ferrari were not doing anything for Michael." Schumacher explained that he was aware of the danger of over-heating and was not holding the engine revs as high as he usually would. Another theory was that the heat had somehow forced the mechanism to stick and combined with low revs the clutch dragged enough to stall the engine. Others unsympathetically assumed that Schumacher had simply let his nerves get the best of him.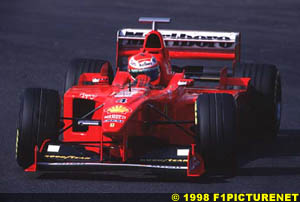 Bad luck, technical hitch, over-heating, nerves, whatever - Schumacher's championship bid was hurled into jeopardy. For the second time, the race start was being abandoned and unbelievably, pole-sitter Schumacher was swapping ends of the grid to join Trulli at the back for the third re-start. Surely, the championship was over before the race had even started? For the third time of asking, the pack successfully got away and Hakkinen made a clean start to lead into the first corner, followed by Irvine who made a great start to jump Coulthard. Indeed, the Scot was beaten off the line by Frentzen, and was now being followed by Villeneuve in 5th place. Hill managed a better start than Ralf Schumacher and was 6th. Ralf's race was destined to be short lived as his Mugen Honda V10 had overheated on the grid and was already showing signs of losing coolant.
Meanwhile, at the back of the grid Michael Schumacher had made up four positions by the time he passed his pole grid slot. five other cars were dealt with by the end of the first lap, elevating him to 13th. By lap 3, Schumacher was past an obliging Fisichella into a remarkable 8th place. Ahead, Irvine was making ground on Hakkinen's lead and suddenly Schumacher's cause didn't look so fatally lost. At the end of lap 4 Schumacher was closing fast on his brother's smoking Jordan in 7th and was just 12 seconds behind the leader. Ralf, like everyone else up to this point, offered no resistance to Michael's charging Ferrari. Hill in 6th, however, wasn't going to play the same game. Here we had a train of three ex-world champions headed by Villeneuve, with Hill challenging closely and Schumacher doing likewise.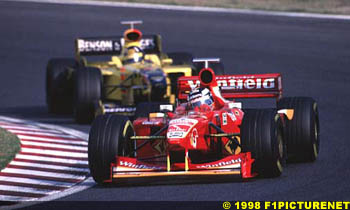 Although Suzuka is a fantastic drivers circuit, in reality it doesn't actually offer much in the way of passing opportunities except the approach to the chicane. Hill had this well covered and the much improved Mugen Honda did not seem too pressurised by the Ferrari under acceleration. Schumacher was stuck, despite being some two seconds a lap quicker than Hill's Jordan. Respite came on lap 13 when Hill dived into the pits for an early stop. At just the same instance Ralf Schumacher's Jordan blew its engine, coming to rest in front of the pit lane. Ralf jumped out smartly from his car which was partially alight. Later, Ralf revealed he was unhappy that Hill had not followed his example of letting his brother through. In the heat of the moment Michael unhappily commented: "A lot of guys were very fair with me, and saw that they couldn't keep me for long so why not let me through and let me ride my race? I have to say thanks to those guys. I have to say that, naturally, Damon is not my best friend and would rather make things difficult. At the end of the day, I don't care." However, he also added that Hill had driven cleanly and fairly in front.
While Hill was coming out of the pits, Shcumacher was quickly past Villeneuve who lost momentum with worn tyres at the hairpin and was passed around the outside. From last on the grid, Schumacher was eventually an incredible 3rd. Ferrari and Schumacher fans dared to revel in their hero's progress once more.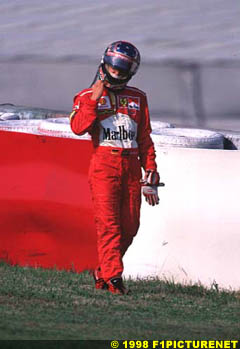 From here on, however, Schumacher's charge was about to falter. Around lap 17, Schumacher collected his first set of new tyres and on a clear track, promptly pounded the fastest lap for several laps in succession. However, his Ferrari's Goodyears weren't appreciating the extra work and on lap 23 Schumacher slithered into the chicane in a plume of tyre smoke, straight-lining the turn in the process. The car looked unsettled into the hairpin under braking too and his right-front tyre looked very second hand. For several laps, Schumacher did his best to bide his time before his next stop, but it was not to be. On lap 32, powering down the start/finish straight, Schumacher's right rear Goodyear disintegrated, with debris flying high into the air. Schumacher wrestled with the car but the adjacent sidepod was badly damaged and there was no option but to pull off the circuit. Hakkinen was World Champion at last.
Schumacher later explained that he was completely surprised by what had happened: "I did not expect a rear tyre to explode as I had problems with a front tyre before it happened and that was causing me a lot of vibration. It was a big surprise. Now I have to accept it and look forwards. Life goes on." The most likely explanation was that debris from a prior and terminal collision between Tuero and Takagi had cut Schumacher's tyre and Goodyear quickly confirmed this after examining the remains of the tyre.
When McLaren boss Ron Dennis came on the radio to tell Hakkinen that Schumacher was out, the Finn's reaction was quite surprising - he started to whistle and sing as he drove along: "I felt so good. I knew I was the champion and that was enough. But I am not going to tell you what I was singing in the car. That would be too embarrassing!" From now on, Hakkinen could cruise, though he wasn't about to give the race away to Irvine's second placed Ferrari. The latter had been able to challenge Hakkinen's lap times on fresh Goodyears, but they didn't last the whole stint as well as the Bridgestones and he was cumulatively falling further back.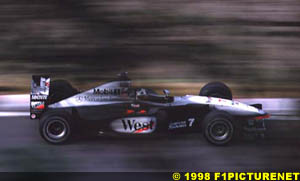 In a distant third, Coulthard was in front of a major battle between Frentzen, Hill and Villeneuve. As the positions stood, Hill's 5th place was good enough to tie Jordan's constructor's score with Benetton for 4th place, but Frentzen was having a really tough time with no power assistance to his steering from early in the race. On the final corner of the race at the chicane, Hill made his way past his team mate for next year and snatched 4th, taking Jordan clear past Benetton in the constructor's championship.
By then, Hakkinen had already streaked past the chequered flag and his cheering team members crowded on the pit wall. The Finn held aloft his left hand with the simple signal which summed it all up - he was Number One. In answer to the obvious question, Hakkinen replied: "I can't really explain what I feel, except to say that this is a fantastic and very happy day for me." Michael Schumacher had enough time to change out of his racing overalls and was the first to greet and congratulate Hakkinen as he emerged triumphant from his McLaren in the Parc Ferme. This was a nice sporting touch which echoed Hakkinen's gesture before the race started when he went over to shake hands with his challenger. "I really feel sad for all the boys in the team," said Schumacher. "They all worked so hard and in the end it just didn't pay off."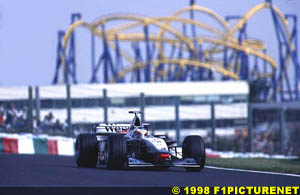 This was Hakkinen's day, indeed. Schumacher could have won it, but conceded that he had, in reality, lost the championship must earlier in the season. Since 1991, when he got his first break in F1, Mika Hakkinen has been working towards being World Champion. In 1995 he almost paid the ultimate price for his efforts after a horrendous crash in Adelaide which left him in a coma. But all that is forgotten for now - Mika Hakkinen won the championship in style and he is already warning his rivals that he intends to keep it for a second year - a feat which only Schumacher has managed in recent years. Melbourne 1999 can't come soon enough!


Classified:

1     M.Hakkinen        McLaren-Mercedes MP4/13     1h 27:22.535s     205.229 kph
2     E.Irvine          Ferrari F300                1h 27:29.026s     +   06.491s
3     D.Coulthard       McLaren-Mercedes MP4/13     1h 27:50.197s     +   27.662s
4     D.Hill            Jordan-Mugen-Honda 198      1h 28:36.026s     + 1:13.491s
5     H.H.Frentzen      Williams-Mecachrome FW20    1h 28:36.392s     + 1:13.857s
6     J.Villeneuve      Williams-Mecachrome FW20    1h 28:38.402s     + 1:15.867s
7     J.Alesi           Sauber-Petronas C17         1h 28:38.402s     + 1:36.053s
8     G.Fisichella      Benetton-Mecachrome B198    1h 29:03.837s     + 1:41.301s
9     A.Wurz            Benetton-Mecachrome B198      50 laps         + 1 lap    
10    J.Herbert         Sauber-Petronas C17           50 laps         + 1 lap    
11    O.Panis           Prost-Peugeot AP01            50 laps         + 1 lap    
12    J.Trulli          Prost-Peugeot AP01            48 laps  DNF    + 3 laps

Fastest Lap: M.Schumacher  lap 19                       1m 40.19 secs  210.703 kph
Lap Leaders: M Hakkinen    laps 1-51

Not Classified:

Lap 2   P.Diniz           Arrows A19                Spun off
Lap 13  R.Schumacher      Jordan-Mugen-Honda 198    Engine
Lap 14  M.Salo            Arrows A19                Hydraulic failure
Lap 21  Jos Verstappen    Stewart-Ford SF2          Gearbox
Lap 25  R.Barrichello     Stewart-Ford SF2          Differential
Lap 28  E.Tuero           Minardi-Ford M198         Accident with Takagi
Lap 28  T.Takagi          Tyrrell-Ford 026          Accident with Tuero
Lap 31  M.Schumacher      Ferrari F300              Puncture
Lap 40  S.Nakano          Minardi-Ford M198         Fly by wire failure


All Timing Unofficial