Schumacher 500: Has the King Lost His Crown?
---

With the two points he collected in the German Grand Prix, Michael Schumacher now has overall 500 World Championship points, with only Alain Prost and Ayrton Senna surpassing him. But it seems the German's acheivements are always overshadowed by one argument or another. For Schumacher draws controversy no matter what he does, whether he wins or loses. Formula One fans love him or hate him, but never ignore him. He is always the center of the story, and he has the ability - which the F1 money makers love so much - to draw endless attention from race fans all over the world.
1998 was supposed to be the year he would bring the title home to Ferrari. When he joined the Maranello team 3 years ago, the company's president, Luca Di Montezemelo said that if the team will not win the title with Schumacher on board, they will have no one to blame but themselves. After a poor performace in the last couple of races, people are starting to question whether it is really only the scarlet's car fault. Ville Kopu explains why Schumacher is over-rated, Marcel Schot brings the figures of success and Jan Nottmeier defends his idol, claming him still the greatest driver on earth.
The Artful Dodger
by Ville Kopu, Finland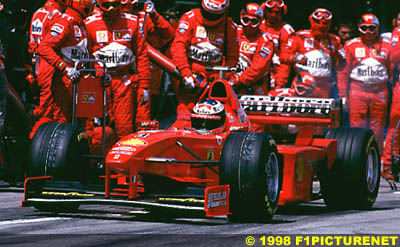 German Formula One ace Michael Schumacher, aged 29, the current number one driver at the Ferrari camp, is widely regarded as the best racing driver on the planet. His racing skills have already brought him two drivers' World Championship titles and an image of the undisputed number one driver in Formula One after Ayrton Senna's death. But, I dare say, the greatest driver in the world still has a point to prove: he has yet to beat a close title rival in a tough but fair decisive race, or, alternately, to lose it honorably.
Michael Schumacher is, no doubt, not only a brilliant racing driver but a team leader with a witty mind and a will to win that has no match. However, this 'excessive' will to win hasn't just brought him 31 race victories and two World Championship titles, but also a controversial image derived from at least two incidents that shadow his image as a fair racer and question his ability to actually race against equal peers. We have seen Michael Schumacher panic in decisive battles for the World Championship title. And it seems as though he might be in panic again, this year.
The Formation of a Paradigm
The scenario is always the same: the championship margin is very close, pressure is high and Schumacher's greatness is challenged. In fact, it goes all the way back to the 1990 Macau Masters race - a legendary F3 event held each year featuring the best drivers from the different F3 classes around the world. The race is run in two heats and the winner is calculated on aggregated times from both heats.
In 1990, the first heat was dominated by British F3 champion Mika Hakkinen who started from pole and never gave up his lead, to win by 3 seconds over German F3 champion Michael Schumacher. On the second heat, Hakkinen started from pole but was beaten to the first corner by Schumacher. Hakkinen had the edge on Schumacher in terms of speed and was closely following his German colleague. Hakkinen only needed to finish within 3 seconds to Schumacher to beat him in the aggregated times. So schumacher was under pressure. During the final laps through the heat Schumacher made a mistake and Hakkinen was right on his gearbox coming on to the main straight. With both men going at around 200 km/h, Hakkinen attempted a pass. Apparently, that did not fit in with Schumacher's plans, and he blocked Hakkinen on the straight. The two cars made contact, and Hakkinen lost a front wing, spinning into the barrier. Schumacher cruised into a victory without a rear wing.
This Macau incident was not a championship decider. But looking back retrospectively, the pattern of Schumacher's behaviour when under great pressure can be traced back all the way to Macau 1990, including the inevitable interviews after the race, where Schumacher is quick to blame his rival for the incident. In Macau, he said that Hakkinen was simply crazy to not just follow him conveniently to the checkered flag, and win on aggregated times...
The Macau incident was soon forgotten, as Schumacher entered Formula One in the middle of the 1991 season, and started building himself a reputation as a promising newcomer. It was obvious, and loudly said, that Schumacher has 'the stuff that champs are made of', to quote his team mate back them, Martin Brundle. And indeed, came the 1994 season and Senna's death, Schumacher was a natural candidate for the title. For many reasons, Schumacher arrived at the decisive race of the 1994 season with only one point lead over rival Damon Hill, who has just beaten Schumacher in a thrilling wet Japanese Grand Prix. To all intents and purposes, the drivers' Championship was wide open.
Adelaide Squared
Adelaide 1994, the final race of the season, was to be the decisive race between the two leading rivals. Fittingly, Schumacher and Hill dominated the race, with Schumacher leading but constantly under pressure from Hill. At around lap 20 Schumacher made a mistake: a sudden twitch from the car sent him touching a barrier with his right side wheels, only to allow Hill to close up and to try a pass in the next corner. Schumacher knew that should Hill pass him, his title hopes are gone. He also felt that the title was rightly his, as he had, after all, dominated the season whenever he was on track. So Schumacher literally shut the door and crashed into Hill, both of them subsequently retiring.
Schumacher took the drivers' championship title by that one point. After the race he was quick to claim that it was not a corner fit for passing and that Hill never had the room to pass there anyway. Hill himself seemed hesitant, and at that time did not directly blame Schumacher for taking him out. Until it was Adelaide all over again.
The scenario of the 1997 European Grand Prix in Jerez was frighteningly similar to the 1994 final Grand Prix, with Schumacher leading the title hunt by a mere one point over Canadian Jacques Villeneuve. The latter, on pole, was beaten by a brilliant start from Schumacher who took the lead by the first corner. That order maintained until soon after the second set of pit stops Villeneuve started closing in on Schumacher in ferocious rate. Whether Schumacher had some sort of a problem with his car, or whether Villeneuve was simply on a newer, better, set of rubber is unknown to this day, but realistically what is known is that Villeneuve started closing in on Schumacher, knowing that he has to make a move if he was ever to be World Champion.
Coming to Dry Sack corner on lap 48 Villeneuve ambitiously took the inside line, braking very late and taking Schumacher partly by surprise. It can be clearly seen in the TV replays that Schumacher soon acknowledged Villeneuve on his side; first Schumacher turned away, giving Villeneuve some room and then, at what looks like an intentional move, turned into him, hitting Villeneuve's side pod with his right front. The contact sent Schumacher straight to the gravel, but also slowed down Villeneuve enough to enable him to make the corner. Without that contact Villeneuve would have gone wide and would have opened Schumacher a gap giving him a chance to take back the lead at the exit of the corner. Nevertheless, Villeneuve cruised to finish in third place and with Schumacher out of the race, Villeneuve was crowned the World Champion by a three points lead.
Schumacher quickly tried to blame Villeneuve for the incident. "I braked on the maximum, he braked even later", said Schumacher and added, "He used me a little bit as a brake... If I had not been there, he would have gone a little bit into the grass." He also dismissed any criticism saying he did not make a mistake and that "In the same circumstances, I wouldn't do anything different."
But this time around, Schumacher's tactics were not to be dismissed. With Villeneuve saying that this move was expected from Schumacher "as he had done it before", and Hill having a field day now blaming Schumacher for the 1994 Adelaide incident, the governing body of Formula One, the FIA, had to take action. Schumacher was stripped off his second position in the World Championship table for the 1997 season.
Personally I think these incidents on track have been caused by an instinctive move from Schumacher, a sudden desperacy of realising the possibility of losing the race and the title in a fair fight. Schumacher himself once said, in an interview for "F1 Racing" Magazine just before the 1995 season begun, "I was once the hunter and now I am the hunted". He was referring to the fact that once he has achieved a World Championship title, he no longer needs to prove himself. Others do. But in 1995 there was no one to effectively "hunt down" Schumacher, and by now, it seems, Schumacher is back to feeling the hunter. And the more time it takes him to catch his prey - a Ferrari World Championship - the more desperate he becomes.
The 1998 season has seen Schumacher on many occasions drive brilliantly, but also seen him making mistakes, more than his usual. Moreover, it is well interesting to see how Schumacher handled himself in the last Grand Prix of Austria, where, once again, a similar scenario to past occurrences was leading to the event - the gap in the drivers' title was once again very small. Leader, Mika Hakkinen had 56 points, only two points ahead of Schumacher, who won the last three races prior to the Austrian Grand Prix.
After a wet qualifying session Hakkinen was lined up third on the grid with Schumacher taking fourth and setting an interesting scenario for the race. When the lights went off, both Hakkinen and Schumacher made a great start, effectively one-two after first lap with Hakkinen in the lead. The difference between them was that Hakkinen had a one stop race and Schumacher two. Which meant that Schumacher was under huge pressure to pass Hakkinen in order to gain the time on track which he will lose in the extra stop.
But Hakkinen blocked all attempts decisively. Schumacher did not let go, and on lap 17 paid the penalty for his wild attempts to keep up challenging for the lead, just as he paid the penalty in Monaco (when he made contact with Alex Wurz and effectively lost all chance of finishing within the points), and unlike his luck in other occasions, when he managed to 'get away with it' (his incident with David Coulthard in Argentina and his incident with Heinz Harald Frentzen, to name a few). In Austria, Schumacher understeered off the track, bounced over the gravel and lost his front wing. Hakkinen won that race, and Schumacher, freed from pressure to fight for the lead, drove a great recovery race to third place. At the very least, he lost two vital points, as he could have finished second.
Epilogue
Briton Johnny Herbert, a former team-mate for both 1998 title candidates Hakkinen and Schumacher, was recently asked about these two and their will to win. "the difference between Hakkinen and Schumacher", said Herbert, "is that Hakkinen wants to win saying 'I won because I was fastest' and Schumacher on the other hand wants to win at all costs". This, in a nutshell, is exactly what Michael Schumacher is: he never gives up, even when shorthanded by machinery or some other reason, and he will never accept a loss. He was recently asked by a German journalist how he evaluates Hakkinen's ability to withstand pressure in a decisive Grand Prix. Schumacher replied that Hakkinen has never been in a position where he had to fight for the title in a crucial close race, so no one will know how he reacts. He may be right with regards to Hakkinen, but one thing is for sure - we already know how Michael Schumacher reacts in that same position...
Long Live the King
by Jan Nottmeier, USA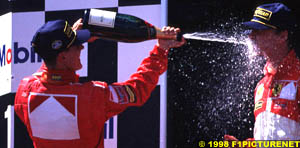 There have been many people around me recently stating that maybe Michael Schumacher lost his magic touch of getting the best out of his Formula One Car. Those views are rather odd when one considers that up until two weeks ago Schumacher had three consecutive wins and headlines of prestigious newspapers were crowning him a living legend. Now, all of a sudden, Schumacher is history? "No one will notice when you do things right, but they will never forget with you do it wrong", the old phrase says, and that applies to Schumacher, as well as to any other superstar. If he wins we take it for granted, but if he loses then suddenly he is deemed over the hill.
But the fact is that Michael Schumacher is not only still the best driver and most consistent around, he is actually still going up-hill, still improving. This year, for example, He won both the Argentinean and British Grands Prix, two races he never won before. He also won 4 races this year, almost as many as he did last year, when prior to jerez he was indisputably crowned the best. In fact, comparing Schumacher's achievements in the last 6 years shows that this year, in many ways, has been one of Schumacher's better ones. And it has not ended yet.
| | | | | | | |
| --- | --- | --- | --- | --- | --- | --- |
| | 1993 | 1994 | 1995 | 1996 | 1997 | 1998 |
| GP participated | 16 | 14 | 17 | 16 | 17 | 11 |
| GP wins | 1 (6%) | 8 (57%) | 9 (53%) | 3 (19%) | 5 (29%) | 4 (36%) |
| Podiums | 9 (56%) | 10 (71%) | 11 (65%) | 8 (50%) | 8 (47%) | 8 (73%) |
| Points-finish | 9 (56%) | 10 (71%) | 12 (71%) | 9 (56%) | 13 (76.5%) | 9 (82%) |
| WC points | 43 (1.9) | 92 (6.6) | 102 (6) | 59 (3.7) | 78 (4.6) | 60 (5.5) |
| Pole | - | 6 (43%) | 4 (24%) | 4 (25%) | 3 (18%) | - |
| Front row starts | 1 (6%) | 12 (86%) | 10 (59%) | 5 (31%) | 7 (41%) | 3 (27%) |
| Fastest lap | 5 (31%) | 8 (57%) | 8 (47%) | 2 (12.5%) | 3 (18%) | 3 (27%) |
The figures in the brackets reflect the percentage for that season, except with regards to the WC points, where the figure reflects average points per race
This chart, of course, does not reflect the luck Schumacher has had or hasn't had in the past and present. It also does not account for the difference in car performance of both the Benetton and the Ferrari in the various seasons Schumacher drove for them. Nonetheless, the figures do show Schumacher's progress, performance wise, through the last 6 years. It is interesting to note that 1998 is, after all, Schumacher's best year with Ferrari regardless of his position in the Championship chase. It is also notable that in terms of podium finishes and points finishes, Schumacher has never been as consistent. Not even in 1994 or 1995, when he won the World Championship title.

His qualifying achievements, nonetheless, seem to take a relapse this year, suggesting that maybe, after all, Schumacher's inability to chase down the McLarens is all because of the inferiority of Ferrari and has no reflection on how good he truly is. I still believe, and I wonder who really doesn't, that had Schumacher drove in the McLaren this year, his would have had the World Championship title secured by now. And I do not worry - Schumacher's third title will come, sooner or later. But until it does, I take comfort in the words of an ex Benetton mechanic, Steve Matchett, who recently said: "Bluntly, I have no doubt at all that I have worked with the greatest driver of our generation". And Amen to that...
---
Ville Kopu
Send comments to: ville.kopu@kolumbus.fi
Jan Nottmeier
Send comments to: nottmaa@chattanooga.net
Stats and figures collected and prepared by Marcel Schot, for Atlas F1