BAR None

---

by Rob Paterson, Canada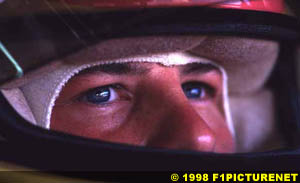 As I'm sure you are all aware, Jacques Villeneuve signed a two year contract with British American Racing earlier last week. Thus we can put the least surprising event of the silly season behind us. I say least surprising because in my eyes Williams was never going to pay anyone $15 million USD for two years service, least of which a driver, any driver. This leads us to speculate about what Villeneuve's new team will be like. Apparently they have access to a ton of cash, a reported 5 year budget of approximately $300 million USD, and a brand new state of the art facility in Brackley.
Attention now goes to who will fill the second seat. This weekend in a pre-race interview with Gerald Donaldson, many Canadian Formula One viewers were told that BAR team boss Craig Pollock had narrowed the choice down to two drivers, one within Formula One, and one from Champ Cars. There are few drivers with a great record in Formula One that seem to be going anywhere next year. I doubt Damon Hill will leave for a third team in three years, both McLaren drivers were confirmed this weekend, as was Eddie Irvine. Mika Salo is a possibility, as is Ralf Schumacher according to recent rumours.
I found the possibility of the Champ Cars more intriguing. I started to wonder what North America's top open wheeled series has to offer. Rumours abound, but in Toronto Pollock visited drivers from Chip Ganassi Racing, Newman Haas, and Team Green, as well as Greg Moore's father/manager Rick.
The first driver chassis manufacturer Adrian Reynard would probably tout, would be Alessandro Zanardi. The current CART points leader started turning the series upside down not long after his arrival. His flambouyant style would be welcome in Formula One in my opinion, and sensing that he's received a second chance at Formula One, he'd probably grab hold with both hands. It looks to me as if over the last six months, he has shaken the impetuousness that has been the source of his problems both in CART and in Formula One. This might have been the reason Frank Williams may have scooped Alessandro from right under Pollock's nose. If current rumours are true we can expect to see Zanardi in a Williams next year. So much for BAR getting the best that CART has to offer.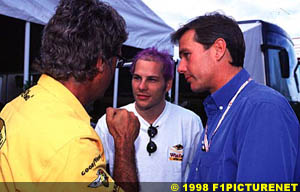 Jimmy Vasser appears to be a favourite as well. This would mostly be coming from the Villeneuve camp, as both JV's are said to be friends, and Jacques has stated that he is looking for a teammate that would challenge him. While I would agree that Vasser seems to be a nice guy, and is probably easy to get along with, I'm not entirely sure that he would provide Villeneuve too much of a challenge. It's not because Jimmy lacks skill, he has shown enough skill and consistency to win the 1996 CART championship, but Jimmy would be a fish out of water in Europe. You can bet that Jimmy would have similar problems to those Villeneuve had in his first year in Formula One on circuits he doesn't know. Even the most rigourous testing schedule only takes the drivers to roughly five of the tracks the circus visits. Couple that with Vasser's perceived lack of aggression, which is probably why he's also so consistent, and you have a perfect non troublesome number two driver. No matter what Villeneuve says, I'm certain that a non-troublesome teammate would be his preference.
Dario Franchitti seems to be in the frame, as well as Greg Moore. While both these young lions would be great prospects to nurture, both would probably not survive very well in an Formula One environment quite yet. Franchitti seems prone to making devastating mistakes, not unlike in Toronto this year, but he also shows flashes of brilliance. Moore, in my opinion, while closer to being a Formula One candidate than Franchitti, still has unfinished business in CART. The expected departure of Zanardi greatly increase his chances of taking a CART championship with him to Formula One, which I feel is the only way he'll go. Also, while he is mature beyond his years, Greg could use a little more mental toughness, and or focus to thrive in Formula One. As I say, both are exciting prospects, and in coming years I feel both will be heard from should they express an interest in Formula One.
Although Pollock was seen in the Newman Haas hospitality area, it is unlikely that he is courting both drivers. While I feel that Michael Andretti is now a much wiser driver, and would do far better in a second stint in Formula One, the sleeper here is Christian Fittipaldi. Christian has three years Formula One experience driving less than competitive machinery, yet he found his way into the points in both the Minardi, and the Footwork cars that he drove. Christian's CART record has fallen off of late, and it's possible that he may lose his Newman Haas ride next year. I can't help but wonder though, if he is better suited to Formula One than CART. If his role is to be a confirmed number two, why not go with a driver that knows the circuits, and the lifestyle in Formula One. The upside being that perhaps CART wasn't his cup of tea, and the more sterile approach in Formula One might benefit him. I also see Pollock not being above looking at all that potential Brazilian sponsorship money, and signing a driver that possibly doesn't deserve a Formula One ride based on his CART performances. Let's face it, Riccardo Rosset isn't driving a Tyrrell due to his skill level.
Should BAR sign a CART driver, I'd imagine that either Jimmy Vasser and Christian Fittipaldi are the most likely candidates. While Vasser would please the American part of British American Racing, Fittipaldi brings Formula One experience and even more sponsorship. One thing is certain though, any driver from CART, or Formula One for that matter, will more than likely have a rough first year with BAR.
While Adrian Reynard is fond of saying that winning his Formula One first race is his goal, there is very little to base that sort of optimism on. While I'm sure they are better prepared for Formula One than Lola was, I can't get those horrible lap times from Sospiri and Rosset in Melbourne out of my mind. The problem is that there is virtually no base to build the team on yet. This year's baseline data collected by Tyrrell won't be that helpful with an all new design crew doing the work on BAR's first car. And the fact that there will be virtually no carry over from the existing Formula One team does nothing to buy my confidence.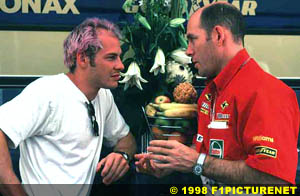 My main problem with this venture is that there just isn't that much Formula One experience. There is no pit crew save for maybe Jock Clear, things will take probably about a half a year to gel. And I just can't see a former school teacher with no Formula One team management experience doing everything right in his first full year. He's even done some things that are questionable this year, and he isn't even running the team. Alienating Ken Tyrrell will not help with the name change which he will most likely have to attempt in order to please his bosses at British American Tobacco. Ricardo Rosset being in Tyrrell was one of the few moves that Pollock insisted on, and that has proved to be a rather large bust. If these things are a precursor of future moves, I'd hardly think the team will be immediately successful.
While watching recent developments at BAR have been interesting I fear that they will need at least a couple of years to recover from the inevitable first year mistakes that they will encounter. If they score points next year, I won't be surprised, but podiums would be a stretch in my opinion, and race wins look very unlikely. One need only look as far as Ferrari in the early nineties to know that money doesn't buy success, that is unless it's spent wisely. While no doubt Formula One will benefit having another team with a mega-bucks budget, I wouldn't hold my breath for BAR's first success.
---
Rob Paterson
Send comments to: rpatersn@direct.ca