British Grand Prix Review

---

Silverstone, Towcester, England
10th - 12th July 1998
by Ian Burley, England

Qualifying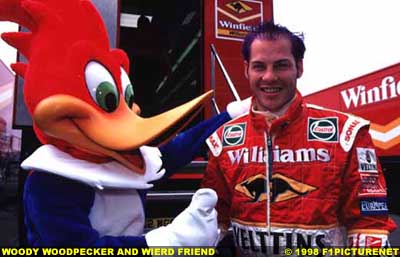 Mika Hakkinen comfortably claimed pole position for the RAC British Grand Prix at Silverstone. Although his time of 1m 23.271s was only some 0.449 of a second ahead of Michael Schumacher's Ferrari in second place, it was the relative abyss of 1.039 seconds to McLaren team mate, David Coulthard, back in fourth place which shocked Coulthard's many fans at his home Grand Prix. Coulthard simply couldn't find a good balance in his McLaren and although changes to settings marginally helped him to marginally improve his lap time on his final run, he was left wondering what he had to do to get back into the winning groove. In third place was a hard charging Jacques Villeneuve who was visibly wringing out everything from his Williams. Fifth was Eddie Irvine in the second Ferrari, while Villeneuve's team mate, Heinz Harald Frentzen, who also worked hard, completed the top six after briefly holding third place.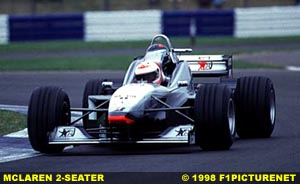 Damon Hill equaled his best performance of the year to take seventh, but felt his last lap could have been better and was disappointed to be out of the top six. Meanwhile, team mate Ralf Schumacher was having a terrible time. After failing to slow under yellow flags in the morning session the threat of his fastest official qualifying lap being canceled was hanging over him. This was compounded with a spin and a stalled engine early in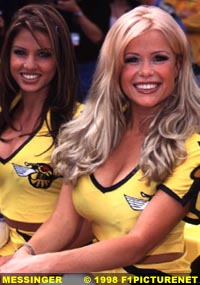 qualifying and a hurried re-engineering of Hill's spare car for a late return to the fray. Things were made worse when Ralf was deemed unable to get out of the car quick enough and his next fastest lap was taken away from him, relegating him to 22nd. Jean Alesi just pipped Sauber team mate Johnny Herbert to eighth.
Ferrari fans were on the edge of their seats in the last minutes of the session as Schumacher shaved four hundredths off Hakkinen's first sector time, but he over-braked himself in the second sector and pole was Hakkinen's. It was a disappointing session for the Stewart, Benetton and Prost teams, all on Bridgestone tyres. However, Jos Verstappen cheered his many fans by out-qualifying Rubens Barrichello, a feat which must be hurting ousted Stewart driver, Jan Magnussen. Arrows with Diniz in 13th place and Salo next in 14th did well considering Silverstone is a power circuit. Diniz must have been pleased to be in front of Salo, who was left stranded out on the circuit right at the end of the session.
All eyes are now on the weather. Only a few spits of rain threatened to spoil qualifying, but heavy rain was forecast for Sunday. This news must have been music to Michael Schumacher's ears. If it was to rain, the British Grand Prix would be the first wet race this year.
The race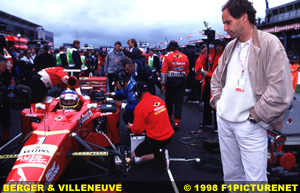 Michael Schumacher is provisionally the winner of an action-packed 1998 RAC British Grand Prix. At the time of writing, the race had been awarded to Schumacher, but it looked like McLaren would appeal the result after Ferrari hesitated in calling in Schumacher for a stop and go penalty right at the end of the race. Eddie Irvine was third, followed by Giancarlo Fisichella, Alexander Wurz and Ralf Schumacher. The race was lashed by wind and rain, causing the safety car to be called out, but not before Hakkinen nearly threw away his race by spinning at Bridge corner. Damon Hill disappointed his fans by spinning off on lap 13 and a similar fate befell Herbert and eventually David Coulthard.
Coulthard started the day with confidence restored after it was discovered his Mercedes V10 wasn't on full song during qualifying the previous day. Fastest time in the warm up session, which was held during steady rain, set things up nicely for Coulthard before the race.
In the event, the rain lessened on the run up to the start of the race and the racing line was both dry and wet at different places around the circuit. Everyone started on intermediate tyres except for the two Stewarts, which gambled on dry tyres.
Hakkinen, Michael Schumacher and Coulthard Alesi made good starts and for the first couple of laps Schumacher kept Hakkinen honest while Coulthard kept things steady a couple of seconds in arrears. Meanwhile, Alesi made a blinding start from 8th to 4th on the first lap, while Irvine did exactly the opposite - losing five places on the first lap to find himself in tenth. Irvine provided immediate entertainment by clawing back up the field, dispatching Herbert, Hill, Villeneuve and Frentzen by lap 15. Irvine's Ferrari looked very good in a straight line under power, probably making Ron Dennis's veiled accusations that Ferrari is running a traction control system.
While jaws dropped while Irvine let his driving do the talking for once, Coulthard raised a huge cheer by making Schumacher pay back the rude insult from the two times champion back in Argentina, coolly passing the Ferrari with no hint of an impending crunch. What was going through Schumacher's mind at that moment? The recent criticisms of his contact racing? The need to survive the race for the sake of his championship challenge? Whatever, the battle for this corner was as clean as the newly laid Italian marble floor in the McLaren garage… This appeared to unsettle Schumacher, who quickly fell back. Then the partisan home crowd groaned as Damon Hill's Jordan became the first retirement, spinning out on lap 13 after putting the power on a bit too early while challenging Villeneuve for 7th.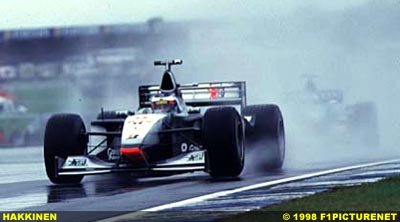 By now the rain was steadily increasing. Those who pitted early tended to go for more intermediates, but by lap 25 the choice was more likely to be full wets. After the first stops Hakkinen had opted for wets but Coulthard had gambled on intermediates. Coulthard handed himself a brief advantage, closing on Hakkinen to within half a second, but the steadily increasing rain soon returned the advantage to Hakkinen.
By close to mid-distance, the race had settled down with Hakkinen followed closely by Coulthard, Schumacher some ten seconds further adrift unable to make any progress and a further ten seconds down was Irvine, who had smartly passed Alesi's Sauber in the pits.
Johnny Herbert's Sauber spun out at Woodcote on lap 28, elevating Ralf Schumacher's Jordan into the points in sixth. The younger Schumacher was finally making progress after a disastrous qualifying session where he stranded his race car and was eventually made to start at the rear of the grid because he couldn't get out of Hill's spare car as fast at the regulations permit. Panis was also deemed guilty of the same offence.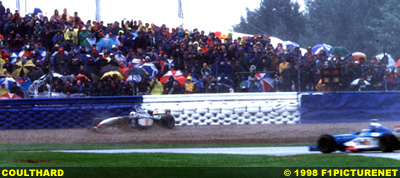 On 38 lap there was disaster for Coulthard, still on intermediates he spun the car in a straight line while braking as he passed a back marker. The combination of worn intermediates and passing off-line in standing water spelled Coulthard's end.
On lap 42 Hakkinen made things too exciting for comfort by spinning 360 degrees at high speed exiting Bridge. The leading McLaren was completely out of control, missing Priory, before regaining the track at Luffield, somehow pointing in the right direction. This cost Hakkinen some ten seconds of his huge 49 second lead over Schumacher. The McLaren pit collectively breathed a huge sigh of relief. The conditions were now patently treacherous and the safety car was called out - though too late for both Prosts, Salo's Arrows and Verstappen's Stewart, all of which succumbed to aquaplaning a couple of laps earlier.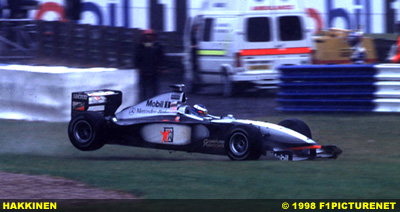 At three quarters distance, the order behind the safety car was Hakkinen, Schumacher, Irvine, Alesi, Fisichella, Wurz and Ralf Schumacher in 7th and Villeneuve in 8th. Now Michael Schumacher sensed his race had been salvaged. From over half a minute behind Hakkinen, Schumacher was now circulating impatiently just a few lengths behind Hakkinen as the safety car kept station. Only a lapped Benetton was keeping them apart.
On lap 49 the safety car pulled aside and Hakkinen initially streaked away with the advantage of being at the front of the pack. But Hakkinen's McLaren had a damaged front wing from his off at Bridge. Could the damage affect the leading McLaren? The answer was soon to come. Schumacher was quickly on the McLaren's tail and at Beckets Hakkinen straight-lined one of the kinks, letting the Ferrari through. To add to the incredulity of the McLaren team, the sun came out and now Hakkinen was under pressure from the second Ferrari of Eddie Irvine. If he could get past Hakkinen, Schumacher would tie with Hakkinen.
Then with two laps to go incredible drama to underline the closing minutes of the race - stewards were in frantic discussions with the Ferrari management and the crew were preparing for a stop and go penalty imposed on Michael Schumacher, apparently for passing Fisichella's lap-behind Benetton before the start/finish line after the safety car had withdrawn. This was shades of Silverstone in 1994 when Schumacher was disqualified for ignoring the same penalty. As Schumacher rounded Woodcote for the last time he darted in to the pit lane and technically passed the finish line to end his race and THEN serve the stop-go penalty further down pit lane in the Ferrari pit. This was never going to be a straightforward result.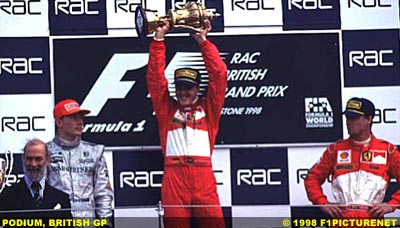 As the cars lined up in the Parc Ferme, Schumacher looked like the winner, smiling and congratulating his mechanics, while Hakkinen looked distinctly dejected. Meanwhile, Ferrari's Ross Brawn was actually conceding to the media that the stop-go penalty might have been executed too late - even he was wary of claiming victory. Nobody seemed to know who was the true winner. Certainly, Irvine was third, Fisichella fourth, Wurz fifth and Ralf Schumacher a relieved sixth to claim Jordan's first point of the season. Villeneuve fans had nothing to cheer about, his excellent third place on the grid had long since evaporated in an off.
As the drivers climbed the steps to the podium, Jean Todt greeted his two Ferrari drivers and quickly informed them of the situation as it stood. Schumacher's reaction didn't look that happy, but he took the top step on the podium as the trophies were handed out, though the crowd was still wondering if an appeal by McLaren was under way.
It was easy to sympathize with Mika Hakkinen - the safety car came out too late to save him from his damaging off at Bridge on lap 42. Even after that incident he had more than half a minute's lead. But that was gone as soon as the safety car emerged. But Ferrari and Schumacher fans will surely point out that Hakkinen made two mistakes and paid the price.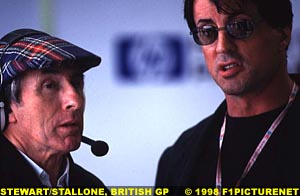 The Result (60 Lap Race)
1.
2.
3.
4.
5.
6.
7.
8.
9.

10.
11.
12.
13.
14.
15.
16.
17.
18.
19.
20.
21.
22.

M. Schumacher (Ferrari) G
Hakkinen (McLaren-Mercedes) B
Irvine (Ferrari) G
Wurz (Benetton-Playlife) B
Fisichella (Benetton-Playlife) B
R. Schumacher (Jordan-Mugen) G
Villeneuve (Winfield-Williams) G
Nakano (Minardi-Ford) B
Takagi (Tyrrell-Ford) G

Not Classified

Alesi (Sauber-Petronas) G
Diniz (Arrows) B
Panis (Prost-Peugeot) B
Barrichello (Stewart-Ford) B
Verstappen (Stewart-Ford) B
Trulli (Prost-Peugeot) B
Coulthard (McLaren-Mercedes) B
Rosset (Tyrrell-Ford)B
Tuero (Minardi-Ford) B
Salo (Arrows) B
Herbert (Sauber-Petronas) G
Frentzen (Winfield-Williams) G
Hill (Jordan-Mugen) G

B: Bridgestone G: Goodyear

1h 47.02.450s
+ 0m 12.400s
+ 0m 19.100s
1 lap
1 lap
1 lap
1 lap
2 laps
4 laps

7 laps: mechanical
15 laps: spin
20 laps: spin
21 laps: spin
22 laps: mechanical
23 laps: spin
23 laps: spin
31 laps: spin
31 laps: spin
33 laps: spin
33 laps: spin/pits
45 laps: spin
47 laps: spin

Fastest Lap (12): Michael Schumacher 1m 35.704s
---
Ian Burley
Send comments to: ian.burley@write.co.uk