But if this wasn't bad enough for McLaren, Coulthard was off line on the first lap struggling to regain control and the Benetton of Alexander Wurz couldn't avoid him. Both ended up in the gravel trap, but Coulthard was just able to get going again at the tail of the field.

The top ten order as the pack line up behind the safety car was Hill, Michael Schumacher, Irvine, Jean Alesi - making a great start from tenth, Villeneuve, Frentzen, Ralf Schumacher, Fisichella, Diniz and Verstappen.

The stranded Sauber and McLaren were quickly shifted and two laps later the race was on again. Hill's Jordan, on intermediate settings with the hope that the track would dry progressively, looked confident initially. For the first three or four laps in anger Hill was able to maintain a cushion of just over a second on Schumacher's Ferrari, but then the rain started to get worse and it was soon evident that the Jordan was struggling. Nevertheless, it was a very strange sight indeed seeing Hill and a Jordan leading the race. But it wasn't until lap 7 that Schumacher out-braked Hill into the Bus Stop. On lap nine, despite the worsening conditions, Schumacher set the fastest lap of the race, some two seconds faster than Hill's best on lap five. The Ferrari looked especially good under braking.

By lap 8, the sole remaining Stewart piloted by Jos Verstappen was out with yet another blown Ford V10. On lap 9 Irvine broke his front wing and a barge board after missing a chicane and clobbering a kerb. A lengthy pit stop remedied the broken bits and pieces and he also took the opportunity to change to full wet tyres. By lap 11, Ralf Schumacher was in to the pits from sixth place to swap his intermediate tyres to full wets - a key change in strategy which would earn a generous reward a few laps later. He only lost a single place upon rejoining.

On lap 16, all the leading runners who were still on intermediates pitted for full wets - except Villeneuve. The reigning world champion paid the price a lap later just before his own stop was due, aquaplaning off into the barriers - along a straight section of the road. Hill's stop was slightly fraught as the mechanics changed the front wing settings to generate more downforce. The mechanic to Hill's right managed to get his Allen key stuck in the adjuster and needed help from another mechanic to free it. Whatever, the car was still essentially set up for intermediate conditions, but Hill and Schumacher had, by this time, pulled out a big gap to the rest.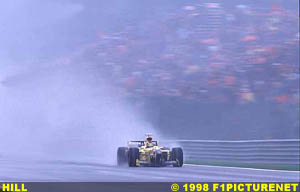 On lap 17, Hill was in a Schumacher sandwich 22 seconds behind Michael, but 22 seconds ahead of Ralf, who had emerged a grateful third after the stops. The second Jordan was followed by Alesi, Frentzen, Irvine - another beneficiary of an early stop for full wets, Diniz and Fisichella. Trulli was behind Fisichella and like Diniz, was on a one-stop strategy, both pitting on lap 21. For a few laps things remained fairly uneventful, though by this time Coulthard was hollering down his radio to get the safety car back out.
By lap 24, Ralf Schumacher had cut his team mate's lead down to just ten seconds and Big Brother Michael was now almost 30 seconds ahead of Hill. On the previous lap Michael almost had a coming together with Diniz. Now, a short distance ahead, Coulthard was in front, waiting to be lapped by the leader. After over a lap of following Coulthard's spray, Schumacher radioed his pits, and Ferrari team boss, Jean Todt, was down at the McLaren pit to request Coulthard be told to let Schumacher past.
Coulthard knew what the situation was and expected the Ferrari any moment. Michael, though, seemed to be a man on a mission. Although his championship rival was out, he was leading the next guy by 30 seconds and pulling away at two seconds a lap and he seemed frustrated that the McLaren was in his way, even waving his fist at it. Certainly, the conditions were now at their most treacherous and one assumed that you would have to pick your moment carefully before attempting to pass. Coulthard said later that he couldn't see anything behind him. Could Schumacher see the red beacon at the rear of the McLaren switched on in bad visibility?
Inexplicably the Ferrari's right front wheel hit the McLaren's rear, tearing it off and ending Schumacher's race instantly. Both cars managed to limp on, the three-wheeled Ferrari looking amazingly stable considering the damage and line astern as they entered the pit lane, Schumacher to retire and Coulthard to have his car repaired in the vain quest for an extra point.
Schumacher angrily threw his steering wheel at a mechanic, launched himself out of the car and headed straight for the front of the garage. He was so quick that the garage door hadn't yet been closed. There was look of pure anger on Schumacher's face - a look we'd never seen from him before. He pushed aside a Ferrari aide trying to restrain him and marched into the McLaren garage, confronted Coulthard who was also out of his car, but still had his helmet donned. Even the diminutive figure of Jean Todt was trying to pull Schumacher back. Then suddenly, Schumacher turned and left, walking past the Jordan pit crew who were just beginning to realise that their cars were now first and second.
Later, David Coulthard explained the situation from his point of view: "I'd seen the blue flag, the team had informed me because obviously it was very difficult to see in my mirrors because the conditions here were terrible with the amount of spray. They'd informed me that Michael was behind me and that I should let him past. And I went through the left hand corner just before running down to Pouhon, maintained my speed to allow him to overtake me before Pouhon and he ran into the back of me. Obviously it was a regretful incident; there's no way I wanted to get in the way of his race, but his behaviour in coming into the garage and accusing me of 'F-ing trying to kill him' is just unacceptable. You know, when I've had incidents with Michael in the past, I've waited until afterwards and spoken to him man to man, face to face to discuss the incident. We can't change what's happened, but his behaviour afterwards was just unacceptable." The Scot then added: "It's disgusting behaviour for someone who has got such a fantastic record for driving in this sport. He really needs to get some sort of help for controlling his anger after such an event."
So, with 19 laps to go, Damon Hill found himself back in the lead, but he was now under severe pressure from his team mate, Ralf. Eddie Jordan rightfully wanted to avoid an embarrassing clash between his two drivers and Ralf was given the order to follow Damon home. But with Ralf currently suing Jordan to release him from his contract so he can go to Williams next year, there was a sense that he might just choose to ignore team orders and go for the win. After all, Hill was clearly struggling and on lap 28 he over-shot the Bus Stop chicane, running across the grass. However, he retained his lead after his final stop just as the safety car came out once again in response to a nasty incident between Fisichella's Benetton and Nakano's Minardi.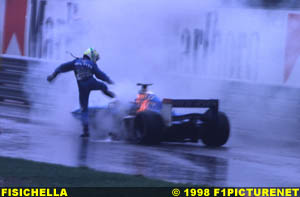 In a sort of action replay of the Schumacher/Coulthard incident, Nakano was unseen by the following Fisichella, this time at the Bus Stop chicane. Fisichella hit the back of the Minardi very hard and most of the left hand side of the Benetton was shredded. Amazingly, Nakano was able to continue after repairs. Irvine was out too, his Ferrari clipping a kerb and spinning him way off the track into the gravel. The disaster for Ferrari was complete.
With some twelve laps to go and the safety car back in the pit lane, Hill lead a dutiful Ralf Schumacher and Jean Alesi's Sauber. It was increasingly clear that Ralf was going to honour his team orders, but he was under some pressure from Alesi. Later, Alesi conceded that he wasn't going to take any big risks in trying to pass Ralf. Frentzen and Diniz could not stay with these three, however, while Trulli would survive in sixth, earning a valuable first championship point for Prost, albeit two laps down on the leaders. The race duly ended on lap 44 with Damon Hill acknowledging the frantic yellow mass on the Jordan pit wall with a victorious punch in the air. This was history in the making - after 127 races and seven years, Jordan had won their first Grand Prix, and with a 1-2 at that.
On the podium, Ralf looked less than ecstatic. He must have had a lot on his mind - his brother's situation, the fact that he was trying to leave a now-winning team, that Hill had had the upper hand and that in the end, the race was actually there for the taking. However, when interviewed he was diplomatic: "I'm really happy for the team and also for myself. Sometimes you see the possibility to win a race and you're second and you don't realise what you have achieved. In the end I'm still very happy with the whole situation and the second place."
Afterwards Hill said of the victory and his team: "It's a great feeling - everyone's so happy. I've never seen such a happy bunch of people and they thoroughly deserved it." He also said it was really Eddie Jordan's day. Eddie recalled: "Spa has been very kind to me I have to say, both in F3 and F3000, we've been on pole position here, we were second here last year, but nothing even comes close to this; I think we did style and dignity - Damon lead from the very start and to finish 1-2 you have to be pushing very hard and be competitive. The turn-around has been really phenomenal. Five races or six races ago we were absolute also-rans to being first and second here and scoring points at every race since then. So, yeah - it's a great feeling, I have to say!"
However, for the leading teams and drivers of the World Championship, the unforgettable race of the Belgium Grand Prix, 1998, - the race which marks Ferrari's 600th Grand Prix and McLaren's 30th anniversary since their first Grand Prix win - that race, was a nightmare to forget.