Qualifying Differentials
---
Spain GP Edition
Kapow! It's differential time again. Skip the next paragraph if you are a regular visitor.
As mentioned in the first edition of Atlas F1 Qualifying Differentials, we are going to keep an eye on the battle between teammates throughout the season by race and overall averages. The measurement is simple. We compare the intra-team difference in seconds on Saturday. Some may say compensation must be given in the favoritism between the number one and two seats within the team. We, on the other hand, do not grant that pardon. For better or worse, our analyses will be on the perfect world of egalitarian status in intra-team rivalry.
So, here we go. The season is unfolding and the differentials are rolling in. Let's see which drivers deserve bragging rights for the next three weeks.
Notables
Panis. Six for six and top of the leader-board. Olivier has been a differential notable in each issue and is on track in becoming the 1997 Formula One Qualifying Differential World Champion. An interesting note, however, was that Nakano discontinued the over-one-second-reaming by sixty-four thousandths of a second in Spain. In the last issue, we wondered how long the over one second trend by Olivier would last. Regardless of the (non)achievement, you wonder just how deep Shinji's pockets really are... or should I say... his girlfriend's father: Mr. Mugen's.

Barrichello. Danish Domination Part 6. In all fairness, Jan has been performing a bit better as of late with "improved" differentials in San Marino, Spain and even his first go at Monaco compared to the dreadful start of the season (+1.548 AUS, +1.514 BRA and +2.093 ARG). At the end of the day, however, get ready for Danish Domination Part 7 in the next issue.

Herbert. As stated above, we do not give any favoritism between the number one and two seats. Complain about that fact, and you'll be test driving Ferraris from now on. Hmmm. Anyway, it doesn't matter who's in the second seat; Herbert will dominate them. Member of the 6 for 6 club so far, Herbert looks to continue the trend in Canada.

Hill. Damon probably hates rush-hour. All those inferior drivers in all those cars. Its a safe bet that sitting next to him in traffic is a stressful experience -- not to mention for the poor bloke with the 1987 Vauxhall Astra in front of him. If the 1996 Formula One World Champion has a clear road in front of him, he performs well. Hence, 6-0 in 1997 Qualifying Differentials with a 0.913 average. Bang.

Schumacher. Michael is the only other driver from the above mentioned that is also six for six this year. Although his gap isn't as large as Panis' or Barrichello's, the fact that Eddie Irvine sits next to him in the garage does, arguably, have some extra merit. Michael may rise a few spots by the end of the year due to his consistency. His deviations from average are comparably low. With the exception of Herbet who has a standard deviation of 0.310, Michael's standard deviation of 0.393 is the best of the top 5 in 1997 Qualifying Differentials.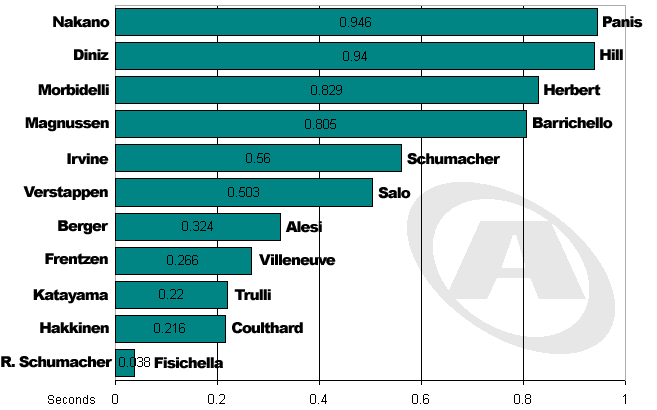 1997 Differentials
on average through Spain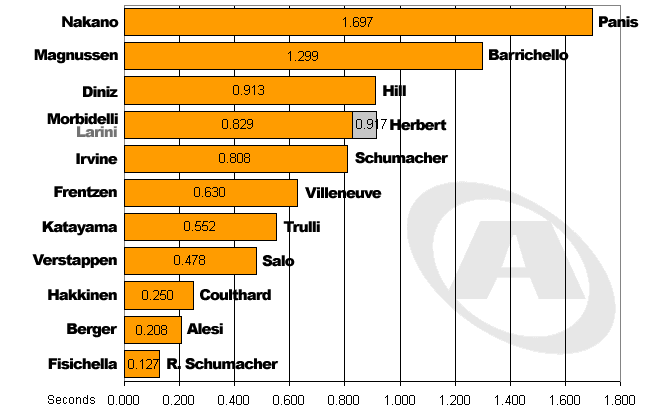 ---
NOTES
The raw data are copyright © 1997 Fédération Internationale de l'Automobile (8 place de la Concorde, Paris 75008 France). These compilations are copyright © 1997 Atlas F1. Reproduction in any form of these compilations is forbidden without the express permission of Atlas F1 or Atlas WWW.
The data are subject to revision. Atlas F1 will not be held responsible for any errors or omissions.
Send comments to: kaizar@atlasf1.com