Qualifying Differentials
---
San Marino GP Edition
Back with a vengence, it's differentials through San Marino. As we said in the first edition of Atlas F1 Qualifying Differentials, we are going to keep an eye on the battle between teammates throughout the season by race and overall averages.
The measurement is simple. We compare the intra-team difference in seconds on Saturday. Some may say compensation must be given in the favoritism between the number one and two seats within the team. We, on the other hand, do not grant that pardon. For better or worse, our analyses will be on the perfect world of egalitarian status in intra-team rivalry.
So, here we go. The season is unfolding and the differentials are rolling in. Let's see which drivers deserve bragging rights for the next two weeks.
Notables
Panis. Number one and four for four. Olivier is on fire and dominating both teammate and differential grid. This is turning out to be one hell of year for the Frenchman. I can't think of better situation for Panis or anyone: a teammate who pays for you to go out and slaughter him on Saturday.

Barrichello. Rubens is also four for four in 1997. The situation at Stewart makes one pause before picking apart the problems, with Jan or otherwise. Most of us want to see Stewart succeed. An encouraging fact in San Marino was Magnussen managed to drop the gap to under two-thirds of a second behind Rubens. However, the 2.093 trench two weeks ago in Argentina, the 1.514 valley in Brazil, and the 1.548 lake at Melbourne adds to Stewart's major occupation of consistency problems apart from race day.

Hill. We really should love the guy. World Champion in 1996 and no points in 1997... But, he's having a good time. Saturdays may be one reason why.

Herbert. A little encouragement from his team along with the number one seat has paid off for Johnny's production. Unfortunately for Nicola, Herbert's place in the overall averages of differentials shows how well he reacts to beneficial treatment on behalf of Sauber.

Berger, Alesi, Hakkinen, Coulthard, Salo and Verstappen. These guys are in a one major battle for either leader of the best intra-team matches or kings of mediocrity.
1997 Differentials
on average through San Marino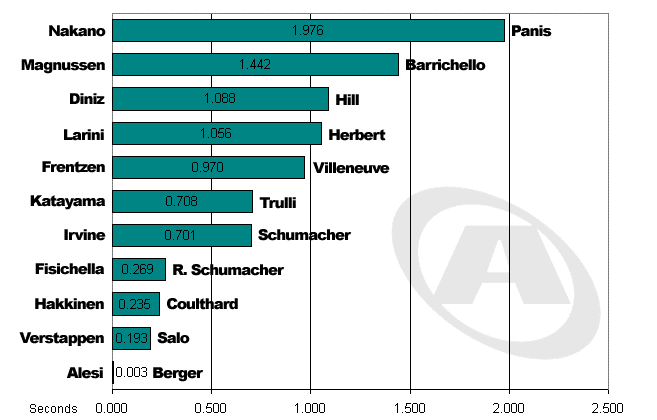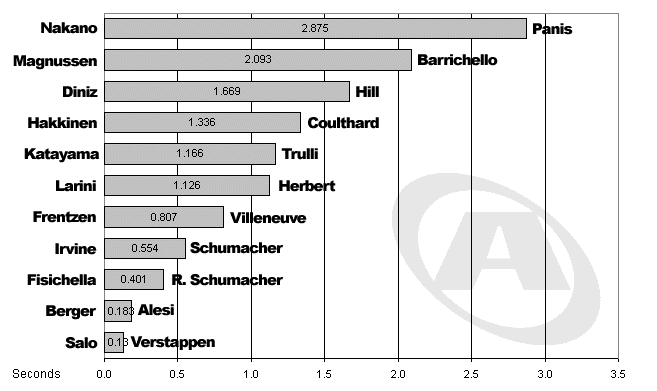 ---
NOTES
The raw data are copyright © 1997 Federation Internationale de l'Automobile (8 place de la Concorde, Paris 75000 France). These compilations are copyright © 1997 Atlas F1. Reproduction in any form of these compilations is forbidden without the express permission of Atlas F1 or Atlas WWW.
The data are subject to revision. Atlas F1 will not be held responsible for any errors or omissions.
Send comments to: kaizar@atlasf1.com