Qualifying Differentials
---
1997 Final Edition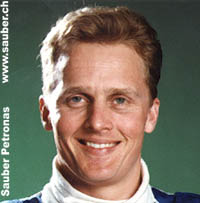 Ladies and gentlemen, the winner of the 1997 Atlas F1 Qualifying Differential Championship is Johnny Herbert.
What are the 1997 Atlas F1 Qualifying Differentials you ask? (If you didn't ask, skip the details as always) Atlas F1 Qualifying Differentials keeps an eye on the battle between teammates throughout the season. The measurement is simple. I compare the intra-team difference in seconds on Saturday. Is this fair? Some may say compensation must be given in the favoritism between the number one and two seats within the team. I, on the other hand, do not grant that pardon. For better or worse, my analyses will be on the perfect world of egalitarian status in intra-team rivalry.
In this final 1997 issue, I am "guilty" of adjusting the stats in a questionable manner. In a less-than-perfect attempt to account for drivers who have missed races, the final calculation of differentials were divided by 17 qualifying sessions regardless of actual number of sessions the driver was entered.
Kosher? Probably not. However, I'm willing to take some bashing from those you on the crudeness of the measurement. Basically, for those drivers who missed a race, a zero differential was added in. This means that a hypothetical tie (not unlike Villeneuve and Frentzen in the last race) occured. Would this be a likely case for Prost v. Nakano? No way. However, can you give any driver a championship after missing 7 races? Obviosly not. Therefore, please keep in mind I'm not happy with how this is devised. Below the initial graph is another with the true differential average per driver. So, Panis, having raced only 10 races, had the sum of his differentials versus Nakano divided by 10. Regardless of the calculation, both Herbert and Panis performed superbly on Saturdays and should be rewarded as such.
Winners
Herbert. 17 wins - 0 losses. Johnny Herbert v. Nicola Larini = 0.917 second advantage (Australia through Monaco [5 sessions]), Johnny Herbert v. Gianni Morbidelli = 0.743 second advantage (Spain through Canada;Hungary through Japan [8 sessions]) and Johnny Herbert v. Noberto Fontana = (France through Germany;Europe [4 sessions]). Johnny has not missed any of the 1997 sessions and finishes with 0.905 average differential advantage over everyone who Sauber has sat next to him. Congradulations Johnny for a superb year.

Panis. 10 wins - 0 losses. Olivier Panis v. Nakano = 1.646 second advantage (Australia through Canada [7 session]) and Olivier Panis v. Shinji Nakano = 0.727 second advantage (Luxembourg through Europe [3 sessions]). Olivier missed seven Grands Prix (France trough Austria) this year. However, in the qualifying sessions attended, he averaged a devastating 1.370 second average advantage over Shinji Nakano. It's debatable whether or not he would have maintained a similar advantage if the unfortuante incident in Montreal hadn't occured. Nevertheless, Olivier's Saturday attack was formidable. It is a shame that Prost decided, or was forced, to remove Trulli from the line-up after Olivier's return. If Trulli remains at Prost in 1998, we may see a very exciting battle for differential fans. I'm sure I speak for all of the Atlas Team, writers and readers, in saying that we are glad Olivier is back and congradulate him for the fantastic results.

Schumacher. 16 wins - 1 loss. Michael Schumacher v. Eddie Irvine = 0.754 second advantage (Australia through Europe [17 sessions]). Michael, except for a burp in Austria, has beaten Eddie Irvine consistently with one of the smallest differential deviations of the 1997 line-up. On Saturdays, Michael has been the most consistent performer with the exception of the two gentlemen listed above. Congradulations Michael for the spetacular shows on Saturday. Well done.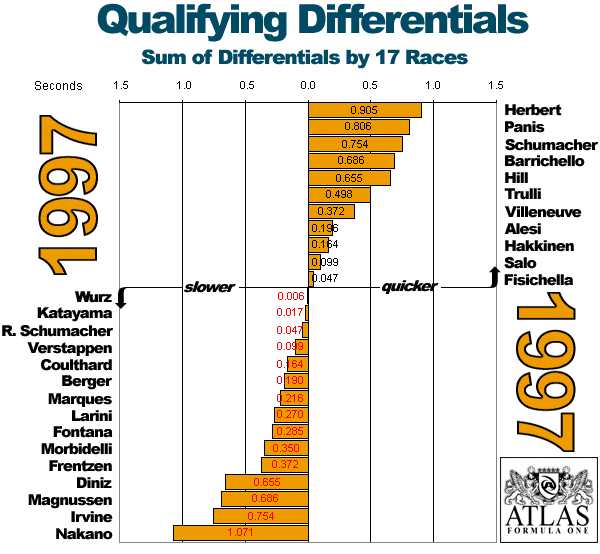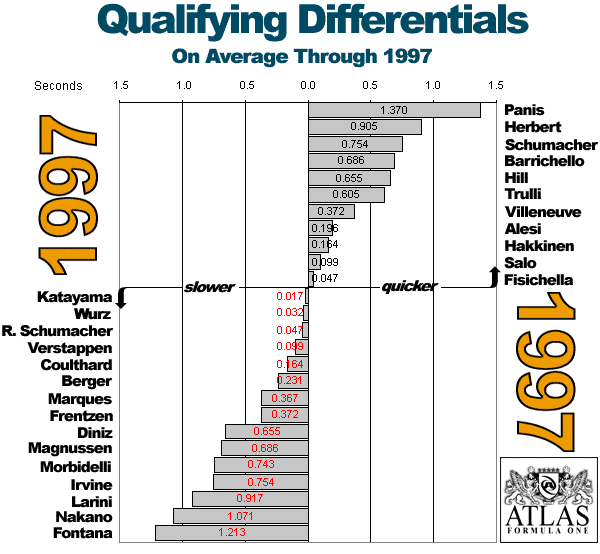 ---
NOTES
The raw data are copyright © 1997 Fédération Internationale de l'Automobile (8 place de la Concorde, Paris 75008 France). These compilations are copyright © 1997 Atlas F1. Reproduction in any form of these compilations is forbidden without the express permission of Atlas F1 or Atlas WWW.
The data are subject to revision. Atlas F1 will not be held responsible for any errors or omissions.
Send comments to: kaizar@atlasf1.com