Grand Prix of Germany Preview

---

Hockenheim, Heidelberg, Germany
25th - 27th July 1997
by Max Galvin, England
For the first time since leaving Benetton at the end of 1995, Michael Schumacher enters a home Grand Prix leading the World Championship. His main title rival Jacques Villeneuve, who won at Silverstone, is looking to get back at the Ferrari driver for his defeat in Canada and beat the German in front of his fans. With these two fighting for the title and many others fighting for their seats, the German Grand Prix should be an interesting one.
A lap of Hockenheim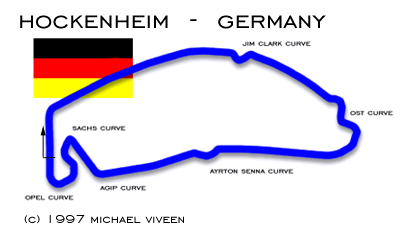 Whilst Hockenheim wasn't a popular track in its earlier years, it has become something of an enigma in Formula One. Whilst the cars struggle to reach 180mph on most tracks, here they can stretch their legs and exceed 200mph on four of the tree-lined straights - Damon Hill describes it as being like the bullet in a gun. As the cars pass over the start/finish line, they are doing 180mph in fifth before braking to 120 mph for the Sachs Kurve right-hander. The drivers then have a few moments to relax, or pass an opponent, before braking heavily for the Bremskurve 1. Approaching at 205mph, the cars have to change down four gears and lose 140mph before negotiating this tight chicane. Since the drivers will have removed all unnecessary downforce for the straights, these twisty sections become doubly treacherous and the slightest slide can quickly turn into a bone crunching collision with the armco. The cars pass along another sixth gear straight, brake for another slow chicane, and continue another straight before entering the fast Bremskurve 3. This is one of the quickest chicanes in Formula One, despite it's alterations in recent years, and offers the better drivers a real chance to gain on an opponent before the stadium section. As the cars come out of the forest and enter the final series of turns, they are greeted by the packed grandstands and their fanatical occupants. This set of corners - a fast left hander, a right hand hairpin and a couple of slow right handers - require all of the driver's skill to hold an ill handling car before he engages another lap of this fast and challenging circuit.

Circuit Length: 4.239 miles/6.823 km Race length: 45 laps (190.774 miles/307.022 km)

What happened last year?

Atlas F1 1996 German Grand Prix Review
1996 Race Results
1.
Damon Hill
Williams-Renault
1hr 21m 43.417s
2.
Jean Alesi
Benetton-Renault
+ 8.365s
3.
Jacques Villeneuve
Williams-Renault
+ 33.926s
4.
Michael Schumacher
Ferrari
+ 41.517s
5.
David Coulthard
McLaren-Mercedes
+ 42.196s
6.
Rubens Barrichello
Jordan-Peugeot
+ 1m 42.099s

---

Pole position:
Damon Hill
Williams-Renault
1m 43.912s
Fastest lap:
Damon Hill
Williams-Renault
1m 46.504s
The Field
Arrows-Yamaha
Arrows-Yamaha and their number one driver, Damon Hill, will have breathed a collective sigh of relief at the British GP when they not only finished a race, but also scored their first point of 1997. This will assure their travel benefits for 1998 and will ensure that Damon does not become the first champion to fail to score a point in the defence of their title. Sadly, the down on power Yamaha will cripple the team at Hockenheim and both drivers are likely to retire with engine failures. Damon will surely outqualify Pedro Diniz, but won't be as close to the front as he was at the last race.
Rothmans Williams-Renault
After a gifted 100th win at Silverstone, Williams really need to get their act together. Neither driver has performed as we have come to expect, and the reliability record has been abysmal. Not all is doom and gloom though, because the chassis is still one of the best out there and with the Renault power at their backs, both drivers should be able to qualify and race right at the front. Heinz-Harald Frentzen has proved to be the turkey of the year so far, and with rumours of his impending demise, will be looking for a good result at his home race to improve his standing in the team. Jacques Villeneuve is without a doubt the top Williams driver these days and will be looking to beat Frentzen again this weekend. He should be capable of this, and is one of the drivers who can reasonably expect to win.
Marlboro Scuderia Ferrari
Ferrari arrive in Germany after suffering their worst race of 1997 so far. Far from seeing this as bad luck or a fluke, the team have been spurred into action and seem set on ensuring that their cars are the most reliable on the grid. How things change in 12 months! Michael Schumacher should accept nothing better than a win and if one thing is for certain, it is that the fans certainly won't. The Ferrari chassis and engine seem good on high-speed tracks and following a successful test at Monza last week, things look good. Whilst Eddie Irvine is looking very good at the moment, he still looks to be a podium contender, not a winner. That role at Ferrari is reserved for Schumacher and he could well do it.
Mild Seven Benetton-Renault
Benetton are finally back to their initial line-up, now that Gerhard Berger is race-fit once again. Test times have been promising for both drivers and the team is expecting the car to run well in Germany, so is a win on the cards? Sadly, things don't look that good yet. In terms of sheer speed, the rest of the "Big 5" are above them, but neither driver will give up and podium finishes are likely in this race of attrition. In the intra-team battle, things will more than likely go the way of Jean Alesi who, it has to be said, has been looking much more impressive of late. Gerhard Berger has been close to Alesi in testing, but I would expect his first race back to be slightly off his best pace.
West McLaren-Mercedes
McLaren again arrive at a race having been within sight of a race win and will be hoping that their luck improves at their engine supplier's home race. The Mercedes is arguably the most powerful engine in F1 today and on a circuit like Hockenheim it is power that matters. Mika Hakkinen had a superb weekend at the British Grand Prix and was robbed of his maiden victory by his second engine failure in as many races. Hockenheim should offer another chance for him to get there, but only if he is faster than his team mate from the off. David Coulthard is still very much a mystery, showing blinding speed and maturity when the car suits him, but producing little when it doesn't. Coulthard usually runs well here, but with Mika looking so confident, it is hard to pick who will be fastest. The McLaren-Mercedes combination is certainly capable of winning, and so are both of the drivers.
Benson and Hedges Total Jordan-Peugeot
Engine manufacturer Mugen and two new major sponsors have boarded the Jordan train recently, and the future is looking rosy, but when will they win? Both chassis and engine are amongst the best in F1, but Jordan seem unable to capitalise on this. With Ralf Schumacher topping test times at Monza last week, prospects for Hockenheim are good. Of the two drivers I fully expect Ralf to take the lead in both qualifying and the race. Not only is this his first Grand Prix at home, but with Giancarlo Fisichella leaving at the end of the year, the team could be expected to favour their German charge. Still, like McLaren, both drivers are capable of a win given a chance, and Fisichella could pull something special out of the bag and beat Ralf.
Gauloises Blondes Prost-Mugen Honda
Following a disappointing race in Britain, Alain Prost will be sure to have matters in hand in time for the German Grand Prix. Jarno Trulli has been very impressive in testing at Monza so this could be the chance to get the programme back on track. Shinji Nakano, although slower in qualifying, comprehensibly beat his team mate in the last race, but this looks to have been a one off. Trulli complained that both his first and second sets of tyres in the race were "not right" and immediately ran 2 seconds a lap faster on his final set. Trulli will certainly beat Nakano, but the question is, will he be able to beat drivers outside the team?
Red Bull Sauber-Petronas
Johnny Herbert is another driver to comprehesively thrash anyone placed against him this season and seems happier than ever at Sauber. The Petronas badged Ferrari engine is certainly powerful enough and the Sauber chassis looks good on high speed tracks so there could be a hope for the Essex driver. With Herbert setting the top time on the second day of the Monza test, the only fly in the ointment is Norberto Fontana, who was almost 3 seconds slower over a single lap than Herbert. The team are clearly counting the days until they can dump the Argentinean driver and get Gianni Morbidelli back, but I can't help but feel like they haven't tried to get the best from Fontana. Back to the overall capabities of the team, a podium could be on the cards if attrition is high.
Tyrrell-Ford
Low power, low reliability seems to be the best way to describe the Ford v8 that powers the Tyrrell. Mika Salo and Jos Verstappen do their best to drive what appears a great chassis, but with the current evolution Ford at their backs, their best efforts are wasted. Mika set 5th fastest time on the Tuesday of the Monza test and will more than likely be faster than Jos in qualifying. Once again, I expect there to be a reversal in the race, with Verstappen leading the way.
Minardi-Hart
It is hard to think of new ways to say "Minardi will run at the back", but there seems to be no end in sight for this trend, so I will have to. In Tarso Marques, Ukyo Katayama finally has a team mate he can dominate and he is taking full advantage of this to regain some of his lost credibility. Marques for his part is trying his best but seems out of his depth. So much so in fact, after just 4 laps in an unfamiliar car, former F1 driver Luca Badoer got within 0.2 seconds of his best time at Monza. More power seems to be their only hope, but Hart just cannot provide it on the budget available to them.
Stewart-Ford
Oh dear what a mess! Silverstone plumbed new depths in the continuing saga of Stewart Grand Prix and their engine problems. Rubens Barrichello suffered 3 engine failures in 3 days and Jan Magnussen ended his race with the 4th. Concentrating on the drivers, Rubens is beating Jan with consumate ease, and the latter appears to have a fight on his hand to retain his seat for next season.
Enjoy the race...
---
Max Galvin
Send comments to: galvin@atlasf1.com