That Time of Year
---
Paul Rushworth, New Zealand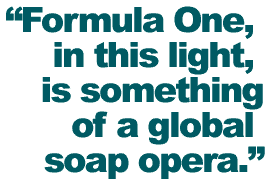 For myself, one of the most fascinating parts of Formula One is the preoccupation with the future. Whether it is the rules, suppliers, sponsors, team personnel, drivers or locations of the races themselves, the preoccupation of this sport with deciding who will go where next year, is at all times seemingly more important that just what will happen now.
Formula One, in this light, is something of a global soap opera. The gossip and rumors -- these seem to attract and interest people almost as much as, if not more than, the races manage to do themselves.
Just what might be on the cards for 1998 anyway?
The topic that has been on the minds of most lately is the new technical regulations that will come into effect in 1998. While many people have argued the rules' merits and demerits, the new regulations are here to stay (for 1998 at least).
Jacques Villeneuve has, as we all know, been the most vocal opponent of these rules changes. His criticism has been based on along the lines that slower cars will take "the edge" out of the sport and decrease the overall effect a driver has in the pace of a car. Yet, others have welcomed these new rules; worried about the huge increase in lap times this year due to the Bridgestone and Goodyear tire war, the situation is posing a safety risk. The cars are bound to be slower, yes. They are therefore likely to be safer. But, the real question that has yet to be answer is: will the racing be any better?
1998 will signal the first time that Renault has been absent from Formula One since 1990. In Renault's place, Williams and presumably Benetton will run customer Renault V10's under the Meccachrome banner. The factory support and finance may be gone, but the core of the engine program will remain.
Peugeot will be another engine on the move for 1998. Prost Grand Prix has already confirmed a supply of works engines, but Jordan remains a possibility for engine supply for 1998 -- though the dismal performance at Peugeot's home Grand Prix may work against them.
Arrows would seem to be the other team looking at changing suppliers, with strong indications that the Mugen Hondas that currently powering the Prost concern. It is quite unclear just where Yamaha will go at this stage, if anywhere. The engine constructor, who has only scored 27 points in 6 and a half years of Formula One, is not about to be jumped at by any team -- whatever the price.
The next "silly season" doesn't really start in earnest however, till we discuss just which drivers will end up where. The focus, as usual, is on the big four and driver movements are more than likely to be frenzied.
The immediate candidate for new drivers must of course be Benetton. Jean Alesi's and Gerhard Berger's performance have been disappointing this year already. The surprising performance of Alexander Wurz in only his 2nd Grand Prix must be worrying for both of the veterans. Gerhard seems to be rapidly approaching his "use by" date, and with Berger clocking up his 200th race this season, and a home Grand Prix on offer, the time to announce his retirement may not be too far off. Wurz is definitely in with a serious possibility of a full time seat with Benetton, and it is not too hard to see either Jarno Trulli or Giancarlo Fisichella stepping in to fill a seat (which both thoroughly deserve).
Eddie Irvine's place at Ferrari doesn't seem to be under threat at all thanks both to his fine drive at Magny-Cours and the backing of Michael Schumacher. Mika Salo has already been mentioned once or twice as a serious possibility for this drive, and while this door may have closed, it's still not unlikely that he will be with someone at the top end of the grid in 1998.
McLaren seem set to be changing at least one of their drivers in 1998; David Coulthard on current form seems the most likely to stay. Regardless of Ron Dennis's loyalty to Mika Hakkinen, the Finnish driver has really looked sub par next to the Scot all year.
It is still unclear at the moment what may happen to the Williams current duo. Dogged by poor performances and reliability, it is even conceivable that both Villeneuve and Frentzen may be replaced; though unlikely.
The reigning World Champion is the final one who must be looking elsewhere for 1998. Despite denials every week, Damon Hill can't be happy with his current situation at Arrows. McLaren is certainly a possibility for him next year. The presence of Adrian Newey in that team could certainly help the prospect, but the appeal of the Mugen Honda engine may see Damon remain with Arrows yet.
Strangely enough however, these glances into the future are not the interesting. The announcements, the suggestions, the rumors that I most look forward too are concerning tires; who will be switching to Bridgestone?
The teams of the big four were not about to risk joining the Bridgestone fold in the tire manufacturer's first year back in Formula One There is, however, little doubt that one or more teams in the big four are looking at the greener pastures promised by the Japanese based company. No decision can afford to be made at this point by any team. Goodyear withdrew supplying tires for testing purposes to Arrows in 1996 when it became apparent that Arrows had a Bridgestone contract for 1997. This risk is one that no team can afford.
If any of the big four do make the move to Bridgestone, the most likely candidates would appear to be Benetton and McLaren.
Williams has already tested on Goodyear's interim grooved tire in preparation for 1998. Ferrari seem unlikely to make such a change at a time when they are looking so strong. The two teams that have much to gain or, equally, to lose are Benetton and McLaren. This is the key event of the silly season this year, make no mistake. This single factor has the potential to have such a huge bearing on the 1998 title winners.
So, the silly season gathers pace once again, this year with an extra card to play. Will an ace or a deuce be dealt to your favorite team? Either way, a Joker will show itself sooner or later.
---
Paul Rushworth
Send comments to: rushworth@atlasf1.com