Grand Prix of Europe Preview

---

Jerez de la Frontera, Spain
24th - 26th October 1997
by Max Galvin, England
The final round of the 1997 FIA Formula One World Championship is upon us and for the second year running, the Drivers' title is going right down to the wire.
Jacques Villeneuve has to come from behind again and many doubt he will be able to. Despite this, both drivers deserve the title and assuming at least one of them finishes in the points, the driver who is ahead on the track will win the Championship.
A lap of Jerez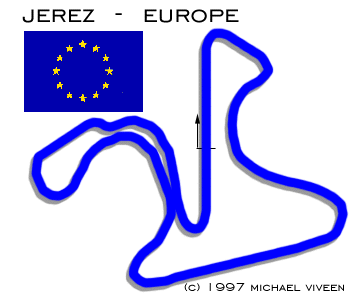 Jerez is one of those circuits that most people wish they didn't have to visit. There is little to recommend it, but most teams test here throughout the year because of the relatively good weather.
The relatively short start-finish straight leads into the 2nd gear Expo '92 corner which, after a short spurt, leads into the similarly slow Michelin bend. A long sweeping left hand corner follows and the drivers build up to around 180mph in 6th gear before braking for the 5th gear Sito Pons corner.
Again the drivers are hard on the power down the back straight before braking hard into the 2nd gear Dry Sack. A series of 5th gear left hand bends follow before the drivers are back on the brakes for the 3rd gear Peluqui corner. Out of here there is time for a short burst of acceleration before slowing for the 2nd gear Ayrton Senna chicane (surely an insult to the late World champion). Back hard on the power, touching 160mph before braking for the 2nd gear Ducados hairpin. Exiting the hairpin it is hard on the power for the start-finish straight and across the line to complete another lap.

Circuit Length: 2.768 miles/4.428 km Race length: 69 laps (190.958 miles/305.532 km)

What happened last time?
1994 Race Results
1.
Michael Schumacher
Benetton-Ford
1hr 40m 26.689s
2.
Damon Hill
Williams-Renault
+ 24.689s
3.
Mika Hakkinen
McLaren-Peugeot
+ 1m09.648s
4.
Eddie Irvine
Jordan-Hart
+ 1m18.446s
5.
Gerhard Berger
Ferrari
+ 1 lap
6.
Heinz-Harald Frentzen
Sauber-Mercedes
+ 1 lap

---

Pole position:
Michael Schumacher
Benetton-Ford
1m 22.762s
Fastest lap:
Michael Schumacher
Benetton-Ford
1m 25.040s
The Field
Arrows-Yamaha
Damon Hill and Arrows will part company after the European Grand Prix and both parties will, I'm sure, be relieved. At times the relationship has been strained, but both Tom Walkinshaw and Damon will have to agree that much has been achieved. For Jerez, the circuit should provide them another chance to get in amongst the big boys as engine power is not as important as at other tracks. Bridgestone have also excelled at this type of track this season so there won't be a weak link there. Both drivers (Damon in particular) ran extremely well in Hungary as Jerez is so similar, they could be a force again. Pedro Diniz should be outqualfied and outraced by Damon again, especially considering the former has not raced here before.
Rothmans Williams-Renault
Williams have it all to do now. The pressure for Williams to get everything right is massive as any slip from the team will provide the Canadian with a convenient scapegoat should he fail to take the title. The Williams chassis is best on fast tracks, but has been quick almost everywhere so I wouldn't expect anything different here. Jacques Villeneuve will be going all out to win the race and should be in contention for pole and race win as long as he can stand the pressure. Heinz-Harald Frentzen is still causing me much confusion. Rarely as quick as Villeneuve in qualifying, HHF starts races slowly and then puts in some amazing performances to drag podium finishes out of seemingly wasted races. If Villeneuve is in front in the race, don't expect Frentzen to try and pass, likewise I'd expect him to not push too hard if he's in front. Drivers and team will be all out to get the title so tactics will be the thing to watch.
Marlboro Scuderia Ferrari
The Scuderia have a good chance to spoil the party for Williams this weekend and could help Michael Schumacher join the exclusive 3-times-World-Champion Club. With all the good cheer at Ferrari you could be forgiven for thinking they had won already, but the F310b has never performed well on circuits such as this and as such will be at a disadvantage in Jerez. Michael Schumacher will finish ahead of Eddie Irvine, and almost certainly qualify ahead too, but how they choose their strategy will probably decide the championship. An outside shot at pole and race victory, but a good chance for the title.
Mild Seven Benetton-Renault
The end of an era for Benetton. New management (Dave Richards of Prodrive) is in place and this will be the last race for both the Brawn/Byrne chassis and the Briatore-picked drivers. The B197 has usually been good on fast circuits, suffering from handling problems on the more twisty tracks and as such the chances are that the team will fail to produce the goods. Jean Alesi has at least another season of F1 ahead and Gerhard Berger has announced at least temporary retirement, but don't expect either to slack off. Jean Alesi should qualify ahead, but I would be surprised if Gerhard didn't end Sunday ahead of his French team mate.
West McLaren-Mercedes
McLaren are another team who, on paper at least, will struggle to be on the pace at the weekend. Although both drivers are fast, the chassis is only really good on fast tracks and as such will not be able to carry them as far as they need to go. Couple that with the unreliable Mercedes engine (apparently hobbled so that it wouldn't explode at Suzuka) and you can see that McLaren will have a difficult time on their hands. Mika Hakkinen should beat David Coulthard and both should be capable of scoring points if their Silver Arrows can make the finish line.
Benson and Hedges Total Jordan-Peugeot
So far this season Jordan have suffered on tracks where neither driver has much experience and this will be no different. Excellent on fast tracks, the J197 has been a little off the pace on tighter tracks like this and neither driver has excelled in any case. Giancarlo Fisichella will want to leave the team on a high note and Ralf Schumacher will be keen to prove that he can beat Fisichella in a fair fight. I would expect Fisichella to win the battle, but both drivers will be lucky to get onto the podium and a points finish is as much as they can reasonably expect.
Gauloises Blondes Prost-Mugen Honda
Alain Prost has apparently paid $500,000 to Mugen to get Jarno Trulli into the Nakano seat for the final GP of the year and in doing this has set up an epic battle. Both drivers will be eager to prove that they are the fastest of the Prost drivers. Olivier Panis is the one under the biggest pressure as he should be quicker than his inexperienced team mate, and if Jarno wins the battle it is another F1 scalp to add to his collection. When all is considered, both drivers are capable of top 10 qualifying positions and scoring points in the race, but you have to wonder if the intra-team race will slow them in relation to the other teams. It is almost impossible to say who will be fastest, but personally I'd like Trulli to be fastest!
Red Bull Sauber-Petronas
Gianni Morbidelli has been again replaced by Sauber after injuring his arm again in his Japanese qualifying shunt. This means that Norberto Fontana will be taking over the second Sauber seat and will have one more chance to prove his worth to F1 teams. Johnny Herbert is still very much the top dog at Sauber and will also be looking to make this position even firmer before Jean Alesi joins the team. Quite how the team will fare is an unknown quantity, but Herbert has a habit of popping up in the points at the end of races without you even realising he is there.
Tyrrell-Ford
Tyrrell will still be working hard, but as usual have little or no chance of getting any points. Although Jerez will suit their chassis-engine combination better than many other tracks, they will still have every team apart from Minardi to battle before they get into the points. Jos Verstappen and Mika Salo will again be inseperable and I'll try not to take favourites for their final race together.
Minardi-Hart
Gerhard Berger recently said "(Giancarlo) Minardi is doing it for all the right reasons," when talking about people who he admires in F1 and Gerhard was right. Minardi always seem to enjoy their racing despite their lowly grid positions. This weekend should be no exception and with "little Ukyo" retiring from the sport after this race their should be a party down at the "wrong" end of the pits come Sunday night. Ukyo Katayama should again prove faster than team mate Tarso Marques, but both will be stuck near the back of the grid (although Ukyo got ahead of several cars at the last race).
Stewart-Ford
Stewart are, as usual, a difficult force to predict. If the Ford engine and the chassis work well, both drivers could qualify in the top 10 and race to points or podium finishes. If things don't go well however, they could find themselves at the bottom end of the top 20. When all is said and done, Rubens Barrichello should beat Jan Magnussen in both race and qualifying, but it will be very close and should the car last to the end of the race, don't be surprised to see either (or both) of the drivers in the points.
Enjoy the race...
---
Max Galvin
Send comments to: galvin@atlasf1.com