Grand Prix of Canada Preview

---

Gilles Villeneuve Circuit, Montrčal, Canada
13th - 15th June 1997
by Max Galvin, England
After a 3 week layoff, the F1 season is resuming on at the Circuit Gilles Villeneuve, named after the late father of Williams-Renault driver Jacques. While we may have had a break, the teams have been testing hard since the Spanish Grand Prix, and many will be buoyed by their testing form.
A lap of the Gilles Villeneuve Circuit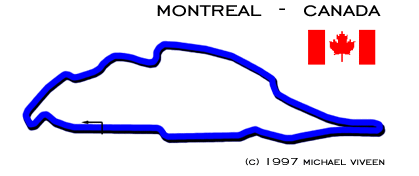 The Circuit Gilles Villeneuve, situated on an island in the middle of the St. Lawrence Seaway, offers a real challenge for the drivers when setting up their cars. With two hairpins, and a wide variety of slow and fast corners, traction and good braking balance are required. Straight line speed is often sacrificed for greater downforce. So, what's a fast lap like? Crossing the start finish line, the track kinks right slightly before turning sharp left. The drivers take this corner in 2nd before slowing down further for the 1st gear Pits Hairpin. Accelerating out of this tight right hander, the cars pass through a fast, twisty set of curves before slamming on the brakes once more for the 3rd gear left/right complex. The track then has a short straight before the next corner, the drivers often using the opportunity for overtaking manoeuvres. This chicane is taken in 2nd gear and helps close the field up before the final hairpin. The hairpin is the slowest point on the circuit but often causes the most excitement, opponents often driving side-by-side as they enter the final straight. The longest straight on the circuit used to contain two flat out kinks but was interrupted by a temporary chicane for the 1994 and 1995 events. In 1996, the straight ran the entire length uninterrupted once more. The final corner before the start/finish line is another fast chicane that sees the drivers slide wide before beginning another fast lap of this tough, bumpy circuit.

Circuit length: 2.747 miles / 4.421 km Race length: 69 laps (189.548 miles / 304.049 km)

What happened last year?

Atlas F1 1996 Canadian Grand Prix Review
1996 Race Results
1.
Damon Hill
Williams-Renault
1hr36m03.465s
2.
Jacques Villeneuve
Williams-Renault
+ 4.183s
3.
Jean Alesi
Benetton-Renault
+ 54.656s
4.
David Coulthard
McLaren-Mercedes
+ 1m03.673s
5.
Mika Hakkinen
McLaren-Mercedes
+ 1 laps
6.
Martin Brundle
Jordan-Peugeot
+ 1 laps

---

Pole position:
Damon Hill
Williams-Renault
1:21.059s
Fastest lap (67):
Jacques Villeneuve
Williams-Renault
1:21.916s
The Field
Arrows-Yamaha
After saying before the last race that the new specification Yamaha engine would not be used in 1997, the team have now decided to use it in qualifying as the power is better. With the team now the butt of most of the jokes told around the race tracks, Tom Walkinshaw et al. will be keen to stop the rot. Damon Hill is obviously still the focus of the team, but will be looking more towards finishing the race than scoring points. His team mate, Pedro Diniz, by contrast has more chance of finishing, albeit at the back.
Rothmans Williams-Renault
Yet again, everyone expects Williams to win, but will be quick to put them down if they don't. In the recent tests at Magny-Cours, the team has been close to the front, but has not managed to end a day on top. Jacques Villeneuve will obviously be trying his hardest at his home race and with 2 Canadians winning in CART the native fans will expect nothing short of a win. Although a trip to the FIA in Paris won't do much for him, he is still the favourite for race and qualifying honours. Heinz-Harald Frentzen has had a dire time since his debut win in San Marino and will be looking to score well in Canada and will have to keep his title hopes alive.
Marlboro Scuderia Ferrari
Ferrari are still saying that they will be hard pushed to race against the Williams drivers, but this is sounding ever more hollow as time progresses. Last season Luca de Montezemolo, the boss of Ferrari, said that they would have no excuse not to win at least the constructors title in 1997, and on current form he is right. Michael Schumacher is still head and shoulders ahead of his opposition and Eddie Irvine is putting in a solid job backing him up. The F310b is hard on tyres, but if Goodyear get it right the scarlet cars should fly.
Mild Seven Benetton-Renault
Things are looking up for Benetton. Amidst rumours of their imminent sale to the highest bidder the team are pulling things together again. Nick Wirth, chief designer, says that their main problem is at high grip circuits, but that the team are close to solving this. With the times that Jean Alesi (and an impressive Alex Wurz) put in last week, it cannot be long before we see Benetton back on top. As for the form of the drivers, Gerhard Berger is still recovering from an operation on his sinuses and may well be affected by this, leaving the task of leading the team down to Jean Alesi.
West McLaren-Mercedes
McLaren are still knocking on the door, but it seems that they can't get in. The new Mercedes is said to be more powerful than the Peugeot engine, but this won't help if the drivers can't use them on race day. Mika Hakkinen and David Coulthard have been fairly equal in testing and this should carry on into qualifying and the race. Whilst Canada may not suit the MP4/12 too well, both drivers are capable of top 6 finishes.
Benson and Hedges Total Jordan-Peugeot
Yet again, I am short of things to say about Jordan. If it goes right they could win (indeed the team scored their best race result here in 1995), but things have certainly been against them so far this year. Both Giancarlo Fisichella and Ralf Schumacher have been near the top of the time sheets in testing proving that the car and engine combination is fast, but this is nothing if the cards don't fall right. As I have said before, Giancarlo should win the qualifying battle, but Ralf will be better in the race.
Gauloises Blondes Prost-Mugen Honda
Olivier Panis comes to Canada having set the fastest time in the last 2 days testing last week and will be raring to convert this into his second race win. The Mugen Honda engine is as reliable as any engine on the grid and assuming Bridgestone get things right, Olivier could reasonably expect to find himself on the podium on Sunday afternoon. Shinji Nakano has been saved (courtesy of a slip-up at Prost) and will see out the rest of the season in the Prost seat. In testing Shinji ran well and was even faster than both McLarens on the Tuesday, so perhaps the more solid footing he finds himself on could see the rebirth of his career.
Red Bull Sauber-Petronas
Sauber have been doing well so far this season even though their results don't show it. Johnny Herbert was faster than Eddie Irvine last week at Monza, and whilst Eddie isn't his team mate he isn't slow by any means. This will hopefully mean that Sauber are in a position to challenge Williams, Ferrari and Jordan for top honours on Saturday and be in a position to score well on Sunday. Johnny Herbert is looking ever more confident and team mate Gianni Morbidelli should be more on the pace this weekend.
Tyrrell-Ford
The Tyrrell chassis was transformed in Spain by the new Ford ED5 and it will be interesting to see where they end up without the tyre problems that dogged them in the race. At worst they will be propping up the back of the grid but who knows what will happen if things go right? Mika Salo is looking the better driver of the two, but with Jos Verstappen looking a lot calmer in the cockpit, he could be given a run for his money when it counts.
Minardi-Hart
With the increase in performance from Tyrrell, Minardi find themselves in the unenviable position of being at the blunt end of the grid for the race. Where they used to be able to get to the end and have a chance of a point, both the car and engine have been short on reliability so far. New boy Jarno Trulli is looking ever more the future champion, but Ukyo Katayama seems to be coming back and he will certainly have an advantage in Canada, knowing the circuit well unlike his team mate.
Stewart-Ford
The Stewart team are an eclectic bunch and it would take a brave person to try and predict where they will end up in Canada. They have no experience of the circuit and neither do Bridgestone, whose tyres have helped the team significantly so far this season. Such is their current performance, that they could either be close to the back or near the front (or indeed have one driver in each area). There is no doubt that Jan Magnussen is getting closer to Rubens Barrichello, but Rubens is still a significant way ahead in terms of speed and confidence.
Enjoy the race...
---
Max Galvin
Send comments to: galvin@atlasf1.com