Grand Prix of Britian Preview

---

Silverstone, Towcester, England
11th - 13th July 1997
by Max Galvin, England
The British Grand Prix not only marks the first race in the second half of the planned season, but also marks the beginning of the end of the 1997 silly season. The paddock is sure to be awash with rumours about who will drive for whom in 1998 and several combinations are set to be announced either before or just after the race.
The paddock may also be awash with muddy water as England is suffering the wettest summer for some time. A brief sunny period has settled over Northamptonshire the past few days, the rain may return with a vengeance despite forcasts for the weekend.
A lap of Silverstone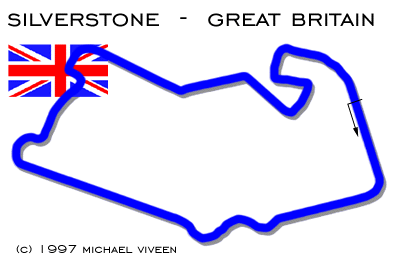 Opinions are divided about Silverstone among the drivers - especially the Brits. Whilst it's true that some points are a little bit 'point and squirt', other corners - notably the Becketts complex - are superb. As the drivers cross the start-finish line, they are flat out in sixth and reach 180mph before braking - and flicking down one or two gears - for Copse. Copse used to be nearly flat in sixth gear, but was revised to a third gear corner in 1994 after the Senna / Ratzenberger tragedies. It was revised again earlier this year, speeding it back up. Next are Maggots, Becketts and Chapel. With the exception of Eau Rouge, the Maggots-Becketts-Chapel complex is probably the most demanding and technical set of turns of any Grand Prix circuit in the world. The track flicks fast left, fast right, change down two gears, and exit a fast right - it's that quick! The driver will be experiencing in excess of 2G lateral force as he negotiates each corner, struggling all the time to point the car in the right direction. There's no rest for the drivers, however, as they scream down the Hangar Straight passing under the Mobil bridge. The next corner, Stowe, has been remodeled this year, as 1995's and, subsequently, 1996's revised versions were considered a little too tame for Formula One. The right-hand corner is taken in fourth at an estimated 110mph. The cars then pass through the Vale straight and enter the tight, second gear, left hander at Club. Drivers then enter a tight right-hander that opens up at the exit, allowing them to accelerate hard and breifly reach sixth gear before braking for the Abbey chicane. Accelerating out of Abbey, usually taken in second, the cars pass through the flat out, right hand bend: Bridge. The next few corners: Priory, Brooklands and Luffield were a fairly dull series of second gear, left and right handers in years past. However, Brooklands and Luffield have been re-profiled to allow a faster, more flowing transition into Woodcote. The exit to Luffield is important, as it leads to Woodcote - a flat out right hander - and onto the main straight where the tough process begins once again.

Circuit length: 3.194 miles / 5.140 km Race length: 61 laps (194.834 miles / 313.540 km)

What happened last year?

Atlas F1 1996 British Grand Prix Review
1996 Race Results
1.
Jacques Villeneuve
Williams-Renault
1hr33m00.874s
2.
Gerhard Berger
Benetton-Renault
+ 19.026s
3.
Mika Hakkinen
McLaren-Mercedes
+ 50.830s
4.
Rubens Barrichello
Jordan-Peugeot
+ 1m06.716s
5.
David Coulthard
McLaren-Mercedes
+ 1m22.507s
6.
Martin Brundle
Jordan-Peugeot
+ 1 lap

---

Pole position:
Damon Hill
Williams-Renault
1m26.875s
Fastest lap (21):
Jacques Villeneuve
Williams-Renault
1m29.288s
The Field
Arrows-Yamaha
Whispers over the weekend suggested that Damon Hill was making his way from Arrows to Prost in an effort to secure Mugen-Honda power for the TWR run team in 1998. Sadly for all parties involved this has proven to be little more than a whisper, especially in the light of Mugen appearing to have signed with Jordan. For Damon and Pedro, things look even less rosy than they did at Magny-Cours because although the team have tested exhaustively here over the years, so have most of the other teams and all the others seem to have their cars much better set up. Damon will be spurred on by the home crowd, and as such will dig extra deep over the whole weekend, but it would take more than the Arrows-Yamaha has got to give him a shot at points… that is unless, of course, that it rains!
Rothmans Williams-Renault
Williams should win. It is their home circuit, both drivers know the track intimately and the FW19 and Renault engine are well suited to Silverstone. What cannot be ignored is the knack that Williams have developed for losing races that they should win. Jacques Villeneuve ran well in testing and will be keen to kick-start his Championship with a win. Team mate Heinz-Harald Frentzen will be looking to re-establish his credentials after a firm, if unspectacular, second place in the French Grand Prix. There will be massive pressure from team, sponsors and public alike to perform, but can the drivers take the pressure?
Marlboro Scuderia Ferrari
One team that is not cracking under the pressure is Ferrari. Since the start of the season and the arrival of the Benetton technical team (Ross Brawn and Rory Byrne) performance has been climbing and the smiles at the Scuderia have been getting bigger. Michael Schumacher can no longer hide his Championship challenge behind non-committal words and has grudgingly admitted that he could take his third in 1997. Eddie Irvine is currently lying third in points table looking ever more confident within the team and will be looking to improve his score at his home Grand Prix. If the race was any other apart from the British Grand Prix, Schumacher would certainly be favourite for a race win, and Irvine for a podium, but the extensive testing of the British teams could prove too big a hurdle to get over.
Mild Seven Benetton-Renault
Benetton will again be without the services of Gerhard Berger at Silverstone and Alex Wurz will again fill in for his compatriot. This should be the team to watch, at the very least because the sparks are sure to fly when Wurz outqualifies and out-races his experienced team-mate, Jean Alesi. Benetton are always one of the fastest teams in testing at Silverstone and will be looking for their first win in three seasons to raise their stock in F1. However, as the saying goes "testing is testing".
West McLaren-Mercedes
McLaren come into the race weekend having set top times in the recent Silverstone test sessions and both drivers will be keen to erase the memory of Magny-Cours from their minds. The MP4/12 seems to be getting better and the Mercedes is arguably the best engine in F1 at the moment, so what is going wrong? Both drivers are beset by bad luck and neither can be working at their best whilst their futures are in doubt. Sadly for Mika Hakkinen, he appears to be the one in need of a new job. David Coulthard has come out of every race weekend looking the better of the pairing, regardless of the final result and I fully expect him to beat Mika here. Whilst the cheers for David will help somewhat, Mika is starting to look very much a beaten man. If things go well a McLaren driver could be standing on the top step of the podium, but with their luck who would bet on it?
Benson and Hedges Total Jordan-Peugeot
I am running short of things to say about Jordan. Short of repeating the "They could win" mantra, there is little to say. With a good engine landed for 1998, the team may well relax and concentrate on the job in hand rather than trying to impress the Peugeot top brass and this could be the key to unlocking their undoubted potential. Ralf Schumacher was head and shoulders above Giancarlo Fisichella in France (although big brother was really responsible for the point Ralf scored), but will be pushed much harder this time out. Both Ralf and Giancarlo have both completed hundreds of practice laps here and with the team factory just beyond the circuit gates, they will be feeling right at home. If it comes down to a choice between the two drivers I would tip Giancarlo as the higher placed in qualifying, but I would expect Ralf to do better in the race (yet again).
Gauloises Blondes Prost-Mugen Honda
Alain Prost has one of the best combinations in F1 with the Mugen-Honda engine and Bridgestone rubber, yet has been unable to capitalise on it so far in 1997. Silverstone, however, could be his race. With the rain already falling at the track, the Bridgestone rubber looks like being the tyre of preference for this weekend. Jarno Trulli has proved that he can handle the Prost car well and is comfortable in wet conditions so there is no reason why he shouldn't be on the podium come 4pm on Sunday. Shinji Nakano on the other hand has little experience at Silverstone and even less talent to call upon to cover this gap.
Red Bull Sauber-Petronas
After a decidedly average French Grand Prix, things seem to be looking up, once again, for Sauber. Test times indicate that the chassis and engine work well here and number one driver Johnny Herbert will have the crowd behind him urging him on. Norberto Fontana looks to be the chosen driver for the second Sauber seat and was respectably close to his team-mate in the recent tests so things could be looking up after the farce that he inflicted on the team in France. A question mark hangs over his fitness, but I hope that he does himself, and the team, justice. Johnny Herbert has the ability to do succeed, the chassis looks much better suited to this track than several of the recent ones, and the engine is certainly capable of delivering the goods. Will it be enough to get a podium finish?
Tyrrell-Ford
As mentioned before, the Ford engine has transformed the neat Tyrrell chassis from back marker to midfield runner. Jos Verstappen and Mika Salo are revelling in the new-found performance of their mounts and are keen to get themselves noticed. Both drivers have spent a long time testing here and know the circuit as well as each other, so who will come out top? Recent trends would suggest Jos will prevail in qualifying and the race, but that would be unfair to Mika who seems to be a match for the Dutchman in every way. All that can be said for certain is that both drivers will give their best.
Minardi-Hart
Minardi are having a terrible time and must be counting the days until the alleged take-over by Reynard and BAT happens. The little Italian team tries as hard as it can, but are held back by the Hart engine (or so it appears). Ukyo Katayama has massive amounts of experience at Silverstone and will be looking to dominate his team-mate in an attempt to re-establish his reputation. Tarso Marques had a disastrous 1997 debut at Magny-Cours and will be hoping for a better run this time round. Katayama seems an almost sure bet for top dog within the pairing, and if the track is wet, he could be seen in places that you wouldn't expect.
Stewart-Ford
Reliability or lack thereof, must be the thing foremost in the mind of Paul Stewart as he approaches the first home Grand Prix for the new team on the block. Press attention will be massive and it would be too easy for the team to slip up and become too engrossed with the media circus. The chassis appears to be well balanced and the new Ford engine is said to be a massive improvement over its predecessor, so a Stewart driver could be up there in both the race and qualifying. Most likely to succeed in this is Rubens Barrichello who has certainly got over his final year at Jordan and is looking more and more the successor to Senna that he was billed to be. Jan Magnussen was another "New Senna", but has failed to live up to the hype so far. Jackie Stewart says that they have discovered the problem with his driving, but he will need to improve by a massive amount to convince most observers. The ace in the hole for Stewart is their Bridgestone rubber and if it rains, don't be surprised to see Barrichello near the front.
Enjoy the race...
---
Max Galvin
Send comments to: galvin@atlasf1.com